If there was a key to success in the mobile market it would look a lot like App Store Optimisation. Making your app easily discoverable on the app store is critical to boosting downloads and in turn cranking up those revenue numbers.
Almost all Chinese players, 87%, stick with the same five games every month, according to joint research we conducted with Newzoo. 92% stick with a game for more than a week, 30% stay at it for at least a month and a further 18% play for three months or more. One thing is clear: Players are incredibly loyal to their games.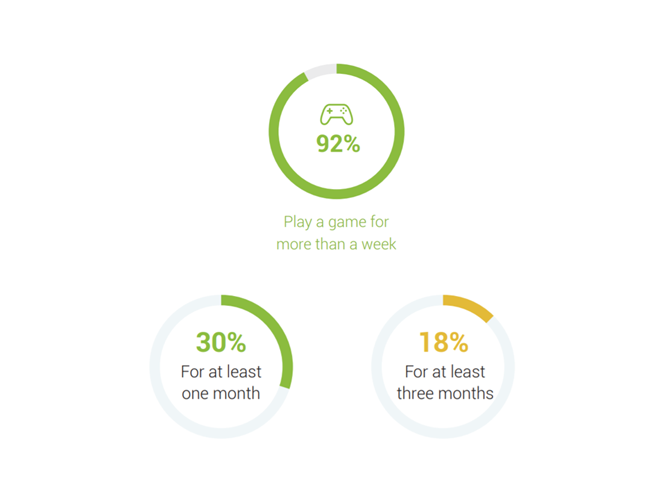 If no one can find your game, no one will play it and – more importantly – no one will pay you. How do you make sure people can find your game? By making sure your game is ranked highly in the app store through App Store Optimisation.
App store rankings and top charts are the way players find new games. When we asked players how they discover games 36 per cent cited rankings in app stores followed by 29 per cent of people who relied on recommendations from friends or family. Only three per cent of people mentioned influencers as a way to find games.
App Store Optimisation, or ASO for short, is about changing your app store listing, including text, graphics and metadata, to increase the number of downloads and the conversion rate. It is very similar to how you would change your website to appear higher up in Google search.
Let's jump straight into it. Here are five tips to improve your app store rankings.
1. Choose the right keywords in the title and subtitle
The most powerful tool in ASO are keywords. Every word that appears in an app store page is given points behind the scenes.
For example, if the keyword "battle royale" appears in the title of your game, it gets 20 points against that keyword. If it appears again in the subtitle, it gets another 10 points. The total points that your game now has against the keyword "battle royale" is 30 points. Now when a player searches for "battle royale" in the app store, your game might appear first because it has more points than the others.
Choosing the right keywords is at the core of good ASO. Meatti provides a good selection of ASO tools that you can use to identify what good keywords might be.
2. Increase your downloads with a better icon
Having a good icon can increase your download numbers by as much as 560%. It's no surprise when icons are literally everywhere when the app is mentioned like search results, charts and featured apps section. The icon is the face of the app and it needs to be well-groomed and clean in order to attract attention.
Simplicity and being eye-catching is key. Icons that leave a memorable impression are best so make sure to keep the design neat. It's always good to do a bit of market research when it comes to making an icon. Investigate other apps in your category to see how your app would look like next to the others.
3. The first two screenshots are the most important
Most people do not swipe past the first two screenshots making them the most important images in your app store listing. Use these screenshots as an opportunity to show the absolutely amazing moments in your app that players will love.
You can use these images as much more than just illustrations of what your game looks like. Make sure each screenshot is telling a single clear message about your app. You can add short captions in your screenshots to impress this message more strongly. What are the core mechanics of your game? If it's an app, what is the main functionality? Type it out in clear bold text onto your screenshot.
4. A preview video is worth the effort
Having a good preview video can increase install rates by more than 23 per cent. We know it is a lot of hard work to produce a video but it is highly worth it.
Use a good poster frame to attract people into clicking onto the video then make sure to wow them with an effective app marketing video. The first five seconds of the video should grab the viewer's attention then follow on to displaying only the best features. Keep in mind that most people will be viewing your video without sound so it will have to still make sense with the sound turned off. Finally, top it off with a strong call-to-action and you're good to go.
5. Four stars are a must
Having four stars or more is the biggest factor when it comes to conversion rates. While nearly 100% of users will download an app rated four and above, that figure drops to 50% as soon as the app hit three stars. Controlling your app ratings is incredibly difficult but not impossible.
Start with a formalised and well-designed onboarding program to make sure new users understand your game or app. Follow up by asking for reviews at the perfect time when users are more likely to be happy. Most importantly, never send too many notifications as they are one of the main causes for low ratings.
Conclusion
ASO is an ongoing task. Always keep monitoring how your app is doing in the app store rankings and regularly tweak your listing to keep it optimised. Keywords will change every three or four weeks as trends come and go. It's important to keep up in order to stay relevant.
Think of your app store listing like the window of your shop. It's not only important to have an eye catching design – through icons, screenshots, videos and a catchy description – but it's also important to keep up with the times so it stays that way over time.
The higher the conversion rate of your listing, the higher up the app will appear in the search results. More people will be able to find it and hopefully also download it. Do it right and you might become the new favourite game for a mass of loyal players.
Find out more about Chinese mobile game consumers – including which app stores they use and which app store assets most inform their purchasing decision – by reading it: