The demand for games from APAC gamers shows no sign of slowing down any time soon if the latest report from Newzoo is to be believed.
According to its 2018 Global Games Market report, the whole Asia-Pacific region will generate $71.4 billion in 2018 – that's 52% of the entire global market for games. Much of this growth is down to the continued strength of smartphone games, which has by far the largest audience of any gaming format.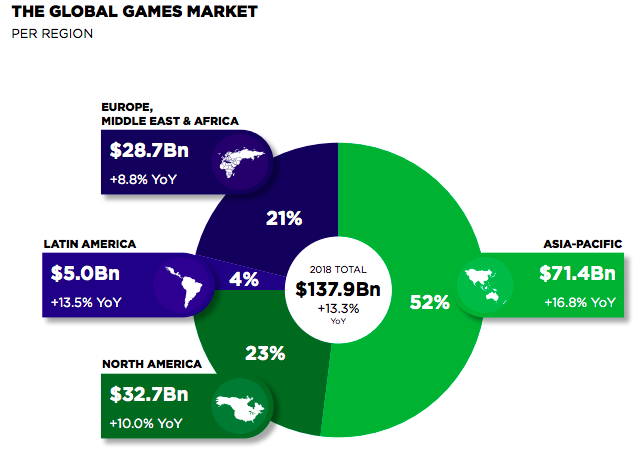 As has been the case for a while now, the single largest market is China, which – depending on what figures you use – accounts for a third of all smartphone subscribers, as well as a vibrant PC gaming scene.
For example, the current craze for Battle Royale games largely emerged from China, where PlayerUnknown's Battlegrounds (PUBG) became a huge hit on PC, spawning a number of official mobile versions, and several games that clearly took inspiration from it.
Or, to put it another way, the value of the games market in China is set to grow from an impressive $32.7 billion today to an even more impressive $50.7 billion by 2021. As we can see from the map below, the Chinese games market is worth almost double that of Japan, which has been the spiritual home of video gaming for decades now.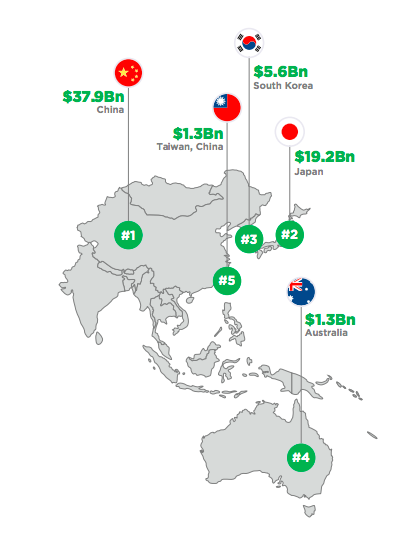 Looking at the forecast from now until 2021, Newzoo's team expects mobile gaming to continue to grow year-on-year, reaching 59% of the entire games market in 2021. BY then, they expect the global games industry to be generating an impressive $180 billion, up almost $25 billion from where it is today.
But while overall revenues will grow, the market will be dominated by mobile games. The revenues from PC and console are expected to stay pretty stable over the same period, with console retaining its second place over PC – but at a much diminished 22% of market share.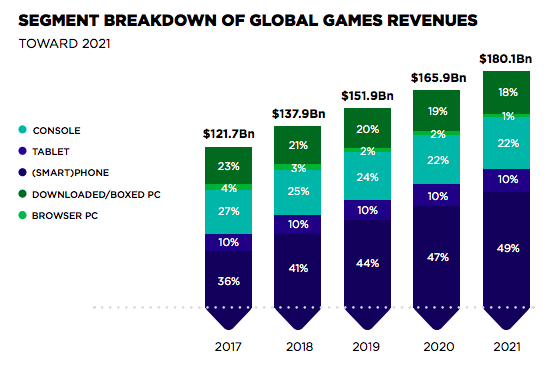 What's clear is that the games industry continues to be in rude health. With 2.2 billion players on mobile alone, games have become far and away one of the biggest entertainment mediums, eclipsing both music and movies some time ago. With PC and console publisher now taking their design and monetization queues from smartphone developers, we can expect to see more innovation, growth and creativity in future years, as the industry as a whole continues to mature.