Socialpoint is a Spanish mobile developer founded in 2008 in Barcelona. The company has reached over 600 million downloads across its games, with popular titles like Dragon City, Monster Legends, Tasty Town, and, more recently, Word Life, being some of their biggest hits.
We had a chat with the Socialpoint team and asked them about their recent hit title Word Life, the importance of creatives in their marketing strategies, the impact of COVID on their work, and more. It's all right here, enjoy!
Mintegral: After launching several successful titles including Dragon City and Monster Legends, you managed to do the same with Word Life, pushing it to the top-grossing word games charts. What were the main ingredients behind your latest success?
Socialpoint: Word Life is the newest product at Socialpoint, launched in 2019. Since then, the game has grown to hit the top 10 grossing word games in the US. The first element that helped Word Life thrive is the marketing expertise that was already present within the team after launching Dragon City and Monster Legends successfully, two hits that need no further introduction.
But the marketing team alone would be nothing without a great product team to back them up, and this great collaboration can be displayed by the last integration in the game of a top UA creative by the product team: the grammar mini game. This helped us to boost FTUE completion and engagement. Word Life is always improving and proposing more levels and game types to the users and the collaboration between marketing and product is a two-way street; we suggest updates to the game to them and they propose marketing ideas. We believe that this was the key to our success.
Mintegral: Not only are you trying to continue the growth of Word Life but you are also working on new titles. How do you know that you can keep going forward with it? Alternatively, when do you know it's time to focus your resources elsewhere and work on the next big hit?
Socialpoint: Many competitors in the word games category don't just develop one game of this type, but rather a whole portfolio. We're looking to do the same in the future for Word Life and develop more spin-offs. We are looking for top appealing themes and mechanics, iterating fast and checking the marking scalability with first-hand KPIs like CPI and LTV. The key is to be strict and not to pursue a project that doesn't reach benchmarks. One winning idea is only the tip of the iceberg; below there are dozens of more ideas that were "killed".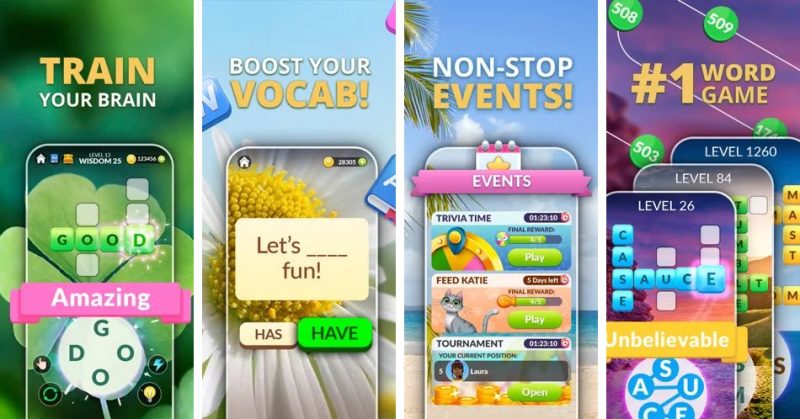 Socialpoint's "Word Life" on the App Store
Mintegral: When it comes to user acquisition, it's usually a fight between topping the App Store charts and keeping UA costs down. What does a successful UA strategy look like for Socialpoint?
Socialpoint: Everything is about balance, finding the right traffic at the right cost. That is why working with Mintegral has been great leverage for us; we had access to some good quality traffic, with interesting retention rates and highly competitive CPI. This balance is also true in the geo mix that we pursue. Our approach is not US-centric and the possibilities you offer with a lot of different geos available supported us to be able to pursue this diversification and overall, it helped us afford scalability.
Mintegral: You've worked together with the Mintegral team on your user acquisition efforts. Have you seen some improvements since working together with our team and if so, what were the areas our team was able to provide the most value for you?
Socialpoint: We have been in a partnership with Mintegral for more than a year, and really in the last 6 months we have seen this partnership grow exponentially. First of all, what is easy for us to notice is the good relationship we have with our AM – Kiko. This is the first step (but an essential one) to build a strong and lasting relationship. We are then able to tailor our needs and have recommendations depending on our latest strategies.
Mintegral: How important are creatives to your marketing strategy and how do you consistently maintain high conversion rates and fight ad fatigue?
Socialpoint: We just reworked our creative framework in the past year, after discovering strong creative winners we were confronted with heavy creative fatigue. Therefore, we shifted and analysed our top creatives deeper and managed to discover new winning concepts. We also placed a much heavier focus on hard data learnings when developing creatives, and to do this we had to improve the data literacy of our creative team, teaching them how to use business intelligence tools and analyse creative data themselves.
We now are able to have differentiated network approaches, and have different concepts winners. Our growing partnership was supported by these new creative winners that run on our main UA campaigns. 
Mintegral: COVID-19 has changed how we work and consume games. What were some key challenges or opportunities you've seen as a result of COVID-19 and how did you adapt?
Socialpoint: As we can all agree, COVID-19 deeply impacted our lives and consequently how people played games. But the first challenge was for the team to remain efficient and motivated while working remotely. Once this was acquired, we were able to take advantage of this hard situation and record a great growth year in terms of NGUs but also revenues. We also had to ride the rollercoaster of market fluctuations unlike any other year we'd ever seen before, with major competitors (especially in the branding space), increasing or decreasing spend in a much more volatile fashion.
Mintegral: With 2021 being a great year for Word Life in terms of growth, how do you picture 2022? What are some of your strategic pillars for the future?
Socialpoint: Like all players in the industry, we have also been hit by IDFA, which forced us to adapt. Having diversified the number of partners we work with and reinforced the top ones as we have with Mintegral has helped us navigate through these challenges.
2022 will be the year of taking these same partnerships to the next level thanks to high-performing teams used to work together with.
We had a great time talking with the Socialpoint team and we wish them all the best with Word Life and their next titles! Want to be part of our App Chat series? If you're an app developer or publisher looking to be featured in one of our upcoming editions, contact the Mintegral team today!