We are excited to announce we placed 3rd in AppsFlyer's 2019 Global Growth category, overtaking well-known platforms including Pinterest and Twitter. AppsFlyer's Performance Index is a comprehensive report focused on the mobile media performance of top media sources. The report is released twice a year and the H1 2019 release is the 9th edition, making it an industry-standard for marketers around the world.
Overall, we have managed to be featured across a total of 18 categories, which, compared to last year's 3 features, is clear proof that we have grown significantly as a business, thanks to our colleagues as well as our partners across the globe. We are just getting started though, as we have even bigger plans for the future.
Global Performance Index
Looking at the Global Performance Index, Mintegral was featured in 13th place. There, the duopoly created by Facebook and Google continues to lead the way, and although the ranks below are seeing some fierce competition, it's hard to assume their reign will be challenged anytime soon. For casual and mid-core gaming, Mintegral made the top 10 lists, ranking 9th in both areas. This proves that our continued expansion outside of China has not gone unnoticed. 
Our performance in China, one of our main markets, has seen steady growth, particularly around iOS-based gaming, enabling us to rank 3rd on casual, 5th on midcore and 7th on hardcore gaming segments.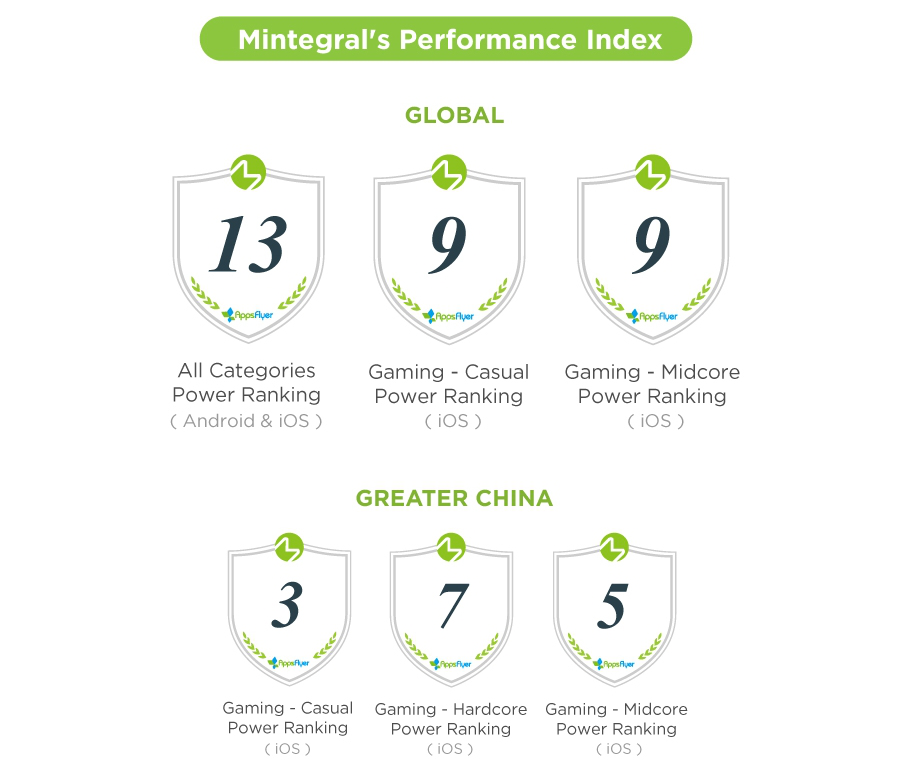 Strong performance outside China
Looking at our performance across territories, we managed to enter 7 different categories, 4 of which were based on our performance in the North American market. Casual gaming has proven once again to be our strong suit, helping us rank well on both iOS and Android.
In Southeast Asia and the Indian Subcontinent, our non-gaming verticals, particularly Life&Culture and Shopping, performed significantly well, resulting in us placing highly on both of these major markets.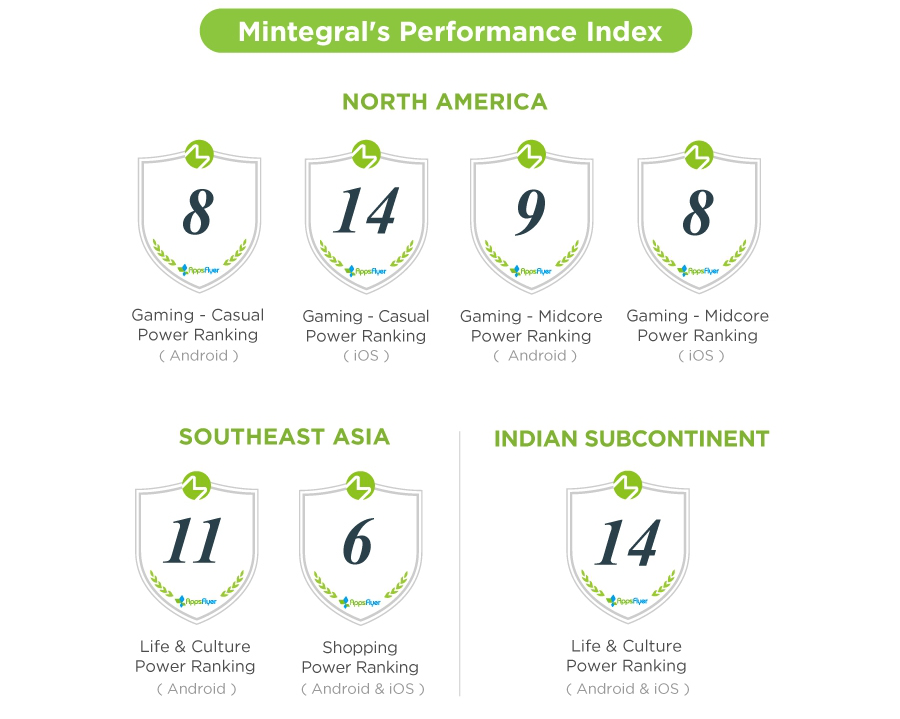 Growth Index
Perhaps the most exciting bit of news is ranking 3rd on AppsFlyer's Global Growth Index, which is a confirmation of Mintegral's expansion efforts outside of China. We have noticed significant growth in APAC, Europe and the Americas, and our efforts have not gone unnoticed.
Following significant expansion outside the Chinese market, Mintegral showed significant growth in Eastern Europe, as well as South Korea & Japan, placing 1st in these regions. In terms of performance, Mintegral entered the top 10 rankings of the global iOS Casual Gaming Index, scoring higher than TikTok Ads and Snapchat, among others.
China is still a massive opportunity for us and our partners, and we placed 2nd on the Growth Index for the world's largest mobile market, ahead of China's tech giant Tencent and behind only Ocean Engine.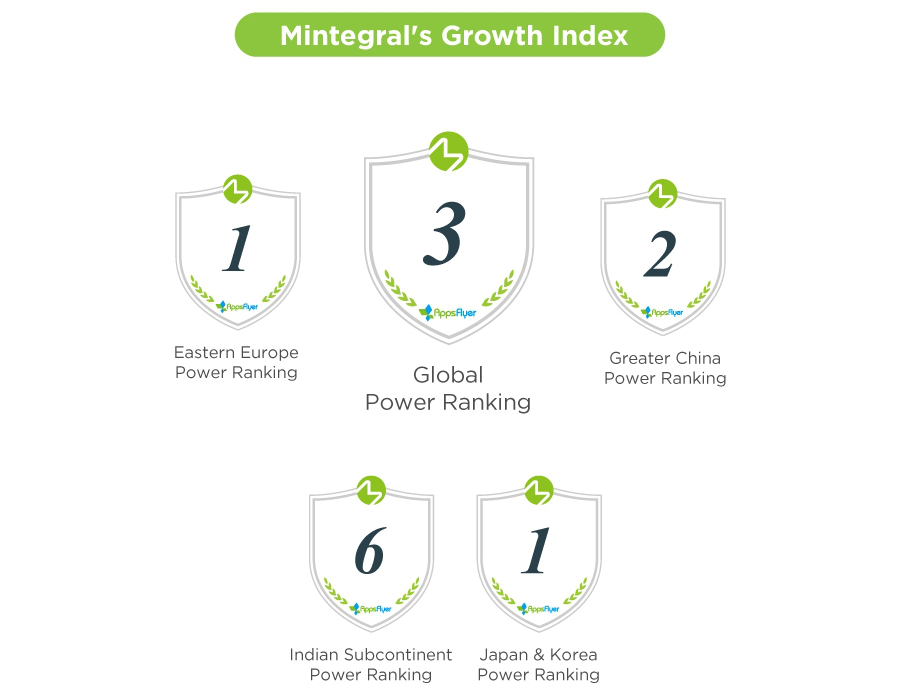 Other key findings
Google and Facebook have retained their lead on the industry, but for the first time, Google managed to steal the top spot from Facebook on the global volume rankings, thanks to a higher number of installs. Facebook, however, still leads the global power rankings due to its higher-quality traffic.
TikTok Ads has seen tremendous growth globally, placing 1st in the Global Growth Index where we were ranked 3rd. With the TikTok app hitting 1 billion downloads globally (excluding Android installs in China) earlier this year, it is likely that TikTok Ads will continue to expand its global reach to become a massive top media source and a top contender in the mobile marketing space. 
On the gaming side, AppLovin and ironSource are fighting for the #3 position on the global rankings. While AppLovin is currently holing that spot, ironSource has shown a significantly higher growth rate of 32%, compared to AppLovin's 10%. Snapchat is another major brand that has shown positive results so far in 2019 but it remains to be seen if they will be able to continue on this trajectory.
Last but not least, good news for everyone as ad fraud is seeing a steady decline. According to AppsFlyer, the install share of fraudulent went down by a massive 60%, while at the same time clean traffic sources saw 25% growth.
Conclusion
The AppsFlyer Index proved without a doubt that Mintegral has grown significantly in 2019, with even more room to expand. Thanks to investments in our platform like in-app bidding support, COPPA certification and ironSource partnership, along with our accelerated expansion in both Europe and North America, we have shown that we are the Bridge between East and West.
Being featured in 18 categories compared to last year's 3 is yet another proof that hard work and consistency will pay off. Of course, none of this would be possible without our amazing partners whom we want to say one thing: we're just getting started. And if you're not our partner yet, we'd love to have a chat and see how we can help you grow your business.