In "The State of Mobile" 2019 report, App Annie identifies the key factors driving the booming mobile economy forward.
Their 2016 to 2018 retrospective covers the global mobile market, from macro trends to vertical breakdowns and future predictions. And among all the comprehensive graphs and statistics, one fact stands out: China outguns the rest of the mobile markets across the world easily.
Here are six key findings from App Annie's report that shows just how much one country has come to dominate the global landscape.
China accounted for nearly 50% of total global downloads in 2018
Global mobile downloads exceeded 194 billion in 2018. That is an increase in 35% from 2016 according to App Annie and that growth is driven mainly by a rapid increase in installs from users in emerging markets.
However, China still topped all other countries by a large margin. Almost 50% of all app store downloads on iOS and third-party Android came from China.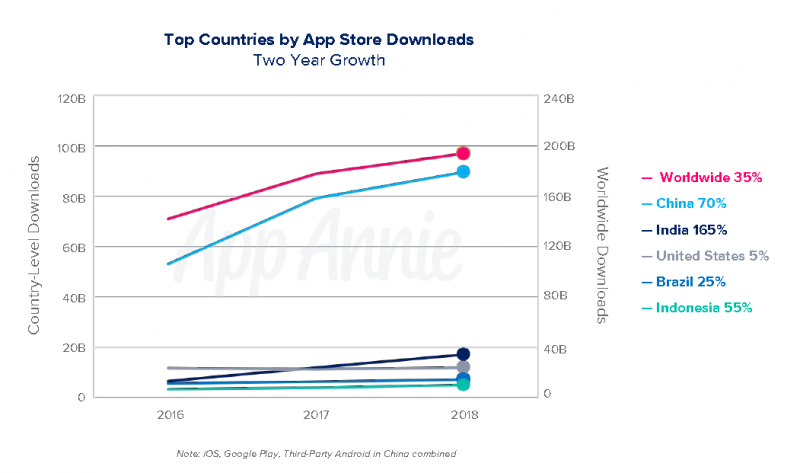 So while territories like India and Indonesia are coming to prominence, China clearly remains the largest market by downloads in the world.
Mobile consumers tend to be Chinese
As well as making up over 50% of global installs, Chinese consumers also made up nearly 40% of global consumer spend in 2018.
With a global app store consumer spend of $101 billion last year, that means nearly $40 billion was spent by the Chinese alone.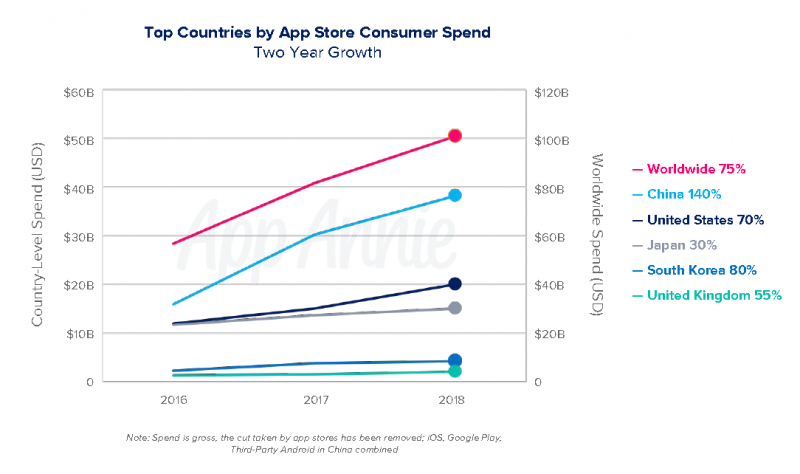 App Annie predicts spending will surpass 120 billion in 2019, with China remaining the largest contributor to consumer spend growth. Furthermore, China's share of worldwide spend is also likely to grow – further increasing its importance to app businesses.
Chinese companies are cashing in the most on global consumer spend
 Chinese consumers are both active mobile app installers and mobile spenders. And as a result of this, Chinese companies are now asserting themselves as the dominant players within the mobile space.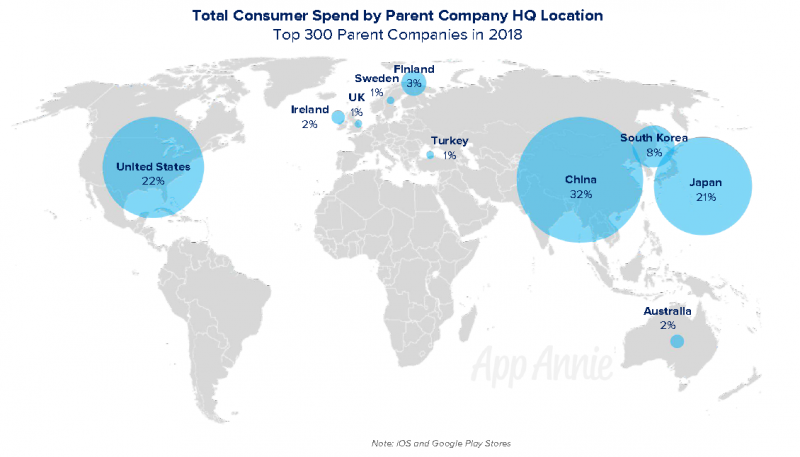 According to App Annie's data, Chinese businesses took the lion's share of revenues in 2018. A whole $19.6 billion went towards Chinese companies in 2018. This means that companies headquartered in the country raked in nearly a third of all consumer spend in 2018. In comparison, 22% of revenues went to the United States based businesses and 21% to Japanese counterparts.
And with Tencent and Netease dominating the Chinese domestic market (and investing extensively into overseas companies), it is hard to see any territory catching those powerhouses any time soon.
The Chinese are spending more on games every year than any other country
 Chinese consumers spend a lot of money on video games. Games accounted for 74% of consumer spend worldwide in 2018 and China took the lion's share.
Interestingly though, the Chinese gaming market has expanded much faster than in other countries.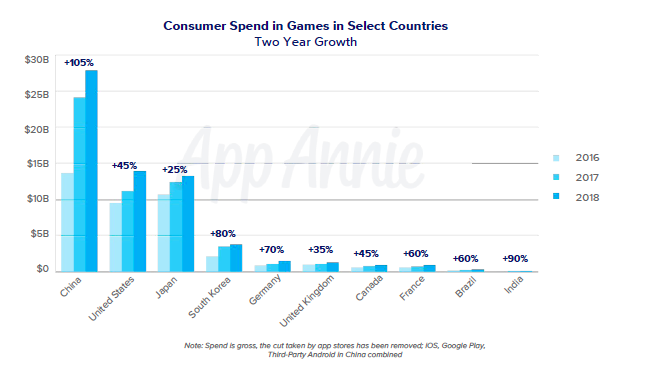 While the United States and Japan saw consumer spend on games grow by 45% and 25% respectively, Chinese consumer spend leapt up by 105%.
However, there is a question over whether that figure could have been even higher. 2018 saw an extensive freeze on the release on video games in the Chinese market, which means that the sector may have missed out on further growth than it saw last year.
Chinese game freeze = domestic publishers looking overseas
With China's game licensing freeze slowing down the market, Chinese companies became increasingly reliant upon their performances outside of the home market.
This is just one of the reasons why overseas consumer spend on games from Chinese headquartered publishers has grown 109% over the past two years.
However, it's not the only reason why. While Asia-Pacific continues to be the main consumer of Chinese games – accounting for $2.9 billion in consumer spend and benefitting from cultural similarities within the markets – the Americas have also seen impressive growth of 140% over the past two years.
This suggests that aggressive overseas investment strategies from companies like Tencent is paying dividends for Chinese headquartered businesses.
The Chinese population shops more on apps than any other country
Finally, the last piece of great news for mobile businesses looking to enter China is that Chinese consumers love to shop.
First, they love spending a lot of their time looking at shopping apps. Chinese consumers recorded on average 11 times as many sessions in shopping apps in 2018 than US consumers and nearly seven times the average of Indian consumers.
And second, that action does translate into serious spend over the course of the year. Although Chinese consumers spend regularly and often on mobile, stand out sales like Alibaba's Singles' Day shopping event brought in $30.8 billion in just 24 hours last November 11th.
This means that companies looking to strike shopping gold in late 2019 should be looking as much at Single's Day as they are at Black Friday.
Conclusion
China is a mobile global superpower. The country has hundreds of millions of mobile users; they download and use apps more often than most consumers across the world; these customers spend heavily on games and apps; they support Chinese businesses who are able to project their power globally.
This shows exactly why China has to be an essential pillar to any global mobile strategy. By ignoring China, businesses run the risk of cutting out the most profitable mobile market in the world.
But by diving headfirst into it, it is possible for mobile app and mobile gaming businesses to enter a market packed full of potential.
Download the App Annie report into The State of Mobile in 2019 here.