Since October, a hyper-casual game called "Rescue Cut" has gained popularity in the US, Japan and other major markets. The game has consistently reached the top of the US iOS and Android charts, hanging on to their top spot several times and being a regular top 3 contender. Mintegral was an important force in helping Rescue Cut climb the app store rankings.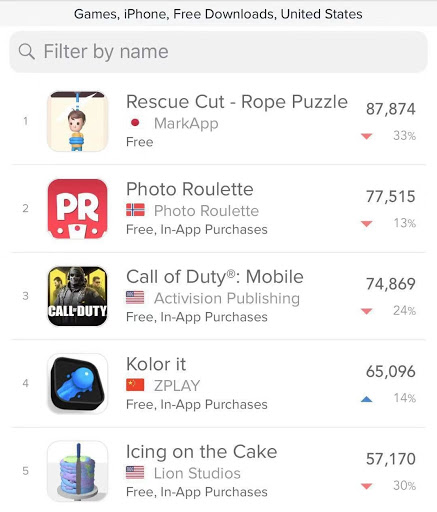 Rescue Cut – Rope Puzzle is at the top of the iOS charts in the US
How MarkApp started
"Rescue Cut" was released by Japanese mobile developer MarkApp. The company has multiple business units including a game publishing arm and has more than 100 employees based in its Japan headquarters. The company has set up a casual games distribution team and has been working on hyper-casual games since 2018. 
The company adopted a business model similar to Voodoo, the so-called "king of hyper-casual games". MarkApp publishes more than 20 games every month and tests them through channels like Facebook, with games that perform well being the ones that get promoted and distributed further. Up till now, MarkApp's products had garnered over 20 million downloads collectively. The same strategy was used for Rescue Cut and its success further validated the effectiveness of this approach.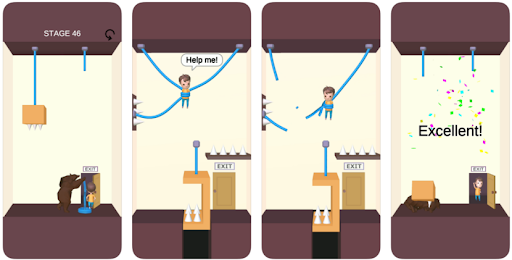 Rescue Cut features clean and simple puzzle rounds, making it an ideal casual game
MarkApp and Mintegral partnership
To promote Rescue Cut in the US and advertise it on the global market, MarkApp worked closely with Mintegral. Thanks to this cooperation, the game quickly reached the top of the US mobile charts. Not only that but MarkApp also achieved its second goal, since it managed to hit over 9 million downloads worldwide in October alone, according to App Annie.
Speaking of the partnership with Mintegral, Kousei Saegusa, App Development Department Manager at MarkApp said "I am delighted with the results of our partnership so far. I am particularly impressed with Mintegral's playable ads offering, as well as their high-quality traffic in the US and APAC, they played a significant role in the success of our campaigns and I look forward to our continued cooperation."
Erick Fang, Mintegral CEO said "Our partnership with MarkApp has been extremely positive and I am proud to see Rescue Cut do so well thanks to our joint efforts. It is always very satisfying to see a partner succeed and I hope this is just the beginning of a fruitful partnership."

"Rescue Cut" in the United States, the United Kingdom, Japan market performance. 
Source:App Annie
Full-stack marketing strategy proves successful
Mintegral's Business and Operations teams developed and implemented an end-to-end strategy to achieve MarkApp's operational needs, ranging from advertising creatives to UA and monetization solutions. Here are some key highlights of this strategy to get a better understanding of what worked and how we made it possible:
1. Hybrid playable ads
Mintegral focused on creating a variety of ad formats, starting with standard video ads, then video + interactive end cards and finally moving to playable ads. The effect of this campaign was remarkable, initially increasing the video conversion rates (IVR) by over 6%, eventually reaching growth levels of 10% compared to MarkApp's previous campaigns.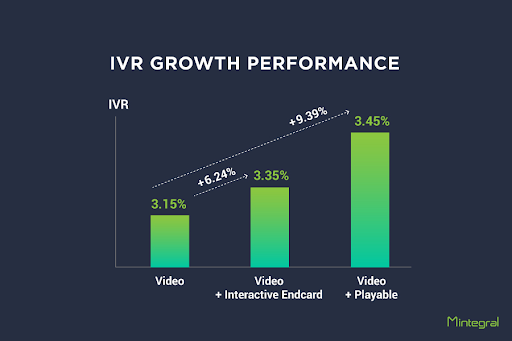 Video conversion rates (IVR) getting a significant boost thanks to Mintegral's creative solutions
Thanks to Mintegral creative studio Mindworks' vast production experience, the Rescue Cut ad creatives were not only high-quality but were also able to replicate 100% of the game's fun gameplay elements, leading to these dramatic increases in video conversion rates.
2.Taking advantage of Mintegral's US traffic advantage
When it comes to Rescue Cut, Mintegral is currently MarkApp's largest UA partner in the US region. This is due to Mintegral's continued efforts and investments in the US market, particularly around product development and operational capabilities. Covering both iOS and Android ecosystems in the US, Mintegral's video ads (including rewarded video and interstitials) got requested over 400 million times a day on average. Other big publishers we helped with their UA efforts in the region include Voodoo, Amanotes, Lion Studios, TastyPill and more.
3.Flexible optimization solution aimed at maximizing revenue
In addition to UA campaigns, Mintegral was also MarkApp's global monetization partner for Rescue Cut. By accessing Mintegral's SDK, MarkApp was able to obtain a large number of high-quality advertising resources, with the main advertising formats being rewarded video and interstitials.
Hyper-casual titles rely heavily on advertising as a way to monetize. Thanks to its deep understanding of the hyper-casual genre, Mintegral was able to create customized monetization strategies using the price floor approach, which resulted in significantly higher income for Rescue Cut and its developer MarkApp.