Stella Zhu, the Head of Mintegral's creative studio Mindworks, was invited at GMIC's webinar on April 27. There, she shared her experience on how playable ads can be constantly optimized in order for advertising campaigns to achieve steady revenue.
Interactive Creatives: The Key to Effective Game Advertising
Banners and video ads are still the most used ad creatives when it comes to game advertising. However, many advertisers have noticed that these formats' effectiveness has declined rapidly in the past year, and simply stacking video creatives is not enough to achieve healthy conversion rates.
The Mintegral team found that interactive ads have become an important advertising tool, thanks to their higher conversion rate and stronger user acquisition capabilities.
1. Higher Conversion Rate
On the Mintegral platform, 82% of campaigns have interactive ads with higher IVR compared to standard video ads across the entire promotional cycle. A few strong developers can even improve IVR by 400% to 500% through the use of interactive ads.
2. Increased User Acquisition Scale
Number of interactive ad impressions * Higher conversion efficiency = Larger scale user growth
Thanks to their relatively higher conversion efficiency compared to other ad formats, interactive ads are an efficient way for advertisers to acquire users at a larger scale than ever before.
Using interactive creatives to stimulate user growth in the mid and late acquisition stages
In the last quarter of the game advertising cycle, interactive ads accounted for 77% of total user acquisition numbers. This indicates that optimizing and investing in these ad formats can play a greater role in acquiring users in the mid and late acquisition stages compared to other ad formats.
3. Acquire Quality Users with Higher Retention Rates
Element-level Optimization: A More Detailed and Efficient Ad Creative Iteration Method
How diverse and fresh an ad creative is has a significant impact on the campaign effectiveness. Therefore, to increase the user acquisition scale, advertisers need to constantly optimize and iterate their ad creatives throughout the campaign. Granular optimization of ad creatives can enable advertisers to achieve their optimization goals from the following angles.
1. Boosting Efficiency while Reducing Costs
Changing the entire ad creative is not the only way to improve a campaign's effectiveness. Making full use of the ad creatives by breaking them down to their core components and iterating those elements instead can help you achieve your goals with higher efficiency and lower costs.
As interactive creatives are developed based on the H5 standard, advertisers can adjust and optimize each creative element by themselves using the Mindworks automatic optimization platform. With just a few clicks, advertisers can create multiple versions of their interactive ad creatives and use them across multiple channels. And thanks to Mintegral's algorithm, advertisers can achieve outstanding campaign results and meet the needs of various individual customers.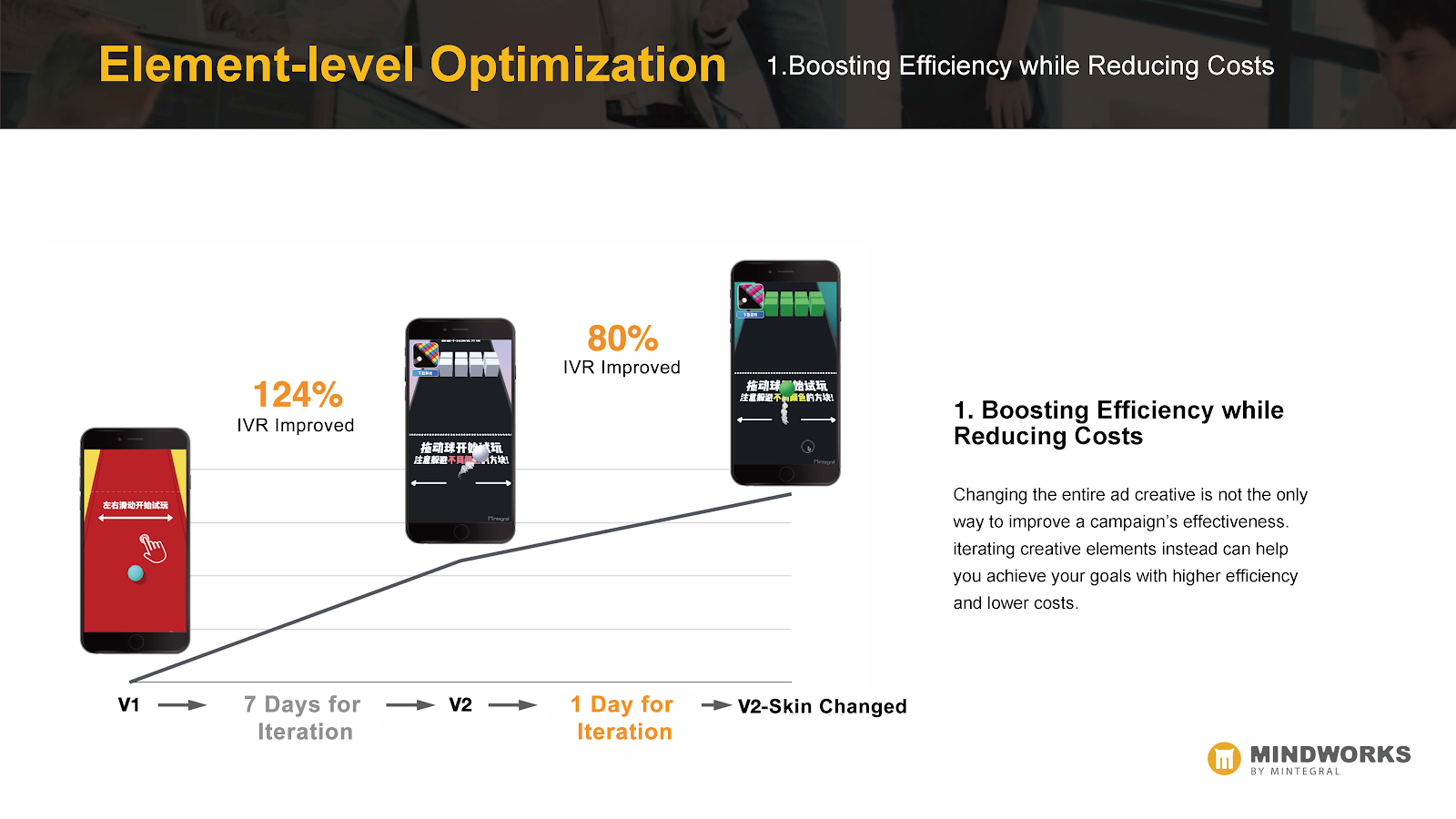 In the case of Color Bump 3D, Mindworks optimized 2 versions of creatives. For the first version, Mindworks replaced the entire playable creative, whereas for the second version, the team only iterated a single element from the existing creative. Although the ad creative replacement increased IVR by 125%, the iteration cycle took 7 days. In contrast to that, Mindworks managed to improve IVR by 80% by changing the game skin, with the iterative process taking just 1 day.
According to Mindworks data, 60% of campaigns have seen positive results after using new creatives. However, due to cost considerations, 40% of campaigns chose to optimize their existing creatives to reach their target audience, resulting in positive campaign ROI.
2. Using Personalized Customization to Reach Target Audiences and Solve Localization Problems
When advertising to global audiences, advertisers should customize their ad creatives based on region and user groups in order to maximize their customer acquisition efforts.
When adjusting ad creatives, things like gameplay difficulty, UI styles, and ad creative components have a significant impact on campaign effectiveness. As advertisers are constantly faced with changing user preferences, they should keep testing ad creatives to meet customer requirements across different regions and user groups in order to improve conversion rates.
Based on its extensive experience, the Mindworks team was able to provide some interesting and practical insights into the ad creatives for each genre and user preferences in various regional markets:
Optimization Tips for Playable Ad Creatives By Game Genre
IO and Parkour Games
For IO and parkour games, game difficulty and visual feedback are two of the most important features. Therefore, it's necessary for advertisers to create a thrilling game atmosphere in their creatives, provide users with instant feedback to keep them playing, and finally drive them to download the game. To get users interested, advertisers can consider inserting the game guides and adding competitive gameplay elements.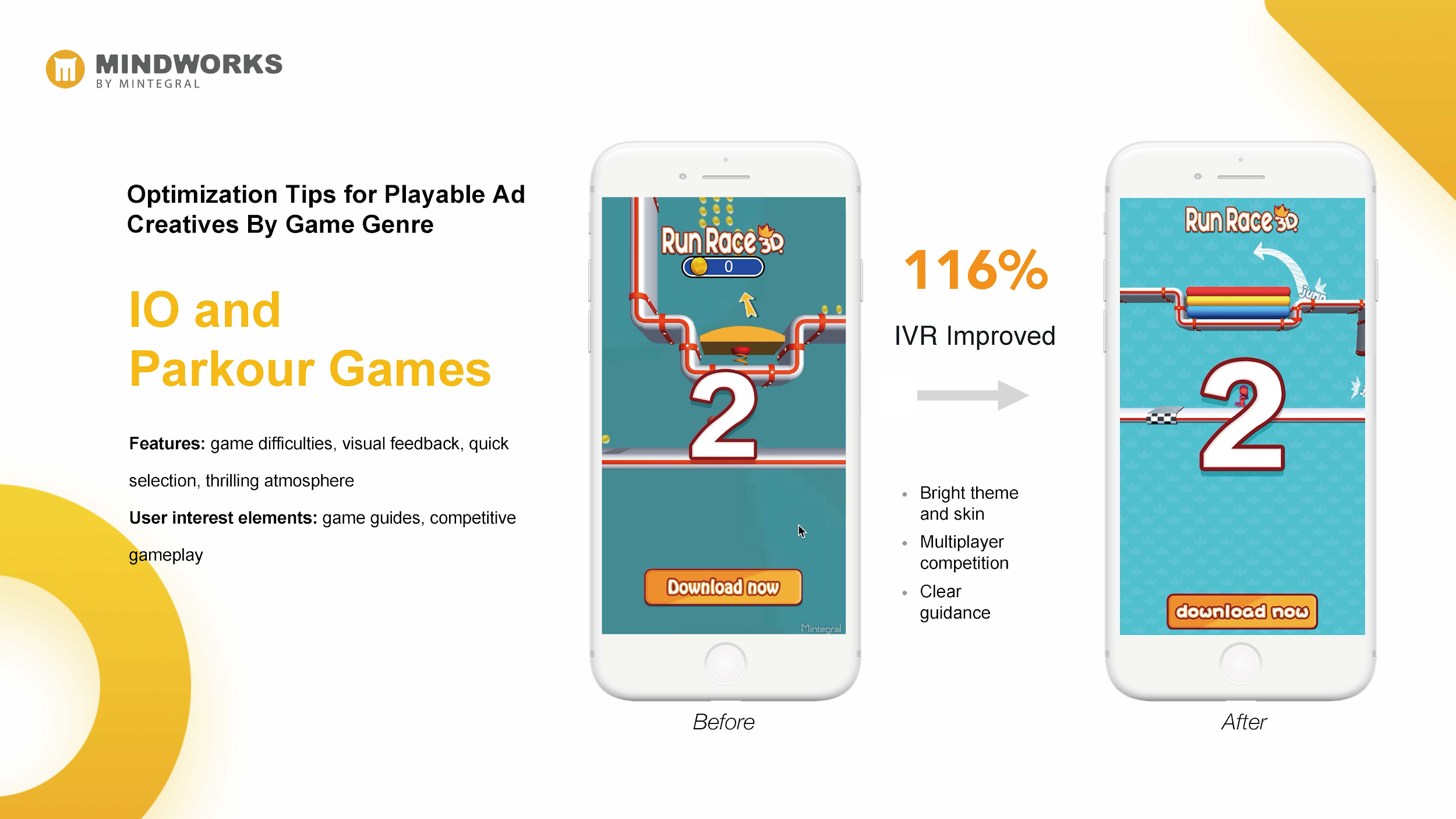 When designing creatives for Run Race 3D, Mindworks added multiple AI players to the original single-player version. In addition, Mindworks improved the user guide to help players quickly learn and master the gameplay in just 3 seconds, resulting in an IVR increase of 116%.
Puzzle Games
Puzzle games are targeted at wide and diverse audiences, each with its own set of preferences. Therefore, when building ad creatives for these games, advertisers shouldn't focus too much on highlighting different selling points – instead, they should pay attention to visual effects and gameplay elements like difficulty, duration, and level combinations.
Racing Games
The range of racing game audience is narrower, its user profiles are more specific, and have relatively consistent preferences in terms of art and UI style. Therefore, advertisers should focus their optimization efforts on game duration, gameplay, and difficulty levels.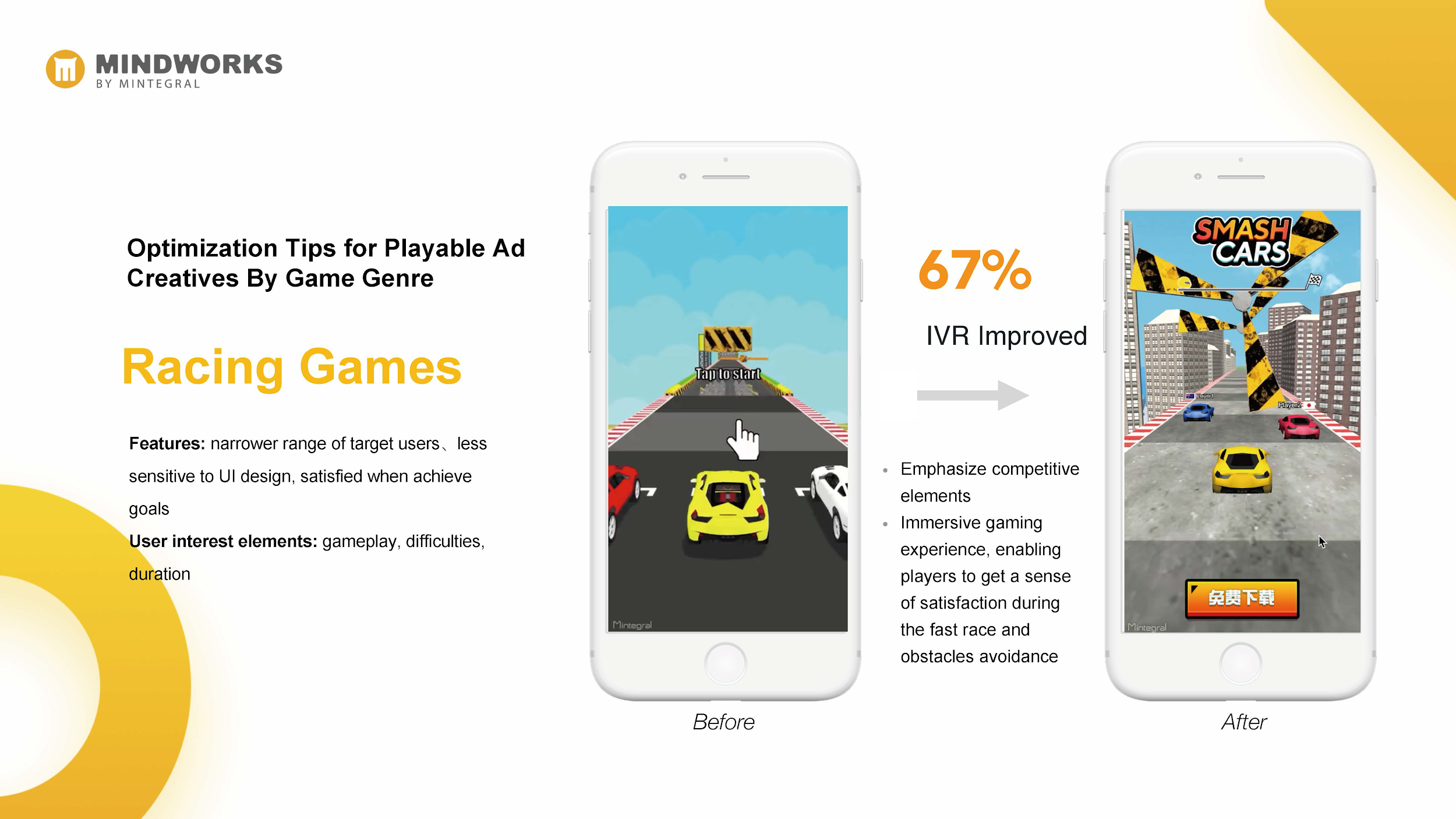 In the case of Smash Cars, Mintegral added AI racers and positive feedback elements based on the original game, improving user experience and achieving positive optimization results.
Simulation Games and Adventure Games
Gameplay for this type of games is more or less fixed, and users are not particularly sensitive to the games' duration or difficulty levels. Therefore, when optimizing these creatives, advertisers should consider using storylines to provide more background on the game's main story.
Ad Creative Preferences and Optimization Strategies by Region
Users in China are not very particular when it comes to the duration of playable ads, but have highly differentiated needs and expectations for the games' UI designs, art styles, and special effects.

At the same time, due to the impact that short videos have on China's mobile ecosystem, Chinese gamers love to use short-form video platforms to follow hot topics and stay up to date. Moreover, Chinese players have a special affinity for popular classic games. Advertisers who can add these elements into their campaigns can gain their target users' attention and achieve higher conversion rates.

Take the ad creatives for Idle Hero as an example. The Mindworks team created three versions of playable ads for this game:
Version 1: Mainly shows the game's original gameplay;

Version 2: Added panoramic gameplay technology, which allows users to find the enemy they need to attack by rotating their phone or dragging the screen, resulting in an IVR increase of 122%;

Version 3: Reduced the playable ad's difficulty levels and added an effect to highlight the power of special attacks (a classic gameplay element for those familiar with The Legend of Mir), resulting in a 215% IVR increase.
User preferences in the European and American markets are simpler compared to those in China, probably because those two gaming markets are more mature. As they are basically the birthplace of video games, these audiences are not so sensitive to visual elements, graphic styles, or special effects. However, European and American gamers are highly sensitive to the playable ads' overall gameplay, user experience, and difficulty level.
Target audiences in Japan and South Korea are rather special. When it comes to playable ads, they tend to be more responsive to elements such as character art styles and skins based on famous IPs, rather than gameplay, duration, or difficulty level.
To optimize interactive ad creatives, the Mindworks team has three suggestions:
Pay more attention to language localization.

Today, the way interactive ads are implemented is relatively mature. As long as advertisers prepare the translation copy for each corresponding region, Mindworks can optimize the ad creative packages into different language versions, resulting in better campaign outcomes at a lower cost.

Try to combine multiple selling points with various creatives.

Although the core gameplay will remain relatively fixed, advertisers should identify different preferences across users in different regions and adjust their ad creatives accordingly, in order to maximize their revenues through global campaigns.

Fine-tune campaign parameters.

For advertisers who partnered with Mintegral, Mindworks will keep tracking the changes to ad creatives throughout the entire campaign and identify the elements that can be further improved using interactive campaign data.
At the same time, advertisers who have used interactive ads need to pay more attention to user behavior data generated by these ads. Advertisers should create multiple sets of creative ads with different parameters in order to find the most effective way of reaching specific gamer groups across different markets.