The quick answer is yes, vertical video is a growing force in mobile advertising. And the reason why is that it fits with how people normally consume content on their devices.
Outside of consuming longer form content – such as video on Netflix or Amazon Prime – most video content is not watched horizontally. People hold their phone vertically most of the time and apps have responded to this universal preference with vertical-only content.
But how did we get to this point? In what ways has vertical video evolved over time? And what impact is this going to have on the mobile landscape? Let us's take you through this and more.
Always vertical
Over 90% of the time smartphone users hold their phones vertically including when playing games, taking photographs or watching videos. In fact, it's almost impossible to get smartphone users to bother to turn their devices horizontally.
A whole 72% of millennials don't even turn their phones to watch horizontal videos. This means that in an app like Youtube, the video will take up far less room – potentially only a third of the screen.
The reasoning for this is actually quite practical. Holding a phone vertically frees up the second hand to scroll, tap or eat popcorn while you watch video content. Only 13% of smartphone users hold their phone with both hands, which means it is possible to multitask inside – or outside – of apps.
And while these figures for smartphone usage are modern, the habit of consuming content in portrait has been long established. This can be seen in the emergence of square videos in the mid 2010s.
Square videos
Square video content emerged in response to two changes in the mobile app ecosystem.
The first, as we've established, is user reluctance to use a device in landscape. But square video also emerged because video content is increasingly being consumed within the feeds of social media apps.
As platforms like Twitter and Facebook added video to their native user generated news feeds, they had to find a way to ensure that video content would particularly stand out.
Square videos resolved the problem of ensuring videos were watched by taking up more space. They took up 78% more real estate on a mobile newsfeed than landscape video. And this land grab resulted in 30-35% higher video views and an 80-100% increase in engagement.
The best example of this was Tasty, Buzzfeed's recipe video page, that dominated Facebook in 2016. The square video driven page captured user attention with pristinely produced portrait content, generating millions of engagements and establishing industry best practice.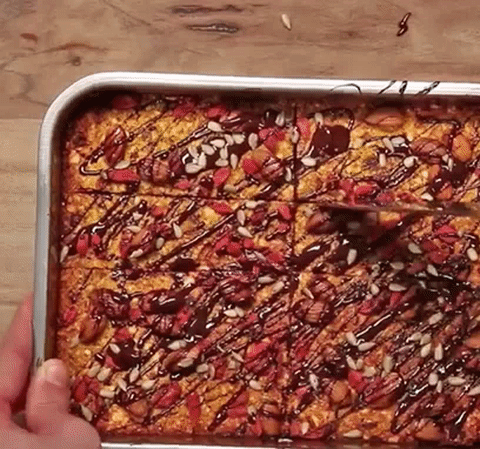 But square videos were only the start of the portrait video revolution. Recently, they've been superseded by something new and even more engaging: full screen video.
From feed to full screen
Full screen video was originally assumed to be something that could only be done in landscape. Again, the tropes of cinema and TV dictated that full screen portrait video couldn't emerge as a platform.
But it became a possibility for two reasons. First, video calling and messaging through services as diverse as FaceTime and Snapchat normalised full screen video.
Second, the emergence of the 'stories' feature in Snapchat changed the game. The full screen video content – which disappears for users after 24 hours – created an entirely new and engaging way to tell stories on social media.
In particular, the full screen format allowed for significant user customisation. From adding text, to overlaying images, to drawing content onto photos and even to the wide range of AR powered filters, full screen stories became a versatile and popular way of creating content.
The format proved so successful that it was quickly adopted by Facebook across its platform of apps. The result has been that usage of stories has rocketed.
In the year after stories were introduced on Facebook's platform, there was a 987% increase in usage. And on Instagram alone stories get 300 million users every day.
In early 2018, Mark Zuckerberg predicted that Instagram's full screen video content.
"Stories are on track to overtake posts in Feed as the most common way that people share across all social apps. That's because Stories is a better format for sharing multiple quick video clips throughout your day."
He was right. And this has major implication for advertisers.
Conclusion: why advertisers have to take vertical video seriously
Beyond the sudden increase in audience size, the major reason why advertisers have to take vertical video seriously is that it has a serious impact.
Facebook did a study to better understand the impact of Instagram stories and how they fare for advertisers compared to feeds. They found that more than 1 in 3 users said they have become more interested in a brand or product after seeing it in Instagram Stories.
Additionally, vertical video also has an unexpected advantage over other formats too: it's pretty cost effective.
Advertising on stories is 50% less expensive than advertising in feed on a CPM basis. For companies looking to increase brand awareness, stories offer a remarkably cost effective way to reach consumers.
But to succeed with vertical video content, advertisers need to do a number of things successfully to succeed.
First, advertisers have to understand the format. Full screen mobile video offers a fantastic canvass for advertising, allowing creative that buzzes with, well, creativity to pop off the screen.
But this presents challenges. It means that creative has to fit flawlessly between user stories, meaning that ads need to credibly feel like a natural part of a content flow rather than a jarring experience.
Second, it also means knowing what actions the format is best at driving. While advertising on stories is cheaper on a CPM basis, the same research we pointed to earlier also indicates that it is not as good at driving actions.
While in-feed video advertising may be less creative than its full screen, its ability to provide clear call to actions and interaction points could make it better for performance advertisers in the short term.
Finally, advertisers need to be ready for change in full screen video to come quickly.
In the past three years alone, it's gone from something that didn't particularly exist to a rich media advertising option underlaid by sophisticated targeting options.
With new players like TikTok driving further innovation on the scene, advertisers should expect vertical video to be even bigger in the coming years.