2018 has been compared to a dark winter for the China mobile gaming industry.
But fortunately, things finally began to take a favourable turn at the end of year thanks to Beijing's move to finally resume approvals for new titles. At the very end of December, 80 games received the first batch of licenses for domestic publication. Feng Shixin, a senior official of the Chinese Communist Party's propaganda department, said that more approvals for games will be issued continuously in the near future.
After such an extended period of uncertainty, everyone in the industry breathed a sigh of relief when the end to the suspension was announced. But will everything really run smoothly as before? Let's look at what the revised regulations are designed to address.
The first is a public health issue in China around rising rates of myopia. In an effort to address the issue of nearsightedness amongst children and young people the Chinese government announced a restriction on the number of online games. The aim is to limit the amount of time minors spend playing games and using screens.
Second, there has been growing concerns around the moral risk to consumers from violent, sexual and gambling content, and the ability to spend real money via in-app purchases. For many observers, this was the primary reason for the original hold on new licenses for IP, as many of the most popular games in China are based around fighting and combat.
On the 12th of December China's Online Game Ethics Committee, which was newly established, listed 11 titles that contain elements with moral risk, with a request for them to address the issue. Popular games such as League of Legends, Playerunknown's Battlegrounds and Vegeteal were reportedly on the list.
These games were said to contain improper elements that may affect teenagers. For example, the team fighting in League of Legends is considered to be too violent; shooting elements in Playerunknown's Battlegrounds are considered to be too bloody; "Stealing" in Vegeteal is an act that is illegal in the real world.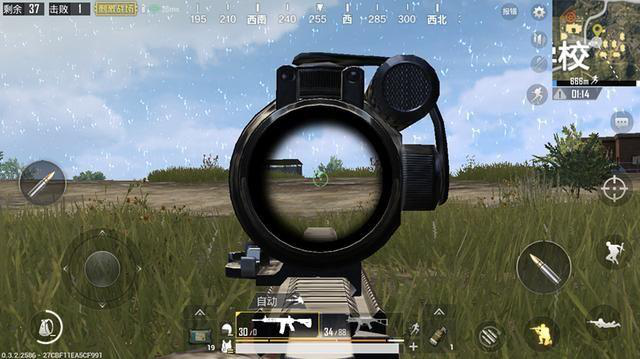 Playerunknown's Battlegrounds is considered to be too bloody
Such a tough new environment has put a lot of pressure on mobile games developers and publishers. According to a recent report from CNG and China's official gaming association sales of games rose by just 5.3% in 2018, much less than the 23% recorded in 2017.
Tencent has also faced the threat to its overall growth prospects thanks to the effect this has all had on its gaming division. Without an active license, it's publishing rights over Playerunknown's Battlegrounds has been badly hit as the game cannot be monetized through in-app purchases. As one of the most popular mobile games in China, this has caused a hit to its bottom line.
In the second quarter of 2018 Tencent experienced its first profit drop in at least a decade after the freeze on new game approvals.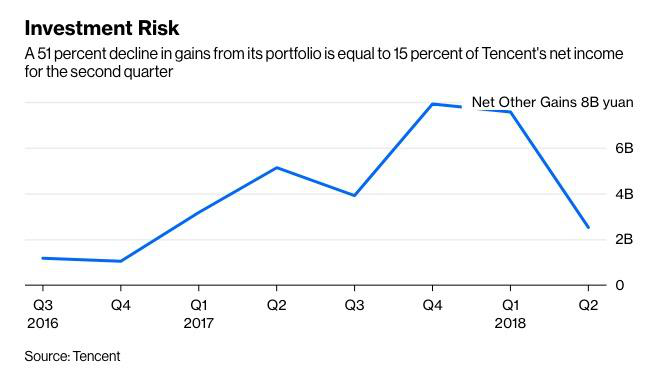 Although there were some rumours that companies could buy the approval licenses from each other, the authorities clarified that it is illegal to do so and established a system of rewards for reporting any such behaviour.
As for the restriction on the number of online games, industry analysts have predicted it will accelerate the rate at which smaller and unprofitable game publishers exit the market – which may actually be a positive in the long run, with app stores in China just as over-populated as elsewhere. The most affected game genres are likely to be poker games, which accounted for almost 50% of new mobile games last year, with the result that there are too many low quality or copycat games out there.
Another result of the crackdown has been the increased focus for Chinese developers on building a more global audience in order to survive. Alongside familiar markets such as North and Latin America and Europe, other countries in APAC like Southeast Asia, India, and Korea have become new target markets for developers.
So in some senses, the pause on new game launches may end up being beneficial to game publishers, as aspects of what is and what isn't allowed are now much clearer. However, the suspicion is that, having focused on the impact games are having in China, the government will continue to keep a close eye on how the sector is behaving, and what the effect is on Chinese citizens.
In his December announcement about the new licenses, Feng said that during the development of China's gaming industry problems had appeared, such as unhealthy value proposition, lack of innovative ability, lack of cultural implication as well as social responsibility. "We must face up to the problem, focus on solving social concerns, and constantly correct the direction to ensure that China's game industry is healthy, orderly and of high quality along the right track."
With China already the world's biggest market for mobile and PC games, there's no doubt that competition will become even more fierce in the future, with production costs likely to rise. In addition, developers may have to pay more attention to avoid the risk of being punished by the authorities.
The takeaway: three ways to successfully launch in China
1. Partner with local Chinese distributors
Although IOS games can be launched and sold directly via Apple's Chinese app store without being subject to any government licensing,  Android makes up some 95% of the market. The best way to reach this audience is through a local partner, both because they will be familiar with the rules and regulations and because overseas companies cannot launch on Android without a registered entity in China. Therefore, Chinese publishers are the gateway to the 50-plus key app stores for the Android market.
As a guide, foreign game publishers typically receive a revenue share of 15% when working with a local distribution partner to launch an Android app.  Publishing an iOS app directly via the Chinese App Store offers the same 70/30 revenue split as elsewhere.
2. Localise your game properly
Localisation for the Chinese market is a lot more than just translating the text. It includes optimising the game name, UI, colours and art style.
You should also think about how to make your games appropriate for China's cultural and political environment (especially in the light of the new licensing rules). For example, if you are a developer of shooting games you should consider how to keep a balance between realism and explicit graphics, and game design and style that protects minors.
3. Monetize your games in multiple ways
It's been suggested that games without IAP can more easily get the approval from Chinese authorities. This means that game developers should look to monetize games in other ways – especially for game genres that are not able to generate a large amount of revenue from IAP. For example, monetizing games through in-app advertising is a great alternative.