Gamescom is the biggest games event in Europe. Over 370,000 game enthusiasts, developers, publishers and industry giants swarm into the Koelmesse in Cologne, Germany, for a week of spectacular game reveals, intense networking and unique insights. Halls the size of airplane hangars will be packed with fans queueing to get a sneak peek of their favourite franchise while publishers strike up some of their biggest deals.
Devcom and the Gamescom Congress are the highlights for industry professionals. Devcom is one of the "must attend" conferences in Europe which focuses on the development side of the industry. International and local experts will be giving talks on game design, art, tech, and also leadership, business, marketing and production.
Meanwhile, the Gamescom Congress is Europe's leading conference on the impact of games on our economy and society. Last year the congress had 870 participants and speakers from all over the world and this year it's set to be even bigger. Creative artists, educators, politicians, scientists, as well as game makers and business representatives from all industries will be in attendance to hear from top-class speakers on a huge variety of topics.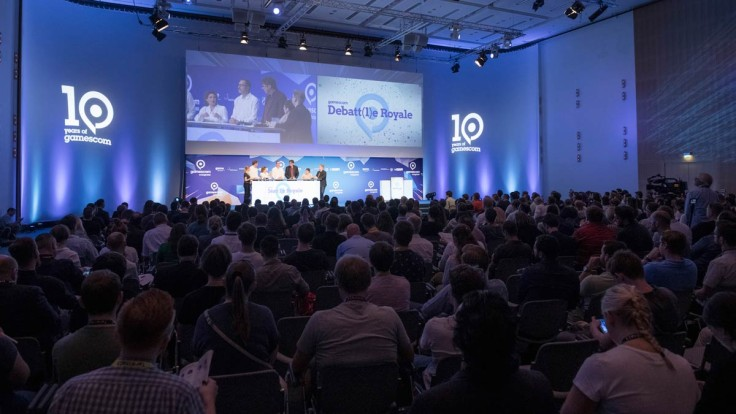 Gamescom Congress is Europe's leading conference on the potential of computer and video games for society and the economy.
China, of course, will be having a prominent presence at Gamescom. A whole 53 Chinese companies will be exhibiting in the halls of the Koelmesse, up from 38 in 2017. It's the country with the third biggest presence at the event after Germany and the UK. Exhibitors include household names like ByteDance, NetEase, and Tencent.
Gamescom's focus on Asia has been growing in tandem with the Asian game industry boom. We're honestly not surprised considering that APAC is the largest games market, taking a whole 47% of global games revenues in 2019. Earlier this year Gamescom announced that it would launch a new Asian edition of its flagship event in 2020. Gamescom Asia will be held in Singapore on October 2020 and feature a similar structure and schedule to its European counterpart.
The bonds between East and West are strengthening and we want to help build a bridge between the two markets.
On Tuesday, August 20, we'll be holding a free mini-summit on the APAC region. Come to get a chance to meet China's top publishing companies and enjoy an evening of insightful discussion at the Hyatt Regency Cologne Hotel near the scenic river.
Our speakers include top publishing experts from Huawei, Xiaomi, iDreamSky, Habby Games and Leiting Games. They will be answering questions like: How can developers connect with users? What is the best way to grow your studio's profile and, ultimately, make money? Publishing and monetisation in the Chinese Android market will be the focus.
Whether you've been trying to find the perfect Chinese partner to crack into the Asian market, or you're simply curious about the idea of publishing in the biggest games market in the world, you will not want to miss this free evening of canapés, drinks, networking and talks.