2020 was a year like no other. The COVID-19 pandemic had profoundly disruptive effects on people all over the world, changing how we eat, work, relax, and everything in between. But just like with any crisis, there's also opportunity.
The online world saw incredible growth, with the mobile sector looking especially strong in a time where mobile device usage went through the roof. This massive increase in time spent on mobile gave publishers and advertisers new and better opportunities to reach this suddenly larger audience, with some impressive results in the process.
Despite the challenges that 2020 threw our way, we were able to keep moving forward, improve our products, and seize new opportunities. We looked back at some of our key achievements in 2020 and we'd like to share 3 of the biggest ones with you – none of this would have been possible without the help and support of our partners.
Our commitment to trust and transparency
The imminent updates coming to Apple's IDFA brought data privacy and transparency into the spotlight in 2020. With the IDFA changes set to come into effect this year, mobile advertising platforms around the world will need to ensure their targeting and measurement models for their own data are up-to-date – platforms that will be unable to adapt are very likely to suffer irreparable damage and could simply be unable to compete in the iOS ecosystem.
We've always taken data privacy and security very seriously, so we made sure to not only follow the highest industry standards but also to advocate for a safer, more transparent industry. But talk is cheap, so let's take a look at some of the things we did in 2020 to underline our commitment to data privacy & security.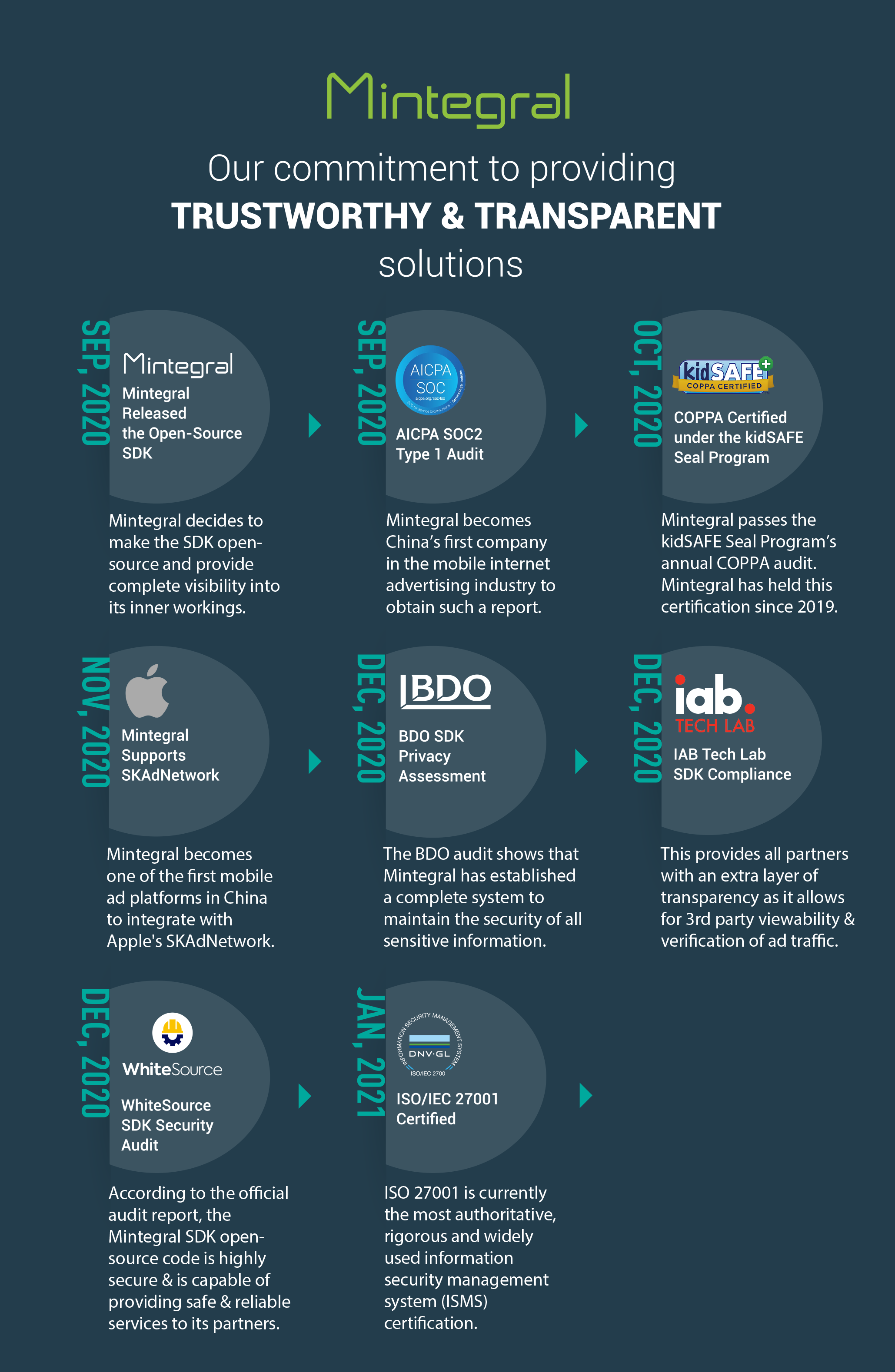 A quick look at some of our most notable data privacy & security achievements (click image for larger version)
To read more about these changes, please see below:
Our creative breakthrough: Playturbo
We always believed in the power of a good ad creative. The vision we set out for our talented Mindworks Creative Studio has always been about pushing our boundaries, learning new things, and constantly improving our work.
We've worked with advertisers from many verticals in 2020 and we were able to identify two key pain points:
Playable ads proved to have the highest engagement and conversion rates in 2020, but the costs associated with producing and iterating them were a significant challenge
With an increase in time spent on mobile, ad campaigns scaled in volume and complexity, so advertisers' need for creative automation tools reached a new peak in 2020
We focused our efforts on creating a tool that would answer these challenges and help advertisers increase their campaign effectiveness, so in June we announced the launch of Playturbo. Developed by our in-house studio Mindworks, Playturbo is a self-service playable ad platform that allows advertisers to create multiple versions of playable ads and iterate upon them in a matter of seconds.
We also introduced an industry-first element into Playturbo: Dynamic Creative Optimization (DCO). This allowed advertisers access to real-time, asset-level analysis for their playable ads, helping them meet the increasingly high level of personalization that user preferences dictate today.
By using the creative capabilities of our in-house studio Mindworks, Playturbo was able to address three key areas that have long been an issue for advertisers across all regions and verticals: creative customization, creative iteration, and algorithm-based optimization. Not only that, but we've recently released a new version which we're sure you'll love – read more about it below:
The New Playturbo Version Is Taking Playable Optimization to the Next Level
Our deep dive into in-app bidding
In-app bidding was a relatively obscure monetization solution in recent years. It wasn't until 2020 that in-app bidding saw increased adoption – more and more major ad platforms built and launched their own in-app bidding solutions last year, with an increasing number of developers choosing in-app bidding to boost their app revenue streams.
As a core believer in its positive impact on mobile developers across industries and verticals, we advocated for an industry-wide in-app bidding implementation and the results were clear: in-app bidding isn't going anywhere and it's going to grow even more in 2021.
We are the first Chinese ad-tech company to support in-app bidding, so we launched several key initiatives to help our audience understand the benefits of this monetization technology – read more about them below:
To 2021 and beyond
2020 was a year of ups and downs, of uncertainty, but also opportunity. Compared to other areas, the mobile industry was fortunate enough to see more opportunities than challenges, and as a member of this ecosystem, we were able to channel those opportunities into stronger operational capacity, new products and services, and better technology.
Whether it was improving our data privacy and security capabilities, launching a new ad creative optimization platform, or continuing to advocate for in-app bidding, none of these would have been possible without the help, feedback, and support from our partners around the world.
We've learned a lot in 2020. These lessons made us stronger and more agile, so we're ready for 2021. We'll continue our vision to "Be the Bridge between East and West" and we hope you'll be our partner on this adventure.