The NPD Group's research arm, EEDAR, recently launched a report on gaming habits of the population of the USA. The report examines the platforms people choose to play video games and where they overlap.
The data was gathered from a survey circulated this past June. 5,000 individuals who had played games in the last month were polled. Adults were asked about their own gaming habits and those of their children age two and above.
We've summarised the most surprising findings, how they sit within the wider American mobile market and how it contrasts to the mobile gaming habits of the Chinese population.
American gamers turn to mobile
Two-thirds of Americans play video games. That is roughly 211.2 million people who game and more of them are turning to mobile.
An astounding 90% of gamers play on mobile devices. Smartphones and tablets have become the most popular way to play, beating PC at 52%, console at 43% and dedicated handhelds at nine per cent. To clarify, Nintendo Switch was considered a console in this report, not a dedicated handheld.
The popularity of mobile gaming comes to no surprise when compared with Deloitte data from their mobile usage report last year where they found that Americans use their mobile phones 12 billion times a day. Smartphone penetration has reached 82% in the United States with a lot of Americans finding a consistent and stable use for their phones.
Mobile phones are small, comfortable and fit easily in the day to day lives of many Americans. As gamers satisfy their need to play games on mobile devices, many new and seasoned gamers are leaving their PC and console games to the side. 34% of gamers exclusively use mobile handheld devices for their gaming fix. 59% of gamers play mobile games as well as PC and console games.
A device with low engagement thresholds
Gaming is the second most popular pastime of citizens of the United States, taking up 16% of weekly leisure time and roughly 12 hours a week. This is beaten only by browsing the internet at 18%. Listening to music and engaging in social media made up 15% and 13% respectively.
EEDAR's Deconstructing Mobile and Tablet Gaming report from last year showed that 80% of teenagers and adults viewed mobile games as an easy way to pass the time. They enjoyed the ability to play on-the-go, on their commute, while waiting, or after work as a way to relax. 45% of adults said they played mobile games because they require less time and attention than other activities and enjoyed its low engagement threshold.
The comfort of smartphones and tablets has meant more people who did not use to play games are now finding an avenue through mobile.
Dr. Heather Nofziger, head of consumer research at EEDAR praises the importance of mobile gamers, however, highlighted the necessity to migrate mobile gamers onto other platforms. He states, "Over the past several years, mobile gamers have been a key segment for the games industry to target with marketing spend because of the sheer size and diversity of the audience, as well as the amount of time invested in gaming on this platform. While there continues to be an opportunity for growth in mobile, the real potential for growth lies with getting the other groups increasingly involved in gaming across platforms that they may not have considered using for gaming in the past."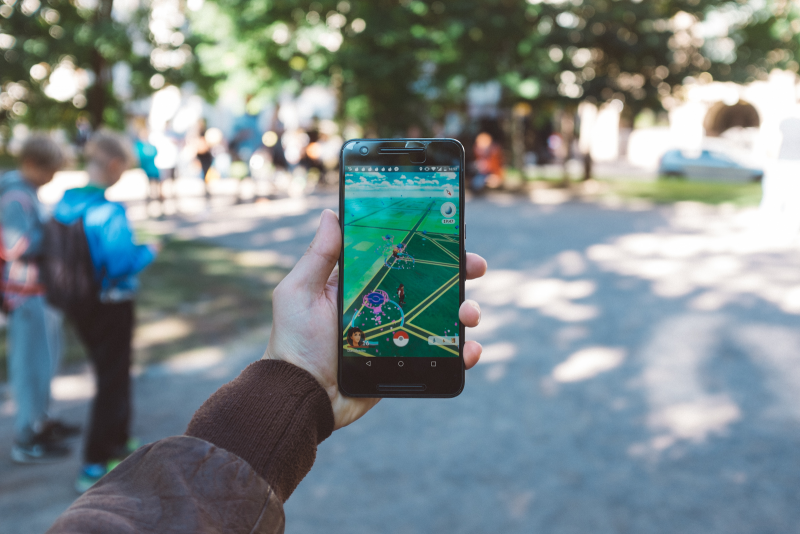 More brands are looking to expand their IP into mobile. For example Pokemon with the wildly popular Pokemon Go. Image credit: University of Washington.
In comparison with China
The global mobile games market is worth $70.3 billion and makes up 51% of the global games market. Of that market, China and America take a beastly slice of sales revenue. The United States of America's mobile games market amounted to $9 billion in 2018 which China beat with a total sales revenue of 63.41 billion yuan or $9.3 billion.
When it comes to numbers of players, China surpasses America via sheer population count alone. A third of China's population plays mobile games according to the "China Game Industry Report from January to June 2018" by China's Game Publishing Committee and Gamma Data. That makes 460 million mobile game players in China. America which only has a population of 328 million cannot compete.
While numbers alone mean $1 out of every $4 spent on mobile games comes from China, the average American gamer spends $56.72 on their mobile games – a goal that China still has to reach.
In conclusion
Both China and America are seeing rapid growth in their mobile games market. Due to their practicality and popularity, more people are finding an easy entry to the games market through their mobile devices. American market experts worry about the future of the games market if these mobile players do not also turn to other platforms. However, China's incredible success with mobile games should come to comfort the American games industry. Mobile gaming is the future of the games market and, like China, America too should embrace it with glee.