Top media channels have become the main source of user acquisition for mobile advertisers. With the biggest players on the market essentially creating a UA monopoly, small and medium-sized gaming advertisers are feeling the pressure.
As acquisition costs are growing, mobile media buying is becoming less efficient and high-quality advertising sources are harder to find. In addition, advertisers are calling for better and more personalized marketing tools, as the industry shifts towards self-service advertising platforms and some companies take their programmatic capabilities in-house.
The current industry status might look problematic for advertisers, Mintegral has been working on a potential solution. Back in September 2018, we unveiled our Advertiser Self-Service Platform. Today we are happy to announce that our self-service platform has just received a significant set of upgrades that will help advertisers tackle present-day challenges.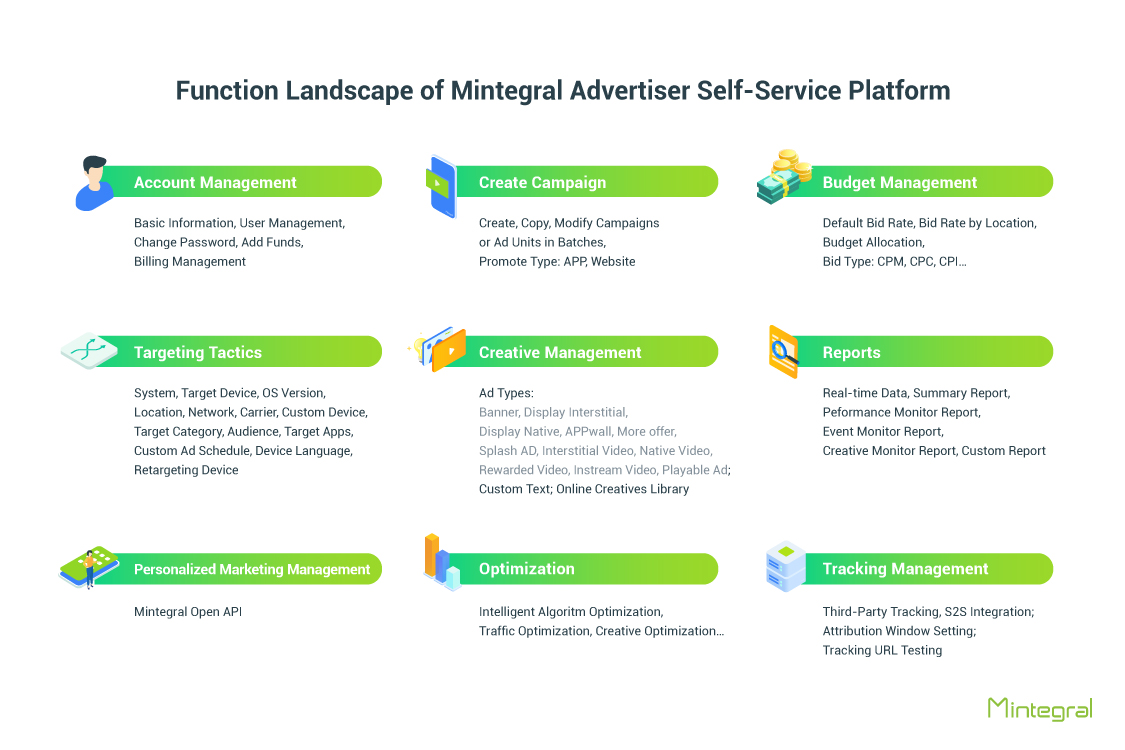 We have 3 exciting updates to share with you today, so if you're wondering what's new or why you should use the Mintegral Advertiser Self-Service Platform, then this article is for you!
Improved traffic and user coverage
When looking at an ad platform's strengths, advertisers will first want to know about the platform's traffic and user volumes. So what makes Mintegral's ad platform stand out?
First of all, our high-quality traffic network with over 3,500 publishers integrating the Mintegral SDK. Secondly, our massive amounts of quality user data for over 1.7 billion DAUs and over 1.4 billion daily ad impressions. On top of that, we offer global campaign coverage and we were recognized by the industry as we placed 6th on AppsFlyer's Global Performance Index and 2nd on the Global Growth Index.
High-quality traffic network with direct premium publisher partnerships:

 

with over 3,500 global publishers integrating the Mintegral SDK, our platform provides a diversified in-app inventory that generates more than 1.4 billion daily ad impressions.
Extensive amounts of high-quality user data available:

with the Mintegral DMP having data on over 1.7 billion DAUs, advertisers are able to acquire high-quality users at scale; this process is further enhanced thanks to multi-dimensional targeting options and our industry-leading algorithms.
Global campaign coverage:

from APAC to Europe, and from North America to South America, Mintegral can serve your ads across any region you need; plus, as a Chinese ad-tech company we can offer advertisers best-in-class traffic buying options in the APAC market across other platforms.
Introducing Open API
As advertisers and agencies struggle to manage all their campaigns across multiple platforms, we recognized the need to unify these data silos into one clear, easy-to-use location: say hello to the Mintegral Open API. With a multitude of advertising interface services, advertisers can choose to integrate the features they need through the Mintegral Open API to:
Create, manage, and optimize your ad campaigns without the need to log in to the Mintegral Self-Service Platform.

Improve the efficiency and transparency of your campaigns.

Personalize your campaigns to match your needs and build any relevant programmatic functionality in-house.
For more information please see the Mintegral Open API quick start guide.
Improved user experience and ad management
We have updated the entire ad creation process by adding a whole new set of features designed to make this process more efficient and ensure advertisers have the level of campaign granularity they need. Let's take a look at some of the key improvements we've made:
Making cross-regional marketing easier:

our Self-Service Platform can help you create multiple campaigns or ad units to target different areas with different bids or creatives from a single item; say goodbye to creating the same campaign multiple times just to change one variable.

Playable ad formats supported:

the platform now has full support for playable ads, on top of the other existing formats like app walls and various types of static and video ads. To use playable ads in your campaigns, simply upload the creative and test it; if it's compatible with our platform, you will be able to launch your campaign and start acquiring users straight away.

Online ad creative library:

thanks to this feature, advertisers can manage creatives in batches, not just on an individual level, and run A/B tests with multiple creatives at the same time to find the optimal ad creative combination.

Multi-dimensional creative optimization:

our algorithm will match the ad format, copy and creative with the best template, users, and bids to improve the ad experience and performance.

Online deposit functionality:

we now have support for online deposits, in both RMB and USD currencies. Advertisers can fund their accounts either by using bank cards or via online payment tools like WeChat Pay, Alipay, or PayPal.
Ready to try the Mintegral Advertiser Self-Service Platform?
As more users spend more time on their mobile devices, the race for high-quality mobile traffic becomes increasingly tougher. In order to achieve their goals, advertisers will need to find more valuable media sources and develop more opportunities outside the big established players in the market.
"The industry trends point to the widespread adoption of intelligent and automatic advertising. What an advertising platform needs to do is to lower the barrier to entry by helping them tackle the bottlenecks caused by a lack of human resources and lower efficiency levels," said Vincent Fan, Mintegral's Head of Global Advertising Business Development. 
"The rise of Mintegral and other third-party independent mobile advertising platforms will also help gradually break the Google-Facebook duopoly by providing advertisers with other high-quality choices and marketing growth opportunities," he added.
With advertisers around the world using our Self-Service Platform to create and manage their campaigns, we believe we can help you take your marketing initiatives to the next level. If you haven't used our platform before, this is the best time to get started – and if you've used it before, log in now to see these new features in action!
Click here to Try the new Mintegral Advertiser Self-Service Platform!