We would like to introduce to you Super Planet, a unique game studio that developed games based on webtoons and web novels. Super Planet games, which are in line with the recent content trend that embraces storytelling as a core winning strategy, successfully appealed not just to Korean users but also to the broader global audience.
We sat down with Lee Eun-young, Business Operations Team Manager, who is in charge of the global service strategy at Super Planet. Let's hear from her how on the arcade game Videogame Guardians captured the attention of not only Korean users but also users of Japan, China, and many other countries around the globe.
A game out of a webtoon? 
What is unique about Super Planet, founded in August 2012, is that it develops games based on 'proven stories' that already gained popularity as webtoons and web novels. Videogame Guardians, one of its big hits, is an arcade game that uses popular webtoon IP from Naver, the most popular internet portal in South Korea.

Q:Super Planet has published many games so far. Can you briefly introduce some of them?
A:Videogame Guardians is the most well-known title, and we also have Heromaker, web novel-based game Memorize: Shadow Memory, Green Skin: Dungeon Master, and Luna. This year, we plan to release webtoon IP-based mobile game Hardcore Levelling Warrior.
Q:Are there any reasons why Super Planet used popular IP for its games?
A:We really like webtoons and web novels (in fact, we are fanatics!). As we personally enjoy many webtoons and web novels, it naturally occurred to us that they can be good games. 
Q:What made you choose casual RPG out of many game genres?
A:We figured that it was the right genre that could express and deliver stories and worldviews of webtoons. Also, we are good at developing casual RPGs. We took a casual approach because we wanted to put 'fun' elements into the games, and lower the hurdles to RPGs so that many more people can enjoy them.
Q:Tell us a bit about your future plans, what's next?
A:Currently, we are working on new content and a large-scale update for Season 2 is scheduled for release. Also, we are planning to release new content based on new stories and demons.
How to prepare for a global rollout?
Videogame Guardians is loved by global users because Super Planet smartly identified local cultures and game trends of many countries and quickly reflected them in its game. Super Planet is known as a studio that always thinks hard and does a lot of research in terms of localization for game elements as well as what marketing materials and methods can effectively engage local users.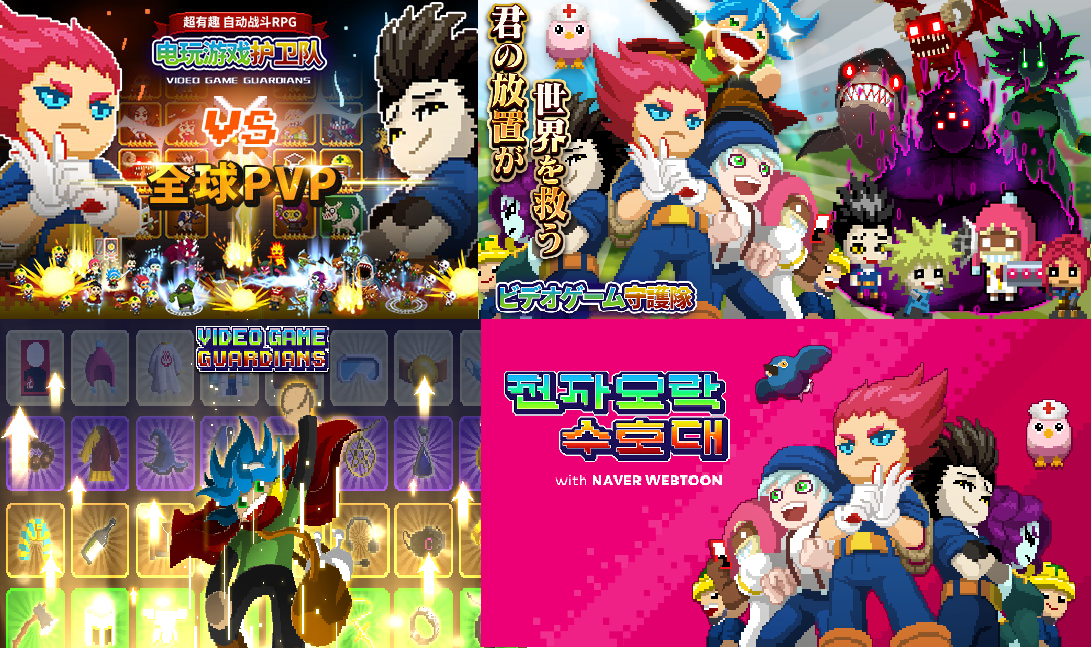 Videogame Guardians supports multiple languages including 
Chinese, Japanese, English and Korean for local gamers
Q:What do you think made Videogame Guardians appeal to global users?
A:It seems early to call it a success, but we are taking gradual steps and are making progress toward success. Although the IP that we are using is not well known outside Korea, I think it appealed to global users because of a combination of many factors.
The workplace setting of the game can resonate with many people regardless of nationality and people seemed to consider the story creative. And I think that along with casual pixel graphics, witty character skills inspired by familiar elements of classic games and content played an important role. The simple play method was a plus, too.😊
Q:What are the main challenges to serving global users?
A:The biggest challenge is to understand local sentiments and cultures to provide relevant service. Of course, we need to develop a game that takes many cultures into consideration. Also, we have to be thoughtful and careful about cultural differences especially when we directly interact with users in communities, 1-on-1 inquiries or at events. We respond to them by getting advice from local staff, but still, we run into difficult moments from time to time. 
How to acquire Chinese users 
Videogame Guardians is particularly popular in China. The game itself has many components that Chinese gamers find interesting, but Super Planet made various efforts to understand Chinese users. The user acquisition campaigns launched in cooperation with Mintegral have been very effective thanks to Mintegral's know-hows of the Chinese mobile industry.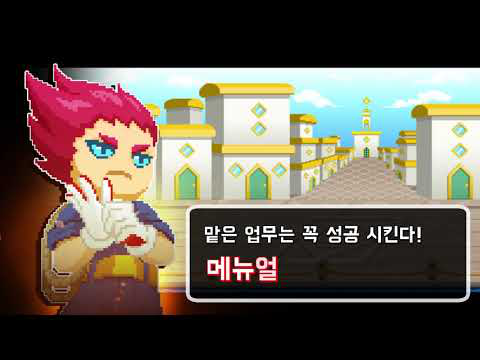 A video introducing Videogame Guardians on the Super Planet YouTube channel
Q:The game is also very popular in China. What do you think is the reason?
A:I'm so excited to hear that it is popular in China! The fact that you can enjoy the game without paying was probably one of its advantages. 
Besides that, we put a lot of effort into localizing the game. We studied the local culture and game trends with our Chinese colleagues. We didn't just do that for in-game localization, we also kept refining and adjusting marketing materials to better appeal to Chinese users. There is still room for improvement, but we now see that our continued efforts are gradually bearing fruit. 
Q:What is the secret to acquiring so many Chinese gamers in a short period of time?
A:Because our game is fun? (Laughs) There were organic users who voluntarily found and downloaded the game. Besides that, we launched large-scale campaigns to acquire users in partnership with mobile marketing platform companies such as Mintegral, and the campaigns played a very critical role. In particular, those with Mintegral made a big impact thanks to its expertise on the Chinese market. 
(* Check Part 2 of the Super Planet article for more details on the UA campaigns.) 
Q:What are the differences between Chinese gamers and Korean gamers?
A:Korean gamers take great interest in webtoon plots and characters and provide frequent feedback, while Chinese users generally don't. However, I don't think this is related to differences between China and Korea, but it is more about whether you are familiar with the original webtoon or not.
Users in both Korea and China responded very quickly to ranking and competitive content. Chinese users, who tend to spend more on in-app purchases, are more active in finding ways to obtain higher ranks instead of rewards they get from game results. It is the most notable difference that sets Chinese gamers apart from Korean gamers.
We could clearly see the strengths and multi-faceted efforts that made Videogame Guardians gain global popularity.
Super Planet acquired Korean users by targeting the fans of the original webtoon and added local elements to the game for global service. We think such local elements are the strength of Videogame Guardians but it is not the only reason why it captured the attention of highly influential Chinese users. UA advertising campaigns also played an essential role in attracting many users.
We will explain how Super Planet worked with Mintegral to effectively carry out the UA campaigns in China in the next article so stay tuned for Part 2 – "Videogame Guardians' UA Campaigns".