Pocket Gamer Connects is one of the biggest mobile games industry events on the calendar. Up to 3,000 delegates from more than 50 countries attend PG Connects conferences around the world, from London, Helsinki, Hong Kong and now Seattle.
This two-day event is coming up on the 13 and 14th May and will cover all the critical issues for games professionals, including the latest industry trends and technical insights to new ways to monetise and how to grow.
With ten tracks to follow, it can be difficult to know where to be and when. This is why we have brought you the five sessions you will definitely not want to miss.

Global Trends in Hyper-Casual Games by Ivan Bravo from GameAnalytics
May 13, 9:40 AM – 10:00 AM
Hyper-casual games are little snack-sized games made to be lightweight, instantly playable and incredibly addictive. They are also one of the most defining recent developments in the games industry having driven up growth across the globe. VentureBeat reckons hyper-casual games make between $2 to $2.5 billion in annual revenue.
These tiny titles often feature a simple and compelling mechanic, making them very easy to pick up and play. They can be played in short bursts of as little as a few seconds at a time, meaning players will often go through numerous sessions at a time. This makes them easy to monetise via advertising, served in the game after each completed session.
Ivan Bravo is the director of customer operations at GameAnalytics, the universal analytics tool for studios and publishers. In his talk he will be presenting fresh benchmarks for casual and hyper-casual games. Go to his talk to enjoy a deep dive into retention metrics and emerging trends and provide ideas on how to retain and re-engage high-value players.
The Game Industry Scenario in China – And the Value a Local Publisher Can Provide by Ken Li from NetEase
May 13, 2:20 PM – 2:40 PM
We've said it before and we'll say it again, the Chinese video game market is the biggest in the world. It holds more mobile users than North America and Europe combined. Newzoo estimates that the Chinese games market generated over $35 billion in digital revenues in 2018 alone. A game developer looking for success should not miss out on the incredible opportunities to be found in China.
Ken Li is none other than the vice president of NetEase, one of the world's largest games company. They've partnered with Blizzard, Mojang, and plenty more, bringing their western hits to the eastern market. Learn from the master about the state of the games industry in China and the role of local publishers in helping you release your game in one of the strongest game markets in the world.
Tips on Making Your Hyper-casual Game a Success in China by Jeff Sue from Mintegral
May 14, 10:40 AM – 11:00 AM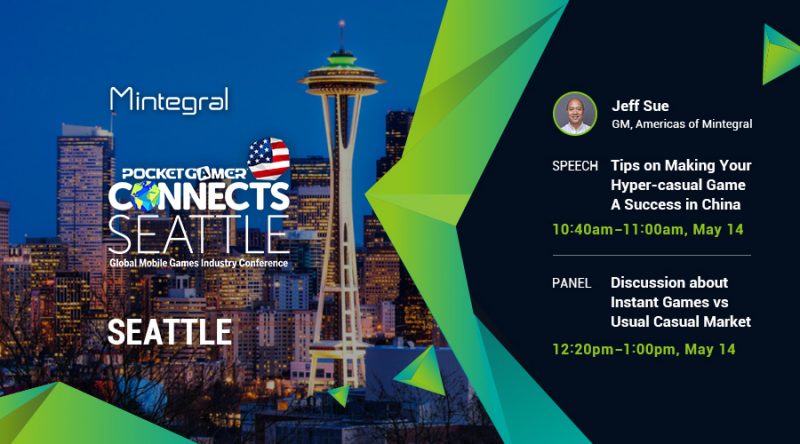 China is the home turf of hyper-casual games. After the great licensing freeze slowed down the Chinese games market last year, medium and small studios began finding inventive ways to launch their games in the market. One of these were mini-programs.
Mini-programs are little downloadable apps that run inside another, larger app such as WeChat. One-quarter of the Chinese online population uses WeChat's mini-programs every day. The format is perfect for the little snack-sized hyper-casual games and Chinese developers have seen a lot of success with it. 42% of WeChat's mini-programs are games, most often, hyper-casual games.
Hear from Jeff Sue, general manager Americas at our very own Mintegral, talk about the latest in Chinese, hyper-casual trends and learn how to find success in the Asian market.
Hyper-personalization Fueled by Psychometrics: The Ultimate Power Up for Next Level Retention and Monetization by Joe Schaeppi from 12traits
May 13, 4:20 PM – 4:40 PM
The app stores are inundated with games and it's getting harder and harder to retain players. The App Store houses 2.6 million apps, according to App Annie. Game companies are going to have to adapt to the new reality in order to survive. How do you stay competitive in such a busy market? A lot of companies are trying to optimise and personalise experiences using behaviour data however that is not enough.
Joe Schaeppi, CEO of 12traits, will be talking about how to get a competitive edge in user analytics by collecting psychological data. He will go over different ways to personalise games, how to gather psychometrics and how to avoid pitfalls in order to improve your games monetization, retention and player lifetime value.
Buckle up because Joe Schaeppi is a mastermind of psychology, machine learning and psychology based AI. His insights will be critical for studios wishing to succeed in a saturated mobile market.
Lessons from Launching 10+ Hyper-casual Games in China by Allison Bilas from JoyPac
May 13, 2:00 PM – 2:20 PM
While we will be talking about the Chinese hyper-casual market from the monetization side, you will not want to miss seeing what it is like from the perspective of a publisher.
Allison Bilas is the COO of JoyPac, a publisher which specialises in bringing western games to Asia. She has lead the launch of over ten hyper-casual games in the Chinese market this year alone and is the uncontested specialist in the field.
Hear about how to tighten your gameplay to ensure your game can have optimal success in China, learn about the key trends and differences between the western and eastern markets, and what metrics to look out for when measuring success.