As lights and decorations go up in preparation for the holiday season, people around the world take to the streets and online stores to get gifts for their loved ones.
November and December are likely to be the busiest months of the year for marketers, as they make one last drive to catch consumer interest at a time when they're primed to buy.
But is working harder during holidays like Thanksgiving, Christmas and Single's Day actually going to deliver results? Not necessarily, according to Singular, the marketing intelligence platform.

Its Holiday Mobile Trends Report for 2018 – built from a data set containing 300 billion ad impressions, nine billion clicks and 400m app installs – examined how app businesses reached their audiences at such a key time of year.

According to its CEO Gadi Eliashiv, "timing is critical". But why is it so important, and what can your business learn from it? Let's take a look.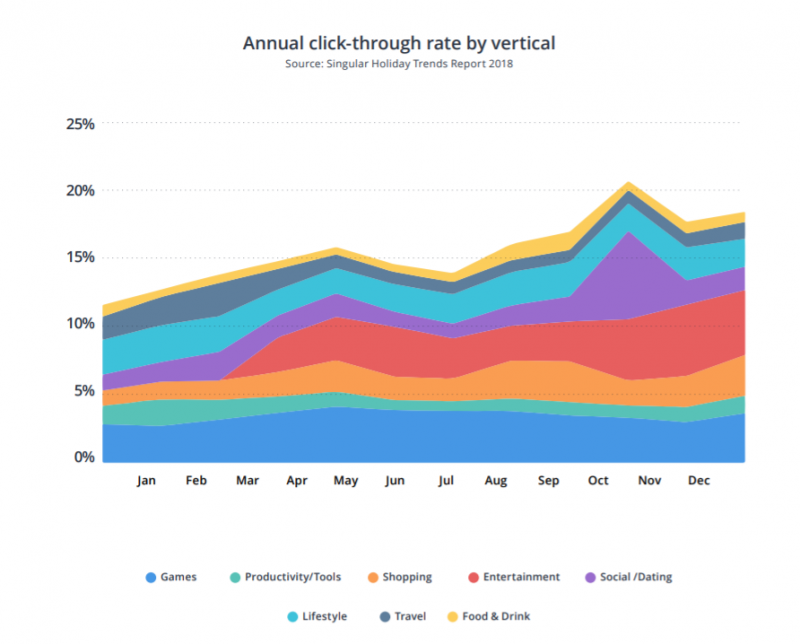 Work with the rhythms of the customer
Before looking specifically at the holiday season and finding the best time to reach consumers, marketers need to take a step back to look at how customers behave throughout the year.
This can be done by looking at click-through rates (CTR) on mobile adverts as a way of gauging consumer demand.
In Singular's analysis, CTRs are generally low in January through to the end of February, before peaking in April ahead of a summer slow down. CTRs then ramp up gradually to reach its height in October before carrying that momentum through the holiday season.
This is why so many companies stake their marketing budgets (and arguably the fortunes of their business) on the holiday season. With 43% more clicks in October compared to January and 40% more app installs in December compared to February, a targeted well executed holiday campaign can effectively hit a deep base of engaged consumers: leading to excellent results for savvy marketers.
But while the holiday season is important, Singular also identifies that different market verticals behave differently from one another.
For example, games are in near constant demand from users (aside from January and February). Yet Singular's report indicates that it is 20% cheaper to advertise a game in March compared to September, when the holiday peak ramps up.
And when it comes to productivity apps, the best time to advertise them isn't during the holiday season. Instead, productivity apps tend to thrive early in the year as people think carefully about self-improvement at the start of a new calendar year.
So yes, there are benefits in advertising in the holiday season in terms of clicks and installs. However, going against the grain can deliver results at a comparatively lower cost – provided your app type is right for consumers at that time of year.
Thanksgiving is bigger than Christmas
If you do decide to dive into the holiday marketing season with an advertising campaign, then you might be interested to know that Thanksgiving moves the needle more than Christmas does for the majority of apps.
Marketers who run campaigns during the Thanksgiving period benefit from more ad impressions in November than in December, with shopping apps seeing a 17% increase in the number of app installs during this season.
Importantly though, the Thanksgiving period has a rhythm of its own. Just like the rest of the year, advertisers run campaigns to match user behaviour.
Unsurprisingly, Black Friday is the big focus for marketers. But unlike companies selling a distinct product to consumers, app marketers focus their Black Friday efforts in advance of the big weekend.
Marketing activity peaks about 10 days before Black Friday. Conversion rates for campaigns, meanwhile, peak during the week of Thanksgiving – an increase of five per cent compared to the week before. Advertisers then drop their campaigns in time for the holiday weekend, with ad spend through that period dropping by a notable 30%.
Once again, different verticals see different benefits from advertising during the holiday.
The genre of apps that benefit most from Thanksgiving fever are entertainment, social and dating, and games; shopping and lifestyle apps are not far behind. However, each genre's CTR is different during the period. Marketers are therefore missing opportunities by not taking it into account.
Shopping apps, for example, see what Singular calls an "echo effect".  Marketing activity spikes the week ahead of Thanksgiving, tails off, spikes again in time for Thanksgiving and then drives down over the holiday weekend.
However, Singular reckons marketers of shopping apps could benefit from marketing during Black Friday itself. With demand high and install costs dropping over the holiday weekend, it's a potentially cost-effective way of hitting consumers.
Similarly, entertainment apps do not necessarily exploit the Thanksgiving period as effectively as they should.
The category has the highest average CTR over the Thanksgiving period and leaps up towards the end of the Thanksgiving season. But with advertisers moving on before then, Singular suggests that entertainment app developers are missing out on a chance to market at a low cost to users looking for fun during the long holiday weekend.
Games peak at Christmas
But while most apps do perform better during Thanksgiving, one category does see a notable peak in December: games.
With Black Friday and Cyber Monday driving sales of handsets at the end of Thanksgiving and Christmas day refreshing the handset market, consumers are (unsurprisingly) in the right frame of mind to play new games.
Marketers (also unsurprisingly) do aim to take advantage of this. Interestingly, much of the marketing activity in December takes place at the start of the month as advertisers react to the Cyber Monday device glut and aim to get their service based games in player hands. But that spend does taper down as Christmas approaches and the market as a whole gets more competitive.
So should games companies market over Christmas? Possibly, especially if they have the financial firepower to compete at the top of the market.
But with game CTRs holding up for most of the year and other apps more reliant on seasonal spending power, plenty of gaming companies may look at Christmas and decide that a small peak during December isn't worth the hassle.
Summary
There are a lot of benefits to advertising over the holiday period for many different types of app businesses. But to achieve true success, marketers have to go deeper to find patterns of behaviour during the holidays themselves to achieve the best results.
"Syncing what you're trying to promote with what mobile users are primed to want can easily have double-digit impacts on success. Smart marketers understand consumer sentiment," said Eliashiv.
Marketers should, therefore, look closely at this research, their category of the app and their own first-party user data from previous years to determine when to advertise during the holiday season.
Not only could that lead to more successful campaigns in terms of interactions, but such an approach could allow smaller businesses to advertise cost effectively "in season" – helping them to grow at the busiest times of the year.