The Bridge Summit in Cologne gave mobile publishers the opportunity to understand how important launching in China is, especially in a global market that is starting to mature and consolidate. While some of our guest speakers focused on how publishers can launch in China, others talked about two key aspects to growing your game once you're there: how to retain and monetize your users successfully.
Storytelling boosts engagement
Huawei's VP of Mobile Services Dr. Jaime Gonzalo was present at our mini-summit in Cologne, Germany to talk about an interesting element that not many think about: storytelling. Gonzalo highlighted that there are several ways to tell a good story about your app: designs, ratings, and recommendations.
The Huawei AppGallery has an interesting way to help mobile developers keep their users engaged is through themes, which are essentially elements like custom wallpapers, styles and more.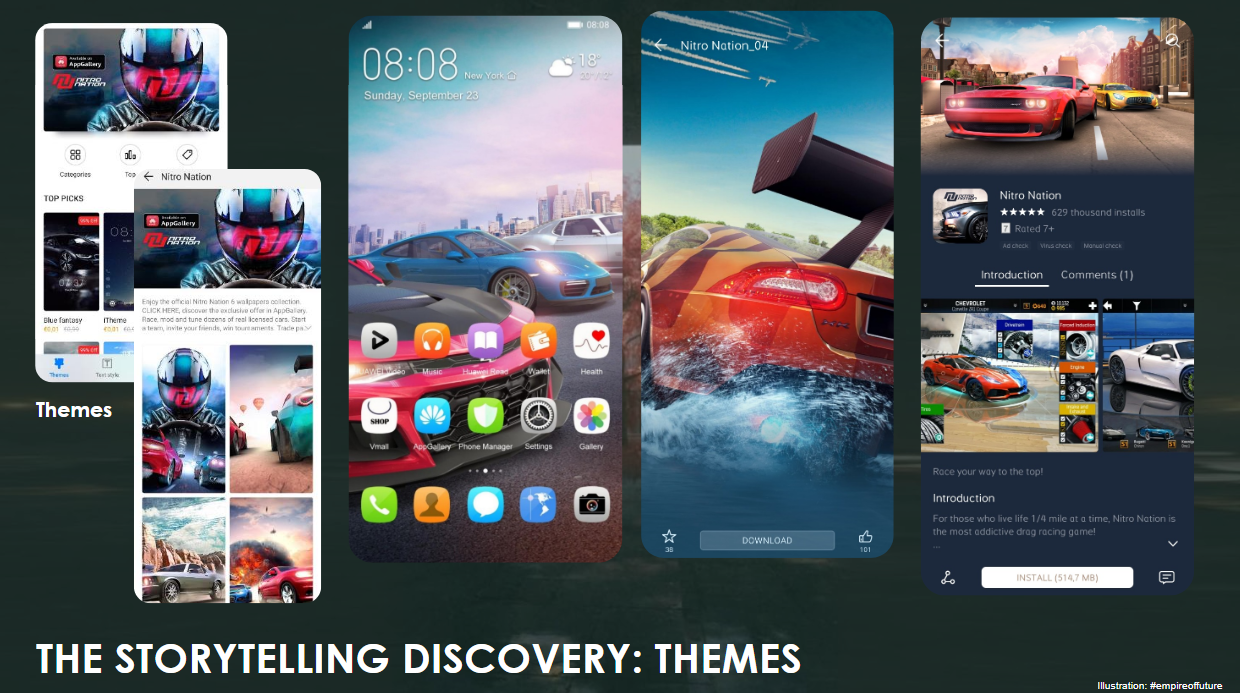 Huawei AppGallery Themes is a great way developers can tell a good story about their game.
Image source: Huawei presentation @ The Bridge Summit, Cologne 2019
Ratings and recommendations make a good story
While publishers are in direct control of their games' designs and themes, ratings and recommendations are a result of what users think of those games. Gonzalo said that users are more likely to download a game because it has good ratings or because someone they trust told them about it.
Gonzalo is right. According to our study of Chinese mobile gamers, 36% of users check the app store rankings to find new games. Another 29% of users discover new games based on recommendations from friends and family.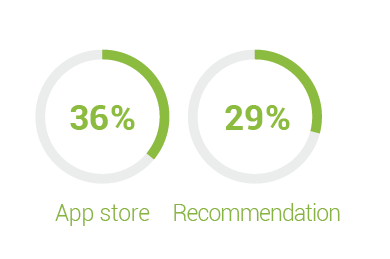 How Chinese users find new games: app store rankings (left), recommendations from friends and family (right)
Image source: Mobile Gamers in China report, Mintegral 2019
Developers looking to tell a good story about their game need to make sure they pay attention to these 2 factors as they can have a huge impact on their success. Storytelling is extremely important and, if done well, can lead to impressive results – Super Planet's success story is a great example of storytelling done right. 
Monetization in West vs East
Monetization is another key element that is significantly different in China versus Western countries. Montgomery Singman, iDreamSky's VP of International Business, joined our seminar to deconstruct Chinese mobile game monetization models.
Singman said that while many Western developers create games that are pretty and fun to play, they don't make any money. Looking at genres like RPGs, CCGs/TCGs or MMOs, Singman said that Western games "simply cannot measure up to the monetization standards that the Chinese are looking for."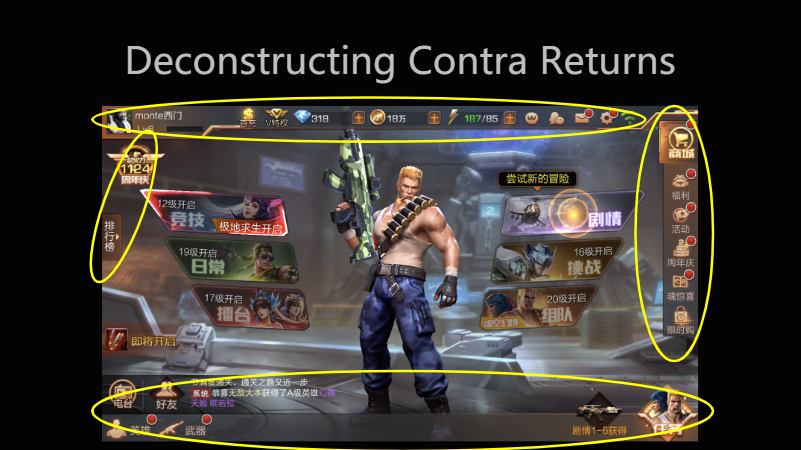 A clean user interface is not always a good interface.
Image source: iDreamSky presentation @ The Bridge Summit, Cologne 2019
Chinese monetization is significantly more complex
To showcase how successful monetization looks like in China, he used Contra Returns, a game based on a franchise we're all probably familiar with. Singman put it bluntly: "Chinese monetization is much more complex than what is currently available in the West."
Looking at Contra Returns, licensed by Tencent from Konami a few years ago, Singman showed the impact of monetization features introduced in the game after its launch. According to Singman, elements like character & weapon upgrades (from RPGs), collections (from card games) or in-app purchases, made the game a huge success, to the point it now makes over $40 million per month in China alone.
The takeaway here is that while Western developers focus on the graphics to make their games look as good as possible, Chinese developers focus on things like gameplay, social features, customer service, and monetization features. Developers looking for what Singman called "supernatural ARPU numbers" in China can use Contra Return as an example of successful monetization.
Conclusion
The Chinese market is massive and its scale, along with its different rules and regulation, make it a challenging proposition for publishers looking to expand East. It's important to know that a good story, whether it's through designs, ratings or recommendations, is extremely important to user engagement. Combine that with aggressive monetization features and you have the recipe for success on the Chinese mobile market.
Finding success in China can be easy with the right partner. If you're looking to launch your app on the Chinese market, contact us and together we'll make it happen.