The pandemic lockdown restrictions started reducing around the world, with China being the first major market to take this step early this year. As the lockdown generated massive growth for the mobile gaming industry as a whole, did that mean that the lockdown ending would also end this growth trend?
Our latest ebook, "China's Post-Lockdown Gaming Landscape" aims to answer this question and more. We took a look at H1 2021 mobile gaming stats from the world's largest mobile market to help publishers and developers get an understanding of China's mobile gaming ecosystem in 2021 and what to expect in 2022 and beyond.
You can download our ebook for free below:
Download Our Free Ebook: China's Post-Lockdown Gaming Landscape
In this ebook, we looked at China's mobile internet user base, its mobile gaming segment, user acquisition trends, genre-specific trends, the impact of iOS 14.5, and more. Here's what we learned.
China's mobile internet user base hits the 1-billion mark
Before we talk about the country's mobile gaming user base, let's take a look at the overall mobile internet landscape. This year we managed to see China's mobile internet population hit the 1-billion mark, reaching 1.03 billion users at the end of the first quarter.
One interesting thing to note is that China's tier 3-5 cities saw the most growth. With 48% of China's population living in these cities, it's safe to say that they will be key drivers to mobile gaming revenue in the future.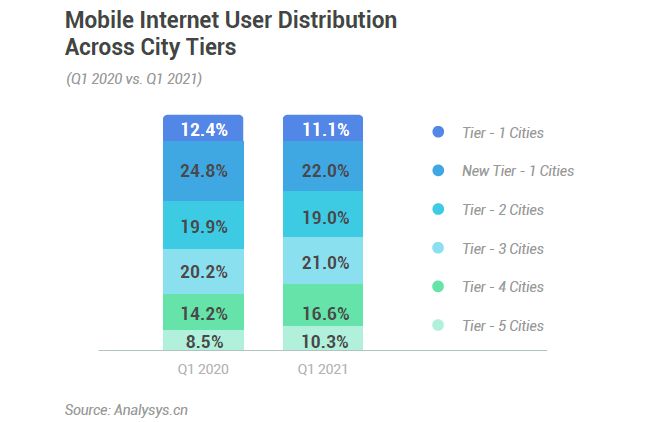 Over 65% of China's mobile internet users are gamers
Q1 2021 saw China's mobile gaming population reach a peak of 667.6 million users, only dropping slightly in March to 666.5 million. However, as the gaming market matures, it brings with it a series of regulatory restrictions. For example, the number of games receiving approval between January and May 2021 was 506, slightly lower than the 521 games that were approved in the same period last year, showing that there is increased competition between developers.
Despite these regulatory challenges, the so-called "stay-at-home economy", which saw incredible growth during the pandemic, is here to stay. Data shows that mobile gaming revenue in Q1 2021 reached RMB58.83 billion.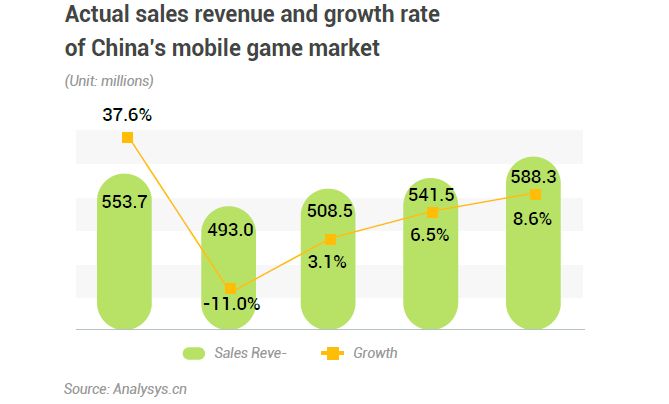 Gaming user acquisition trends in 2021
In H1 2021, we saw more games running user acquisition campaigns in China than before – more than 6,700 actually, representing a growth rate of approximately 45% compared to H2 2020.
One thing to note is that big gaming companies like Tencent or Netease tend to release new titles around the beginning of each year, most of which were developed the year before. This tends to result in strong growth in the first half of the year and is part of the reason for the strong UA trends we saw in Q1 2021.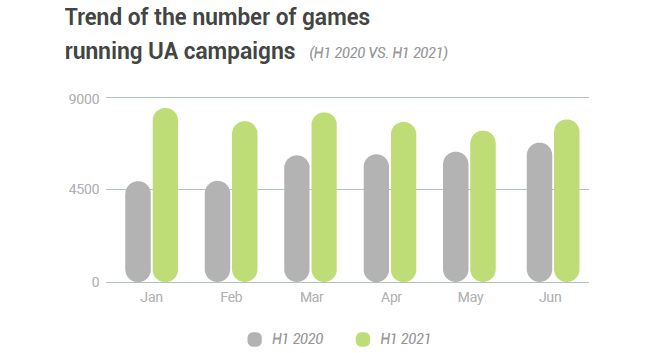 Genre-specific ad spending trends in H1 2021
Looking at the main gaming genres in H1 2021, RPGs dominated in terms of ad spending (35.7% of total ad spend), with casual puzzles (19.3%) and simulation games (9.9%) ranking 2nd and 3rd, respectively. To put it in perspective, these three genres generated about 65% of China's total ad spend on mobile gaming in H1 2021.
In terms of ad spending trends, we noticed that simulation games and shooters maintained a similar growth trend compared to the same period last year. However, MMOs saw the biggest drop of all genres in H1 2021, completely dropping out of the top 10 ad spending ranking.
The impact of iOS 14.5 on China's mobile gaming ecosystem
Another interesting thing to look at was the impact of iOS 14.5 on China's gaming market. While this update had an impact on general user acquisition performance, data showed that about 30% of iOS devices are running iOS 14.5, with 32.1% of them limiting IDFA tracking. However, it's worth remembering that Android is the dominating force in China, with over 80% of the mobile operating system market share.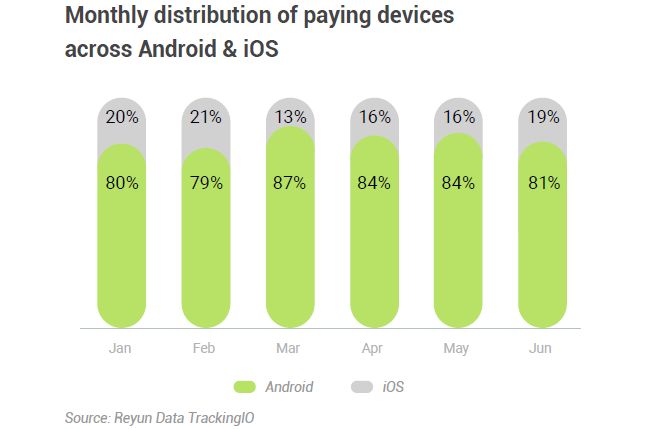 What else can I find in this ebook?
Our ebook contains a lot of data about China's mobile gaming market – here's a quick look at some other topics we cover there:
China's mobile user base app usage trends in H1 2021
Gaming user base growth rates compared to sales revenues
Creative trends for new and existing games
Sounds interesting? Then make sure to get your free copy below:
Download Our Free Ebook: China's Post-Lockdown Gaming Landscape