Google has launched a crackdown on disruptive ads in an effort to better protect users from annoying or unwanted digital promotions. In particular, the company is seeking to eradicate abusive adverts from its platform.
But what has prompted the crackdown? Why is Google taking action against them now? And what does it mean for advertisers? Here's our thinking on Google's advertising crackdown.
What prompted the crackdown?
Last year Google joined the Coalition for Better Ads, a group that provides specific standards for the ad industry. The Better Ads Standards are based on feedback from over 66,000 consumers from around the world and it identifies 12 experiences that users find intrusive.
In an attempt to comply with the standards, Google introduced a set of user protections within its web platform Chrome and began blocking non-compliant ads in North America and Europe.
The banned ads on mobile include pop-up ads, prestitial ads, ad densities higher than 30%, flashing animated ads, auto-playing video ads with sound, postitial ads with countdowns, full-screen scrollover ads, and large sticky ads.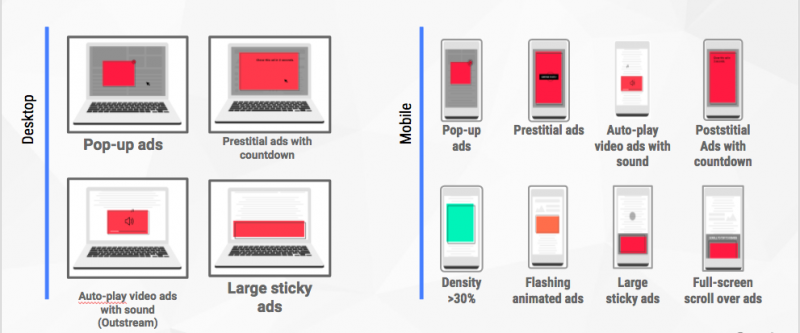 The 12 ad experiences that research found to be particularly annoying to users.
Source: Coalition for Better Ads.
Towards the end of the year though, Chrome concluded that it did not go far enough. "In fact, more than half of these abusive experiences are not blocked by our current set of protections, and nearly all involve harmful or misleading ads," stated Vivek Sekhar, product manager for Chrome.
This saw the crackdown extend further in December 2018 to include adverts that are designed to mislead or trick users into taking unwanted actions (such as clicking a close icon and it opening a pop-up window instead).


Examples of ads considered to be abusive experiences.
Source: Google.
This led to a number of sites losing all access to Google's advertising options in an effort to protect users.
What does this mean for advertising standards in the coming year?
While Google initially followed the Better Ads Standards, its wholehearted adoption of the guidelines has emboldened the Coalition for Better Ads to go even further with its efforts.
So from this year onward, the Better Ads Standard will apply globally rather than in North America and Europe alone. And while this standard might not have legal force behind it, Google is planning to follow its recommendations and roll it out worldwide.
From July 2019, Chrome will block websites deploying abusive ads from using Google's advertising options globally when Chrome 76 rolls into 77.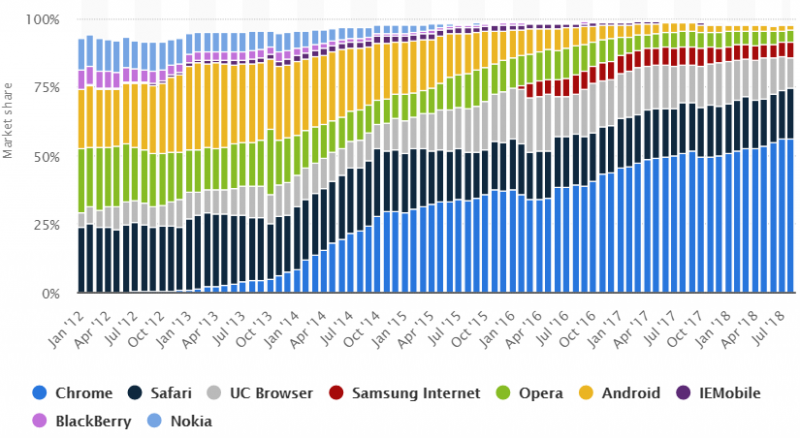 Market share held by leading mobile internet browsers worldwide from January 2012 to August 2018.
Source: Statistia.
In practice, this will likely mean cutting websites abusing advertising tools almost entirely off from their richest source of advertising revenues. And with the majority of the world browsing on Chrome – with 56% doing so on mobile internet and 68% on PC according to Statista – its stance against abusive ads will likely lead to the Better Ads Standard being adopted further.
What does this mean for advertisers?
Ultimately, Google's adoption of the Better Ads Standard is really good news for advertisers in the long run.
In the short term, there is the possibility that websites delivering good traffic to companies could – inadvertently – get caught in a crackdown. However, it is in Google's interest to balance protecting user interest against maintaining the key monetization tool used by most web-based businesses.
"Our ultimate goal is not to filter ads, but to build a better web for everyone," says Ben Galbraith, Senior Director of Product at Chrome – suggesting Google's motivation is not to punish websites that might accidentally run an abusive ad.
This is why Google has provided a best practices guide and an Ad Experience Report on Google Search Consoles for publishers to look at. This helps them to both identify ads that are non-compliant and report them, with Google offering sites that spot an abusive ad 30 days to fix it.
And more importantly, this process will flush out the sites that really are proving problematic to users.
"In the U.S., Canada, and Europe, website owners have successfully been able to make changes to the ads on their sites [since Google launched its guidance]," Galbraith continues. "Out of millions of sites we've reviewed to date, less than 1% have had their ads filtered."
As a result, this means that advertisers will likely to be able to feel much more confident that their creative is not being abused by publishers and that it isn't frustrating users.
This should, in the long run, provide extra security and trust to advertisers.
Conclusion
Google's crackdown on disruptive and abusive adverts should be welcomed by advertisers.
The move to a better standard of advert will increase consumer trust in adverts and reduce frustration with them, driving the quality of the online advertising experience upwards.
This will both ensure that advertisers are less open to exploitation from unscrupulous publishers, while also keeping mobile and desktop users happier.
But there does need to be some understanding that publishers need time to adapt to the change, as well as a need to educate them to help lead the fight against disruptive ad experiences.