Publishing mobile games in China's massive market can be quite intimidating, so we invited JoyPac Senior Publishing Manager Falko Boecker to the Mintegral Bridge Summit in Paris to explain the process using two well-known games: Eureka Studio's "Skip School" and "Fluffy Fall" from WHAT (games).
Meet Skip School and Fluffy Fall
If you haven't played these games yet, let's do a quick intro.
Skip School is a game published by JoyPac on the Chinese market and it was released in September 2018. The game features a set of puzzles that the player has to solve in order to, you guessed it, skip school.
Fluffy Fall was released in October 2017 and published by JoyPac in China. As the name indicates, the player controls a fluffy character as it falls through a seemingly endless tube to avoid all sorts of obstacles, which is where the element of skill comes into play.
These two games are quite different and while their differences can have an impact on things like downloads and revenue, they share certain similarities as well, according to Falko Boecker, Senior Publishing Manager at JoyPac.
Reaching the top of the charts 
At its peak, Skip School reached Top 3 on the Most Downloaded iOS Games chart in China. To get there, Boecker mentioned it took roughly 200,000 daily installs to get there, with the game dropping to around 80,000 to 100,000 daily installs while in the Top 10 chart. This resulted in the game getting over 10 million downloads to date, according to Boecker.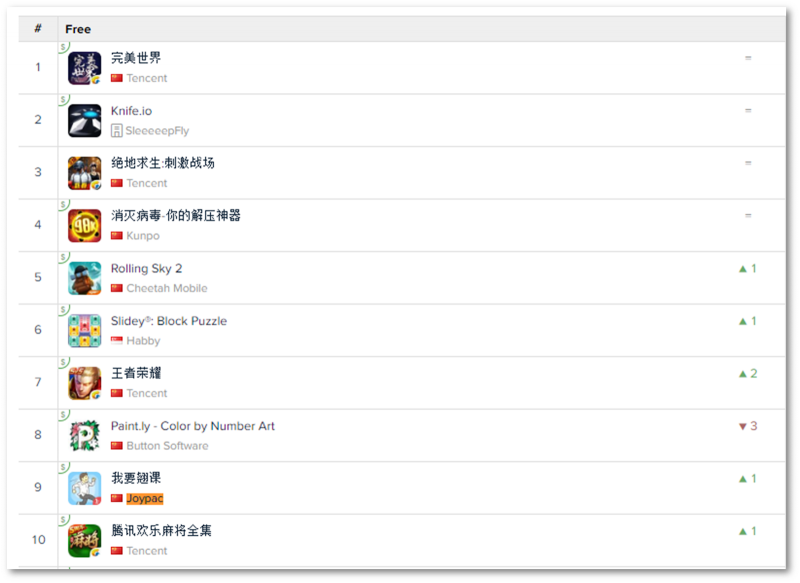 Skip School was the 3rd most downloaded iOS game in China and stayed in Top 10 for a while.
Image source: JoyPac presentation @ Mintegral Bridge Summit, Paris
Fluffy Fall, on the other hand, was only able to get to 32nd place on China's Most Downloaded iOS Games chart. While there, however, the game managed to get around 30,000 daily installs to reach a total of more than 1 million downloads.
Fluffy Fall was close to the Top 30 in China but was still able to get over 1 million downloads.
Image source: JoyPac presentation @ Mintegral Bridge Summit, Paris
Install sources: organic vs. paid comparison
Next, Boecker looked at how the install sources differed between these games and the main causes of this discrepancy. The organic-to-paid install ratio for Skip School was 55% to 45%, while Fluffy Fall had it the other way around. 
According to Boecker, Skip School's higher organic install rates were mainly the result of two factors. First of all, Skip School's time in the Top 10 charts gave it significantly more exposure and as we've covered in our Mobile Gamers in China report, ranking close to the top of the charts is one of the main ways Chinese gamers discover and consume mobile games. Secondly, the game proved to be very popular with the younger audience, which is an extremely important segment of the mobile gaming market in China.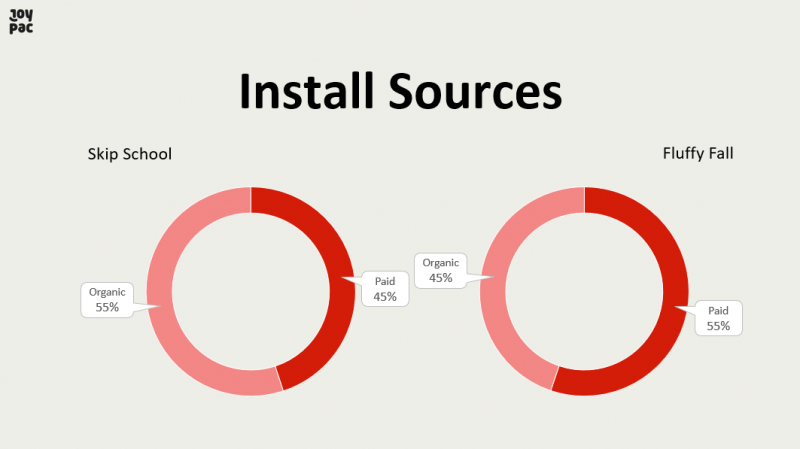 The organic/paid install sources for Skip School and Fluffy Fall.
Image source: JoyPac presentation @ Mintegral Bridge Summit, Paris
How impressions turn into installs
Another interesting angle was to look at how effective these games are at turning impressions into actual installs. To do this, Boecker used a metric called IVR, which is essentially the impression-to-install ratio.
By taking the same number of impressions, Boecker noticed something interesting: Skip School was approximately 60% more successful at converting impressions into clicks and then installs when compared to Fluffy Fall. 
So why was Skip School so much more successful on this front? According to Boecker, Skip School's audience and chart position played a big part in this. He added that by looking at these numbers, publishers can get a good idea on the game's early-stage growth rate, making the goal of reaching a high spot on the app store charts more likely.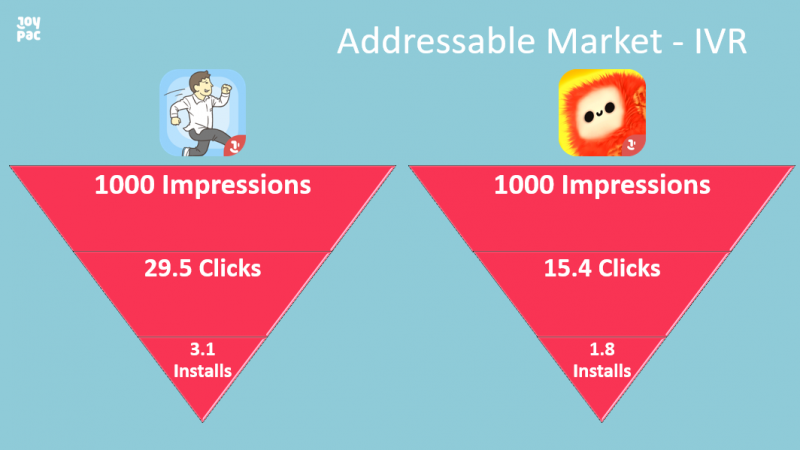 The IVR discrepancy between Skip School and Fluffy Fall
Image source: JoyPac presentation @ Mintegral Bridge Summit, Paris
Revenue breakdown comparison
One of the most important questions that developers will surely ask is: where is my revenue coming from?  As both Skip School and Fluffy Fall are free, they rely on advertising to generate revenue. Interestingly enough, they make money in relatively different ways, mainly dictated by their gameplay.
Boecker highlighted that, because Skip School consists of many short levels, interstitials were a good revenue driver, accounting for over 70% of it. Rewarded videos that would, for example, give players hints on how to progress, played a smaller role, at around 25% of the total revenue. Boecker added that while banner ads were only 3% of the revenue pie, the number shouldn't be underestimated as it could equate to potentially hundreds of thousands of dollars – then again, there is a trade-off of games looking "cheap" if banner ads are used too much.
Looking at Fluffy Fall, Boecker underlined that the game features long levels, resulting in fewer opportunities to show interstitials, which is why these ads only made around 33% of the game's revenue. However, because the game has a skill element to it, rewarded videos performed much better as they gave players the opportunity to get in-game benefits like extra coins, mission resets, etc. He added that although the game had cosmetics, they represented a tiny portion of the game's total revenue.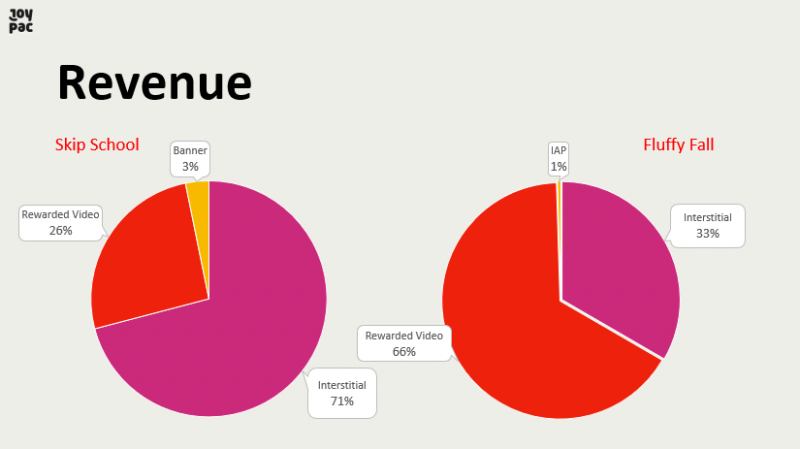 The difference in revenue streams highlights the difference between these game types.
Image source: JoyPac presentation @ Mintegral Bridge Summit, Paris
Conclusion
China's massive mobile market might be intimidating but it's also very interesting. If you know what you're doing and you tailor your marketing efforts to match the target audience's preferences, you can be as efficient in China as other T1 countries, if not more. Understanding the Chinese market is crucial and it can result in some impressive ROI, especially on iOS.
When it comes to publishing in China, JoyPac can be considered an authority in the field. They have published over 30 games there for a total of more than 35 million downloads in 2019, proving that launching in China is not only possible but very lucrative too.
If you are looking to launch your games in China, you'll need the right partner. With extensive knowledge of the market, the regulatory frameworks and the licensing ecosystem, Mintegral is the Bridge between East and West. Contact us today and see how we can make your app launch in China a huge success.