We wrote extensively about how you can launch your mobile apps in China, which can be a relatively short/medium-term project from a game developer perspective, but what about the long term? How can you play the long game and make sure your studio is positioned well enough to attain long-term success in the world's largest mobile market? We have some suggestions you might find useful.
Nathan Cavril, Head of Publishing and Licensing at Leiting Games, took to the stage at Mintegral's Bridge Summit in Cologne to talk about growing your business in China and how to think long-term, particularly in terms of reputation. Here's what we learned.
There's (still) room for growth in China
China is undoubtedly the world's largest mobile market. Not only that but over 95% of them are mobile internet users – it's safe to say China is a mobile-first country. This is why we shouldn't be surprised that over 25% of the 900,000+ games currently available across all app stores in the world can be found in China.
Nathan Cavril said that "we need to recognize we are reaching a certain maturation stage" when referring to the mobile games market. Therefore, one way that publishers can stand out is by building their reputation to ensure continued success in the Chinese market.
The good news is that up until several years ago, most of the major Western publishers ignored the Chinese market, resulting in the current ecosystem where smaller players have a realistic chance to find success. "Now is the perfect time for every studio here who wants to do long-term business in China to establish a reputation and to get these players' attention," added Cavril.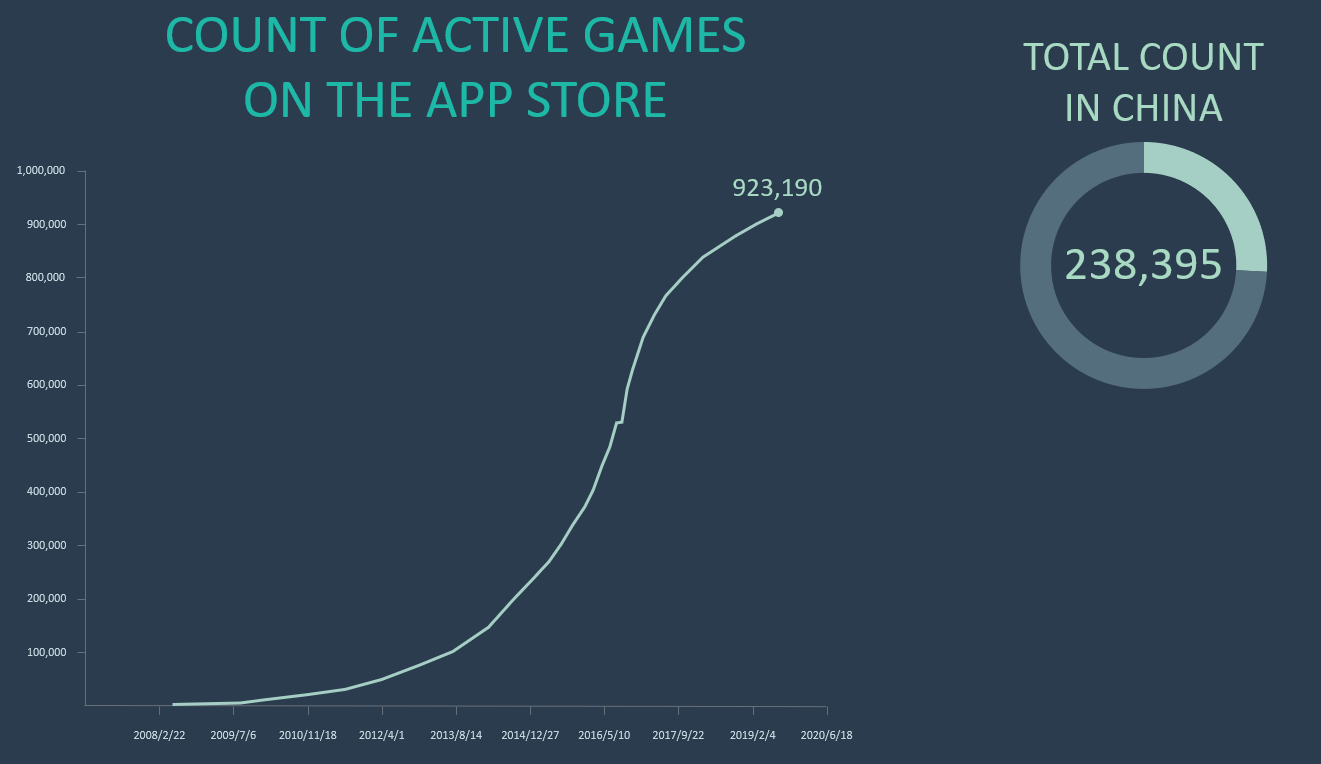 Image source: Leiting Games presentation @ The Bridge Summit, Cologne 2019
Building a solid foundation: IP Reputation and Studio Reputation
Building your reputation is something that takes a lot of work to build and very little effort to lose. So how can you ensure you've got a solid foundation upon which to expand? You need to look at two major vectors: IP reputation and studio reputation.
IP reputation
This is everything related to your original IPs; this is not restricted to games and includes things like how players feel about your game(s). There are 3 key steps to keep in mind:
Have a presence on the Chinese internet:

you need to set up official channels to interact with your potential users; you should look at BATB (Baidu, Alibaba, Tencent, ByteDance) first, as these companies cover most of the Chinese internet landscape

Start building a community:

once you have the right channels you need to start building your audience; avenues like social media channels and gaming forums are important tools you can use to achieve this

Pan-entertainment diversification:

the pan-entertainment industry is huge in China, so using different avenues like video, animation, streaming, etc. is crucial to increasing your IP reputation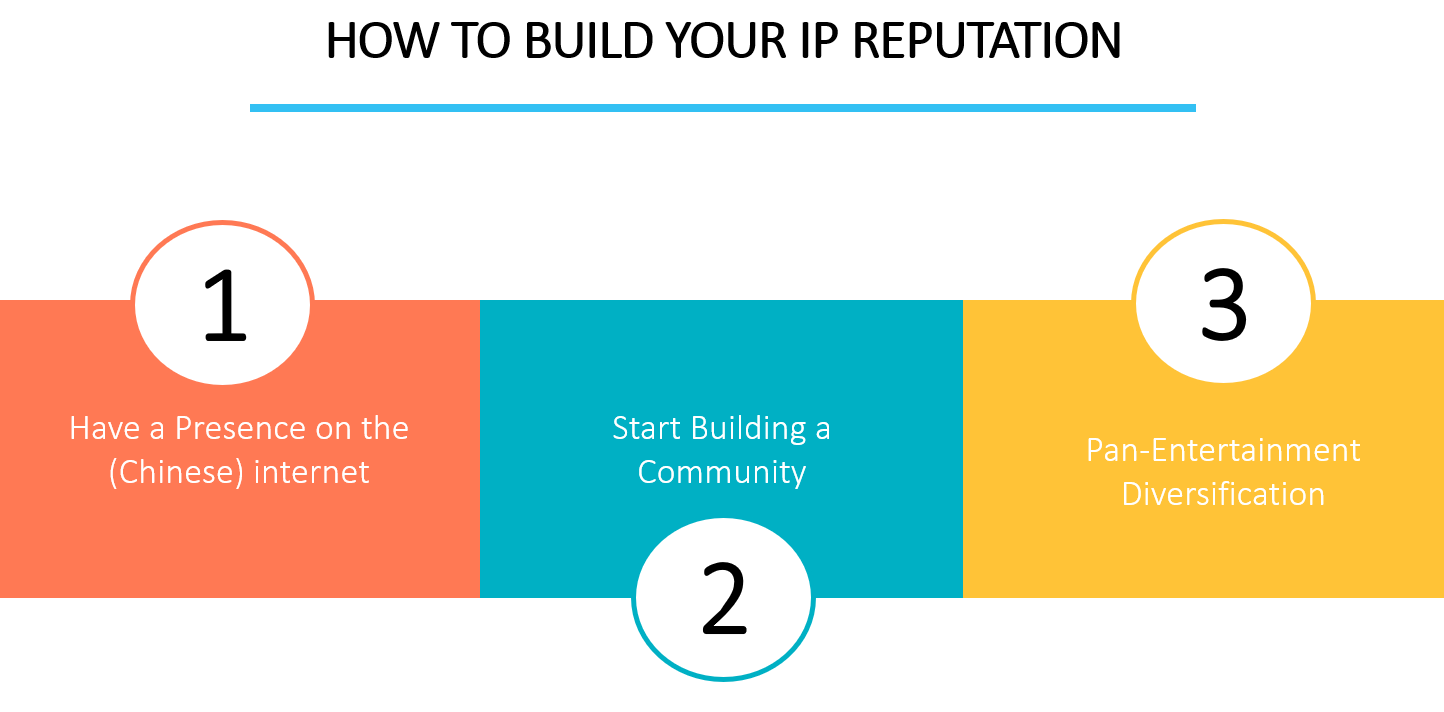 Image source: Leiting Games presentation @ The Bridge Summit, Cologne 2019
Studio reputation
This is everything related to what your studio stands for such as your values, market proposition, why players can expect from you and why they should trust you. There are 3 key elements here:
Grow relationships with the Chinese game media:

get to know the local media as they already have an established audience that can make discovering you and your games much easier

Work out a coherent release strategy:

a coherent, consistent release strategy is crucial, so spend time and effort planning things out; remember: you can only make a good first impression once

Plan dedicated events for Chinese players:

pretty self-explanatory but this is a very effective step in breaking down barriers and gaining users' trust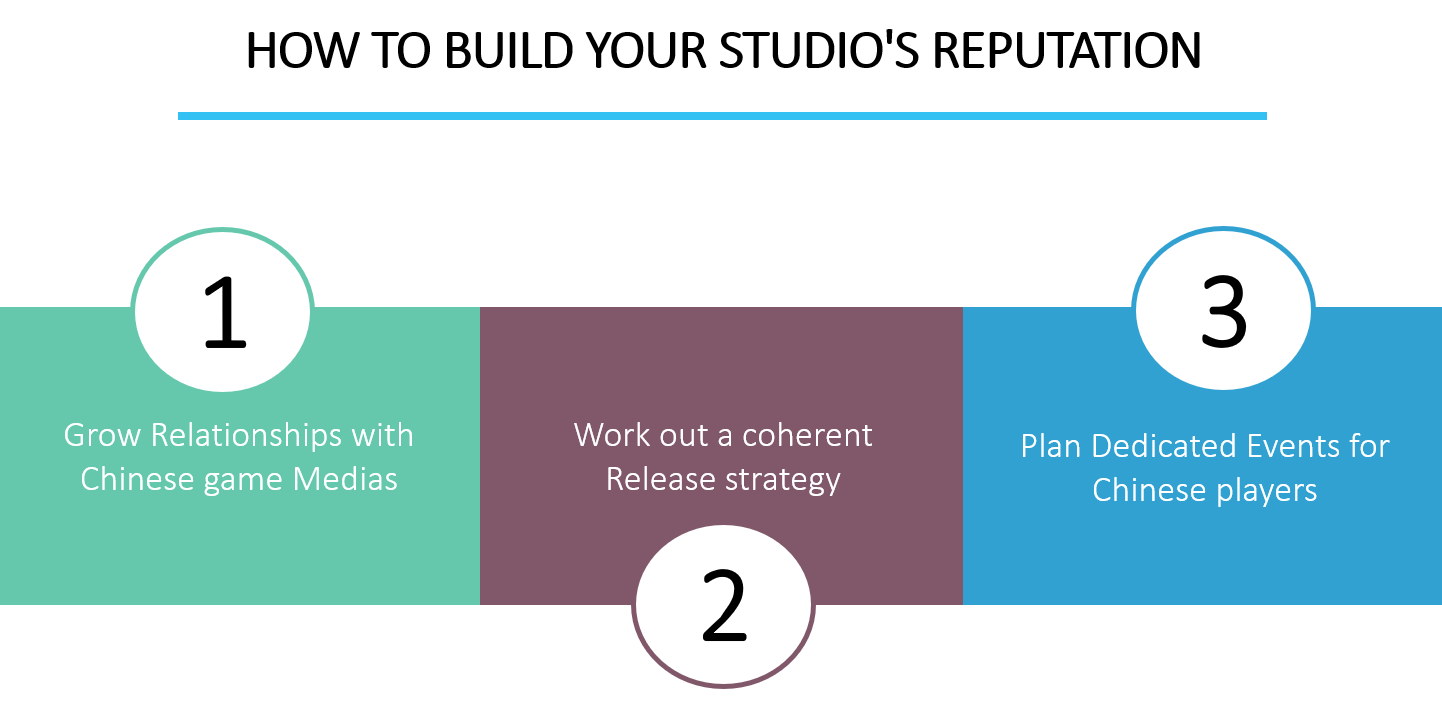 Image source: Leiting Games presentation @ The Bridge Summit, Cologne 2019
Common traps to avoid
We covered the things you should DO, but what about the DON'Ts? Cavril listed the 5 main things you should try to avoid in order to ensure your long-term success on the Chinese market. To put simply: when you're in someone else's house, you follow their rules.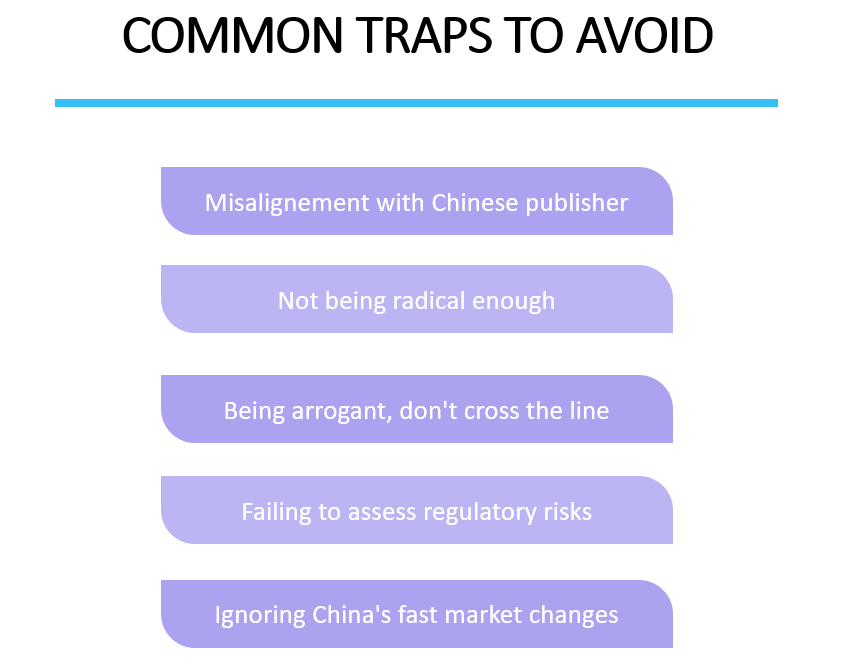 Image source: Leiting Games presentation @ The Bridge Summit, Cologne 2019
Conclusion
As the mobile games market is starting to mature, it's important for publishers to find ways to stand out from the crowd. While building good games is important, this can only take you so far. Publishers looking to enter the Chinese market need to ensure they build a solid reputation or risk becoming irrelevant as competition will continuously ramp up.
By investing time, effort, and resources into IP reputation and studio reputation, publishers will position themselves for long-term success. Remember: if you don't have a reputation, you only have your game. And your game is up against thousands and thousands of other games.