Draw Coliseum
How We Helped Dwango's Draw Coliseum Find Success in the Global Market
Draw Coliseum, a game by Japanese developer Dwango, managed to become one of the most popular hyper-casual games on the market, making it a big hit with players around the world. 
If you haven't played the game yet, Draw Coliseum is an action game where players need to guide the movements of various spinning tops to defeat their opponents and win the tournament. The interesting thing about the game is how it puts the players' drawing skills to the test – they have to draw blades for their spinning machines to win the fight. Winning a fight grants players money which can be used on upgrading the spinner's power, speed, and ink for the blade.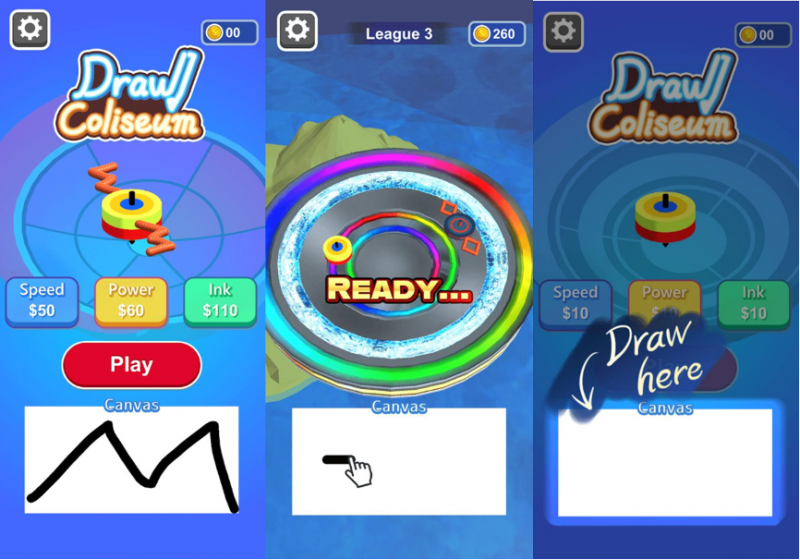 Draw Coliseum by Dwango, available on iOS and Android
Published in August 2019, Draw Coliseum was Dwango's breakout game, as they had just started in the hyper-casual space. Due to the COVID-19 pandemic, the hyper-casual market saw tremendous growth, so Dwango decided to expand their business outside their home market.
In order to enter China, the biggest mobile market and the second-biggest hyper-casual market, Dwango partnered with the Mintegral team on their user acquisition (UA) and monetization efforts. According to Tenjin's 2021 Hyper-Casual Benchmark Report, Mintegral was the ad platform with the lowest median CPI on iOS ($0.15) and the second-lowest median CPI on Android ($0.09). Let's take a look at the strategies we used to help Dwango boost the success of their game Draw Coliseum.
Boosting conversion rates with optimized bidding strategies and customized playable ads
When we started working on the UA strategies, one of our biggest challenges was to maximize conversions while staying within budget. At the start of the campaign, the CPI bids were too low, making it difficult to get significant exposure and reach high-quality users at scale. To tackle this challenge, we used three strategies:
Raise bid average.

After in-depth research of the target markets, we suggested a bid raise to match the average bid value of each market in order to ramp up campaign performance.

Bidding optimization.

Once we stabilized the traffic volume and number of installs, we started adjusting the bids on each channel based on their performance in order to find the right UA balance between scale and quality, all while maintaining a high eCPM.

Daily budget cap.

We suggested setting a daily budget cap for each bid, which was especially useful when bids had to be raised, in order to control any potential temporary losses.
Thanks to these strategies, our industry-leading algorithm was able to study the performance of each sub-channel and boost campaign performance while staying within the campaign budget.
Dwango also worked with our in-house creative studio Mindworks and our talented team was able to produce a set of high-quality playable ads based on Draw Coliseum's game features, as well as the target users' preferences. Through continuous A/B testing phases, the Mindworks Creative Studio was able to identify the best-performing playable creative for Dwango's UA campaign, increasing CVR by 22.9% and IVR by 21.46% in the first month since launch.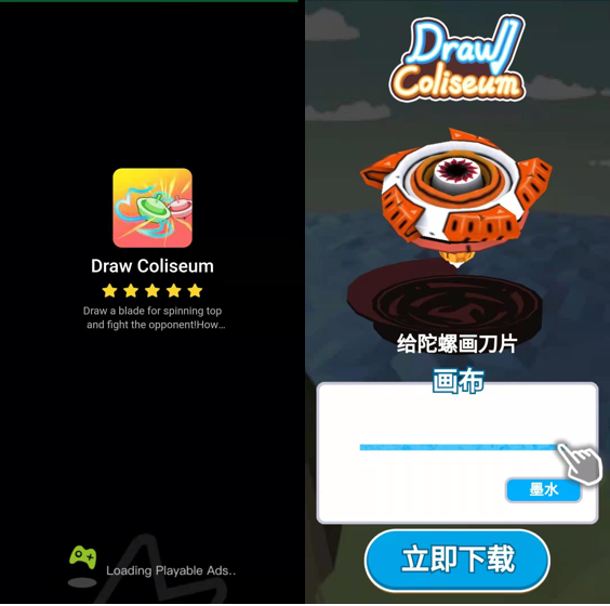 A playable ad produced by Mindworks for Dwango's Draw Coliseum
Thanks to all these efforts, we were able to achieve the campaign goals set by Dwango in just one week, which led to them increasing their UA budget and continuing our partnership. We have since become Dwango's top UA partner with 74% of its budget in the Chinese market, 27% of the Japanese market, and 25% of the US market at the end of January.
Improving monetization efficiency through granular efforts
We also helped Dwango boost their monetization efforts, thanks to our in-depth understanding of the game's player base combined with our strong experience in terms of monetization and our market-leading algorithms. We were able to deliver the most relevant ads to match the target players' interests, which resulted in significantly stronger conversion rates and further improved the campaign's overall eCPM.
On top of that, we leveraged the power of in-app bidding technology to maximize Dwango's ad revenue. By opening up their ad inventory to a wider range of advertisers to bid on simultaneously, we were able to get the highest bids for each piece of their inventory, giving Dwango not just better monetization results, but also a clearer picture of their inventory's true value. Thanks to our efforts, we are now one of Dwango's top 5 monetization partners.
We are extremely excited to see Dwango's great game Draw Coliseum perform so well and we will continue to make sure our clients get the success they deserve. If you would like to work with us on your user acquisition or monetization efforts, don't hesitate to contact the Mintegral team today and we'll work hard to see your game become a hit!