Rescue The Lover
How Our Work with ABI Game Studio Generated Strong ROI for Rescue The Lover
ABI Game Studio is a Vietnamese game developer who specializes in hyper-casual and midcore games. The company was founded in 2016 and has published over 50 games since its inception. ABI Game Studio is a sub-brand of popular gaming publisher OneSoft and one of OneSoft Studio's independent teams.
Since 2019, we have been working with ABI Game Studio and our partnership has focused on helping their titles find success across the global markets. Thanks to our cooperation, we managed to become one of their biggest partners, with 16% of their UA budget and 10% of their ad revenue.
One of our most recent success stories revolves around ABI Game Studio's game Rescue The Lover, one of the company's biggest hyper-casual hits. The team wanted their game to find success globally, with two key goals in mind:
Improve UA efforts by acquiring high-quality users at scale

Boost monetization by maximizing ad revenue
Here's how we made this possible.
Unleashing the power of the Mindworks Creative Studio to reach our UA goals
We knew that high-quality ad creatives were crucial to the UA campaign's success so we utilized the skills and resources of our in-house creative studio Mindworks. In order to achieve success, we combined the playable ads produced by Mindworks with our market-leading algorithms to ensure we match the best-performing creatives with Rescue The Lover's target audience.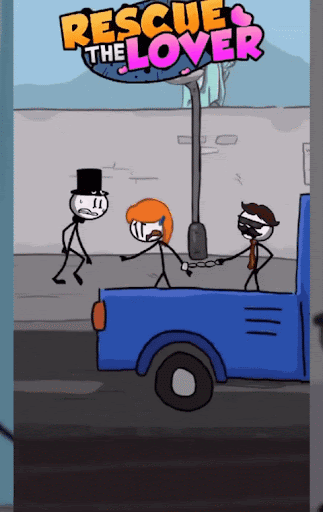 Playable Ads by Mindworks
As a result of this combination, we saw a 30% IVR increase compared to standard video creatives. At the same time, to make sure we keep IVR steady, we continued optimizing and updating 1-2 creative sets per week.
In order to acquire high-quality users at scale, we targeted top ad inventory at launch across the market, with a focus on the hyper-casual genre. Our efforts were quickly validated as Rescue The Lover managed to breach the US Top Games charts, boosting our UA efforts.
Maximizing monetization levels via key SDK integrations and algorithm optimization
Looking at monetization, after integrating the Mintegral SDK with AppLovin's bidding platform MAX, ABI Game Studio was able to reach optimal monetization levels, resulting in strong and stable ad revenue growth. To ensure we maximize ad revenue, our team also adjusted bidding strategies continuously, based on market performance.
Secondly, we used our industry-leading advertising algorithm to run real-time analysis that focused on players' interests. This way we were able to deliver only the most relevant ads, which helped us generate significantly more conversions while also increasing eCPM at the same time.
Our partnership with ABI Game Studio is just one of our many success stories. Our acquisition, monetization, and creative solutions are designed to generate strong, sustainable ROI in the largest markets around the world. If you would like your game or app to achieve significant growth, then make sure to contact the Mintegral team today!