Water Sort Puzzle
How We Helped Water Sort Puzzle Land on the Top 5 Free Games Chart in China
IEC Global is an Australian mobile gaming studio with extensive experience developing and publishing hit strategy and puzzle games like Gang Clash, Cross Fight, and, of course, Water Sort Puzzle. To date, IEC Global's games have reached more than 175 million downloads worldwide according to App Annie data.
We worked with IEC Global on several of their games. We decided to focus on their hit title "Water Sort Puzzle" to help them find success in China's massive mobile market. Using our extensive knowledge of the Chinese market, we were able to help our partners launch in the region, acquire new players, and improve their ad revenue. In fact, we were able to push the game to an incredible top 5 on the Chinese Free Games chart in less than 3 months. Here's how we managed to make that possible.
What is "Water Sort Puzzle"?
Water Sort Puzzle is, as the name implies, a puzzle game. It's a fun brain teaser where players need to sort the different colors of water in their glasses until each glass has only one color in it. Players can only pour the water into other glasses if they have at least one color in common and they can easily restart the level if they're stuck on a particularly difficult challenge. Also, since levels are not timed, players can solve each puzzle at their own pace.
Since launching in June 2020, Water Sort Puzzle has been downloaded over 65 million times globally. According to App Annie data, Water Sort Puzzle was the #1 puzzle game in 7 countries and a top 10 title in 66 different countries around the world, making it one of the most popular puzzle games on the market.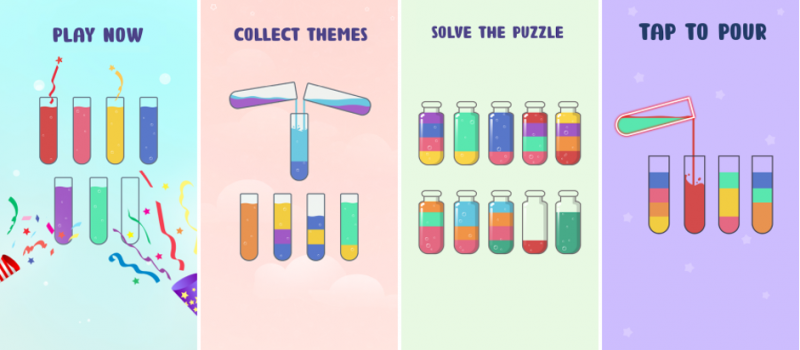 Water Sort Puzzle
Finding the right UA & monetization partner to achieve success in the Chinese market
With massive global success proving the game's potential, the IEC Global team looked at entering the world's largest mobile market: China. However, unlike other regions, China comes with its own set of challenges and opportunities. This is where Mintegral comes in.
Understanding the Chinese market, its traffic channels, cultural differences, monetization practices, and more, means partnering with local companies is crucial to any sustainable success. We worked together with the IEC Global team to help them understand the market, plan their UA & monetization strategies, and boost their revenue as a result. Let's take a look at the strategies we used to make all of this happen.
User acquisition & creative strategy: leveraging the power of interactive ads to boost IVR
As IEC Global was new to the Chinese market, our first goal was to provide as much educational guidance and support as possible, in order to help them understand this mobile ecosystem. 
Once our SDK was integrated into the game, our User Acquisition team began working with IEC Global on localizing their ad creatives to ensure they are suited for the Chinese market. Following our optimization efforts, the IVR generated by the interactive ads we used was 5 times higher than regular ad creatives, attracting over 15,000 new users per day to the game.
After studying the core gameplay elements, we combined our local market experience with large-scale marketing research to generate custom UA solutions.
To maximize Water Sort Puzzle's exposure in China, we helped the team advertise the game on Douyin, by producing high-quality ad creatives, partnering with the local media team, and running ad campaigns for the game. Douyin is China's version of TikTok and is one of the biggest short-form video platforms in the market, with over 600 million DAUs in 2020, making it a top destination for developers looking to reach China's gigantic mobile audience.
We also looked at how to maximize conversions and retention rates, so we tailored our solutions accordingly:
Extensive testing.

We ran a comprehensive A/B testing phase where we looked at the performance of various elements including ad creative format, background music, cover pictures, and more.
Bidding optimization.

We used a flexible bidding strategy to bid at the best prices for each ad slot. We also created custom bidding strategies targeting the peak DAU period around the Chinese New Year, maximizing exposure while always staying within budget
Data-driven creative optimization.

Using our in-house creative studio

Mindworks

, we were able to produce a constant stream of optimized ad creatives based on UA campaign results. Between 5 and 8 ads were changed or updated every week during these campaigns.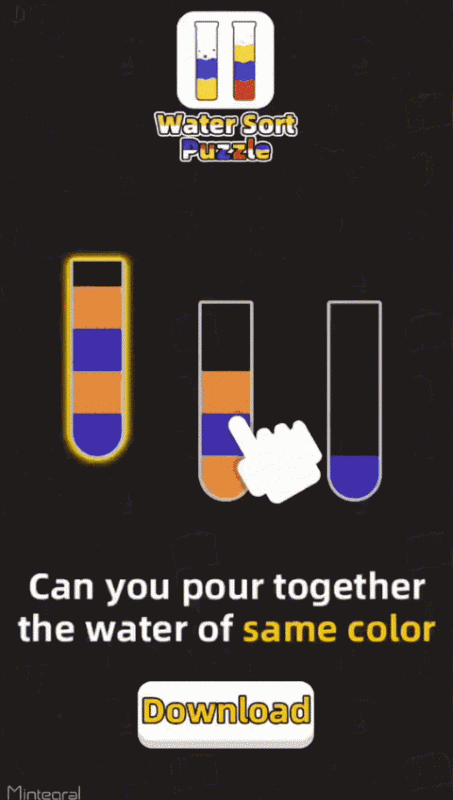 The interactive endcard produced by the Mindworks Creative Studio
With these strategies at play, we were able to acquire over 50,000 new users per day for Water Sort Puzzle, helping the game land in 4th place on the Chinese Free Puzzle Games chart.
Monetization strategy: SDK integration to boost ad revenue
While user acquisition was a key goal for IEC Global, the team also wanted to ensure a steady ad revenue stream for Water Sort Puzzle. With that in mind, we decided that integrating the Mintegral SDK with AppLovin's bidding platform MAX would generate the best results. Thanks to its integrations with major Chinese local SDKs, MAX by AppLovin was the ideal mediation platform to use to boost ad revenue.
Integrating Mintegral SDK via MAX, Water Sort Puzzle saw ad revenue grow and remain at strong levels throughout our cooperation. Thanks to our monetization efforts with Water Sort Puzzle, we became a top 3 monetization partner for IEC Global.
Key results
Water Sort Puzzle was successfully launched in China in December 2020 and we were able to hit some key milestones during our partnership with IEC Global:
Top 100 on the Chinese Free Games chart in the first month

Top 5 on the Chinese Free Games chart in the first 3 months

3x IVR increase thanks to interactive ads built and optimized by Mindworks, our in-house creative studio

Over 50,000 new users per day acquired via our UA campaigns

Over 70% of the game's installs in the Chinese market came from Mintegral UA & top media strategies
Testimonial
Here's what the team at IEC Global had to say about our partnership:
The Mintegral team helped our title Water Sort Puzzle launch and grow in the Chinese market and we couldn't be happier with the results. Thanks to Mintegral's intimate knowledge of the market, combined with their high-quality creative services, we were able to have a successful launch and establish a foothold in this competitive market. We would like to thank the Mintegral team for their expertise and we look forward to our continued cooperation.
We had a great time working with the IEC Global team on making Water Sort Puzzle a success in the Chinese market. If you'd like to work with us on your UA or monetization efforts, we'd love to hear from you! Our team of experts can provide you with customized marketing strategies to ensure your game becomes a hit. If you'd like to learn more, contact the Mintegral team today!