Pocket Sniper!
Mintegral's Secret Weapon that Pushed Pocket Sniper! to the Top of the US Charts within 1 Week
Pocket Sniper! is a hyper-casual puzzle game that puts your trigger finger and your brain to the test. As a sniper, your goal is to take out the targets using as few shots as possible. The levels are littered with destructible objects, explosives, and various other items – that's where the puzzle element of the game comes into play. Pocket Sniper! can best be described as a combination between Angry Birds and Sniper Elite.
In addition to its fun gameplay, Pocket Sniper!'s performance is another impressive accomplishment worth mentioning. Launched on iOS on July 6th, the game reached the top of US Free Games chart in less than a week, holding the No.1 slot for several consecutive days.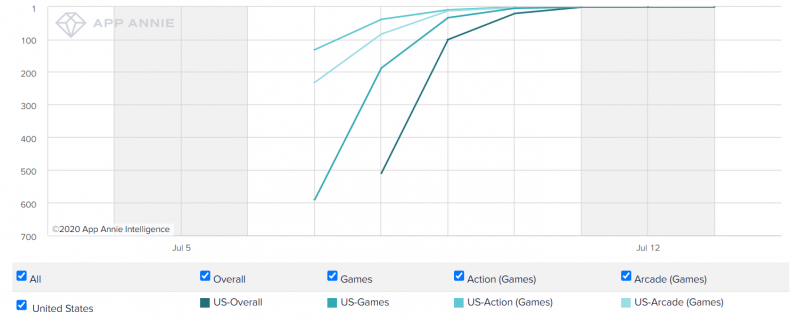 Mintegral is the secret weapon behind Pocket Sniper!'s success, being one of its biggest partners and having worked with them on ad creatives, user acquisition and monetization.
We worked with Pocket Sniper! to improve their UA and monetization efforts, so here are the strategies we used to achieve success in these areas. The key ingredient to both of these strategies: our high-quality ad creatives provided by our talented team at the Mindworks Creative Studio.
Creative strategies
Thanks to our in-house creative studio Mindworks, we were able to generate a set of high-quality playable ads and interactive Endcards that helped Pocket Sniper! acquire premium users at scale. Compared to standard video ads, the playables produced by Mindworks generated an IVR increase of 131.81% and a CVR increase of 243.39%.
Specifically looking at our UA strategies for the US and UK markets, prior to producing the creative package, the Mindworks team ran extensive in-depth research in order to get a good understanding of target users' preferences.
The team found that the UK and US user segments were particularly keen on games with solid gameplay and user experience. It's worth noting that popular shooters place a lot of importance on good hand-eye coordination and reaction time. Both of these elements are the key to good user satisfaction for the shooter genre and that's what the Mindworks team focused on in their creatives.
Based on these findings, the Mindworks team created a playable ad that put the focus on game level design and background music to provide users with a high-quality gaming experience. The team designed two game levels within the playable ad:
Level 1 was designed for beginners and showcased basic mechanics to get players familiar with the game
Level 2 was designed for advanced players with more difficult elements like moving targets, to get competitive players to try their skills in the game
To create an intense shooting atmosphere, the team added some exciting background music into the playable ad, with the goal of enticing players to continue shooting and eventually download the game.
User acquisition strategies
While high-quality ad creatives are extremely important to strong UA results, we also focused on optimizing the way we promoted Pocket Sniper!. To do this as efficiently as possible, we had two key strategies in mind:
Targeting top channels in the US market with a focus on the hyper-casual genre at launch to acquire high-quality users as quickly as possible
Using a flexible bidding strategy and setting the IDFA/IPUA chain to bid and buy separately to boost our UA efforts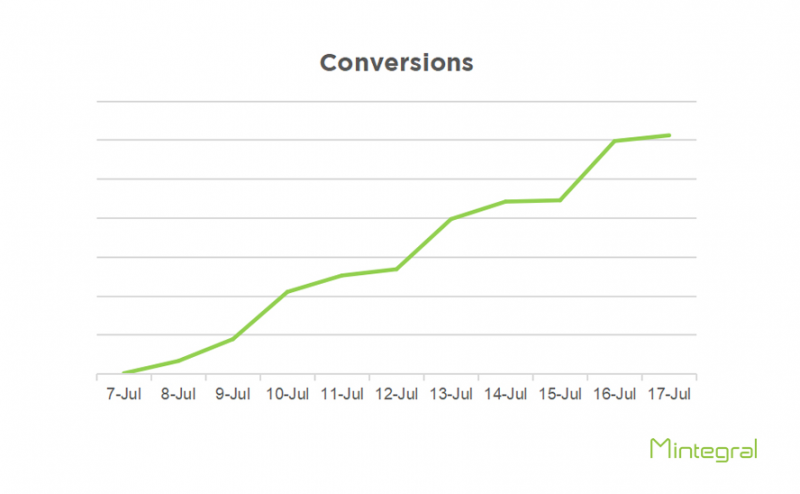 As a result, we saw a constant stream of user acquisitions and our playable ads managed to generate almost 30 million impressions throughout the campaign.
Monetization strategies
To ensure success on the monetization side, we used a combination rewarded video and interstitial ads. As Pocket Sniper! is a level-based game, rewarded video and interstitial ads were a natural fit and provided players with additional in-game rewards. These rewards, combined with Mintegral's access to global, high-quality video ad resources, created a positive user experience and a strong monetization performance.
On the operational side, we used a waterfall with multiple layers that we constantly optimized for best price across each level. This way, we were able to not only increase the waterfall's overall efficiency, but also maximize campaign revenue. We also analyzed rival products and their revenue distribution at each campaign stage, trends, and eCPM, to help Pocket Sniper! with monetization suggestions and improve overall monetization results.
Thanks to these approaches, the daily ad fill rate increased by over 60%, with the daily ad revenue increasing by more than 244%. It's worth noting that our contribution was responsible for over 40% of Pocket Sniper!'s overall ad revenue.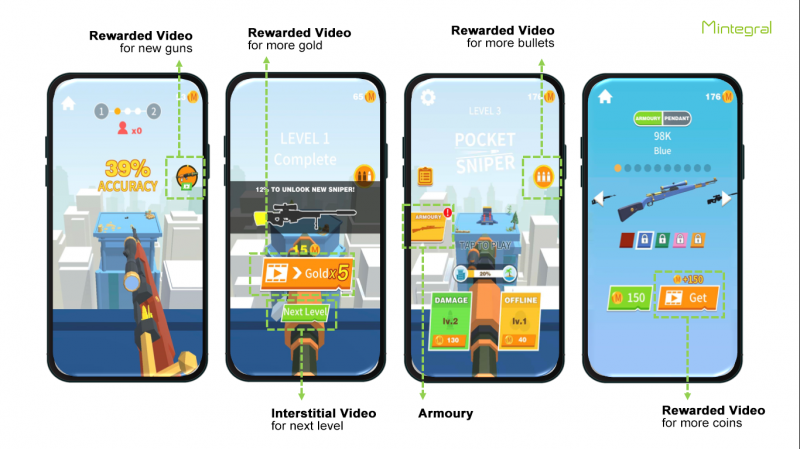 Want to be the next success story?
We are incredibly proud of the results we achieved on both the acquisition and monetization sides of this partnership with Pocket Sniper!. If you want to achieve similar results for your game, please don't hesitate and contact the Mintegral team today! Our acquisition, monetization, and creative solutions, supported by a team of talented mobile advertising experts, are guaranteed to generate strong, sustainable ROI.