Pmang New Matgo
The Strategies Used to Help Neowiz Play Studio Maintain Stable Ad Monetization Revenue
Neowiz Play Studio is a social casino developer based in Korea. Founded in 2015, Neowiz Play Studio is part of Neowiz, one of the largest and oldest gaming companies in Korea. The company has developed multiple mobile casino games across many genres including Poker, Slots, Baccarat, Blackjack, Go-Stop, and more.
Historically, mainstream casino games have relied on IAPs as main revenue sources. However, in-app advertising (IAA) has become such an increasingly popular revenue model that we are now seeing some casino games using IAA as their main revenue stream.
We have been working with Neowiz Play Studio on monetizing several of their games since 2017. And Pmang New Matgo, one of the biggest game in Neowiz Play Studio, has been investing in IAA for years and has now become a significant revenue source for its game.
Let's analyze one particular case – Pmang New Matgo – and take a look at the secrets behind its successful ad monetization strategies.
Pmang New Matgo: Korea's number 1 Go-Stop game
Pmang New Matgo is a card game variation from the Go-Stop family of card games and is the most popular game of this type in Korea. Usually played in sets of two players, the main goal is to score a certain number of points (usually 7) and then call a "Go" or a "Stop". Calling a "Go" makes the game continue, with the number of points or amount of money wagered is increased, while calling a "Stop" makes the game end and the caller collects their winnings.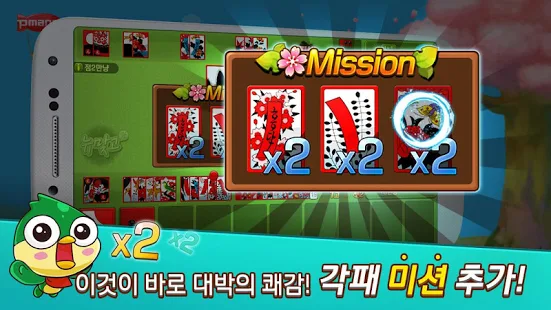 Challenges
Pmang New Matgo is one of the most popular Go-Stop games in Korea and is one of the top games on the Card Games section on the App Store and Google Play in Korea. Published in 2013, the game has been downloaded over 5 million times and is ranked no.1 in terms of revenue on the Google Play Store Card Games category. As a relatively old but very active game, Neowiz Play Studio's monetization goal was to introduce suitable ads and generate stable income for Pmang New Matgo.
After some preliminary research around gameplay and target players, we worked together with Neowiz Play Studio to achieve this goal using these two secret moves:
1. Good user experience comes first
The company has been widely used as an example of successful ad monetization in the gaming industry, and have started using rewarded video ads in their mobile games from 2015.
One of Neowiz's basic principles for designing ad placements into mobile games is to not use "push" advertising. Their belief is that if you deliver ads to users without providing any means of compensation, it will be difficult to retain users. This is why Neowiz Play Studio decided to use the rewarded video ad format.
The publisher designed multiple ad placements that would fit into different game scenarios and gave users incentives for watching video ads. Neowiz Play Studio also set a reasonable ad display frequency for each ad placement to avoid a bad user experience caused by excessive ads. These practices gave users the option to watch video ads and had no negative impact on user experience.
Neowiz Play Studio also chose to work with Mintegral on delivering rewarded video ads for Pmang New Matgo users. Mintegral's shared focus on creating a positive advertising experience, combined with its wide range of high-quality ad sources, helped Neowiz Play Studio maintain a good balance between good user experience and increased ad revenue.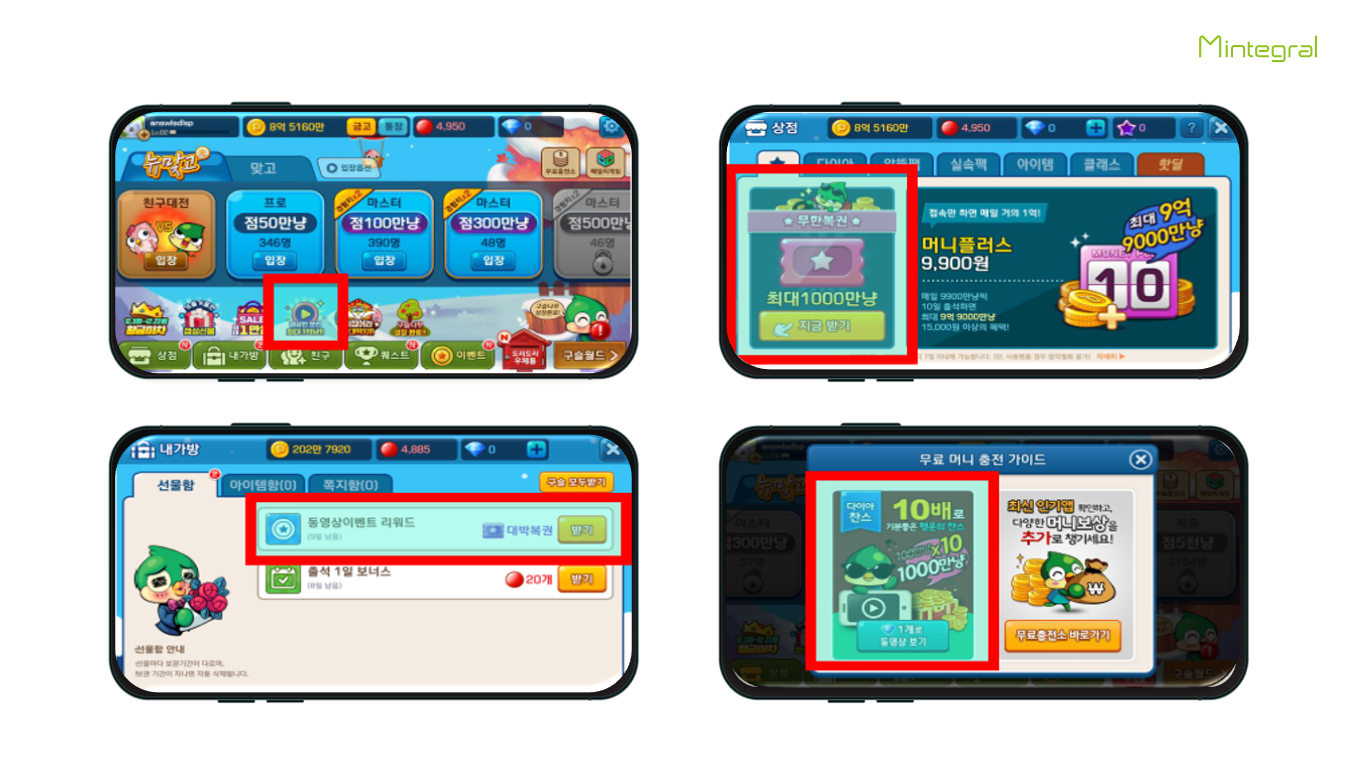 2. Delivering relevant offers matching users' interests
The second strategy revolved around finding the right offers that resonated the best with the Pmang New Matgo players. We started testing offers across different categories to determine which categories would drive the highest revenue. The process was made significantly easier thanks to our industry-leading algorithm that continuously studied the game's target users and delivered the ads that would best match their interests. As most of the players of Pmang New Matgo are females aged 30 to 50, we found that delivering ads for casual games with simple gameplay like Angry Birds or Township was a perfect match for this audience, which resulted in significantly better conversion rates and further improved the campaign's overall eCPM.
Results
We have worked with Neowiz Play Studios since 2017 and they have integrated our SDK into 12 of their main titles so far. This allowed the publisher to receive high-quality rewarded video ads from Mintegral, which translated to strong, sustainable advertising revenue. Thanks to at the high position of the publisher's waterfall, we were able to provide Neowiz Play Studios with a stable revenue stream for the duration of the campaign.
"We are extremely pleased with the way the Mintegral team has helped us achieve our monetization goals," said Wook Kim, Head of Pmang Monetization at Neowiz Play Studios. "Mintegral constantly adjusted their technology to suit our needs, and they have actively worked on ways to optimize the entire process. Not only that but they were quick to answer or solve any issues and were extremely timely and transparent in their responses."
You can be the next success story
We are extremely proud of the work we did to help Neowiz Play Studios find the most efficient monetization opportunities for their game Pmang New Matgo. If you're looking to boost your acquisition or monetization efforts, then make sure to contact the Mintegral team today! We can help your campaigns get the revenue boost they deserve thanks to our combination of cutting-edge technology and talented mobile advertising professionals.