Giant Rush!
How We Used In-App Bidding to Boost TapNation's Ad Revenue on Giant Rush!
TapNation is a Paris-based start-up specialized in hyper-casual games. Since launching in January 2019, the company saw rapid growth and is now working with over 50 studios around the world. TapNation is behind popular titles like Ice Cream Inc, Sneaker Art, and, of course, Giant Rush!. 
TapNation games have been downloaded more than 130 million times across both iOS and Android according to AppAnnie data, making them one of the fastest-growing and most successful hyper-casual publishers on the market. We've partnered with TapNation to help them boost their UA and monetization results on a number of games, and in December 2020 we started working with them on their hit title Giant Rush!.
What is "Giant Rush!"?
Giant Rush! is a 2D obstacle course game where players have to reach the end by running through a variety of obstacles and growing their character into a giant by collecting same-color characters along the way. At the end of the level, players must face off against another giant and if they win, they get into the next round.
Since launching in October 2020, the game has been downloaded over 23 million times according to AppAnnie, reaching top 5 on the Free Games charts in the US and several other markets.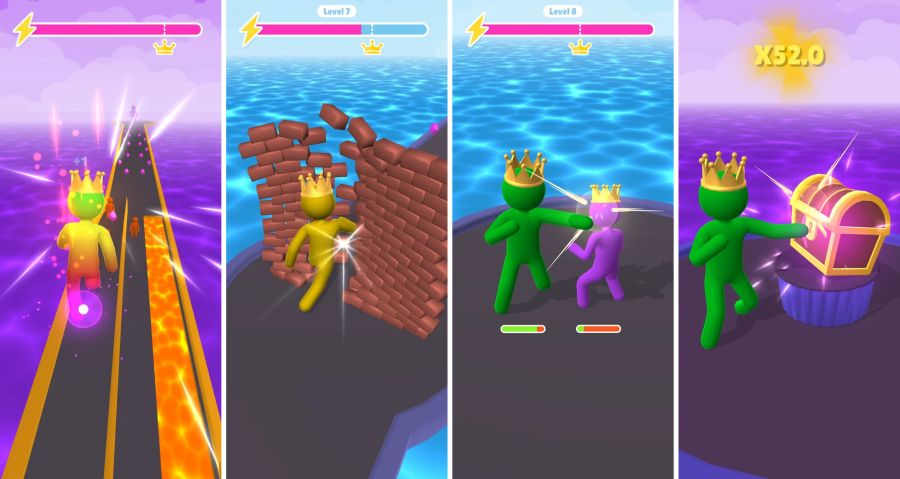 Helping Giant Rush! achieve its UA and monetization objectives
We started working together with TapNation on Giant Rush! in December 2020. Our key goals for this partnership were to acquire high-quality users at scale and to boost the game's monetization stream via in-app advertising.
One important thing to note about Giant Rush! is that the game was designed with a good ad experience in mind. Multiple ad placements were included in the game, making the ad experience flow naturally while giving users great incentives to watch video ads in exchange for in-game rewards.
Monetization strategies:
Combining rewarded video and interstitial video ads. With Giant Rush! being a game built on levels, rewarded video and interstitial ads were a natural fit and the logical choice to improve ad-based revenue. We combined these ad formats and the in-game rewards with our access to global, high-quality video ad resources.
Leveraging the power of in-app bidding. Thanks to in-app bidding technology, TapNation was able to maximize their ad revenue for Giant Rush! by opening their ad inventory to a wide range of advertisers. This resulted in maximized bids for each slot, allowing Giant Rush! to benefit from the true value of its inventory.
Premium, algorithm-powered ad experience. Our industry-leading advertising algorithm allows us to run real-time analysis of audience interests and deliver the ads that best match those criteria. Our data-driven approach enabled us to fill relevant, best-performing ads, resulting in a consistent number of high-quality conversions and strong, sustainable eCPM at the same time.
User acquisition strategy:
Precise targeting for optimal results. We combined the game's core features with its intended audience and targeted the top ad inventories on the market with a focus on the hyper-casual genre. By using this approach at launch, we were able to quickly acquire high-quality users at scale.
Key results
Our partnership was a success and thanks to our strategies, we became TapNation's top monetization partner. Compared with the bidding performance last year for Sneaker Art, which we spoke with TapNation about in our App Chat series, the bidding's overall win rate improved by 22.6%, with the one for the US market showing a 66.7% improvement. These results came from the improvements we've made to our algorithms over the last two quarters, enabling us to gain more ad impressions for all our partners who use in-app bidding. On the UA side, we were happy to see that our strategy helped Giant Rush! reach top 5 on the US Free Games chart.
Testimonial
This is what Anouar Benattia, Head of UA & Monetization at TapNation said about our work on Giant Rush!:
"Mintegral helped us generate a steady ad revenue stream for Giant Rush! and we are very happy to see our partnership result in such a strong outcome. The Mintegral team showed strong market expertise and flexibility along the way, boosting our ad revenue while also scaling our UA efforts. We value their passion and dedication, so we look forward to our next project together."
Let's work together!
We are extremely excited to be working with top-caliber industry players like TapNation, and our work on Giant Rush! is one of many examples of our expertise. Contact us today if you want your game to become a hit and our team of experts will provide you with customized marketing strategies built for results.