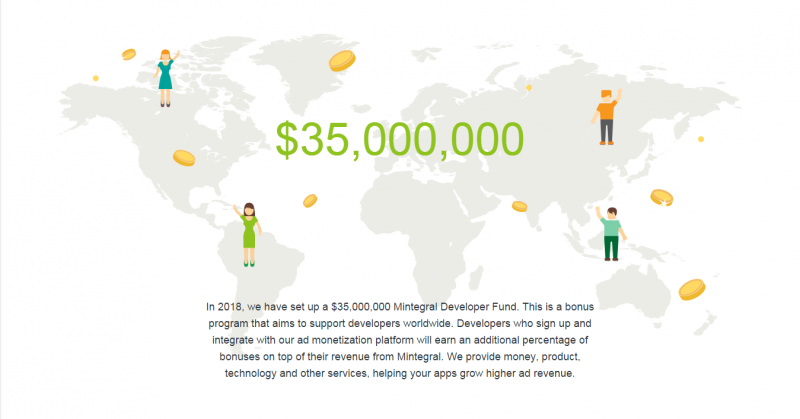 Hot on the heels of a successful GDC, mobile ad platform Mintegral has launched a huge bonus program aimed at app developers and publishers who want to grow their APAC audience and start to monetise their apps with local advertising.
The $35 million bonus fund is designed to help publishers start new campaigns or grow their existing ones. It's targeted primarily at companies creating mobile games and utility apps that are interested in using interactive formats such as rewarded video and playable ads to achieve monetization.
For people not familiar with Mintegral, it offers Ai-driven programmatic and interactive mobile advertising campaigns to global advertisers and developers that drive higher advertising effectiveness and media revenues. Mintegral provides not just a programmatic ad platform, but also lifecycle services such as consulting, customized ad monetization solutions and campaign optimization. 
To see if they are eligible for the bonus program, developers simply need to sign up either via the Mintegral website or send email to developer@mintegral.com. Once registered, Mintegral's supply-side team will then get in contact to discuss the best way in which Mintegral can help. The level of bonus is not fixed, and depends on the size and type of campaign that is right for each developer, once they have integrated their app with the Mintegral platform via an SDK.
Sign up now
About Mintegral
Mintegral is an AI-driven, programmatic and interactive ad platform, with a particular focus on the Asia Pacific region. The Mintegral team has extensive experience in mobile marketing and ad monetization services. Mintegral offers products and services like Advertiser Self-serve, DSP, SSP, DMP and Creative Lab, Mintegral provides a full stack products and one-stop mobile marketing and analytics services from supply-side to demand-side. The Mintegral SDK has already been integrated into 1,500+ apps from more than 500 developers worldwide, including Township, Gardenscapes, Temple Run, Talking Tom, Crossy Road, Camera360 and SHAREit. Today, Mintegral SDK's daily active users have reached 360 million. 
Earlier this year Mintegral set up a Creative Lab which is dedicated to providing developers with new immersive ad experiences. It uses multiple interactive ad formats including rewarded video, native video, vertical video, playable ad, interactive end-card, 3D video and VR/AR video to help developers improve eCPM and drive higher revenue.