Mintegral in-app bidding
Parallel bidding for increasing your mobile app revenue.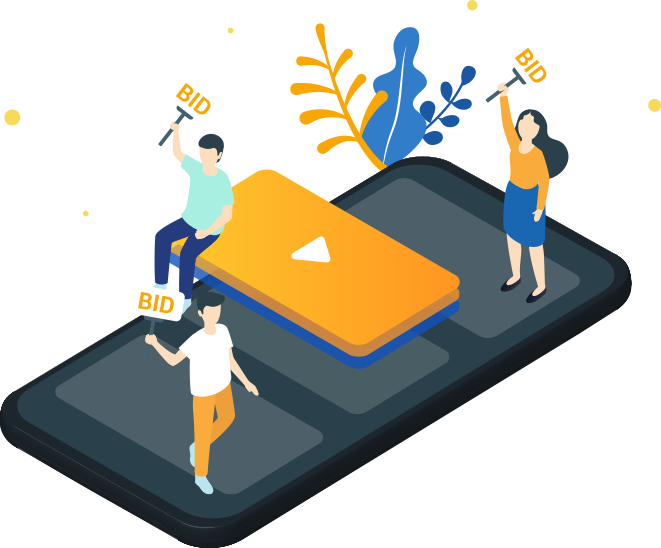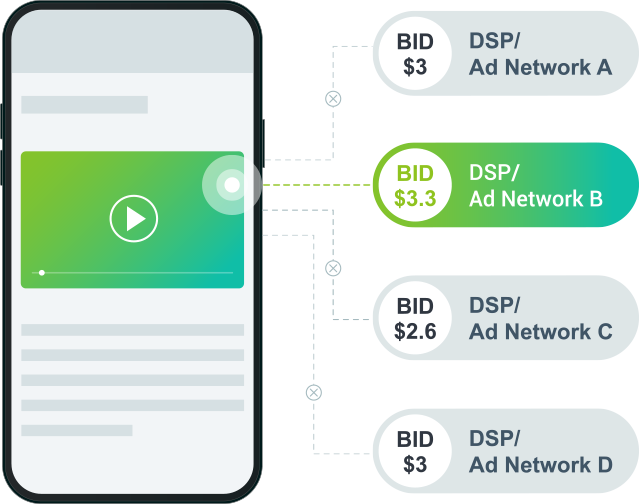 Take your app monetization to the next level
In-app bidding is an advanced programmatic bidding technology that provides multiple demand sources an equal opportunity to bid simultaneously on your inventory and the highest bidder wins the impression, which increases your ad revenue. With the help of SDK integration, we are now bringing the benefits of in-app bidding to the mobile app ecosystem.
Why publishers need
Mintegral's in-app bidding solution
More Demand, Increased Revenue

Open your inventory to more mobile buyers and have them bid on it simultaneously. The highest bid wins the impression and that translates to more revenue for you.
Reduced Latency, Improved Efficiency

Significantly reduces delays and tedious manual optimization efforts required by waterfall, making the entire process more efficient, time-saving, and easier to manage.
Full Transparency for More Data Insights

You have full transparency around the price of each impression and who is bidding, giving access to even more insights about your inventory.
Hybrid Integration Solutions and Open-source Support

We offer both S2S and C2S integration solutions for you to choose. We also provide additional open-source framework HiBid to support you run in-app bidding.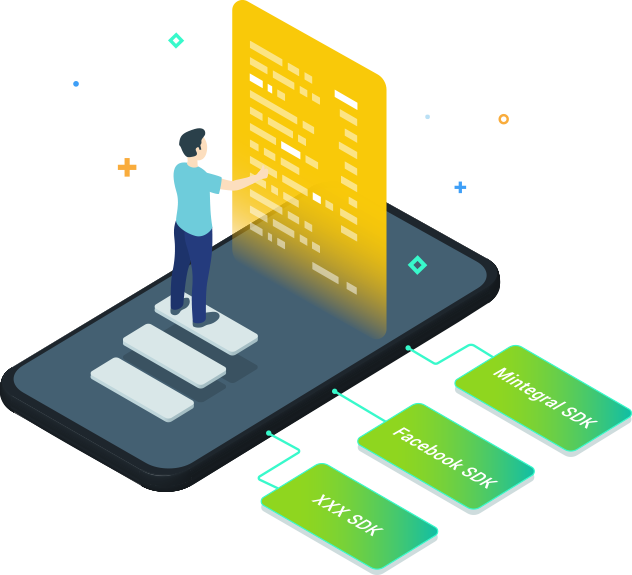 The industry's first client-based, open-source framework for mobile in-app bidding
HiBid is an open-source framework that provides a client-to-server in-app bidding solution for mobile publishers. It is designed to address your needs to balance the access to a wide range of demands and the dedicated support required to increase your ad revenue as efficiently as possible.
Creating and running your own
in-app bidding solution based on HiBid
Accelerated integration with multiple ad networks
HiBid provides multiple integration APIs and enables access to all ad networks that support client-based in-app bidding, such as Mintegral and Facebook. With HiBid, you can integrate with multiple sources for improved integration efficiency and increased demands.
Return all prices in real-time
HiBid sends every bid to you, tells you exactly how much each ad platform is bidding for each impression and gives you a clear understanding of your inventory's true value.
Full transparency and control
With our industry-leading open-source script, publishers are in the driver's seat, with full control and transparency to ensure the bidding process is completely fair.
Fully customizable and built for collaboration
HiBid is fully customizable and you can tailor it to your own needs via configuration updates. We welcome any feedback on how we can improve this framework.
Automated and resource-saving process
HiBid has all the features you need to get started with in-app bidding, as well as puts automation in place to take care of the setup for you.