Where do you get your games from? Chances are you'll get your information from a variety of sources. You may read gaming websites; you may have your interest piqued by a display ad; your friends and family might recommend one to you; you might take the plunge after seeing someone on social media play one, and so on. 
The point is, in our online (and increasingly mobile-first) society, finding a game to whittle the time away has become something of a minefield. Ads on social media and even ads in a game you're currently playing can become overwhelming. Too much choice can turn gamers off from the medium altogether. (For a bit, anyway, until the urge to pick it up again becomes too strong!)
This isn't just a problem affecting gamers. It's a fine balance that developers and publishers have to consider, too. You may have a great game you're ready to distribute. What channels do you push it out on, and how do you maximise your budget to get in front of your demographic without burning them out or turning them away?
Well, it depends on your game, the market and how you propose to it. According to our data sample, found in the MOBILE GAMERS IN CHINA: A survey of Chinese mobile gamers' behaviour and attitudes towards mobile gaming report, suggests two things.
First; that the quality of the data you have to hand and how you use it when marketing your game to mobile markets is the key to any future success you may have in our mobile-first age. Second; that game discovery across the world is a totally unique proposition – nowhere more so than in China.
The allure of the Chinese mobile market
We mention China because so many developers and publishers are working extremely hard to enter the world's biggest app market.
The Chinese gaming market accounted for more than a quarter of global revenue in 2018, and with approximately 800 million smartphone users willing to spend money on games, apps and more, the right approach to the market could seriously and immediately impact a brand's growth strategy for the better.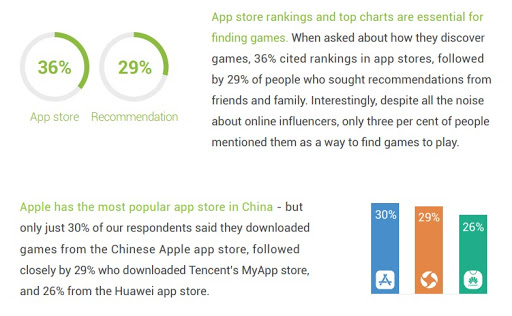 Like most mobile markets, though, China has its barriers to entry. Unlike most mobile markets, though, the bars to entry are set quite high. Gaming regulations can be very strict, while a fragmented Android market and cultural differences mean that developers and publishers will have to work incredibly hard to get noticed, let alone make an impact.
The rewards far and away outweigh any risks, though. It's critical to understand that the quality of the data and how you build a creative campaign around your discoveries will be absolutely essential to attracting gamers and making a name for yourselves.
Again, strict regulations are one of the main logistical challenges Western developers face when trying to enter the market. So, how are China's gamers discovering new titles, and how do you get in front of them?
Who is influencing China's mobile gamers?
Speaking to 1,007 respondents in March 2019 from tier 1 and tier 2 cities in China, aged between 10 and 50 years old, our research painted an interesting picture of Chinese mobile users' game discovery process.
36 per cent of respondents cited rankings in app stores and top charts as essential for finding games, followed by 29 per cent of people who sought recommendations from friends and family. Only three per cent of people mentioned influencers as a way to find games to play.
Three per cent is an astonishing number, but maybe that's because we're typically so conditioned to the influencer scramble here in the west. Companies who invested in influencer marketing saw 520 per cent returns, with 49 per cent of users relying on influencer recommendations for purchases, according to NeoReach and ION research respectively.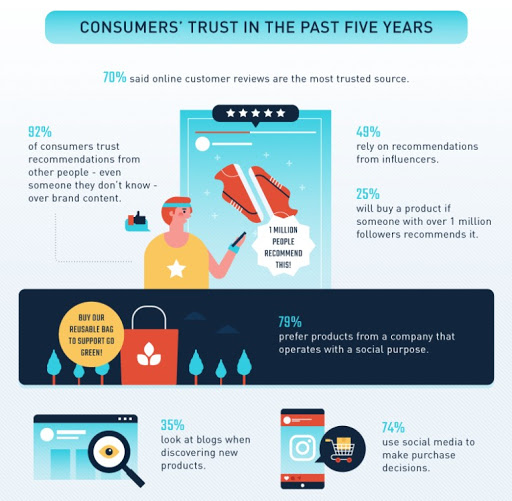 Credit: Smallbizgenius
Then, it comes as much less of a surprise when you remember that most Western social networks have zero presence in China, so the caveat is that influencers are automatically less visible. Dig a little deeper, too, and you begin to see that China's mobile gamers may perhaps have a different interpretation of what an 'influencer' is.
An influencer to a Chinese gamer may be another player, with 36 per cent saying the biggest motivating factor to play mobile games was interacting and competing with others. Maybe their definition of an influencer isn't someone popular selling them things on a platform. Perhaps it's the more traditional friend challenging them to download a game and beat their score.
Chinese gamers like to be challenged
That conclusion makes more sense in regard to why Chinese mobile gamers look to app rankings and top charts when discovering new games. If that's where the crowd is spending its time, then that's surely where the challenge will be.
With the two most popular game genres in China puzzle games puzzle and multiplayer online battle arena (MOBA) games – for 52 per cent of female gamers and 45 per cent of males respectively – it supports the idea that being challenged by a community and testing themselves against other gamers is the fuel that drives game downloads.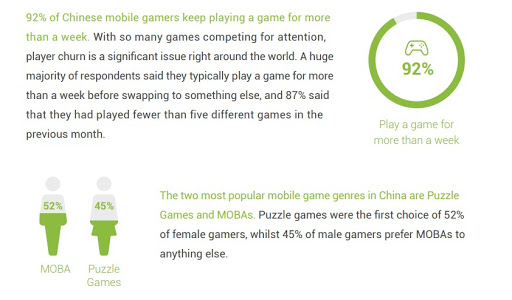 Chinese gamers also play fewer games for longer; churn isn't as prevalent an issue for developers and publishers in China (though the spectre still exists). 92 per cent play a game for more than a week while 87 per cent said they had played fewer than five different games in the previous month.
China's mobile gamers are active and eager, and likely won't be influenced by a hard sell from someone with a large social following paid to push your product. Truly getting under the skin of these gamers can be a longer, tougher sell. Get it right, though, and China's mobile gamers will accept you into their hearts.
Find out more about Chinese mobile game consumers – including which app stores they use and which app store assets most inform their purchasing decision – by reading it in https://www.mintegral.com/en/ebook/mobile-gamers-in-china/