Using transparent, open, and reliable advertising technology to bridge the East and West, and helping customers achieve global business growth have always been Mintegral's core values.
These concepts also permeate Mintegral's technology ethos. Since its inception, we have continuously invested resources in technology research and development and doubled down on our product advantages. We strive to create greater value for advertisers, developers, and other partners. This article will provide full transparency into Mintegral's end-to-end integrated technology framework, and explain in detail how we efficiently process the massive volume of data in real-time, and leverage artificial intelligence to automate and optimize our programmatic advertising business. All to achieve our ultimate goal – a win-win relationship among users, advertisers, and developers.
1. Ultra-large-scale, real-time deep learning ranking frameworks: optimal results for developers, advertisers, and user experience
Unlike traditional mobile advertising platforms, Mintegral is entirely programmatic. Displaying the best ad, to the right users, at the right time, and in the right place, while optimizing developer revenue, end-user experience, and ad campaign efficiency… all works automatically on Mintegral's comprehensive one-stop machine learning system.
Behavioral data in Mintegral has very high dimensionality. The discrete input feature dimension of the ranking model typically exceeds one billion, and the number of parameters is in the order of tens of billions. Models of this complexity often require model training based on huge data samples, to improve model convergence and achieve accurate real-time performance prediction.
The input data of Mintegral's ranking model mainly includes the raw traffic logs, such as impression, installation, click, etc., as well as real-time user characteristics. Through our self-developed MindAlpha machine learning platform, Mintegral aggregates the above data in the feature data stream to form training samples of algorithm models, and to conduct deep learning and model training. Among them, the discrete input feature level of the model can exceed the level of billions, and the total number of parameters can reach tens of billions. After the model is trained, it will enter the online ranking service to rate and sort ad requests in real-time, matching the most relevant ads and creatives to each user ad request. At the same time, the entire model framework system will conduct real-time and uninterrupted online learning with the feedback of user behavior, just like an artificial intelligence-driven "brain", which guarantees the maximum effectiveness of a high traffic platform.
The overall framework is shown below: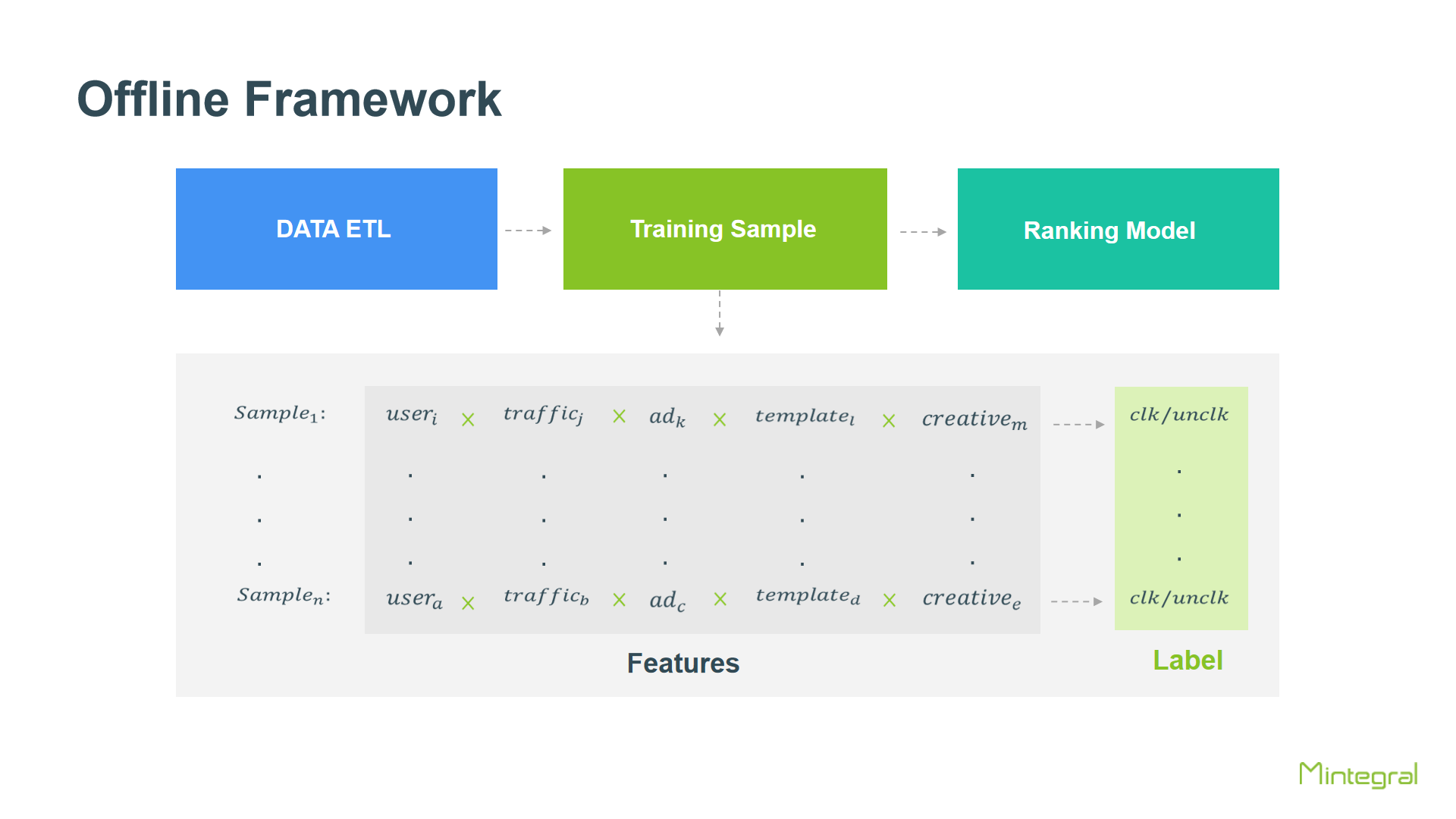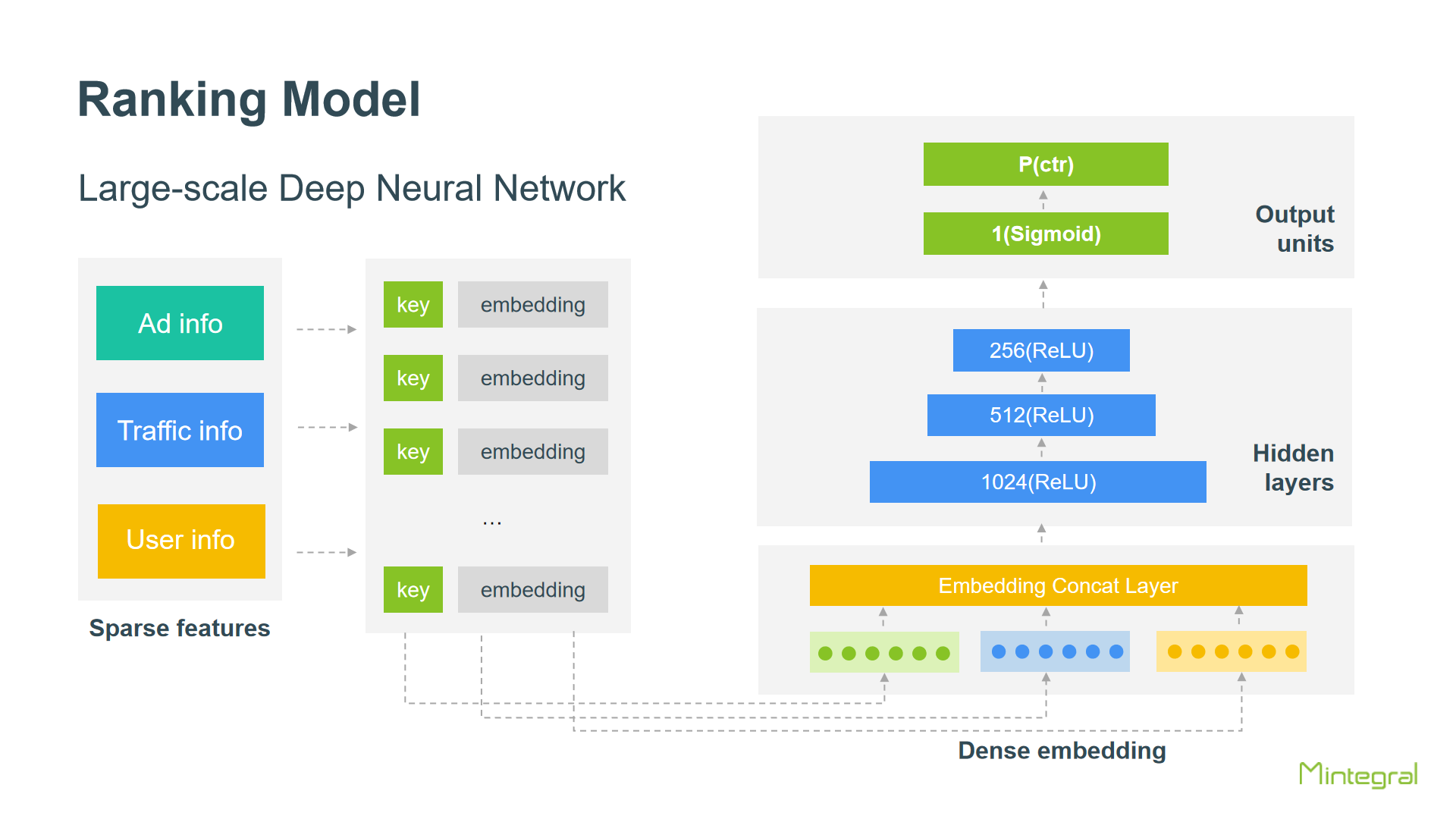 Fig: This shows the entire process of processing raw data, converting it into structured data (i.e. training samples), then inputting the structured data into the training model to be used for large-scale deep learning networks.
Now, more specifically in Mintegral's product technology ecosystem, we'll detail how we build a model training system based on structured data, and how this effectively drives the entire programmatic delivery system.
2. Five-dimensional algorithm to support a mobile marketing traffic ecosystem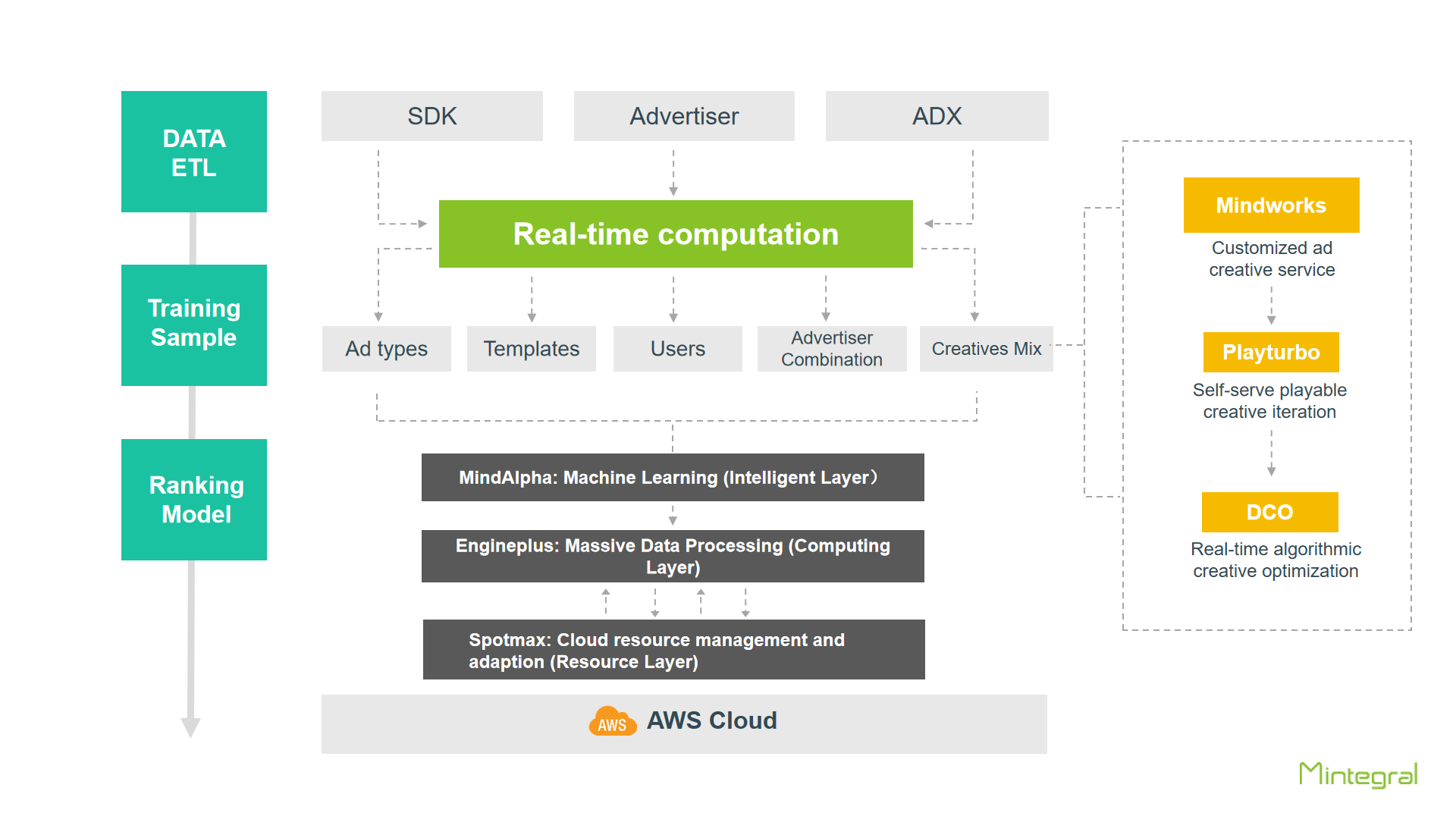 Fig: Mintegral's five-dimensional ad ranking technology framework.
Currently, Mintegral's SDK is integrated with more than 3,500 developers worldwide spanning 500 million daily active users. Additionally, Mintegral has integrated with more than 20 global ad exchanges supporting more than 2,000 advertisers across the world. Every day, our back-end systems process tens of billions of ad requests, and through sophisticated real-time calculations and large-scale machine learning more than 1.4 billion ad impressions are delivered.
Mintegral's business features require extremely high data velocity: the complex prediction algorithm behind each ad request requires end-to-end data latency to be less than 50 milliseconds (p99 <50ms). In order to meet these latency requirements, we must capture changes in users' interests in real-time.
Therefore, we have established a complete system of real-time data streams and model features. This enables the impression and attribution data returned from the third-party measurement platforms to enter the real-time feature model within a few seconds, and allows the model to update the predicted result of user-ad matching with the new input feature changes. The real-time data stream, and the model feature system, together enable Mintegral to quickly capture the ever-changing user needs and interests, matching the most appropriate ads with users, and thereby maximizing revenue for developers and the effectiveness of user acquisition for advertisers.
In this real-time data stream and model feature system, for each ad request, we comprehensively consider five dimensions – ad format, template, user, advertiser combination, creatives mix – and respond in real-time.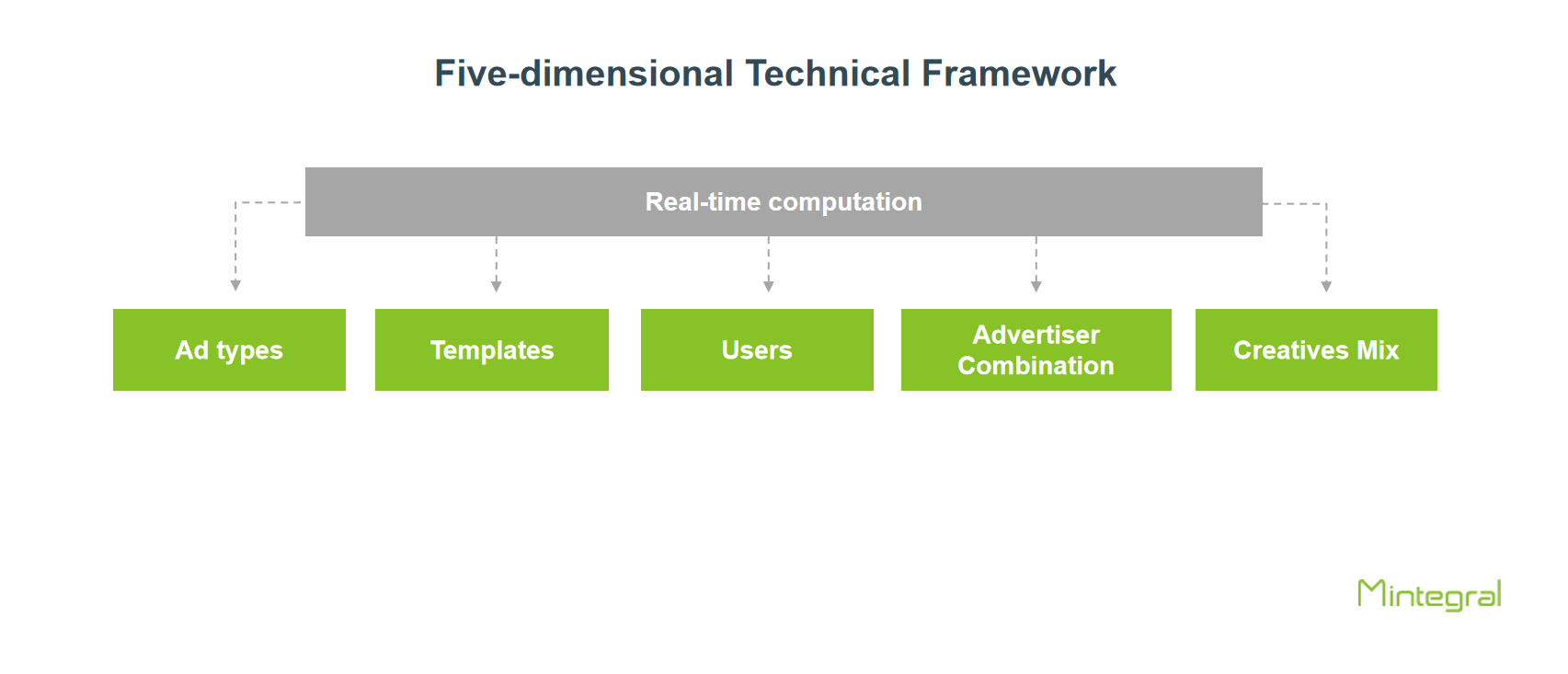 Under this five-dimension technical framework, we have established a variety of algorithm models, through the learnings and analysis of user responses and changes to different advertising formats, templates, content, and creative mix. The models use this input to calculate the best matching advertisement for each user request and predict the subsequent interactive behaviors. In addition to improving the advertising user experience, Mintegral can also improve the developer's advertising revenue and the advertiser's user acquisition performance, achieving a win-win situation for all three parties.
Dimension One
Ad format: Meet marketers' needs with a large variety of styles, increasing the Ad Fill Rate
For advertisers and developers, the diversity of ad formats has a direct impact on their marketing effectiveness and advertising revenue. The richer the formats, the more they can meet the marketing and differentiation needs of advertisers. Richer ad formats also help to create a better user experience and drive higher income for developers.
Mintegral provides a variety of ad formats, including interactive ads, rewarded videos, interstitial videos, native ads, native app walls, banner ads, splash ads, etc.
Currently, interactive advertising is deeply favored by game advertisers for its high conversion rate, exceptional user retention rate, and extraordinary LTV (user lifetime value). Since users can experience a game or an app in advance within the ad, interactive advertisements can educate and screen users in the initial stage, reduce the uninstallation rate, and minimize advertising waste. Rewarded videos, on the other hand, have both considerable monetization efficiency and higher product satisfaction rate, creating greater value for developers and advertisers. Lastly, native ads can achieve remarkable click performance when paired with accurate audience targeting and high-quality creative materials.
Rich formats of advertising rely on a critical mass of ad inventory. Backed by a massive number of developers, Mintegral can better implement the self-developed intelligent algorithms to design hundreds and thousands of traffic distribution strategies for developers based on the characteristics and priority level of each traffic buyer, increasing the advertising fill rate and developers' revenue dramatically.
Dimension two
Template: better templates, better user experience
To continuously optimize ad effectiveness during the life cycle of a given product, and to expand coverage to more channels and users, advertisers and media buyers need to continuously produce different kinds of creative assets such as copywriting, images, and videos. Different ad templates provide diversified ways of displaying these ad assets.
With its support of multiple advertising formats, Mintegral has customized a wide variety of ad templates for advertisers to meet their diverse needs.
To maximize the appeal to more audiences, the number of ads for a given ad slot has gradually developed from one to multiple, such as a carousel, grids, etc. In the future, the combination of ad slots and the number of ads will keep evolving to the point that there will be multiple ads for multiple ad slots.
Mintegral had spotted the trend a while ago and had started producing the unique "Multi-Ads Template" innovation. In the "Multi-Ads Template", users can select the ad they want to watch. This result is better user experience, a more qualified user acquired, and higher eCPM in terms of monetization.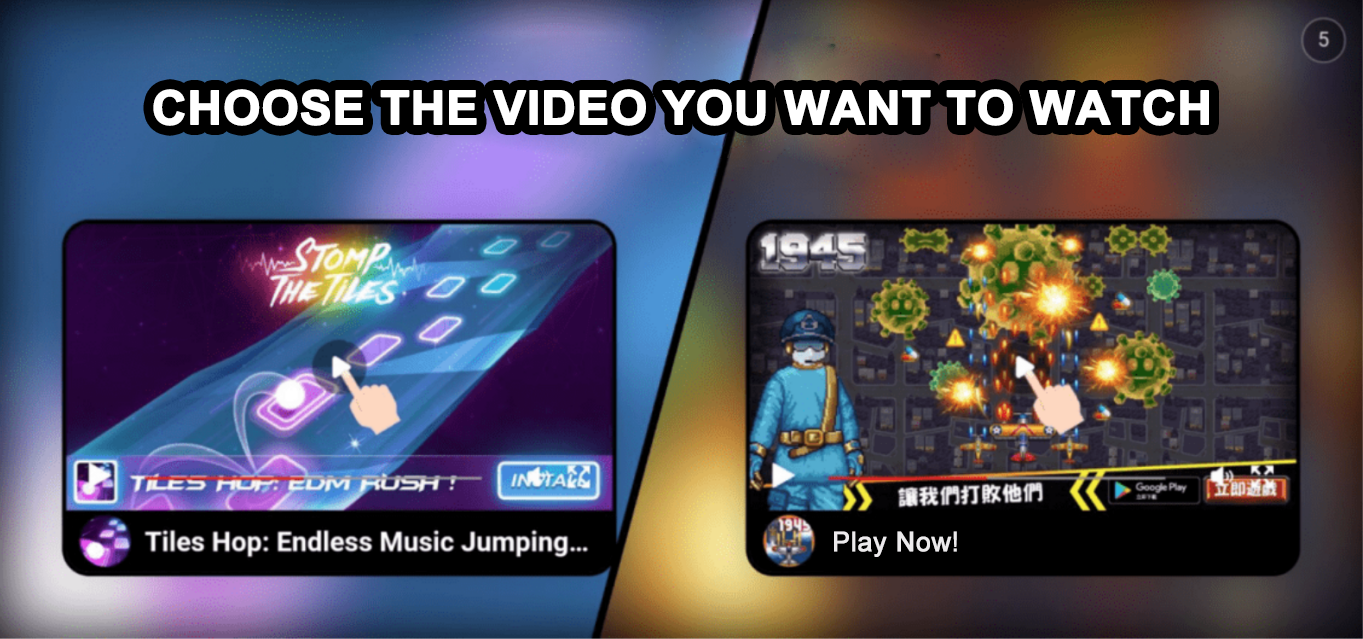 Fig: Multi-Ads template Demo
Dimension Three
User: Make the user experience the priority and precisely deliver the most relevant ad to each user
Mintegral highly values the user experience and regards it as an important criterion for measuring the effectiveness of advertising. Instead of blindly increasing exposure, we are dedicated to delivering ads as useful content to users and aspire to solve users' needs at the same time. In this case, the ad is no longer unwanted and is more likely to achieve a win-win situation due to its premium user experience, great ad performance for advertisers, and high revenue for developers.
To accurately provide users with the most suitable ads, Mintegral develops algorithm models based on comprehensive multi-dimensional tagging systems and large data sets, which are used to carry out precise creative content production and personalized ad recommendations. At the same time, it efficiently identifies high-quality ad inventory to help advertisers reach high-quality users precisely.
Dimension Four
Advertiser Combination: Constant growth in the number of advertisers in both regions and verticals, enabling developers to earn high revenue
Sufficient ad traffic and effective advertising technology are table stakes for an ad platform. Lack of sufficient ad traffic will lead to a low ad fill rate resulting in wasted ad inventory and lack of meaningful value for the developer.
Mintegral SDK is integrated by more than 3,500 developers globally covering over 500 million daily active users. The regions covered by our partnered developers are constantly expanding, from well-developed markets such as Asia, Europe, and the United States, to emerging markets such as the Middle East and South America, meeting the cross-regional growth needs of global advertisers.
Moreover, beyond games, more and more brands and e-commerce advertisers are using Mintegral to achieve their global growth. With its powerful underlying technology, Mintegral can achieve precise matching of needs between advertisers and publishers, resulting in an efficient mobile traffic ecosystem.
The cross-regional growth of advertisers and the increasing diversification of traffic verticals increase the platform's scale and accelerate the flywheel effect within the Mintegral centered ecosystem.
Dimension Five
Creatives Mix: Diversified high-quality creative results in high conversion rate
One of the biggest goals of a performance-based advertising campaign is generating an efficient conversion rate to gain access to premium traffic.  The best way to measure conversion rate is IVR (Installs per Impression Rate). But how does one achieve a high IVR? The secret lies in the creative content.
Mintegral's premium creative toolset consists of three parts – Mindworks (in-house creative studio), Playturbo (playable ad editing platform), and DCO (dynamic creative optimization) – respectively solving advertisers' creative problems through customized ad creative service, self-serve creation, and optimization platform for interactive ads, and real-time algorithmic creative optimization. In this case, the effectiveness of ad campaigns can be greatly improved, driving industry-leading user engagement through attractive content.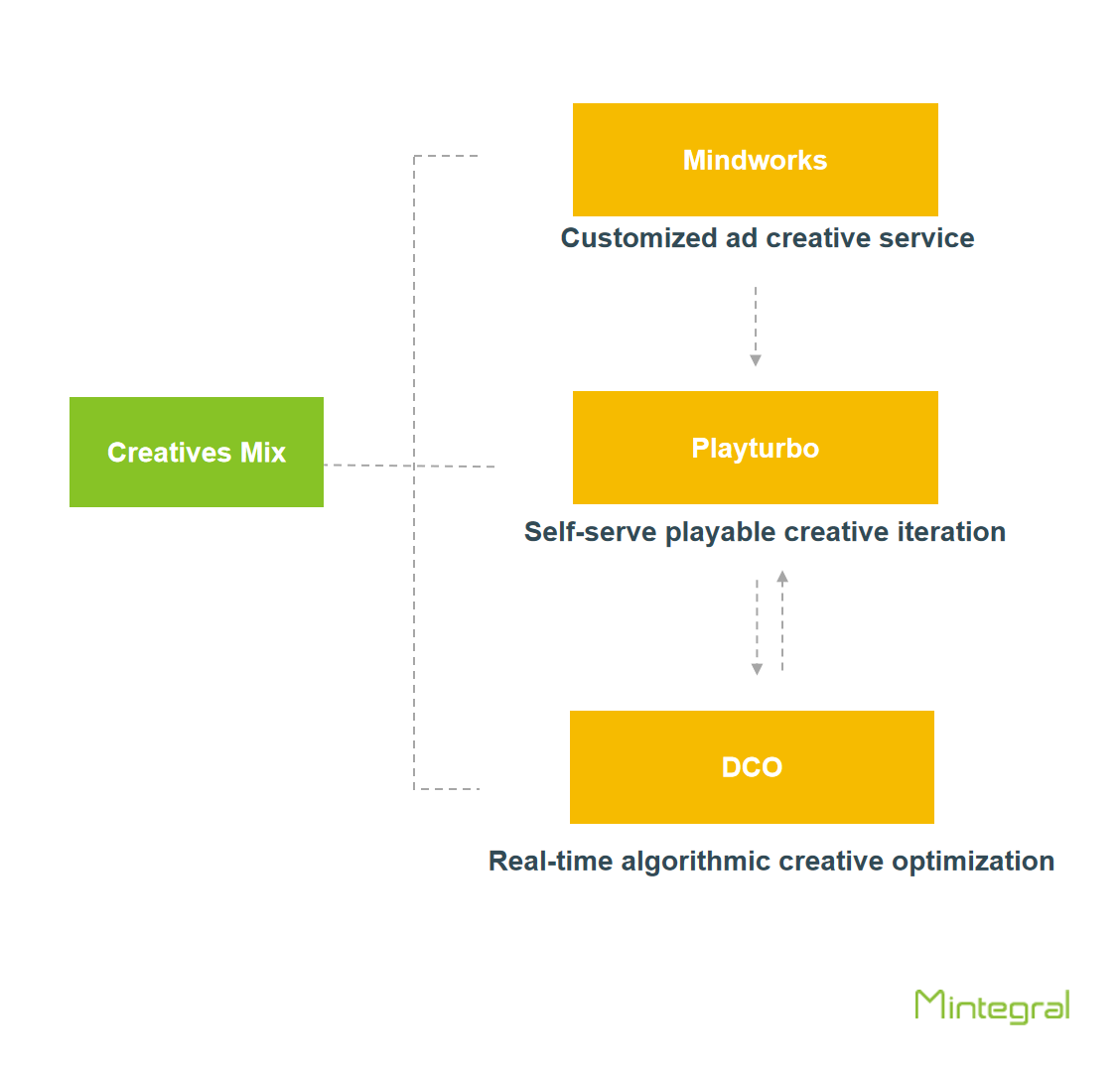 As the creative studio of the platform, Mindworks represents Mintegral's core creative capabilities, dedicated to innovative and diverse custom creative for advertisers and developers. When producing creatives for games, non-game applications, brands, etc., Mindworks first conducts in-depth research which includes a product analysis, competitive research, and analysis of different networks. Based on the research output, the team would dive into the core gameplay and share potential ideas to produce various formats of ad creatives, including playable ads, interactive endcard, and video, to meet the needs of the target audience for each network.
Here's a great example of immersive playable ads created by Mindworks to boost the ad campaign of Voodoo's popular hyper-casual game "Cube Surfer!". Mindworks selected the most unique gameplay elements to make the playable more enticing, designed a challenge mode with exciting background music to provide players with an immersive trial. As a result, the playable ad achieved a 90.7% IVR improvement.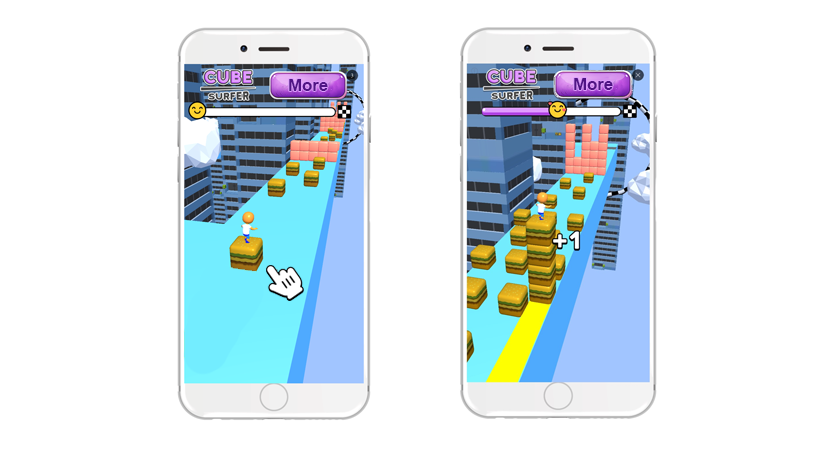 Playturbo: Mindworks' playable ad creative platform


Contact sales@mindworks-creative.com for more information
To further empower advertisers' ad content iteration, Mintegral has launched the first playable ad editing platform in China – Playturbo.
With one playable ad produced by Mindworks, advertisers can easily edit elements such as characters, color of 3D models, background image, call to action button, skin, music/sounds, difficulty level, game speed – Playturbo will then generate the new playable ad versions instantly.
The Playturbo platform also supports multi-language configurations, enabling advertisers to create cross-regional playable ads. Additionally, with Playturbo, advertisers can export or download different versions of their playable ads so that they are compatible with major ad networks.
DCO: Dynamic creative optimization
DCO stands for dynamic creative optimization and is used to optimize ad creative elements (background image, buttons, and other creative assets) based on target user characteristics (specific attributes, interests and preferences, as well as behavioral habits) in real-time.
By using machine learning models and algorithms, we can compare and rearrange some of the ad creative elements ( background music, video ad templates, video content, etc.) to determine the optimal combination.
Playturbo, as a whole, enables advertisers to easily optimize and iterate their ad creatives. The ad creative elements can be optimized in real-time using DCO technology to further improve campaign effectiveness and conversion rate.
3. Open AI, big data central technology platform, and data intelligence drives industry growth
Every day, Mintegral processes and predicts nearly 100 billion ad requests through its sophisticated algorithms. Behind this demand is the data processing scale of dozens of petabytes per day as well as corresponding data analysis and model training. Behind the above-mentioned five-dimensional optimization method, Mintegral has relied on a strong central technology platform as its foundation. Specifically speaking, Mintegral's central technology platform is shown in the following figure.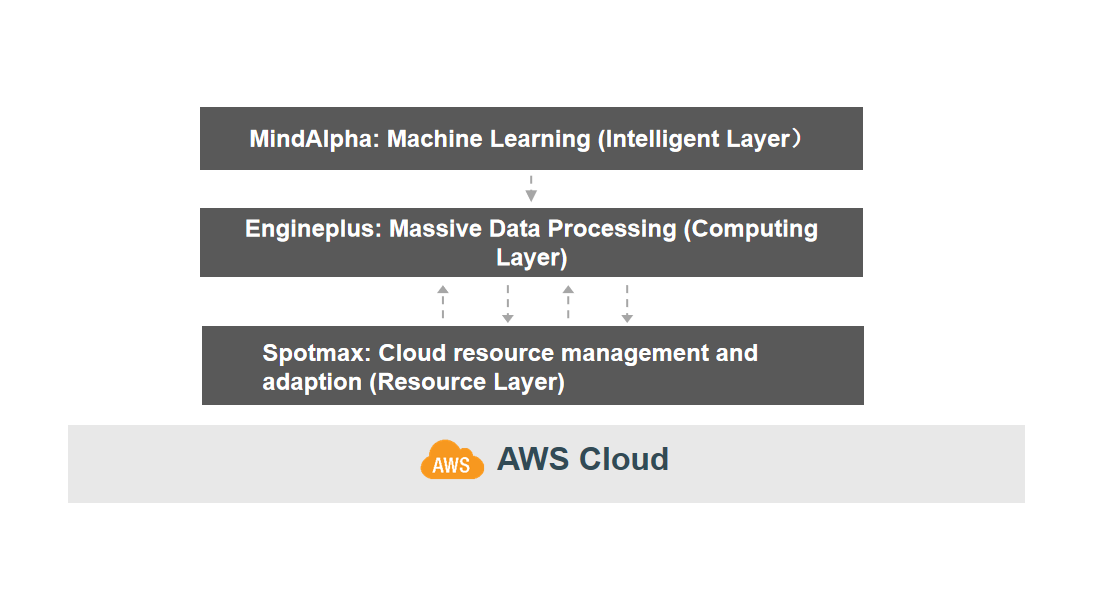 (1) Intelligent layer – MindAlpha's ultra-large-scale one-stop big data machine learning platform
Each day MindAlpha handles ad requests from 1 billion unique mobile devices and efficiently processes over 100 billion online predictions.
As Mintegral's one-stop big data machine learning platform, MindAlpha provides services that cover the entire process cycle of data stream integration, feature generation, deep learning model training of tens of billions of features, online prediction, online evaluation, and online learning. MindAlpha integrates several large-scale discrete feature online learning algorithms, is used to drive tens of billions of views per day, and it works out of the box. At the same time, it can also support the development and verification of rapid algorithm prototypes and the seamless execution of model production and deployment.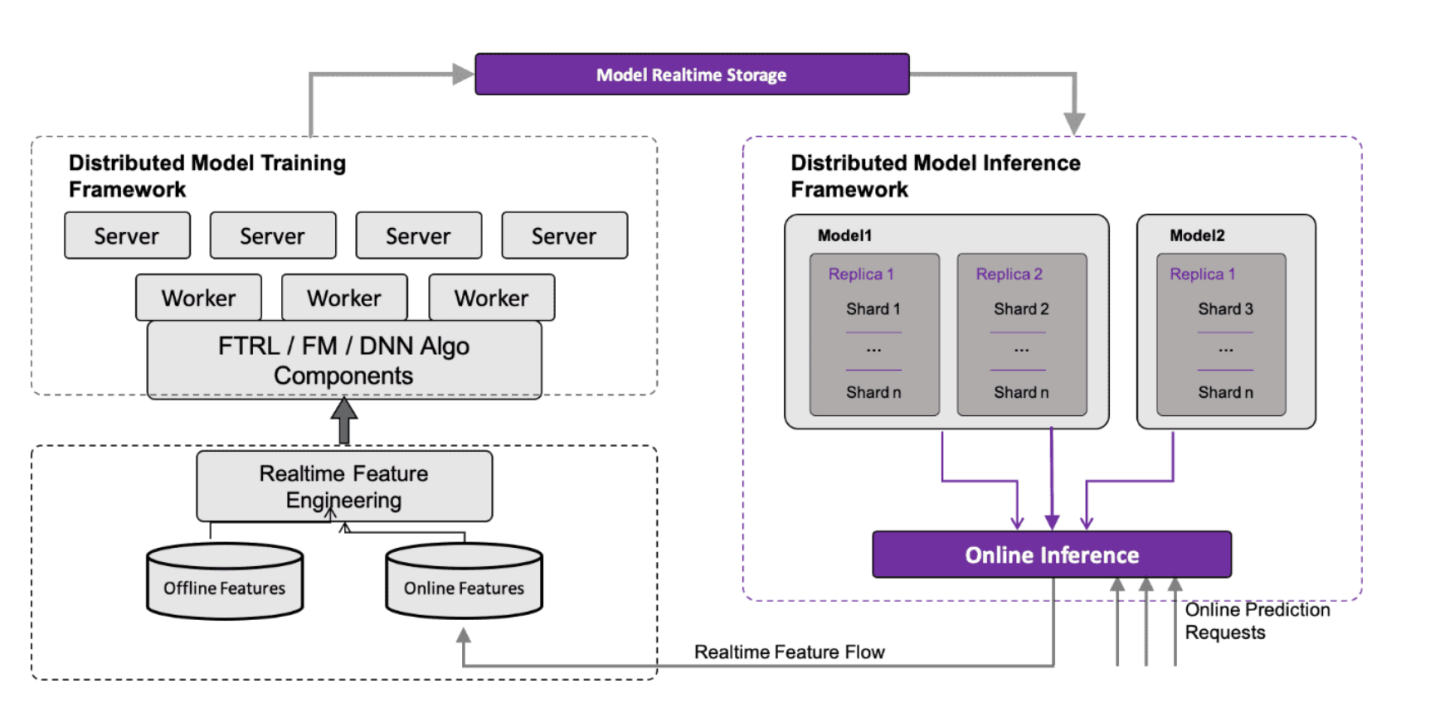 Since the launch of the MindAlpha platform, it has supported multiple major upgrades of Mintegral's advertising ranking algorithm and has consistently improved business results.
Below is a link to AWS's official case study on the MindAlpha machine learning platform:
https://aws.amazon.com/cn/solutions/case-studies/mobvista-machine-learning/
(2) Computing layer – EnginePlus, large-scale data computing platform
Each day EnginePlus analyzes and processes over 10 PB of data, providing a solid cornerstone for business execution and iteration.
EnginePlus is a computing and management platform based on cloud computing resources. It aggregates a variety of mainstream big data computing engines including Hadoop, Spark, Flink, etc., and helps users easily manage multiple big data clusters. Similarly, EnginePlus is currently listed as a service product on AWS Marketplace (APN). EnginePlus can manage large-scale computing clusters with tens of thousands of CPU cores and can support cloud-native deployment and load-based elastic scalability.
EnginePlus provides MindAlpha with the allocation and scheduling of underlying large-scale cluster resources, as well as computing frameworks such as real-time streaming and feature processing.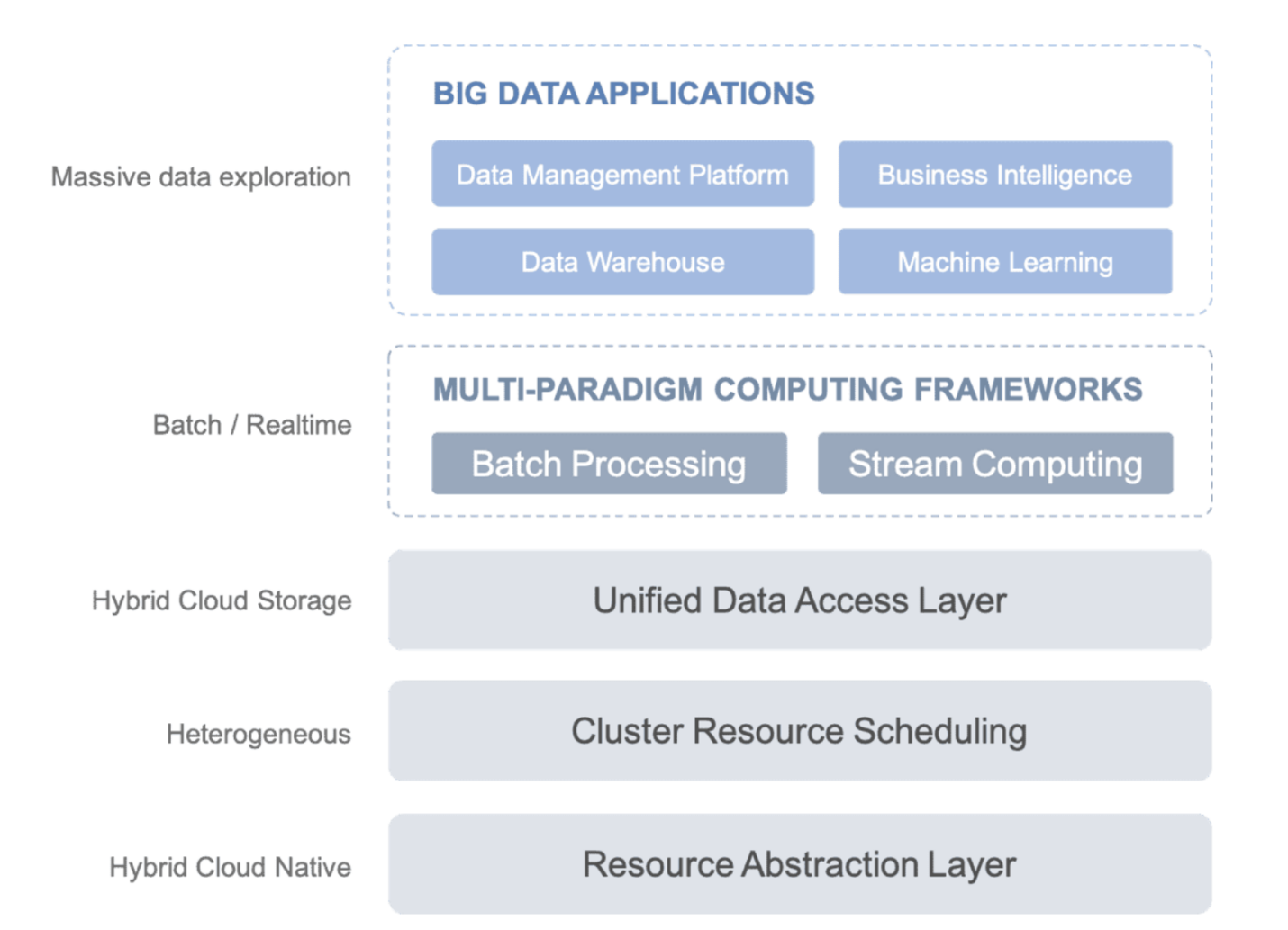 EnginePlus is currently listed on the AWS Marketplace (APN), officially providing free and commercial SaaS services to the public, and is used by many domestic and overseas customers.
Product link: https://aws.amazon.com/marketplace/pp/Mobvista-EnginePlus-Enterprise/B081MQTLTZ
(3) Resource layer – SpotMax, a cloud-based underlying resource management platform
SpotMax is a high-efficiency cost optimization platform that can reduce cloud computing costs by a factor of 10, and leverages open-source technology and contributes back to the community.
SpotMax is a product derived from the Mintegral system and is built on a highly efficient cloud-native architecture. The SpotMax products and solutions make the system service architecture more adaptable to the nature of cloud computing to use the resilience of cloud resources as effectively as possible, while efficiently maximizing cloud resource usage.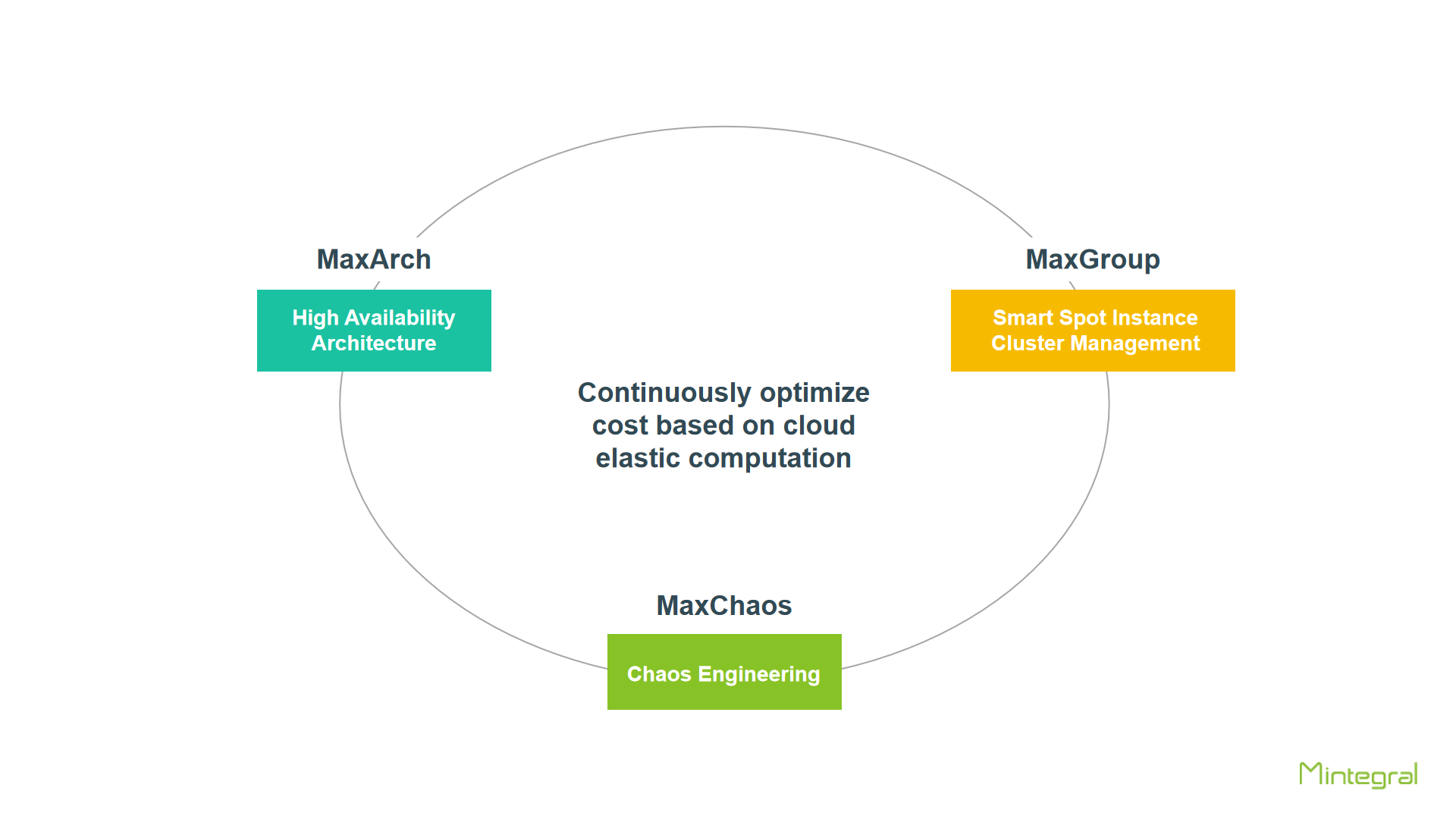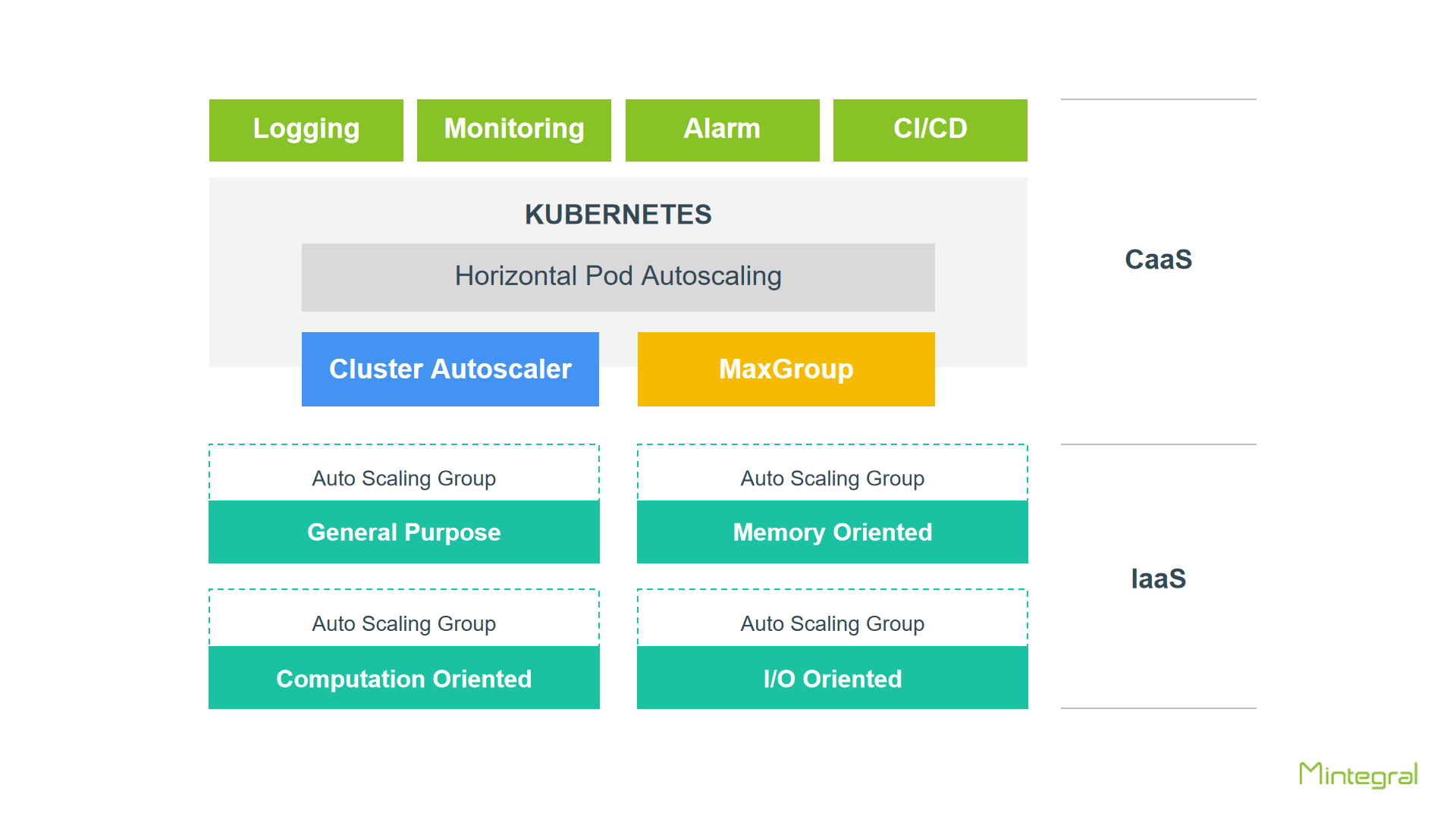 SpotMax consists of three parts: MaxArch, MaxChaos, and MaxGroup. Among them, MaxArch includes solutions and best practices for the migration from system architecture to cloud-native architecture; MaxChaos includes tools and best practices for chaos engineering in order to continuously improve the availability and resilience of large-scale cloud applications; MaxGroup is an elastic cluster management service that uses cluster degradation prevention, computing instances recommendation, and hybrid cluster load balancing based on reinforcement learning to optimize cloud computing efficiency and costs.
Spot instances allow users to request spare computing capacity for up to 90% off the On-Demand price. Spot instances would be interrupted by cloud providers according to the price and the capacity supply status. SpotMax reduces the occurrence and impact of the interruptions through a productized approach and seeks to find a balance between resources and costs. Under the primary goal of ensuring system availability, it effectively reduces the cost of cloud computing for enterprises.
Based on Mintegral's experience, SpotMax helped the company save 65% of the cost of each ad request, and effectively supported scaling the business growth from 10 billion to 100 billion requests per day.
SpotMax has made commercial progress
SpotMax cooperates with cloud service providers to export mature products and solutions to the public and has effectively empowered customers to optimize their architecture and server costs. Recently, SpotMax has successfully helped the well-known Chinese mobile security technology company "Digital Union" to achieve a 65% cost reduction for their cloud usage.
SpotMax is an advocate and active contributor to the open-source technology community.
SpotMax's Open Source projects
Microservice framework: https://github.com/easierway/service_decorators 
Concurrent map: https://github.com/easierway/concurrent_map 
Rule engine: https://github.com/easierway/rule-engine
Kubernetes deployment configuration checking tool: https://github.com/easierway/kcheck
4. Central Platform Architecture Based on Cloud Computing
In July 2019, Mintegral announced its partnership with AWS. EnginePlus, MindAlpha, and SpotMax have been listed on Marketplace (APN) as third-party cloud service platforms in the hope of empowering global developers alongside AWS.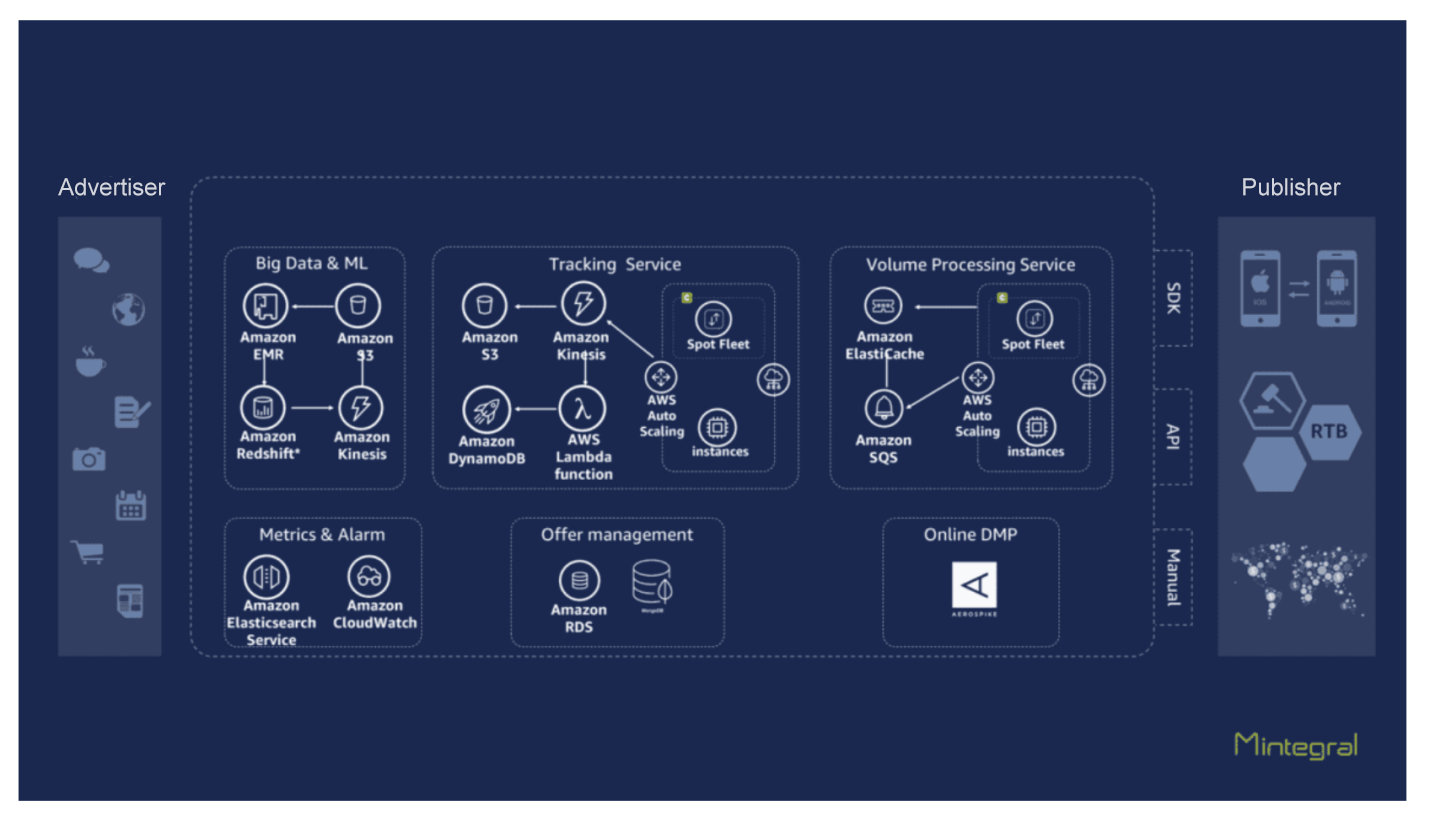 Mintegral has adopted a full cloud-native architecture and has used cloud computing services provided by AWS in multiple regions across the world to build its advertising solutions, big data platform, and model training platform services. By using AWS's powerful and efficient global cloud computing infrastructure, Mintegral can quickly and efficiently build and deploy its services while effectively reducing the cost of infrastructure operation, maintenance, and development.
More info can be found here: https://aws.amazon.com/cn/solutions/case-studies/mobvista-machine-learning/
SpotMax is positioned as the underlying cloud resource management platform and includes flexible deployment scheduling, automated management and deployment of bidding instances, and more. EnginePlus is a resource scheduling-oriented service for big data and distributed parallel computing. The underlying architecture uses computing resources provided by cloud services or SpotMax. MindAlpha uses distributed computing resources provided by EnginePlus and builds a one-stop platform and computing framework for machine learning.
5. Sharing open-source technology capabilities to build a transparent ecosystem together
Mintegral's five-dimensional advertising ranking system works thanks to the support of the underlying ranking algorithm model. Advertisers and developers are connected in real-time, providing them with a wide variety of monetization and marketing opportunities: advertisers from different regions and verticals can find suitable traffic to achieve various marketing goals such as user acquisition, user activation(activating users/increasing activation, and driving traffic to the website or app, while global developers can find suitable advertising options to monetize their products.
Based on its machine learning algorithms, Mintegral provides customized advertising solutions tailored to each developer, advertiser, and user. Based on this multi-dimensional granular learning structure, Mintegral has a unique technical and competitive advantage that results in a win-win-win situation for users, advertisers, and developers.
We plan to gradually SaaS-ify the central technology platform behind Mintegral to help serve more customers, so that different types of customers can have the same access to our products, building a more comprehensive Tooling Ecosystem on top of the existing front-end business ecosystem.
Mintegral has always believed that technical strength is the foundation of our foothold in the mobile advertising industry, and an open and contribution-focused attitude is more beneficial to promoting the entire industry's transparency and fairness, which benefits everyone involved. Therefore, we strongly welcome partners in all verticals of the industry to talk with us or even to challenge us at a technical level. We would also be willing to share our ideas and vision for AI, algorithms, and big data with the technical community and industry. Finally, we would like to thank all our partners for their continued trust; we will continue to invest in technology research and development, as well as data protection, to continue to grow together with our partners.