Not long ago, ABC Runner, a hyper-casual game published by JoyPac, topped several app store charts including iOS Free Apps, Free Games, Free Family Games, and Free Casual Games. JoyPac is a gaming publishing company that is dedicated to turning great games into great businesses. So far, JoyPac has successfully published many popular hyper-casual games, including Fluffy Fall, Skip School, Tofu Girl, or Gyrosphere.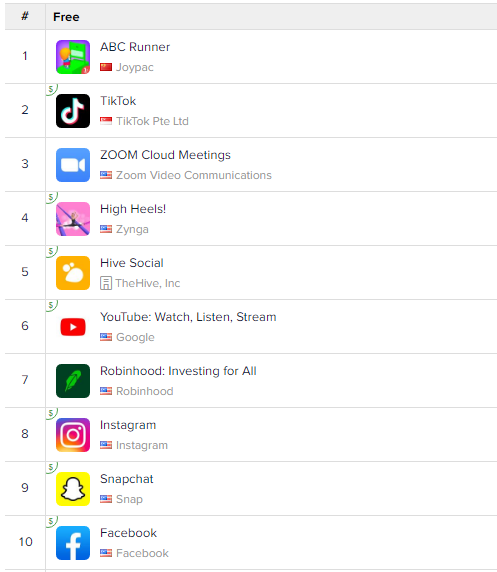 JoyPac's ABC Runner at the top of the charts as of February 2021. Source: AppAnnie
What is the secret behind JoyPac's successes? In our latest edition of App Chat, we had a conversation with the JoyPac team to learn more about their recipes for success in the hyper-casual gaming market. Enjoy!
Mintegral: The competition is becoming increasingly fierce for puzzle games. What kind of ad creatives helped ABC Runner get exposure and hit the top of the US iOS charts?
JoyPac: From our perspective, ad creatives and promotional efficiency are the two most important factors for UA campaigns. With the help of algorithms and AI technologies, the discrepancies in promotion effectiveness have been gradually reduced. Yet the ad creative, which cannot be replaced by machines, is both the crucial factor of ad campaigns, and the secret to winning this race to success.
Therefore, in order to acquire premium users effectively for ABC Runner, we paid attention to ad creatives, using video ads and playable ads as part of our advertising strategy.
To produce high-quality video ad creatives, we followed 5 steps:
Starting from the testing phase, we have been focusing on identifying the most enticing gaming elements based on the gameplay, in order to have a continuous supply of ad creative designs;
We analyzed the core selling point of the game and focused on displaying the core elements on the game UI;
We leveraged the testing data to maximize our iteration results, analyzing targeted customer profiles and modifying the ad creative accordingly;
We cross-analyzed user profiles and well-performing creatives across the different ad channels. This provided references for creative designs and the UA campaign;
We paid close attention to the major events and hot topics happening on the internet at the time.
By integrating the steps above and running rapid iteration cycles, we were able to see success in our UA campaigns. Besides, high-quality playable creatives suggest a premium user experience, solid conversions, as well as high retention rates, and that is why JoyPac started this partnership with Mintegral.
During the UA campaign for ABC Runner, playable ads performed well. Compared to video ads, the average conversion rate of playable ads was over 20% higher. In addition to self-produced playable ads, creatives built by our UA partners such as Mintegral have also played a key role, with conversion rates up 10% compared to video ads.
Mintegral: How did you figure out the best bidding strategy? Any experiences to share?
JoyPac: Using the data we get from our ad campaigns, we stay in constant contact with our UA partners and work together on the optimization strategy, in order to make sure that we continue optimizing after acquiring a stable amount of users at the early stages. For instance, following Mintegral team's suggestions, we tried using a flexible bidding strategy and setting the chain to bid and buy separately to boost our UA efforts.
Mintegral: What kinds of monetization strategies have the biggest potential to generate strong ROI?
JoyPac: When it comes to strong monetization results, we mainly focus on three optimization strategies:
Monetization optimization. We analyzed the reach and click-through rate of each ad slot and optimized the timing for triggering ads as well as the UI design;
Waterfall optimization. We segmented the user groups to optimize our waterfall strategy, like using different waterfall strategies for LAT users versus non-LAT users.
Floor and bidding strategy optimization. By optimizing our bidding floors and the bidding strategy, we saw significant eCPM improvements along with an overall stronger optimization efficiency.
Mintegral: What is JoyPac's methodology when it comes to game publishing? When you are choosing a game to publish, what are your selection rules or criteria?
JoyPac: As a global publishing company, our mission is to never miss any great games. We have our own set of screening models and have different service plans for head, mid, and long-tail developers. We first use several criteria to screen high-quality games, after which we create a set of solutions to help developers improve their products and get to that "win-win" situation where they can maximize game quality and revenue.
Mintegral: For developers looking to improve their user acquisition or monetization efforts, do you have any suggestions or experiences you'd like to share?
JoyPac: Different games have different target audience groups. We suggest that developers choose the UA platform that best suits their particular game, so that they can be delivered to the right users at the right time. In terms of monetization, our advice is to use methods that match the user habits and behavior in the area you are targeting. Everything must be heavily localized, including the in-game monetization design as well as the monetization partner.
Mintegral: What do you think the hyper-casual market will look like in 2021?
JoyPac: In 2020, due to the impact of the coronavirus, the global mobile games market managed to grow substantially. In fact, if we compare it to 2019, the hyper-casual gaming market has expanded by 52%. Looking at 2021, we believe the competition in the hyper-casual space will undoubtedly be fierce.
Conclusion
ABC Runner's impressive achievements are closely related to innovations both in terms of in-game content, as well as gameplay. By mixing a variety of hyper-casual gameplay elements, ABC Runner essentially managed to reinvent the traditional crossword puzzle genre. With gameplay element mixing proving to be so successful, it's not too far-fetched to say that this kind of strategy could be a key development trend across the hyper-casual space in 2021.
Want to be part of our App Chat series? If you're an app developer or publisher looking to be featured in one of our upcoming editions, contact the Mintegral team today!