The world's fastest-growing apps are winning with a full-funnel marketing strategy. This is nothing new but implementing a full-funnel strategy that goes beyond the install or initial purchase is an extremely nuanced process. So how does a developer optimize towards LTV to achieve scalable, sustainable growth? 
On Singular's latest webinar, Optimizing the Entire Growth Loop, our very own Cynthia Huang shared her thoughts alongside Singular and Liftoff & Vungle. 
Speakers:
Shana Kim, Account Executive, APAC, Singular 

Eran Friedman, CTO & Co-founder, Singular 

Shiraz Kabir, Head of Revenue, APAC, Liftoff & Vungle 

Cynthia Huang, Regional Director, APAC, Mintegral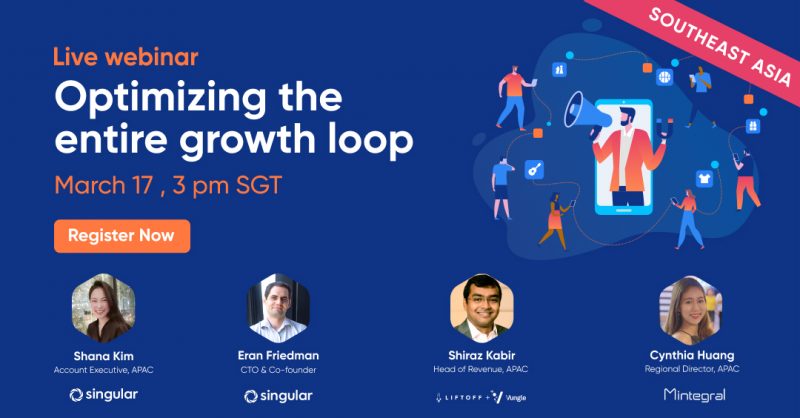 Takeaways on how to optimize your entire growth loop: 
A/B tests based on user segmentation are always the key to successful monetization strategies.

Continue to test and be nimble. Partner with businesses that are on top of these changes and continually innovate.

It's all about the data – measure everything from your acquisition and monetization to re-engagement to understand your true ROI.
Marketing functions work on acquisition & monetization campaigns
As hyper-casual games are so reliant on in-app advertising to drive revenue, real-time campaign adjustments and data analytics are extremely important. It's with this in mind that many studios often have the same team to manage acquisition and monetization.
On the flip side, it is common to see utility apps and hardcore games have a dedicated UA team to ensure more focus is put on creative strategy and ROAS optimization. From the platform side, Mintegral separates the user acquisition operation team into several groups – each focusing on specific verticals such as re-targeting, hardcore gaming, utility, etc.  In the same vein, large gaming studios that monetize through IAA and IAP models often have a specialized ad monetization team and a separate performance marketing team. 
Budget allocation between branding, acquisition, and re-engagement campaigns. Most businesses in our space, whether app-first or app-only, have built expertise around quantifiable marketing. Over the years and if successful, this becomes finely tuned to give a clear picture of ROI. However, an early-stage studio often puts the majority of their focus on crafting, building, and fine-tuning their data-driven investments and there is little scope for non-targeted spend – in most cases, branding is a small line item, often only allocated less than 10% of ad spend.  
As businesses mature and have a level of penetration in the market with a larger user base, branding begins to play a bigger role in how the app is positioned and how it stays relevant.  Branding builds awareness and changes perceptions. While channels can be the same the objectives are more varied. Reach and frequency become vital metrics to track, in addition to the number of unique users reached. The process here is to ultimately work downwards from the objective.
What are the top KPIs marketers should measure and optimize for acquisition campaigns? Return on Ad Spend (ROAS) remains the most popular metric amongst gaming advertisers. In addition, CPI provides a good starting point i.e. understanding how many installs you're driving. Following this, it is important to then understand the further down the funnel metrics such as cost per action, retention/churn, and engagement of paid users. 
How did the latest privacy changes from iOS & Android affect acquisition strategies?
Privacy changes have a huge effect on the industry – it's clear that both Apple and Google are pushing the industry to rely less on device-level data for measurement and optimization, and more on anonymized aggregated data.
For context, most users are now familiar with Apple's ATT changes, making the IDFA opt-in only. Today the average IDFA opt-in rate remains consistent at around 20%, so advertisers either use probabilistic matching or aggregated measurement tools such as SKAdNetwork.
Following this, Google has also recently announced its long-term plans to deprecate GAID, essentially the Android equivalent of Apple's IDFA. There's still some more time until it will be relevant but it's clear by now that acquisition strategies on both platforms are moving towards anonymized/aggregated solutions than the traditional deterministic attribution. 
Winning monetization strategies
What are the top KPIs publishers should measure and optimize when looking at their monetization?
Publishers need to measure key metrics like ARPU, LTV and user retention. Here, testing is a priority to find a good balance between ad frequency and eCPM. For example, a gaming user might be served ads 5 times per day, and still, the user retention and eCPM remain stable. On the flip side, if you only show ads to users 3 times per day, you are losing some potential value of traffic. In addition, there are other significant indicators such as ad request fill rates, click-through rates, and more.
How can publishers balance their monetization and user retention efforts? Many factors can affect user retention, for example, the frequency of which ads are watched by an individual user, the timing of the skip button within the ad, the ad format, placements, templates, etc. All of these factors can have some influence on user retention. 
It is best practice to analyze a competitor's strategy before designing your ad formats and placements. After going live, it's important to continue monitoring the data and conduct A/B tests to identify the frequency an ad is watched by a single user per day, or when the [close/X] button shows up on the rewarded video, etc.
Trends & strategies to increase user LTV
Hybrid-genres game seems to be one of the new trends in the market. Recently, more and more publishers are trying to combine different genres into one game. For example, puzzle/word/idle concepts are being introduced into hyper-casual games to increase user retention & LTV.
Monetization leaders can segment users by ad networks, and campaign types (cross-promotional, re-targeting, etc), or they can segment by user type (paid users & free users) and do A/B tests to optimize the traffic value.
Continued engagement and retention of the highest LTV users
Re-engagement from the onset is extremely important to extend the user lifecycle. As a general rule, Day 1 retention sits at around 25% of users. This then drops 48% from Day 1 to Day 3 and by Day 7, marketers lose 65.9% of original users. 
Knowing your customer journey is also a significant metric. Try to map your customer journey and find all essential touchpoints, bottlenecks, and challenges your customers may meet. This will help you find out more about their needs and behavior, as well as identify opportunities for engagement. Having a strong analytics team will be able to give you good insights into when a goal is met, funnel drop-offs, etc.
For instance, a mobile game that typically sees an initial in-app purchase by Day 7, should consider a re-engagement campaign that targets non-paying users on Day 8. Meanwhile, other verticals may see a long gap before a purchase is made, so it could be best to re-engage at a later time. Knowing the customer journey is key to being cost-efficient as well as gaining performance efficiencies.