By the numbers, China is the world's largest smartphone market – and it's still growing. The most recent data shows there are over half a billion potential mobile players in China, more than the entire population of the United States and Japan combined. This makes it a very attractive market for western publishers looking to expand their download numbers as well as their profits.
Even when an app finally makes it to some of the numerous Chinese app stores, getting noticed isn't always a given. In 2018, Chinese internet users had 7.3 million different apps to choose from, up 900,000 from the year before. That is a large number of apps, especially when you consider that the average mobile user only has 51 apps on their phone, according to Aurora Big Data's 2018 Mobile Internet Industry Research Report. Without a proper marketing strategy and heavy advertising, your app might become another one in the pile.
To learn how to best get noticed, let's look at some of the most successful western games in China. How did these companies do it? Where do they advertise and how do they reach China's large consumer base?
Voodoo and bullet comments
Voodoo is considered by many to be the current kings of hyper-casual games. These are small 'snackable' games that have the broadest possible demographic appeal. Based in France, Voodoo's games have been downloaded tens of millions of times around the world, and include super-hits like Helix Jump, hole.io, paper.io, Balls vs Blocks, and many more. To date, its games have been downloaded over 2.1 billion times.
The monetization strategy used by hypercasual publishers like Voodoo relies less on conventional in-app purchases and more on revenue from mobile ads. The games themselves are based on short play sessions that allow for ads to be shown in-between, with plenty of cross-promotion to also drive downloads of other Voodoo games.
Playable ads are a key part of this strategy. Playable ads give a taste of what it's like to play the actual game and are well suited to hypercasual titles as the gameplay is simple enough to be replicated in a playable ad. Although the cost per install (CPI) is higher than display ads, the conversation rate is also higher, making the ads are a good way to scale the player base quickly.
How Mindworks helped Voodoo supercharge its marketing efforts in China
Through its Mindworks creative studio, Mintegral was able to help Voodoo roll out high-quality, creative and effective video and playable ads, designed to drive user engagement and installs.
Mindworks also looked for ways to innovate these playable ads and make them stand out and reach new audiences. To this end, they experimented with incorporating different background music themes, using Chinese pop culture references, and even building 'bullet comments' into the ads. 
Bullet comments are a particularly innovative element that's extremely popular in China and Japan, particularly on the video streaming site Bilibili. They allow users to comment over a video in real-time, letting viewers see and share opinions with other users.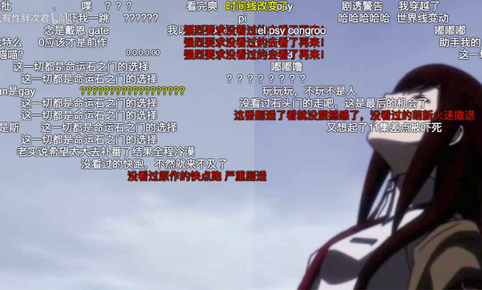 Bullet comments on a video stream on Bilibili
With hypercasual games quickly becoming hugely popular in China, it has quickly become a very crowded and competitive market. The experience of Voodoo shows not only that playable ads are a key marketing and UA tool, but also that innovation is key if you want to stand out from the crowd. 
Playrix and localisation for the Chinese market
Playrix is the company behind the Gardenscapes and Homescapes franchises. Their game Township is the most successful farm simulation game in China.
It's a special studio in that they are one of only two non-Asian studios to self-publish and still make it to the top 100 grossing charts in China, Japan and South Korea. The only other company to achieve this has been Supercell.
It released their game on iOS in China and became the top-grossing game after Hearthstone, Clash of Clans and Boom Beach. Later they partnered with iDreamSky to launch their games on Android. Playrix has generated $74.4 million from Gardenscapes in China alone.
According to Yuri Labintsev, Playrix's VP of Business Development, effective localisation of its games has been an important part of their success. Localising is more than just changing the in-game text to a local language; often, it involves changes to the art style, UA, and even the way the game monetizes.
It's also important to understand the cultural preferences of a market. In China, many publishers change the art style of a game to incorporate Chinese architecture or nods to Chinese history and legends.
As Labintsev explains, even small things need to reflect the local market. "On some occasions, you need to truly localize and not merely translate. For example, say your mobile game mentions Thanksgiving Day: This event is foreign in other cultures and should likely be changed to a holiday that is comparable or relevant to this audience."
For any Western company looking to make an impact in the APAC market, good localisation is vitally important. To this end, companies like Playrix have developed effective partnerships with local companies that have the knowledge and experience to know what resonates best with local gamers.
Supercell and video streaming
Supercell, the Finnish company behind Clash of Clans, Clash Royale and Brawl Stars, was bought by Tencent in 2016. Its games were already among the top 50 grossing games in China at this point, but since the acquisition, its success in China has grown, no doubt improved by Tencent's insights into their home market.
This greater insight into the Chinese market means its been able to target their ads right where Chinese users spend the most time, which is watching streaming video via a number of hugely popular apps. The video app market in China is massive; the number of online video subscriptions on China's platforms is due to surpass 300 million this year, according to Entgroup.
iQiyi is China's largest video streaming app, with users watching  an average of 645 million hours of video every month. It provides an extensive array of films, TV series and reality shows which many viewers in China love.
In 2018, iQiyi spent $3.13 billion on content – almost as much as content spend of China's top six broadcaster groups combined. By 2020 iQiyi hopes to add short video functionality to its repertoire to take on its rivals. 
Supercell has started sponsoring some of these popular shows as part of their user acquisition campaign and is having a lot of success. Just like in the golden age of TV advertising, these apps are a perfect way to reach a huge audience easily. The downside is that its an expensive advertising choice, thanks to the popularity and profile they have. However, as one of the most successful mobile games companies in the world, Supercell has deep enough pockets for this not to be an issue.
Conclusion
Playable ads, sponsoring Chinese video content and using innovations like bullet comments might be great ways to get noticed, however, when it comes down to it you still need to have a great game.
All of the Western superstars attribute their success in China to one thing: empowering local partners to be creative.
"Our approach to success in Asia isn't to put all of our manpower behind ascending the top ranks, but rather creating a really awesome game that may see a rank increase as a byproduct of success," explains Yuri Labintsev, VP of Business Development at Playrix in an interview with App Annie.
"When we founded Supercell the idea was to give all the possible power and the responsibility to the creative people," said Supercell's CEO and Co-founder, Ikka Paananen, in an interview with Bloomberg. When asked how they plan to become a success in China Paananen highlighted using management and marketing to bolster and empower a great creative team.