The AppsFlyer Performance Index Edition X is a comprehensive industry-standard showcasing top-performing mobile media sources globally. Edition X  is the most segmented index to date, with 252 rankings sliced by region, platform, and category (including new categories like Finance, Entertainment, Travel, Photography, and multiple Gaming genres). Overall, Edition X covers 21 billion installs and 52 billion app opens of over 16 thousand apps, and we've got some exciting results to share with you.
Our growth over the last year has been incredible and we only have our amazing partners and our dedicated staff to thank for that. We went from being featured 3 times in 2018, to 18 times in 2019 and this year Mintegral managed to be featured 82 times across 10 regions and 11 categories. Thank you for your hard work, your continued trust and your support!
Performance Index and Growth Index Results
Mintegral has shown great performance across gaming and non-gaming categories and we've achieved incredible growth over the last year. This time we managed to hit the Top 10 Global Performance Index, landing in 6th place on the Global Power Ranking (Android & iOS) and becoming the only Chinese company to achieve this. At the same time, we ranked 10th in the Global Volume Ranking across Android & iOS. This is further proof of the premium quality of our traffic, as we have achieved greater results with less volume.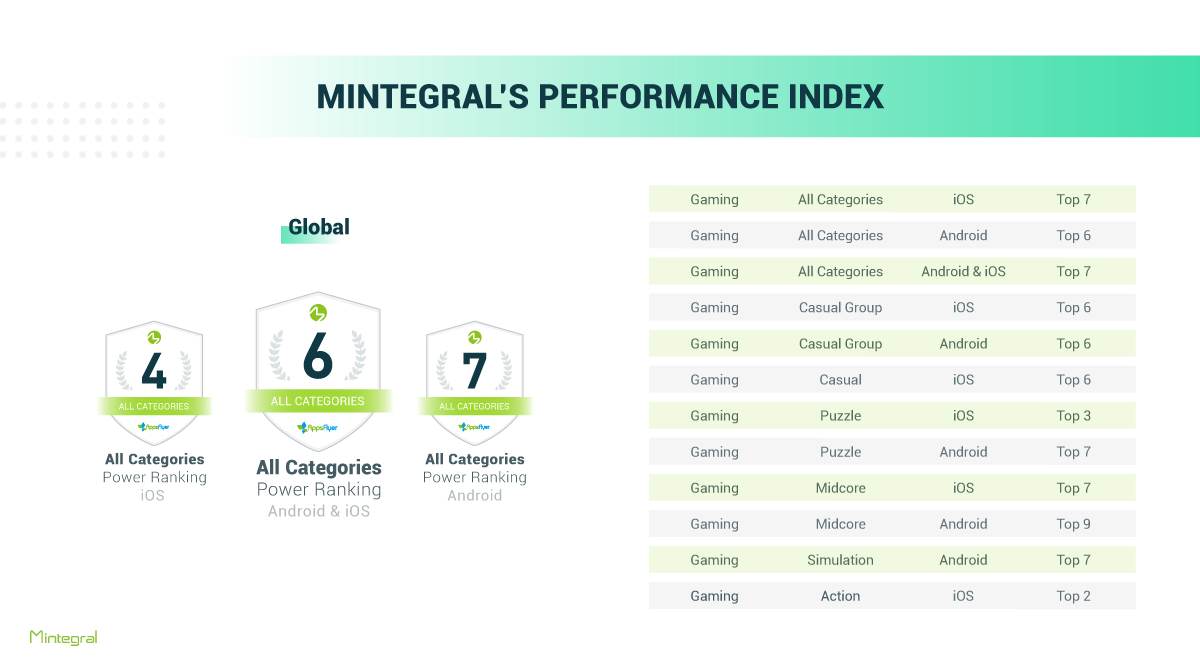 One of the achievements we're most proud of is ranking 2nd on the Global Growth Index across all categories, on both Android and iOS. We are now the fastest-growing third-party mobile ad platform in Asia. Last year we placed 3rd on the H1 2019 AppsFlyer Growth Index and our continued efforts to consolidate our product while expanding the range of integrations are reflected in this year's strong results.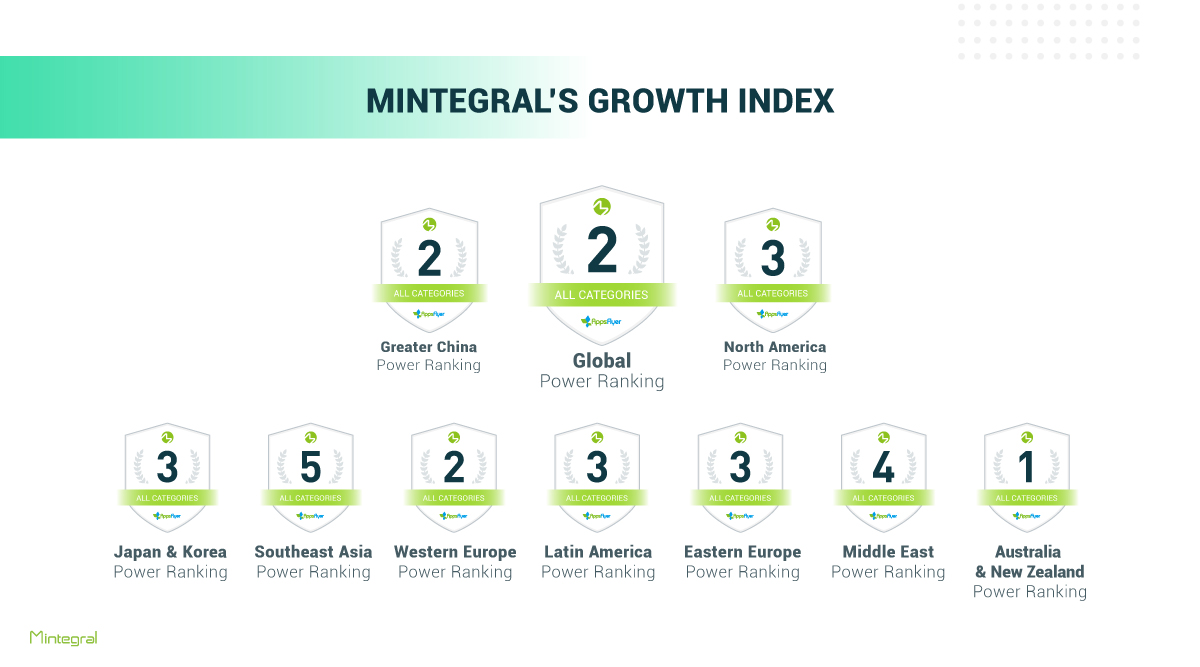 Regional performance
Our continued efforts to maintain and improve our performance on the North American market has resulted in great performance not only in the casual gaming categories but also across music and midcore games. It wasn't just our premium traffic in the US market that helped us consolidate our position in this region. Our creative strength powered by Mindworks, our in-house creative studio, played a major part in helping our clients reach the top of the US charts, including Amanotes, MarkApp, and Mynet.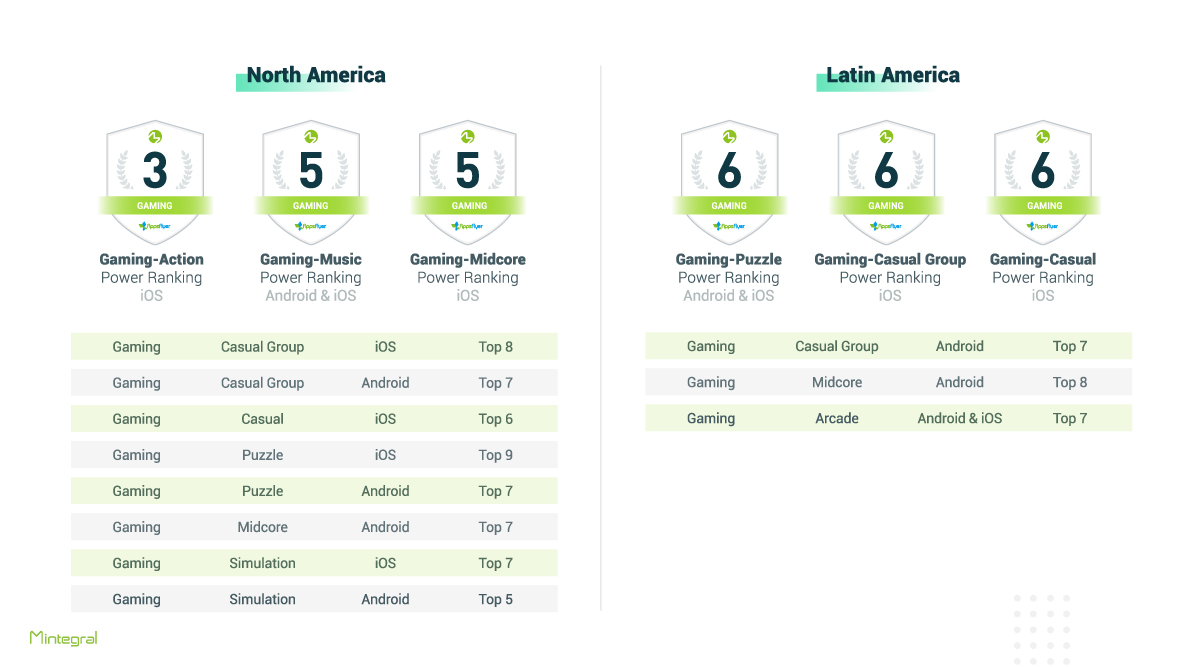 Looking at our performance in the APAC region, we've shown great results in China, our home market, but also across Japan, Korea, Southeast Asia, and India. It's important to note that Mintegral has made significant breakthroughs in non-gaming areas, particularly in the ecommerce and life & culture verticals.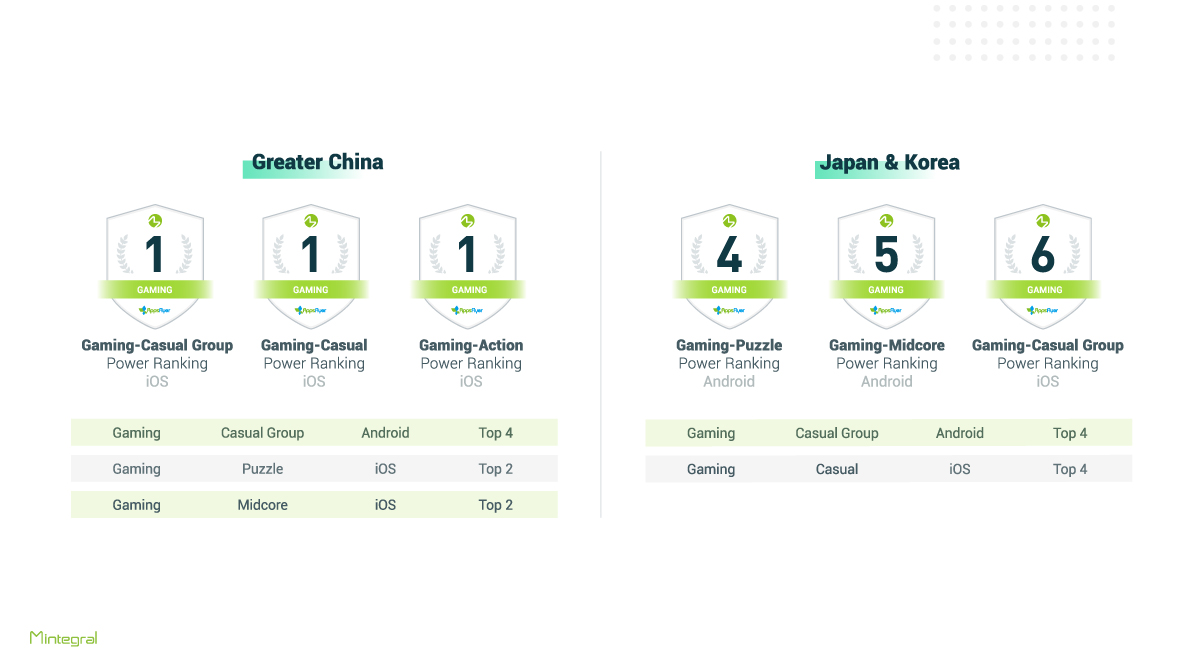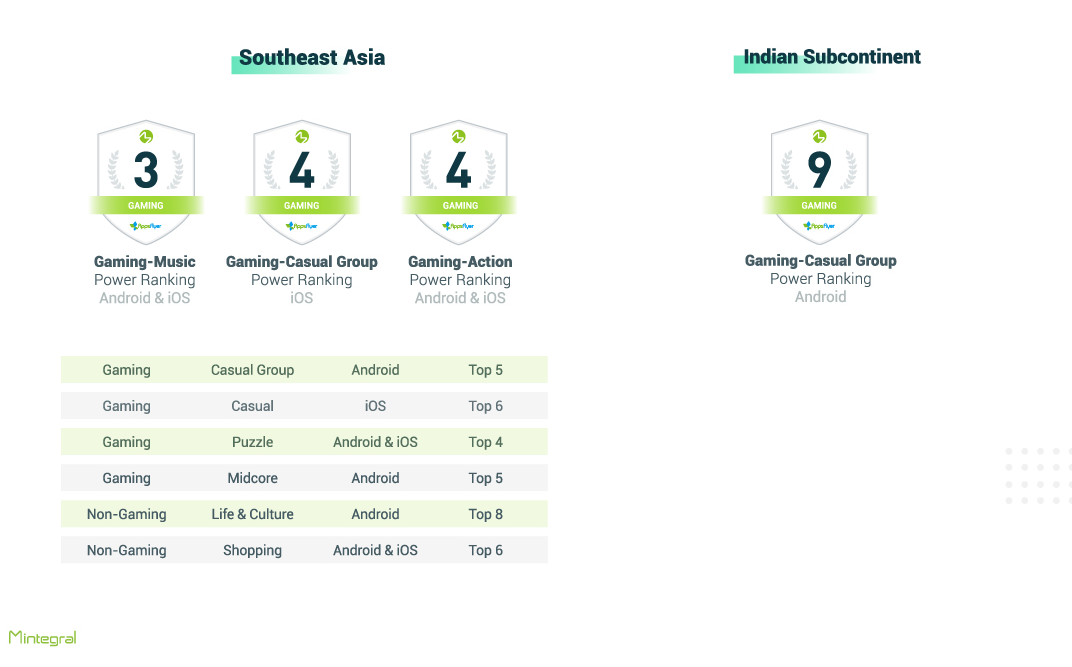 The top 3 reasons behind our success
Our positive results highlighted in this latest AppsFlyer Index can be attributed to four main reasons. 
First of all, we have constantly improved the quality of our ad inventory, building a high-quality traffic network across the globe by integrating with top mediation platforms and partnering with 3,500+ top publishers worldwide, helping our clients acquire quality users at scale. Our recent SDK integrations with MoPub by Twitter, MAX by AppLovin, ironSource, FairBid by Fyber, and Tapdaq, have proven to be extremely important and have been a key ingredient of our success over the last year.
Secondly, our continuous investments in our products and technology, including in-app bidding, launching our Ad Exchange and adding support for various ad formats to better meet advertiser needs and improve monetization options. To further improve the traffic value of our Ad Exchange, we added support for several IAB Tech Lab technical specifications such as app-ads.txt and supporting sellers.json & SupplyChain Object and got IAB Open Measurement certification as well.
As an AI-driven mobile advertising platform, we at Mintegral have also made technological improvements by constantly working on optimizing our algorithm models to make our advertising process more intelligent and efficient.
Last but not least, our incredibly talented team at Mindworks. Our in-house creative studio has played a crucial part in not just our successes, but the successes of many clients looking to hit the top of the charts in the most competitive markets. By creating cutting-edge digital experiences using a wide range of ad formats like interactive endcards, video and interactive ad creatives or custom video ads and playable ads, the Mindworks team has shown its skills time and time again.
"For Mintegral, 2019 was a year full of breakthroughs and I have only our partners to thank for that. The only reason we were able to get these outstanding results was that we put our clients' successes at the forefront of everything we did. From starting out in Asia, to rapidly expanding in Europe and the United States, we have become a true "Bridge between East and West" and I couldn't be more thrilled with the results," Mintegral CEO Erick Fang said. "Our results on the latest AppsFlyer Index are a testament to our continued efforts to improve the quality of our traffic, technology, products, and creatives, all of which have one common goal: to provide comprehensive and high-quality services to our clients across the globe."
We are extremely proud and humbled by these results and we're looking to do even better in the future. Mintegral can only do this with your help, so thank you for being a trusted partner! And if you're not our partner yet, get in touch with us today and let us power up your mobile business.
Here is the complete breakdown of our performance in the AppsFlyer Index Edition X: