We are proud to announce that we have just launched a new ad format called"New Interstitial". With the New Interstitial format, developers can configure the ad display parameters such as ad size (full screen/half screen) , display conditions, material type (image/ video) and more. This will allow for better ad placements and will help developers improve their monetization efforts while also generating a better user experience.
When it comes to mobile ads, interstitial ads have always been a major category. While full screen interstitial ads often offer a stunning visual impact, the half screen interstitial ads that were later introduced are no less visually impressive, gaining significant traction among developers for their viewer-friendly size and good user experience.
As a mobile advertising platform, we at Mintegral always put user experience first and we strive to build the best marketing environment for developers. The "New Interstitial" ad format coming with this latest SDK update allows developers to better manage and use ad placements and minimize negative user experience impact, based on the nature of their app and behaviour of their users. This will, in turn, lead to better user engagement towards the ads displayed.
New Interstitial Features
After integrating the new versions of the Mintegral SDK (iOS SDK7.1.0 / Android SDK16.0.1 and above), developers can create an ad placement with the New Interstitial format in the dashboard and set its ad size and material type there.
New Interstitial configurable parameters:
1) Ad size: half screen/ full screen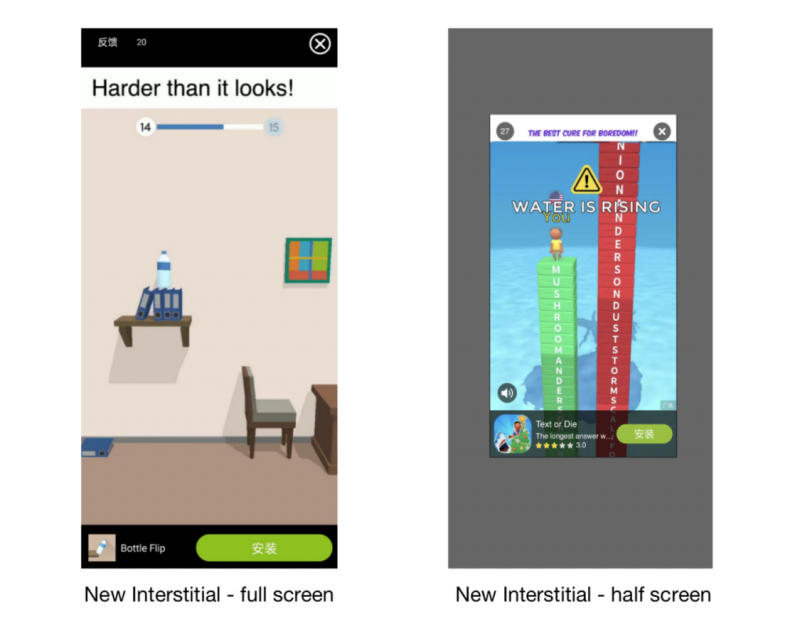 2) Multiple material types can be selected:
"Image": may contain texts, images, or other interactive ads such as HTML5. (Note: Video is not included.)
"Video": includes a video as the main element of the ad.
"Video" + "Image": will return an Interstitial Image ad or an Interstitial Video ad. The traffic of the older versions of the Mintegral SDK (iOS SDK7.1.0/ Android SDK16.0.1 and below) will only return ads following the configuration of selecting "Video" + "Image" at the same time.
How to use the Developer Dashboard
Once developers have integrated the new version of SDK, the "New Interstitial" feature will be available.
Step 1: Once developers have integrated the new version of SDK, the "New Interstitial" feature will be available. Log in to the dashboard, select "Placement & Unit" – "Add Placement":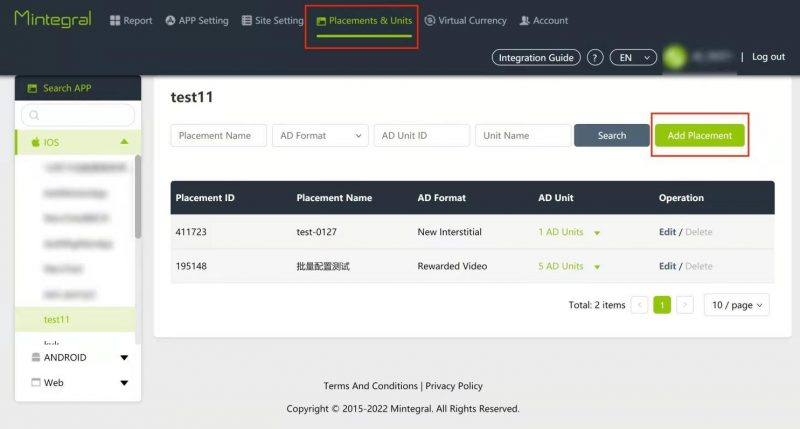 Step 2: Select "New Interstitial" from the "Ad Format" dropdown list and configure the ad size, material type, permitted video ad length, etc.: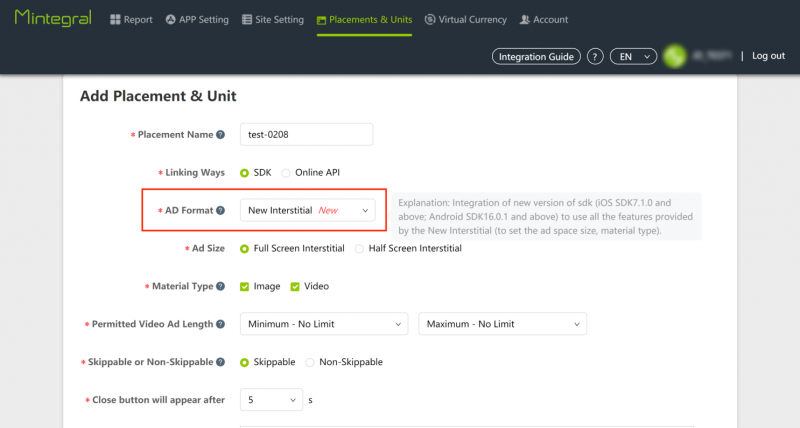 Step 3: After completing the configuration, click "Save":

Step 4: The newly created "New Interstitial" ad placement will appear in the dashboard: