This up and coming European hypercasual gaming conference attracted over 1,000 participants from more than 20 countries. Specifically focused on hypercasual gaming, the Hyper Games Conference (HGC )saw the industry's top publishers and platforms come together to discuss the latest that the market has to offer.
Moderated by open-source development engine, Cocos, our very own Director of Business Development, Hector Almeida, sat down with hypercasual kings Amanotes and ZPLAY along with go-east publisher, JoyPac. We discussed everything you need to know to test and promote your hypercasual game in Asia. Below are some of Hector's thoughts and best practices publishers can follow when entering Asia.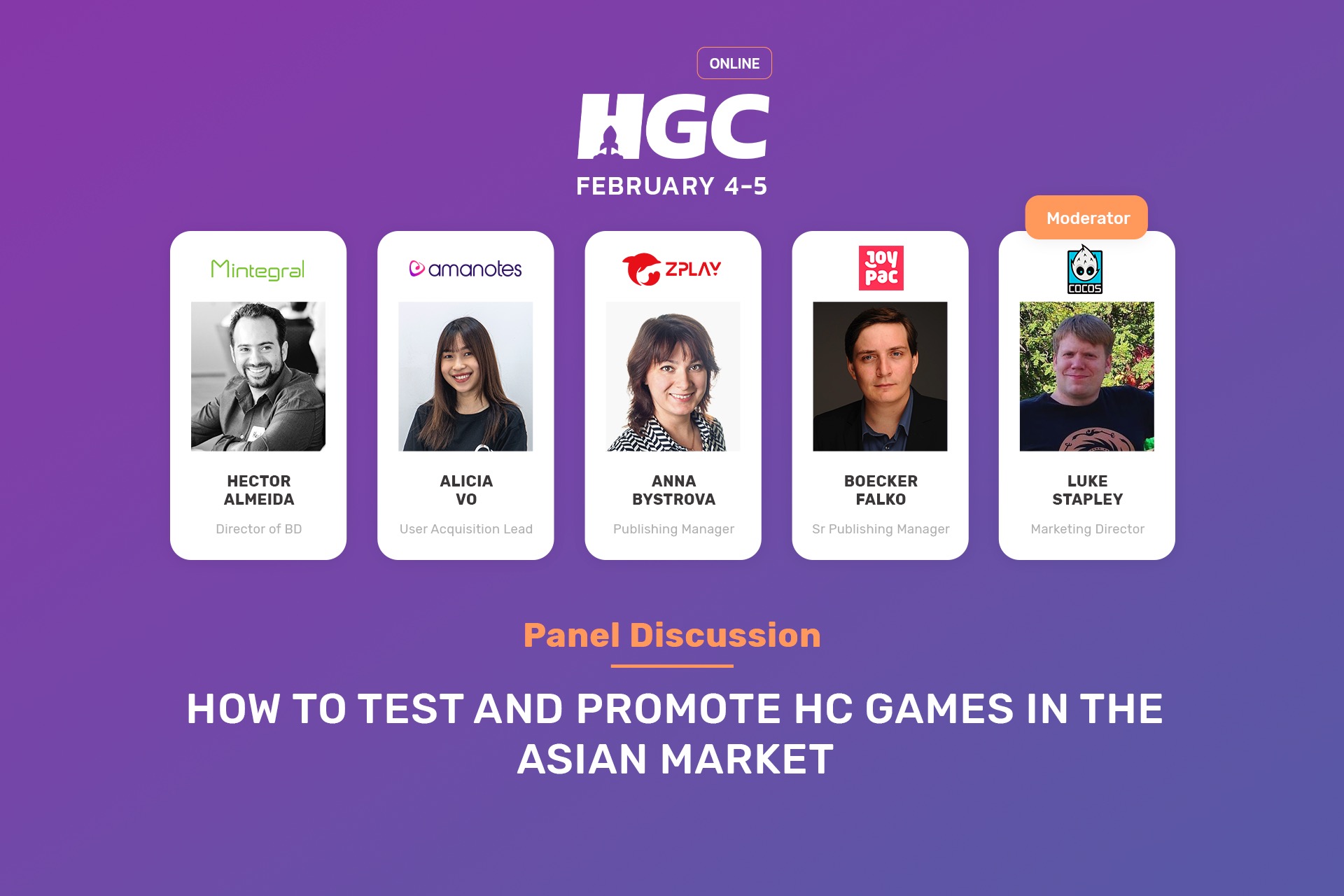 The HGC panel featured representatives from Mintegral, Amanotes, ZPLAY, and JoyPac
What sort of hypercasual games are Asian markets looking for?
Internal data from our eBook, "Mobile Gamers in China", 36% of people said the largest motivator for playing a game was interacting and competing against others. That could be an explanation as to why RPGs are so popular in countries like China, South Korea, Japan, and Southeast Asia. And while RPG is dominant, hypercasual is picking up speed – now accounting for around 60% of game installs on the Apple App Store. Many attribute this to the prevalence of social gaming which seamlessly integrates social media.
How does the Asian market generally compare to the Western markets?
In the case of China, players have comparatively longer playing sessions. For example, a typical session length in many Asian markets is 1-3 minutes, while in China it is around 3-5 minutes. Longer session times means increased ad monetization opportunities, and focusing on increasing session times can have a big impact on overall LTV.
It's also interesting to note that many Asian players also have a higher tolerance for certain ad formats. Players tend to engage with ads more than Western players, especially rewarded video. 
Advertisers are also finding that the hypercasual titles are welcomed by Chinese players and that the eCPM in the China market is as high as the US market. 
Are there any cultural issues that you need to make sure of when working with partners? 
In the case of China, many of the social aspects that games should be aware of are actually part of the compliance laws needed to get your game on the app stores. The governing bodies encourage developers to keep in line with social values and culture. Games must contain correct information regarding politics, law and history. It's also best to steer clear of gore, violence or mystical elements. This applies not only to the game design but also to the creatives for the user acquisition campaigns. 
We typically recommend developers to partner with a local publisher to ensure that the game has no features that can be offensive to the culture and ensure swift approval. 
What makes a game more marketable in Asia? What are some of the steps developers need to really look at before shipping a game to these countries?
Localization is key. The game and advertising material need to be fully localized with the guidance of a local partner. Localizing for regional holidays such as Chinese New Year has proven effective, too. Some simple examples include changing the character to match the holiday, modifying content, colors or even the app's icon. DAU and time spent in-app typically rises during these holiday periods, too. All this is important and will have a significant impact on UA. 
Themes like self-deprecating humor and awkward scenarios also seem to work well in Asia. Some games can give players a sense of nostalgia and fantasy and these games tend to be shared very easily on social media channels like TikTok, Douyin, etc.
Our client, Rollic Games, looked to Mintegral to help them acquire users for their latest game, High Heels, in both Japan and South Korea. It was noted that in Japan for example, building anticipation during a game's soft-launch can boost downloads. This can be done with typical performance-ad campaigns, but also using influencers, as game live streaming is extremely popular. 
Is there any big advice you have that helped either you or a developer out when they began bringing their game to China?
Legal and compliance restrictions are an important point to consider. Looking to China as an example, game apps with IAP now require an ISBN. ISBNs have been in place for mobile games in China since 2016, and are enforced by China's major Android app stores. Getting an ISBN can be a lengthy process, taking approximately six months (or longer) to acquire, and can be costly.
Having an ISBN doesn't just qualify your game for Android stores. Having one can also help games be showcased by ad agencies, safe in the knowledge that a game meets all of the state's requirements.
Is it important to look at other marketplaces and platforms for your game in China?
The Android market in China is extremely fragmented, with each store requiring specific attributes and standards for a game to be accepted, as well as the integration of multiple SDKs. Some of the most notable include: 
There is a new genre called the 'hybrid-casual' game, these are games that are both supported by IAP and IAA. Do you think it's a trend happening in China?
Our data shows that most Chinese gamers prefer F2P with IAP. We also found that 45% of gamers from 26 to 30 year-olds spend more than $10 per month on mobile games. This shows that Chinese gamers are open to spending on IAP if the game is engaging enough. Keep in mind that in China IAP-monetized games require an ISBN. This can be a long and arduous process and having a local partner can streamline it considerably.  
What is a unique trend coming from China?
China is undergoing big growth in mini games, a function of WeChat where users can enjoy basic games. Still in its infancy, developers are still working on optimizing monetization. The reason behind it is due to the limited demand on the advertiser side and limited number of impressions. We assume it will be highly impacted by the policy of each platform in the beginning, and later, how the platform drives users to mini games and the quality of the mini games will be the most important two things for the ones who want to participate. 
Why has CPI been a major hurdle for hypercasual in Asia and what preventative steps would you take to prevent losses due to the costs?
We see 2 main reasons:
Limited traffic sources – social networks always contribute the highest volume but there is a lot of competition between advertisers. 

Language barriers on optimizing social media campaigns and making creatives.
Preventative steps:
Find a trustable partner/vendor in Asian markets, especially who can work on CPI model with you directly, like Mintegral. 

Test your creatives before scaling.
Conclusion
In a market traditionally dominated by RPG gaming, hypercasual is catching on quickly in Asia. This region is an obvious market for any developer looking to expand monetization but as we've seen, it's extremely nuanced and diverse. Innovative social platforms and the ease and pervasiveness of payment solutions makes this ripe for a hypercasual explosion. With that said, finding a local partner, such as Mintegral, is key and will help you avoid many of the typical publisher pitfalls such as localization, compliance and logistical challenges. Interested in heading east? Contact the Mintegral team today.