In our recent webinar called "Trends, Opportunities & Learnings in 2020" we had the pleasure of talking to experts from AppsFlyer, Adjust, and Apptopia about the current state of app performance, mobile growth strategies, emerging platforms, and opportunities for app marketers in H2 2020.
The webinar was moderated by Mintegral Sales Manager Nick Kwasny and he was joined by the following guest speakers:
Tony Rafetto, Customer Success Team Lead, Solutions Architect at AppsFlyer

Andrey Kazakov, VP of Partnerships at Adjust

Adam Blacker, VP Insights & Global Alliances at Apptopia
In case you missed it, the full video recording is available on the Mintegral YouTube channel, but if you'd prefer to get the key takeaways, read on!
Current state of the mobile app industry
From a global perspective so far, all markets seem to have followed the trends we saw with China's recovery from the COVID-19 pandemic. This means that looking at the Chinese mobile market's developments can give you a pretty good idea of future trends that other regions will follow as they slowly return from the lockdown. App verticals like gaming, video chat & online conferencing, shopping, food delivery, social media, and healthcare were some of the top performers. At the polar opposite we, understandably, had verticals like travel, hospitality, and dating.
Some interesting data points emerged over the last few months, however. With online shopping volumes increasing during the lockdown, it wasn't Amazon that was the biggest winner necessarily, as marketplace apps like eBay and Etsy showed strong growth and took some much-needed market share from the e-commerce giant. Another thing to note is that, as more people were stuck indoors, apps for camping, astronomy, fishing, and more saw significant year-on-year growth.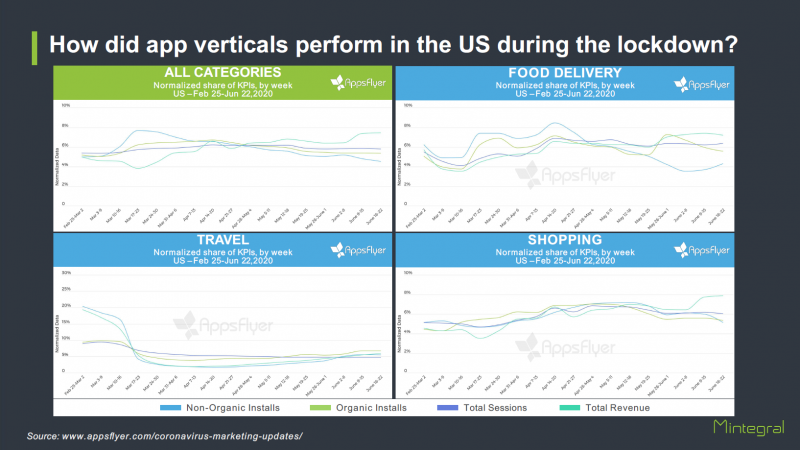 Source: Mintegral webinar "Trends, Opportunities & Learnings in 2020"
App marketing strategies
With the mobile app industry going through these unprecedented changes brought by COVID-19, several strategies are beginning to taking shape:
Experiment, but don't go all-in.

App are looking at different channels to find ways to improve their ROAS
Diversify your channels, but do it slowly.

While finding ways to grow is great, it's important to keep in mind the rising complexity levels that come with it
Automation opens new levels of efficiency.

This allows mobile marketers to accelerate growth through paid marketing strategies, and it smooths scaling by removing manual effort required for campaign management
Your brand needs a mobile game.

Mobile gaming has been growing and will continue to grow, so creating a game that is an extension of your loyalty/rewards program results in increased presence on your audience's mobile devices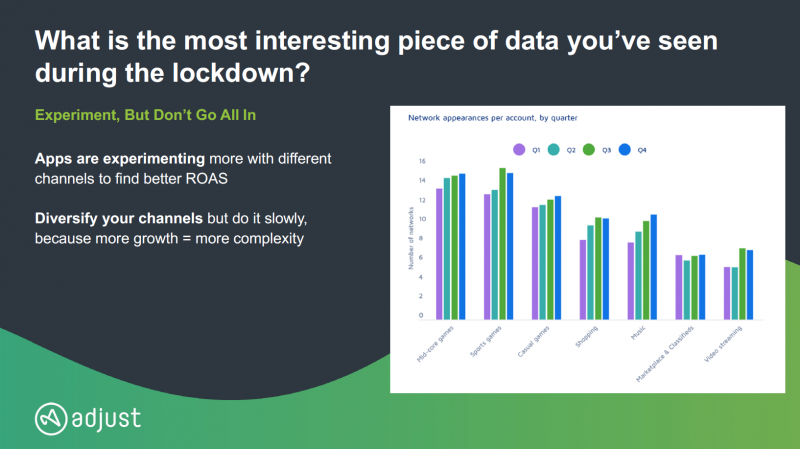 Source: Mintegral webinar "Trends, Opportunities & Learnings in 2020"
What does H2 2020 look like for mobile apps?
As the industry, and the world, begins adapting to this so-called "new normal", the way people consume app content and services is going to change, which will result in new app categories. Expect app verticals like travel and hospitality to adapt to a COVID-19 world by changing how they serve customers in an increasingly digital world.
Looking at the best regions for growth in 2020, we can expect to see significant opportunities in developing markets like Latin America, India, Southeast Asia, and Africa, where there are lower levels of mobile device penetration. 
From an app category perspective, opportunities are dependant on how the world deals with COVID-19:
If things normalize: travel, e-commerce, outdoors, and lifestyle apps are most likely to see growth

If things persist: gaming, healthcare, education, finance, and entertainment apps will benefit the most
The increased engagement levels tend to drive revenue growth, so retention campaigns will play a big role. At the same time, acquisition costs are lower during this period, making UA campaigns an attractive tool, but only for a limited time, so try to be quick if you plan on acquiring high-quality users for cheap. If you're looking for both acquisition and retention, retargeting campaigns should be a solid option – apps that tried this approach saw some good results.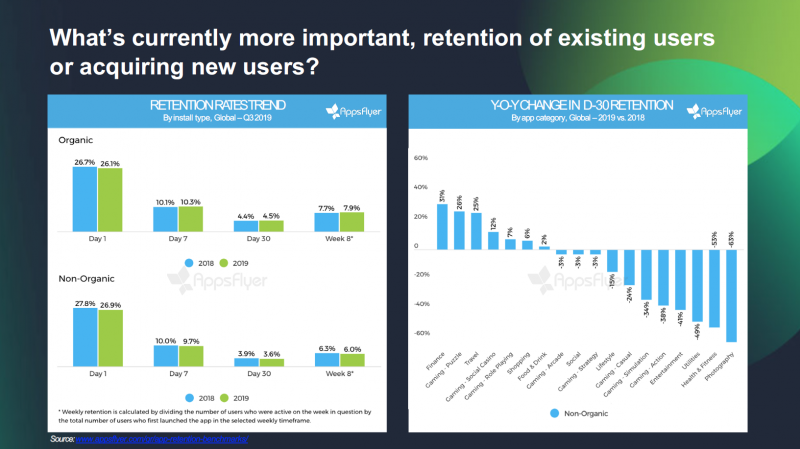 Source: Mintegral webinar "Trends, Opportunities & Learnings in 2020"
Which emerging platforms should marketers pay attention to?
As automation will begin to play an increasingly important role for marketers looking to improve their ROI, mobile marketing platforms like Mintegral, which was ranked 2nd on AppsFlyer's most recent Global Growth Index, will become even more important than before.
Also, since it looks like there will be a significant increase in Over-The-Top (OTT) media usage, platforms like Roku, Disney+, and Amazon Prime Video will be some of the main avenues worth exploring. These platforms could be especially important with the iOS 14 changes to IDFA, as they will have a better understanding of their user base and their interests, resulting in more efficient ways to spend marketing budgets.
Speaking of iOS 14, App Clips, one of Apple's new features to launch later this year, is looking promising as well. As lightweight mini-apps, App Clips could provide some very valuable user experiences, as they could become an important channel for marketers to meet their target audiences.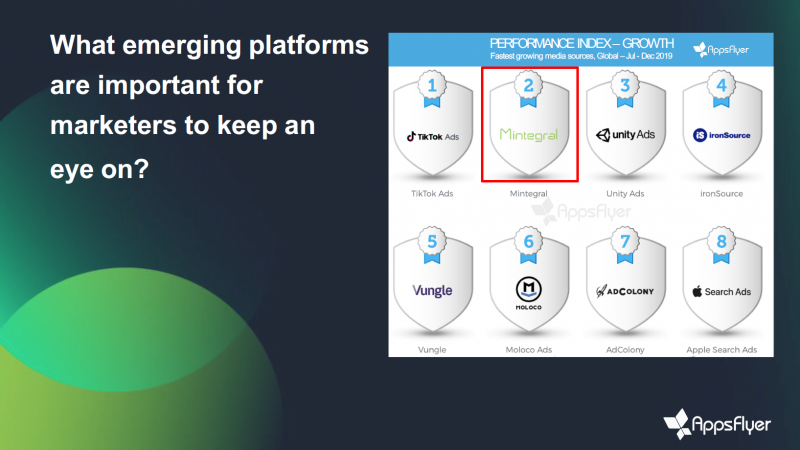 Source: Mintegral webinar "Trends, Opportunities & Learnings in 2020"
Conclusion
As the world slowly comes out of the COVID-19 lockdown, we can expect to see some fundamental changes to the mobile app industry. Expect significant changes to how mobile app content and services are consumed, as new categories and new types of users are likely to emerge in H2 2020 and beyond. Agility is key, so be prepared to adapt and if you do it well, expect to benefit from some incredible opportunities in the near future.
As one of the leading mobile marketing platforms, we have acquisition, monetization, and ad creative solutions, so if you're looking for your next mobile growth opportunities, contact the Mintegral team today.
The whole webinar is available for free on YouTube so if you would like to watch it, you can do that below: