Partnership goals

CrazyLabs is one of the biggest mobile gaming publishers in the world, with over 4 billion downloads across their titles so far.
We partnered with CrazyLabs to help push mobile games growth across selected titles, both in terms of UA and monetization.
The 2 key goals across our partnership:
User acquisition: acquire high-quality players at scale that meet CrazyLabs' D1 and D7 ROAS goals

Monetization: improve the app revenue without compromising the players' experience
With these goals in mind, the teams on both sides used the following strategies:
UA strategy: combining precise targeting with premium ad inventory
Precise targeting. Targeting the top inventory on the market using the most granular bidding strategy to the source site-id level. With CrazyLabs experience and in-depth knowledge of the players' potential, Mintegral was able to fine-tune the targeting strategy.

Premium inventory. We used our premium in-app inventory built especially for hyper-casual games, giving these games a steady stream of relevant, high-quality players.

High-quality playable ads. Mindworks, our in-house creative studio, along with CrazyLabs' creative marketing experts, produced high-quality playable ads to power the ad campaigns to the next level.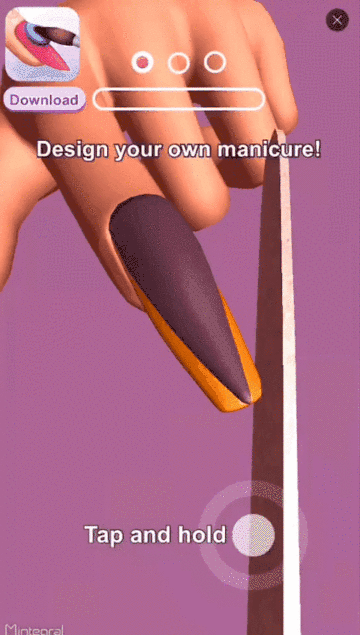 Playable ads produced by Mindworks
Monetization strategy: leveraging the Mintegral SDK to increase ad revenue
Mintegral SDK integration. CrazyLabs' titles and integrated Mintegral's SDK, ensuring the volume of each game's ad resources is optimized.

Ad format mix. Mintegral created a set of custom ad format mixes based on each game, in order to boost ad monetization revenue; these formats included rewarded video, interstitial video, as well as banner ads.

Tiered floor pricing. Mintegral created multiple waterfall layers at different prices, based on different factors like ad scenario or target country/region, in order to increase fill rate and optimize revenue.
Partnership outcome
A positive outcome of this cooperation is Acrylic Nails – a #1 title that enjoyed the fruitful cooperation between CrazyLabs' experts and Mintegral's pros, pushing the performance and increasing the number of countries in which Acrylic Nails topped the charts.
On the UA side, Mintegral created significant acquisition channels for Acrylic Nails, thus contributing to the monetization formula that turned Acrylic Nails to a very profitable game, generating a strong, sustainable ROI.
Testimonial
The team at CrazyLabs was kind enough to say a few words about our partnership so far, here's what they said:
"Working with Mintegral helped CrazyLab`s UA campaigns get a sustainable boost. They were a key factor in optimizing CrazyLabs` monetization strategies and CrazyLabs appreciate their professional support and technological solutions."
We are extremely proud of our work with CrazyLabs and we are excited to help other publishers and developers around the world achieve their full potential in the global mobile market. If you'd like to work with us on user acquisition or monetization, please contact the Mintegral team today and our team of experts will help you with customized mobile strategies.