Boxing Star
How Mintegral's Triple-Layer Monetization Boosted Boxing Star's Ad Revenues
Data shows that ad-driven revenue is becoming a more important monetization component for gaming apps across regions and genres alike. Developers are moving away from singular revenue streams and are gradually adopting multi-faceted monetization strategies, including in-app advertising (IAA).
According to Appsflyer's 2020 report called "The State of Gaming App Marketing" shows a significant shift towards IAA-based revenue. Traditionally, hyper-casual games have used IAA as main revenue streams, but midcore and hardcore games are now starting to use IAA as part of their monetization mix. As these games see declines in the number of paying users, IAA is becoming a viable alternative for genres.
What is Boxing Star?
Boxing Star is a mobile sports game developed by Four Thirty Three Inc. and was released in 2018. The game features an immersive story and interactive gameplay in which players fight in multiple tournaments and fight against other users, each with different fighting skills.
Players can use a combination of jabs, hooks, or special moves, and they can improve their boxer's core skills through skill-set upgrades to knock their opponent out. The gameplay is optimized for a great mobile experience and offers simple touch, tap, and swipe controls.
Looking at Boxing Star's revenue targets from a different angle
Our partnership with Four Thirty Three Inc. focused on monetizing Boxing Star across several key regions including the US, South Korea, and Japan. So what did we do?
The Mintegral team looked at Boxing Star from a different angle. While similar midcore and hardcore action games relied on in-app purchases and, therefore, paying users, the team decided to implement in-app advertising into the monetization mix, among other things. Here's how we decided to approach this situation.
Triple-layered monetization strategy proves successful
To ensure we meet our partner's key objective to provide strong and sustainable monetization streams, we went for three monetization strategies:
1. Multi-scenario rewarded video ads
Together with our talented creative studio Mindworks, we decided that rewarded video ads would be the ideal format for this campaign, based on the game type and the campaign's key objective. We created and deployed multiple rewarded video ad creatives which enabled users to enjoy the game and get in-game rewards by watching high-quality, tailored video ads. This approach proved successful as it was beneficial from a user experience point of view, while also providing the developer with a strong revenue stream.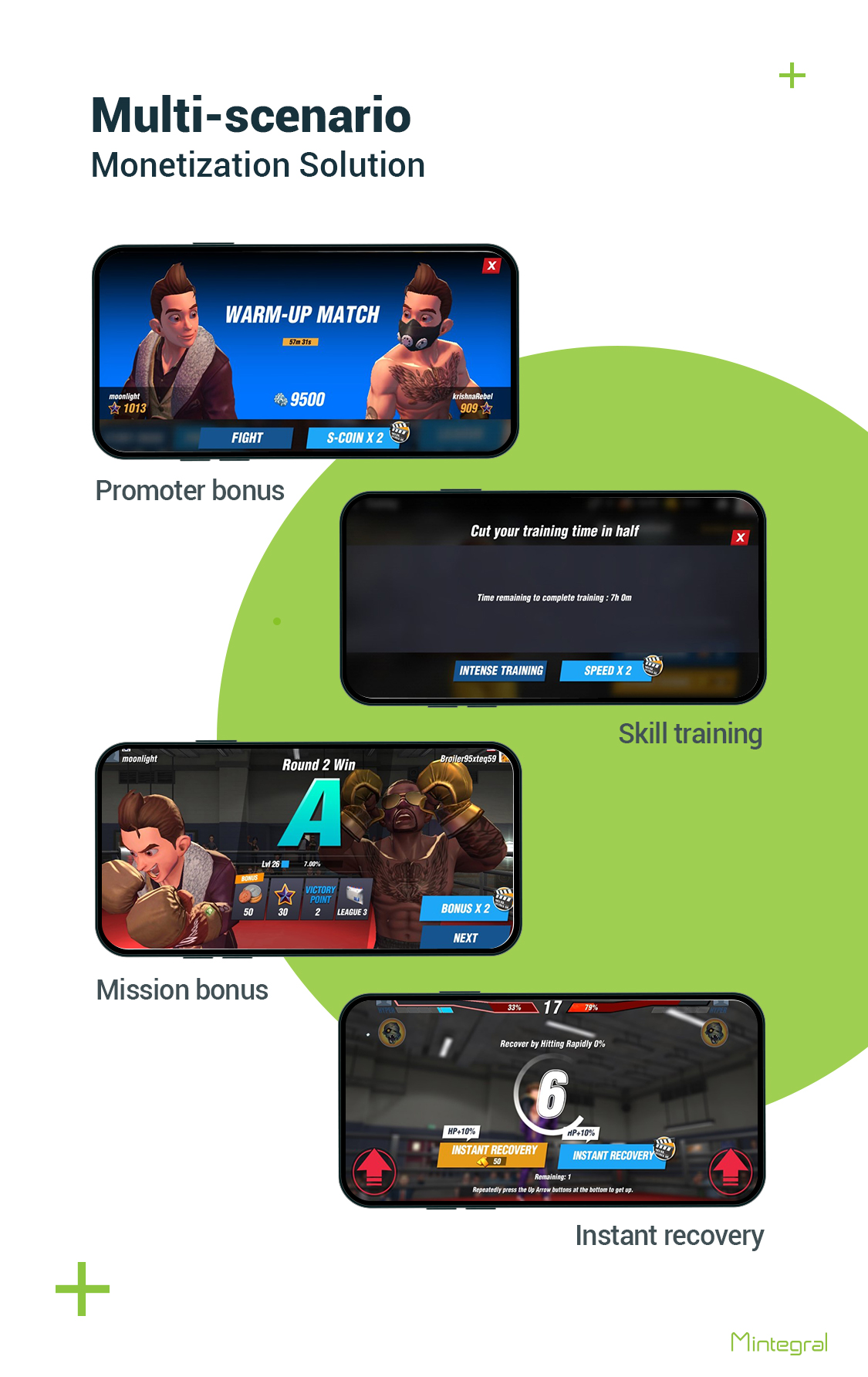 Examples of how users can get in-game benefits via rewarded video ads
2. Tiered floor pricing
The second monetization strategy revolved around maximizing the efficiency of our waterfall. To do this, the Mintegral team built multiple layers at different prices to increase the fill rate. These floor prices were set differently based on two main criteria:
Floor prices based on ad scenarios
Floor prices based on the target country/region
This approach enabled us to test the fill rates, which in turn helped us adjust the floor prices. As a result, we were able to optimize our waterfall extremely quickly and maximize campaign revenue.
3. Relevant offers & high-quality ad experience for increased eCPM
Based on Boxing Star's target audiences, our industry-leading advertising algorithm was able to run real-time analysis of target audience interests and deliver the ads that best match those criteria. By filling the ads from a relevant category, we were able to drive more conversions and increase the eCPM at the same time.
We also care a great deal about the advertising experience and we focused on delivering a high-quality, eye-catching mix of video ads and playable ads for our target users. This approach was also beneficial from a publisher perspective, as the increased conversion rate brought by this premium ad experience allowed Four Thirty Three Inc. to get higher bids from advertisers, thus strengthening its monetization streams for Boxing Star.
Boxing Star showed IAA is possible for midcore & hardcore games
As we mentioned in the beginning, hyper-casual games are the main genre for IAA-based revenue. However, thanks to our unique approach, Boxing Star showed that in-app advertising monetization is possible outside the hyper-casual realm as well. Boxing Star manages to differentiate itself from more "traditional" categories, as it is neither hardcore nor casual.
The game is what you might call a midcore game, as it provides users a more casual gameplay experience that is ideal for beginners and new boxing fans, while at the same time providing RPG-style elements in terms of character progression. Calling Boxing Star a "premium casual sports game" is another, unofficial, way to put it.
"Working with Mintegral on our monetization strategies for Boxing Star has been a success and we are extremely pleased with the outcome," said Juhan Lee, Marketing Director at Four Thirty Three Inc.. "We were delighted to see how their unique monetization approach translated to tangible results and we have their knowledgeable and dedicated team to thank for that."
Boxing Star continues to be a top-performing action title across both iOS and Android, and we at Mintegral are proud to have played a part in making this possible. If you're looking for new or better monetization avenues for your mobile game, then make sure to get in touch with the Mintegral team today!