Read through the 2019 User Acquisition Trends and Benchmarks Mobile Gaming Apps Report, released by Liftoff at the end of last year, and you'll see why hyper-casual gaming is so popular in APAC – and especially in China.
First, though, it's worth having a look at the report as a whole to see the trends and the conclusions Liftoff reaches from their retention data, which comes from a mix of their own statistics and information provided by attribution company AppsFlyer.
The key takeaway from Liftoff's report? It calls for readers to 'prepare for a perfect storm of marketing conditions'.
Why is there a 'perfect storm' coming?
Liftoff highlights that with users needing some convincing early on in the funnel, and increases in UA costs, developers and publishers could be pouring a lot of their marketing budget down the drain by chasing users that never convert into spenders.
Find the right audience though and they will be able to cultivate a fanbase of loyal users willing to pay as much as they do play.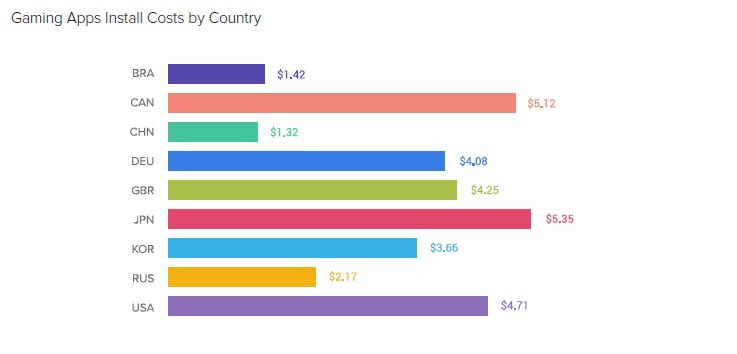 Credit: Liftoff
Liftoff also encourages developers and publishers to have some ambition and deviate from 'safer' mature markets in the west, and instead focus on the mobile gaming market in APAC.
Liftoff's report highlights why: according to their data on gaming app install costs by country, The USA and Canada are some of the most expensive regions to acquire users (at $4.71 and $5.12 respectively), while it only costs $1.32 to acquire a user in China.
With China accounting for a quarter of the global mobile games market, and nearly three quarters of a billion of the country's population expected to play mobile games by 2023, China's market offers serious growth potential to western developers and publishers.
But is it really that easy to break into China?
Regular readers of our blog will know that it simply isn't that easy to enter the Chinese mobile gaming market.
There are numerous regulations to align to, cultural standpoints to consider, more than a hundred Android distribution channels, the lack of marketing platforms such as Google and Facebook, and many other factors.
It's also right to point out that, though Liftoff's report is a great one to underline the current state of the global gaming market, its data only goes so far.
While it does indeed show that China's user acquisition costs are lower than in the more mature western market, it doesn't take currency differences and other data into account, such as the average earnings of China's mobile gamers.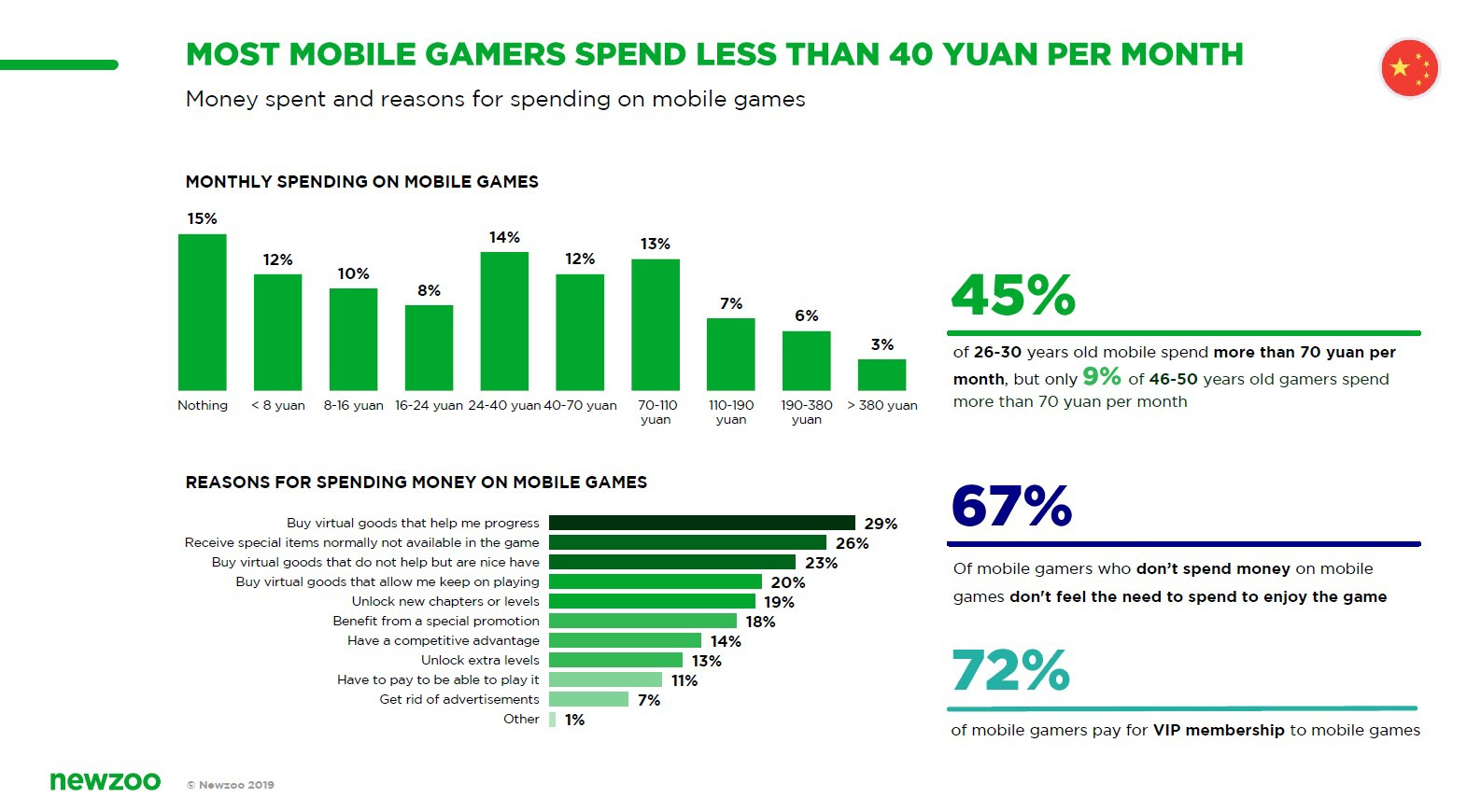 Credit: Newzoo
This is why it's so important for mobile game developers and publishers to get as much information as they possibly can about China's mobile market before trying to enter it. Yes, it is emerging, and laying foundations now can be great for future growth.
But as our own report in collaboration with Newzoo on mobile gamers in China shows, there are so many differences to be found across the nation when compared against the whole of the mature market in the west.
For instance, 86% of mobile gamers in China prefer Chinese publishers over western ones. 76% also like their games to include Chinese designs and themes. Are you confident that you're able to align to the tastes of Chinese mobile gamers for success?
A hyper-casual approach may be the perfect way into China
Liftoff's report says that it costs $43 to get a Chinese mobile gamer to the point of spending in-app. Again, though, that doesn't tell the full story to those looking to attract China's mobile market.
Our report with Newzoo, for instance, shows where those users spend their money and why they do it. In 2018, for example, tablet gamers were more likely to make a purchase in comparison to smartphone gamers.
While, at the time, the number of tablet players was only a quarter of the country's smartphone players, the percentage of payers was higher; 41% to 36% respectively.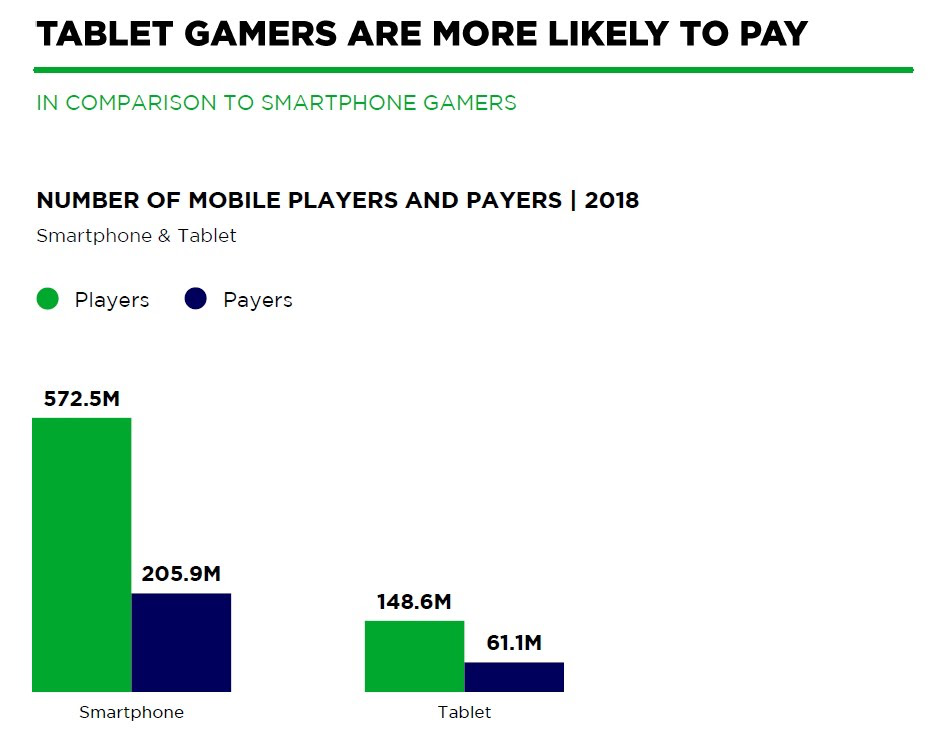 Credit: Newzoo
It's also interesting to see what they were spending their money on and the kinds of advertisements China's mobile users interacted with. 29% would purchase virtual goods to help them progress; 26% would spend to receive special items not normally available in-game; and 23% would spend on items that are 'just nice to have'.
When it comes to advertisements, 27% prefer ads that double as a reward, while 18% enjoy playable ads. 17% of China's mobile gamers prefer free-to-play games that contain advertisements. Overall, we found that most mobile gamers spend less than 40 Yuan per month on mobile games.
Which brings us full circle to the rise in hyper-casual gaming. As Liftoff rightly underlines, there has been an explosion in hyper-casual mobile games around the world, with hyper-casual games also scoring highest for day-one user retention (33%).
With the right strategy, a local, hyper-casual approach may be the perfect route into the Chinese mobile market.
The real cost of high acquisition rates
Social casino games (32%) also score highly for day-one user retention, but there are restrictions on gambling games in China.
With high user acquisition costs for developers and publishers in the west, and with so much to consider before even considering stepping into the Chinese mobile market, a lot of businesses are at a crossroads at the next steps to take in their growth journey.
Around the time of the release of Liftoff's report, we read an interesting op-ed by Rob Fahey on Gamesindustry.biz, where he writes that the high acquisition costs laid out by Liftoff may be driving developers out of the industry.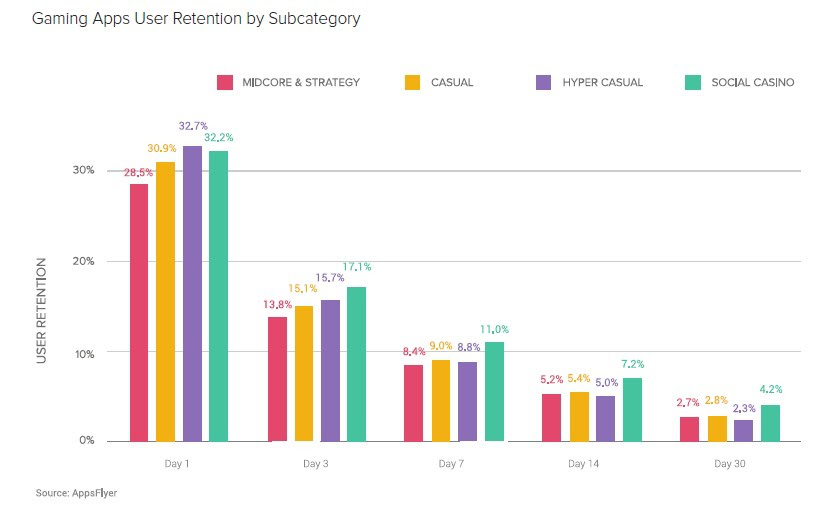 Credit: Liftoff
"A $35 price tag for paying customers is actually something that has a pretty big knock-on effect on a lot of aspects of the mobile market," he says. "[Monetisation] practices that were once a sign of developers getting greedy are now a baseline for any developer that wants to break even on their investment."
We're in agreement, and feel that the boom in hyper-casual mobile games is a response to those climbing user acquisition costs.
They allow developers to deliver a high number of in-game ads instead of the in-game purchase model, help developers keep costs low by avoiding the trap of 'double UA', and other benefits.
And we feel, as part of a wider marketing and growth strategy, it can be your best way into China. 60% of game installs from the Apple App Store in China were hyper-casual games according to App Annie's The State of Mobile 2019 report, showing the genre's amazing popularity in the country.
Developing easy-to-play, fun hyper-casual titles that include Chinese themes, meet market expectations, adhere to regulations, monetise through in-game ads (that the market is willing to accept) and other factors could be the best way to introduce yourself to the Chinese mobile gaming market, and build solid long-term foundations for your company.
Mintegral is here to help you do that, helping you create a bespoke China-first mobile strategy designed to help you enter and grow within the Chinese mobile market. Contact us today to find out more.