Since 2017, hyper-casual games have seen tremendous growth and both the industry and the players have embraced this new genre. This begs the question: what's next for hyper-casual games? It's important to look at the market trend and see if this growth is sustainable.
Not long ago we hosted a seminar at ChinaJoy where we talked about hyper-casual games with several industry experts, including Google. Mingjuan Wei, Director of Casual Game Division at Google China, was present to give a speech about this relatively new genre and how the industry can ensure hyper-casual games will continue to succeed.
The 4 Main Attributes of Hyper-Casual Games
There are many reasons why hyper-casual games are a hit with all sides of the market, but what are their main features?
Easy & simple to play: Game mechanics are simple and players know what they need to do within seconds of starting the game. This makes the barrier to entry significantly lower compared to other genres.
Huge target audience: Unlike other game types, hyper-casual games benefit from a wide audience, one of the reasons being the low barrier to entry. By not being restricted to relatively small groups like hardcore gamers, this means that non-gamers can easily pick up and enjoy these games.
Ad monetization-based business model: Hyper-casual games generate most of their revenue from advertising, with a relatively low percentage of that coming from other areas such as in-app purchases.
Rapid development cycle: These games can be built, released, and iterated with relative ease from a publisher's perspective, meaning that development costs tend to be lower compared to other genres. This makes them an attractive avenue for developers as they have to invest fewer resources to get a game live.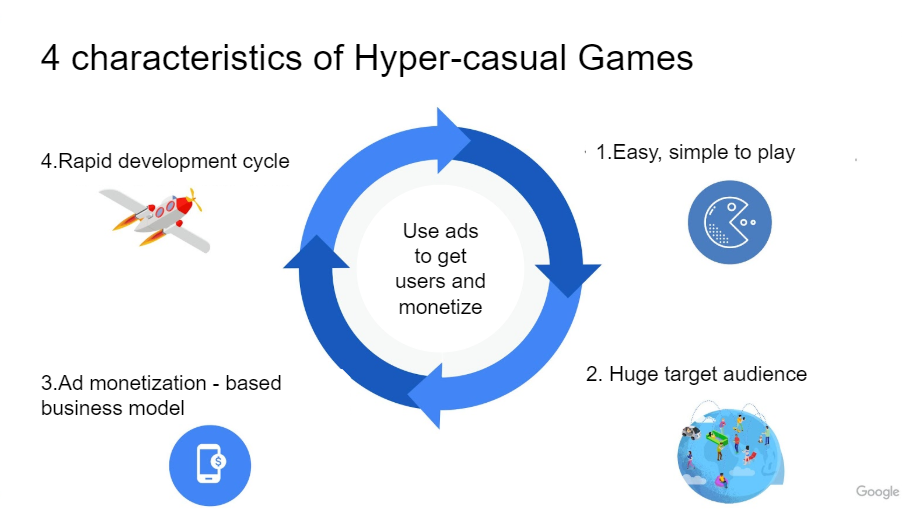 Source: Google @ Hyper-casual Games in East and West Seminar, ChinaJoy 2019
Hyper-casual games growing faster than other categories
So if we look at the whole games market, what does the general landscape look like? Let's consider the 3 main genres: hyper-casual, casual, and simulation games. According to Google Play and App Annie, the first half of 2019 saw hyper-casual game downloads grow by 26%, the largest of the three genres. By contrast, casual games were only able to grow by 4.8%, while simulation games had negative growth (-8.8%) over the same period.
In terms of games going overseas, Chinese developers can be considered industry benchmarks as they have significant experience in this area. So why are we talking about the Chinese giants? Simple: it's because they can be the driving force behind the hyper-casual genre. As hardcore games are seeing their growth slow down, it's very likely that the top Chinese developers will turn their attention to mid-core and, more importantly, hyper-casual games for growth. 
The hyper-casual market is currently dominated by Western studios but with several high-quality titles coming from Chinese publishers, we can and should expect more of them enter the international market and reach the top of the app store charts.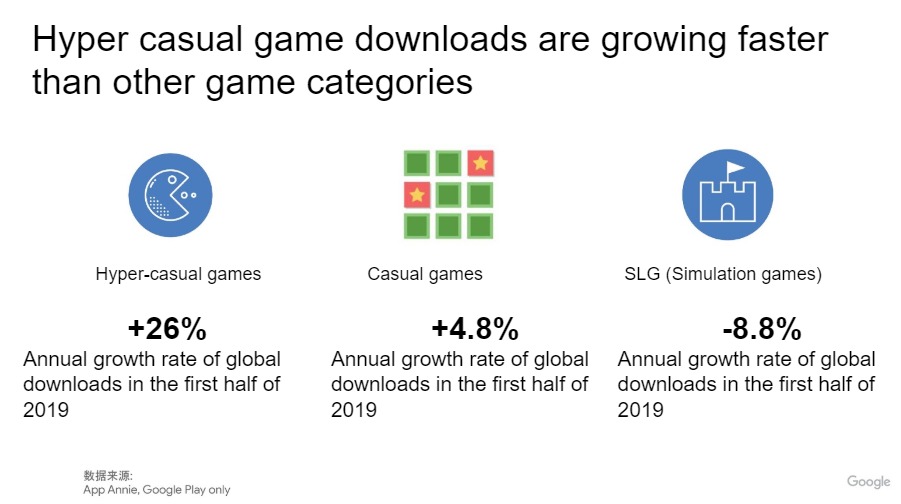 Source: Google @ Hyper-casual Games in East and West Seminar, ChinaJoy 2019
Future trends and what that means for hyper-casual games
According to Mingjuan Wei, the market has seen tremendous growth but since the second half of 2018, it has stabilized. While competition in the market is getting fierce, there is still room for growth and developers will continue to invest in this genre. 
A successful hyper-casual business requires a large pool of games, it cannot simply rely on one title. This requires a high level of creativity from the developers and quick-acting publishers to maintain a quick and frequent publishing process (to offset the typically short LTV of hyper-casual games), meaning if you can't keep rolling out new attractive titles, you are very likely to be washed away by new games.
Looking at CPIs for user acquisition, they are significantly lower compared to other genres and the user scale is huge, but increasing competition is also driving CPI higher. All these pose increasing challenges for developers and publishers who look to invest in the genre. So how can hyper-casual games and their developers achieve success in the future?
Publishing business & collaboration: Large user pools generate significant revenue from an ad monetization perspective, but as competition grew, so did the costs to acquire players.  For Chinese developers, the challenge is more unique, as they are not only competing with other hyper-casual developers, they are also seeing competition from other app categories such as short-form video apps, which are extremely popular in the market and carry the same traction as hyper-casuals as they provide low-commitment entertainment. This means that a hyper-casual studio's success can heavily depend on publishers (Voodoo, for example).
Winner takes it all: As the hyper-casual landscape is becoming more and more competitive, developers need to strive for perfection at every step of the process. Is your product offering diverse enough? Do you have enough titles to compete in the market? Can you make your CPIs as low as possible? These questions create a barrier to entry and due to the top-heavy nature of the market, the few at the top get to enjoy the biggest slice of the revenue pie.
Transform: Archero, one of the most popular titles of the year, is a perfect example of mid-core success. While not categorized as hyper-casual, many of its gameplay elements are borrowed from hyper-casual titles, but with a mid-core twist. This shows that as long as you're creative enough you can still be successful.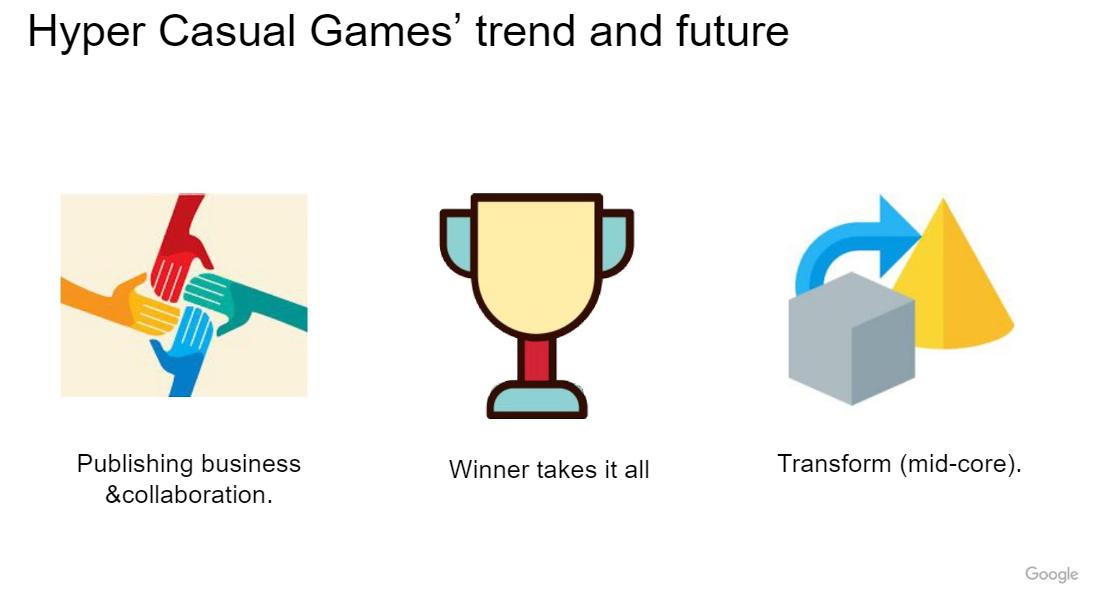 Source: Google @ Hyper-casual Games in East and West Seminar, ChinaJoy 2019
Conclusion
After 2 years of rapid development, hyper-casual games can be considered a mature category. The market went from the early days when Ketchapp was the main player, to Voodoo's domination which inspired many developers to give it a shot. But with Goldman Sachs investing $200 million in Voodoo, Zynga buying Gram Games for $250 million or AppLovin launching Lion Studios, we are now witnessing the centralization of top developers, which is an indicator that the market is starting to consolidate.
Developers looking to succeed or continue to be a top contender in the hyper-casual market need to ensure they invest in strong relationships with other publishers, optimize ad buying processes to reduce CPI and improve LTV, and reduce development costs to stay ahead of the competition. In a market where the demographic dividend is gradually disappearing, hyper-casual games are becoming especially important to the game ecology.