Global app revenues reached $87.1 billion in 2018 and are set to grow to an impressive $129.2 billion by 2021, according to Newzoo. And at the centre of it sits the Asia Pacific, which accounts for nearly 60% of that total.
However, understanding the Asian market can be hard for businesses not based there. For example, Asian mobile gamers are culturally very different to those in the West – favouring fantasy or anime-style graphic designs, display varied paying behaviour and hold particular expectations from their games.
That's why we've worked with Newzoo to jointly release a report examining Asia's Top Mobile Markets. Offering insights into China, Korea and Japan, which make up the three largest markets in the APAC region, we hope it offers an easy way into the market.
But what were the top five things that we learned about these countries while working with Newzoo? Let's take a closer look.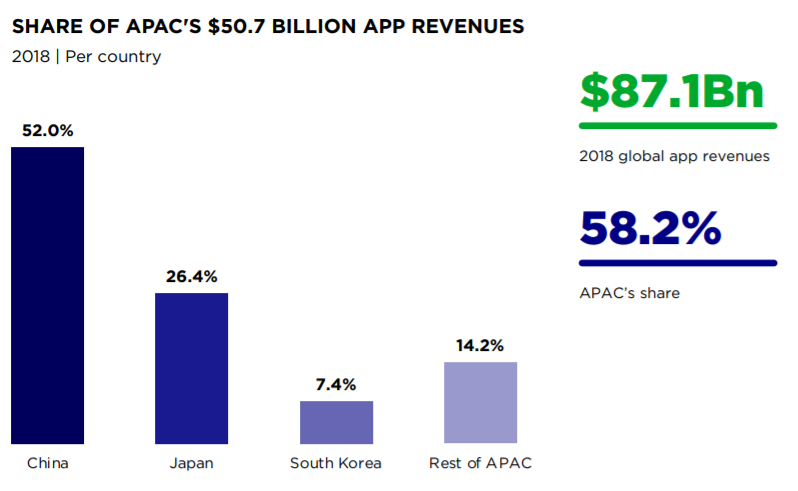 1. APAC is the world's number one mobile market.
We have already alluded to it, but it's worth mentioning again: the heart of the global mobile economy can be found in Asia.
There are 3 billion smartphone users around the globe and more than half of them were in APAC in 2018. Asia's smartphone user base is an impressive 1.6 billion people strong, making up 53.4% of the global market.
It comes to no surprise then that an impressive $50.7 billion app revenues are concentrated in APAC. And the mobile market will continue to grow over the next three years to $129.2 billion in app revenues by 2021.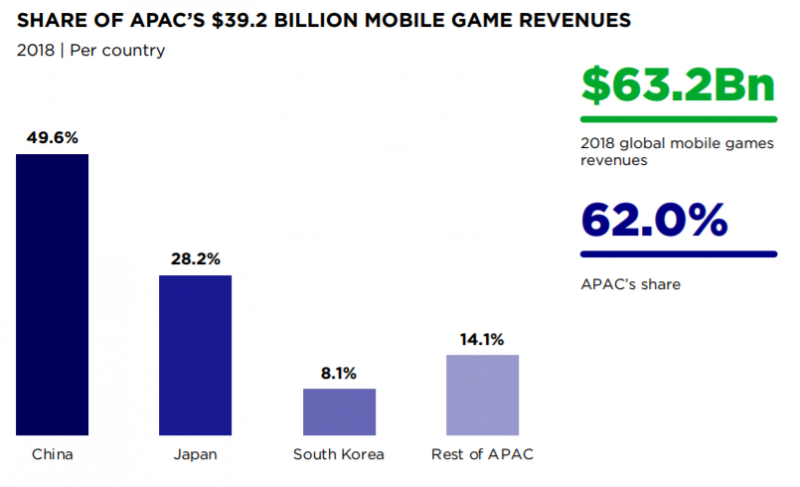 2. Mobile games drive up the mobile industry.
Mobile games have historically been the big revenue maker in the mobile industry. Nearly three-quarters of global mobile revenues came from games in 2018, demonstrating their value.
But in APAC games are even more significant than they are in the rest of the world. A whole 77% of app revenues in 2018 were generated by mobile games within the region, as players across the continent engage regularly and enthusiastically with their favourite titles.
In terms of the three main markets examined in the study, China leads the march with 49.6% of the mobile game revenue share followed by Japan with 28.2% and South Korea with 8.1%.
This is undoubtedly a sign of just how big China's mobile game market is (and how influential titles like Honor of Kings are). But when you consider that Japan and Korea generate their respective game revenues with just 4.4% and 2.2% of the APAC smartphone population, it shows that games are serious business in both territories.
3. China is the number one app market.
China has a mobile-first culture, driven partially by rapid economic growth timed with the rise of the smartphone and the integration of mobile apps – such as WeChat – into everyday life.
As a result, and perhaps somewhat unexpectedly, spending on apps in China is enormous. App revenues in the territory reached a monumental $26.4 billion in 2018, which is equivalent to a third of global app revenues.
Interestingly, China's spend on apps was slightly lower than the APAC average. While it is still impressive that 73.3% of app revenues came from games, that's nearly 4% down on the regional average.
This shows that China's consumer app economy is wider than its rivals. With a forecasted 920m smartphone users driving everything from minor in-app buys to major purchasing through their devices, we predict that app spend in the territory will cross $10.3bn that year.
This makes China a must enter market for companies driving their e-commerce through businesses mobile.
4. Japanese are the biggest mobile spenders.
Japan has 58.6 million mobile smartphone players of which 26.7 million paid for their games. And when these players pay for games, they're likely to splash out big time.
Japanese mobile gamers spend a lot of money on their favourite games. The average Japanese smartphone gamer spent $371, nearly 3.5 times more than American gamers who only spend an average of $106.4 on mobile games.
Tablet players are even more likely to pay with 6.3 million of the 11.4 million tablet players taking out their wallet. This means a whole 46% of Japanese smartphone players paid for games in 2018.
This makes Japan the biggest market by annual spend per smartphone game payer. In fact, 15.4% of the world's app revenues came from Japan in 2018.
So how can developers tap into this market? It isn't easy. Japanese developers and publishers have much of the market locked down, with games like Love Love School Idol, Monster Strike and Fate/Grand Order capturing player attention.
But if you were willing to invest time and effort in cracking one Asian gaming market, Japan is well worth considering.
5. South Korea has the highest smartphone penetration in Asia.
South Korea has the highest smartphone penetration in all of Asia and in fact the world. Last year saw 67.7% smartphone penetration in South Korea compared to 55.3% in China and Japan. In 2018 there were 34.6 million smartphone users in the country and it is set to rise to 39 million in 2021.
This is principally due to the Samsung effect. The company dominates in South Korea. Two in every three active devices in the country are Samsung devices, followed by 22.2% belonging to Apple and 10.4% to LG.
As a result, developers wishing to hit the South Korean market actually have a relatively easy route to market. By optimising for Samsung devices, app businesses will know that they're well placed to reach Korean users consistently and effectively.
Conclusion
"China, Japan, and South Korea are the three largest markets in the APAC region, each presenting unique opportunities for Western mobile developers, along with unique barriers to entry," states Huang.
This means that businesses thinking about entering any of these markets will need to think carefully about a) what they want to achieve and b) where is best to achieve it.
If sheer numbers are what you're after in order to drive up ad revenue, China is the market to target, meanwhile, Japan is ideal for in-app purchases and premium mobile titles. South Korea is the most open market of the three and a game is bound to reach far via the large penetration of mobile.
Read the full report to gain more insight into China, Japan and South Korea's dynamics, consumer preferences and growth potential. The full report can be downloaded for free here.