Stiffer industry regulations
2018 was a particularly tough year for the Chinese gaming market – across all platforms. What had been double-digit growth in the games market slowed to a crawl due to the introduction of regulations and the suspension of government licenses that are necessary to launch any new games.
According to Chinese research firm Jiguang, only 1,297 games were approved by the authorities in the year to October, of which 97% were mobile titles.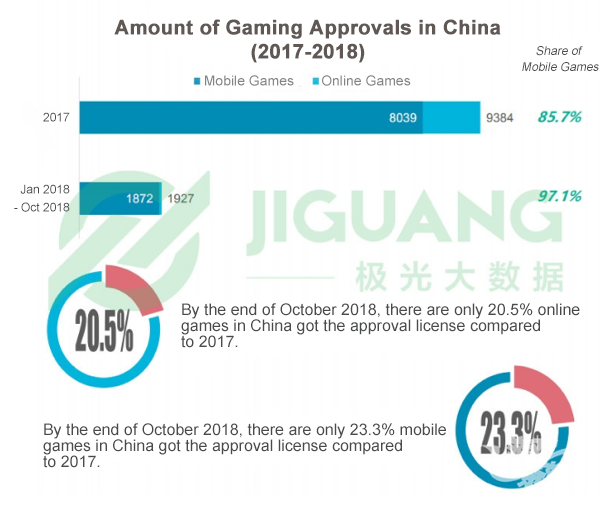 Source: Jiguang
For context, that number compares to the 9,800 games that were approved in 2017. Subsequently, the games industry grew just 5.2% in the first two quarters of 2018 compared to 26.7% over the same period in 2017.
The increase in regulations is part of a push to improve the protection of minors from harmful effects of playing games. The Chinese state news agency Xinhua couched it as a battle against games companies seeking to get rich by preying on young gamers. "For the nation's future, we can never allow gaming companies to get rich by inducing teens to get addicted [to games]."
The new regulations weren't just aimed at games that were deliberately pushing gamers to spend money. Worldwide hit Monster Hunter: World was banned in China due to 'content concerns', and for a while there were widespread rumours that League of Legends was also due to be banned in China.
 Still on top
 But despite these recent challenges posed by increased regulations and subsequent development issues, the Chinese gaming market revenue has reached $37.96 billion and continues to remain the largest gaming market in the world, according to Newzoo. The same data showed that $23 billion of this revenue comes from mobile games.
China is believed to have between 603 million and 619.5 million mobile gamers.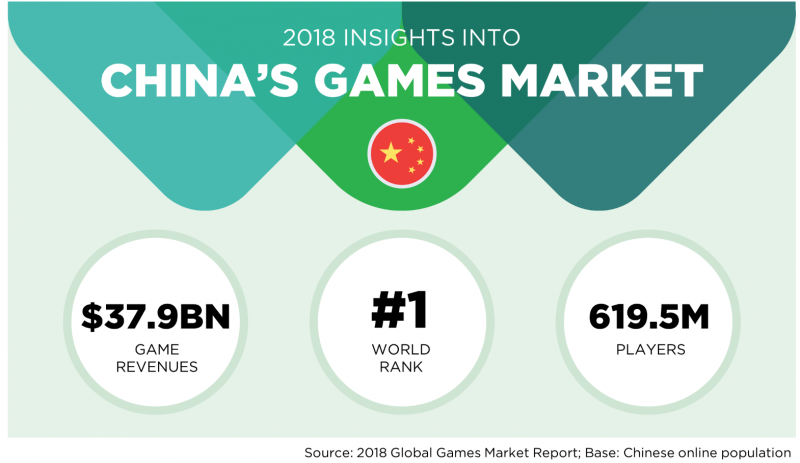 Small but strong: mini-games and hyper-casual
 Tencent opened up its mini-games platform to external developers in April 2018, which allowed for the development of instant applications within the WeChat app. These enable players to play games within WeChat, without ever leaving the app or installing anything.
In the immediate days after its launch, WeChat had hundreds of games integrated into its mini-game platform, giving them 30 to 50 per cent of revenue generated from advertisements. And it has been projected that the most popular and top WeChat mini-games having 100 million users, generating revenue of  10 million on a monthly basis through in-app purchases.
Mini-games proved to be such a success that McDonalds and Nike were among companies to purchase advertisements within games. There has been no official comment on advertising costs, but figures between $5 million and $20 million have been estimated on advertising products as part of gameplay by McDonalds and Nike.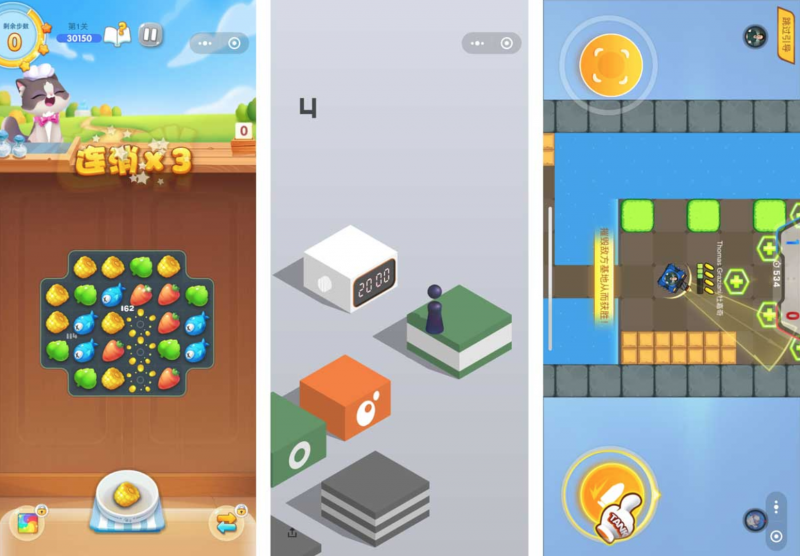 An idea of the diverse yet simplistic nature of Mini-games.
Source: WalkTheChat
It is not only mini-games that saw success, but hyper-casual games also proved a hit amongst Chinese players, with games such as Popular Wars and Happy Glass ranking on the top 10 iOS free-games download each month. While Voodoo's Crowd City after its launch dominated the number one spot on the iOS chart for 25 consecutive days.
Hyper-casual games are designed to be instantly playable, in short sessions and are often very addictive despite the simplicity in design and gameplay mechanics.
Much like mini-games, hyper-casual games have few in-app advertisements and the revenue comes from advertisements instead.
In China, hyper-casual games continue to count for around 30% of most downloaded games on the Apple App Store.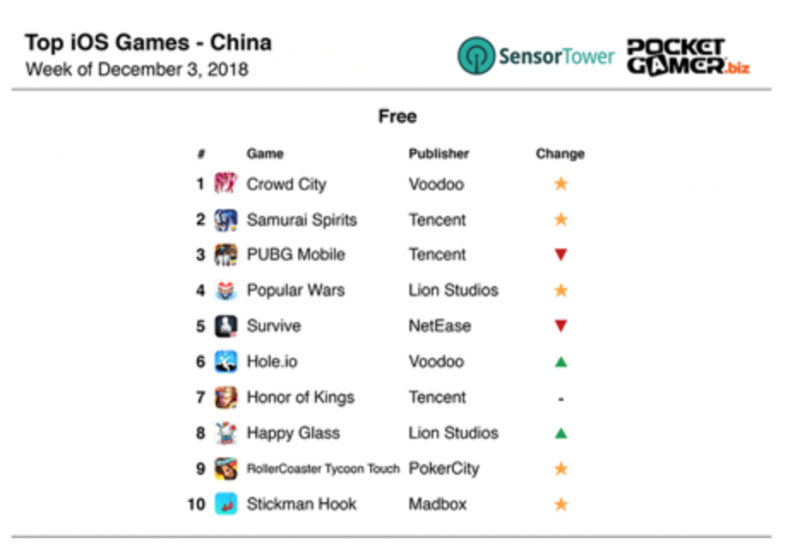 Increased female purchasing power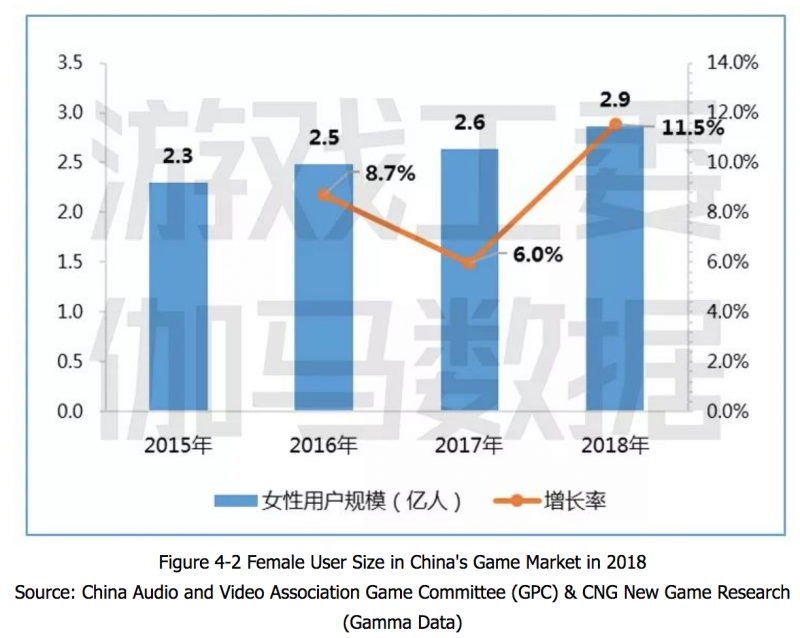 Women have become an increasingly lucrative segment of China's gaming market. Reasons for this increase in purchasing power include developers making games tailored for female players – such as Love and Producer.
In 2018, there were a number of games aimed towards female gamers in China that have garnered considerable success. Love and Producer, developed by an 80% female development team got 7 million players in the first month of release and was the subject of much discussion on Weibo. This was due to a group of very passionate fans spending $39,000 on an LED banner advert on a skyscraper in the city of Shenzen wishing a happy birthday to their favourite character in the game – though it was believed to be an advertising stunt.
Characters in Love and Producer. (Source: Medium)
But there is also a close in the gender-gap in traditionally male-dominated genres, notably shooters and action games. Female players of Honour of Kings outnumber their male counterparts at 54% – with a blend of social media and gaming proving very popular amongst the demographic. Players can use services like WeChat to talk to friends in the game and discuss strategies.
According to a report by The China Audio and Video Association Game Working Committee (GPC) and Gamma Data (CNG), female players have spent ¥49.04 billion on games, an increase of 13.8% compared to last year. While as of February 2018, the penetration rate of female mobile game users was 34.6% and the number of female players reached over 360 million.
So what's next?
 With a lot of interesting market developments in 2018, what can be expected of 2019?
1. Continued regulations
 Authorities are expected to continue to be strict, meaning developers must pay closer attention to their games to ensure they meet regulations and avoid punishment.
Even Tencent was excluded from the latest round of video game approvals from Chinese authorities, in late January, with 93 titles approved for release.
With so much uncertainty around how the new regulations will be policed and how long the new approvals process will take, it makes more sense than ever for Western developers to work with a Chinese partner. Time will tell whether the regulations will have a lasting impact on the number of Western publishers looking to enter the Chinese market.
2. The women's market grows even stronger
Game developers should not ignore the size and purchasing power of this emerging market.
With more than 150 million women aged between 15 and 30, this is a big demographic that's traditionally been somewhat underserved. And 'love games' such as Love and Producer are not the only genre that female gamers are interested in. All genres are popular, ranging from RPG's to puzzle games.
3. Small games yield larger results
Games that can be instantly played and in short sessions are attractive to the largest audience. With mobile phone capacity always a concern for audiences, mini-games and hyper-casual games will continue to be popular throughout 2019.
To summarise
 The biggest takeaway from all this is that the Chinese gaming market continues to be the biggest in the world – but growth has stunted slightly due to the impact of increased regulations.
Games of all genres are popular, and an emerging market segment is female players. These have strong purchasing power, in both female-centric genres and gender non-specific genres such as RPGs.
In-app advertising is the most popular way to monetise apps, as opposed to in-app purchases. However, marketing these apps can be incredibly difficult due to there being over 400 Android app stores in China.
Finally, mobile games are becoming increasingly compact and designed to pick up and play in short but frequent sessions. Using applications like WeChat to host the games without the need to download a separate application, the future points towards these mini-games and hyper-casual games to continue to take the market by storm.