Hyper-casual games emerged for the first time at the beginning of 2017 and took over the global market in 2018. To date, they remain popular and dominate the top free games download charts.
As Apple tightens privacy policies by limiting the use of IDFA, unprecedented changes and innovations have happened in the hyper-casual gaming market.
Recently, the leading mobile marketing analytics and infrastructure Tenjin, has published the Q3 Hyper-Casual Games Insights for Advertisers report, which compiled data on the distribution of the two operating systems' advertising spending on global hyper-casual games in the third quarter, as well as advertising spending on different platforms and regions.
Mintegral had an outstanding performance in the report. We are ranked 2nd in advertising spending on global hyper-casual games on iOS and 5th in advertising spending on Android. Our advertising capabilities are favored by many hyper-casual game advertisers around the world.
It has been half a year since the new IDFA policies have been implemented, so what has changed in the hyper-casual gaming market? Let's take a look.
1. Android advertising spending overtakes iOS as the IDFA effects are starting to show
Under the new IDFA policies, the collection of iOS user information has become more difficult, which makes precise marketing even harder.
With uncertainties brought about by iOS 14.5, many advertisers have chosen to be cautious by reducing their iOS advertising budget and instead investing more in the Android market.
Despite the fact that this tendency started to become apparent last year, the percentage of iOS advertising spending (59.7%) from 2020 data, which was published in the last report, is still slightly higher than Android (40.3%), even though it has dropped when compared to 2019, owing to the outstanding performance of iOS in various indicators such as user value and purchasing power.
However, the advertising spending on Android has overtaken iOS by 10% for the first time in this report, accounting for 55% of the global advertising spending on hyper-casual games.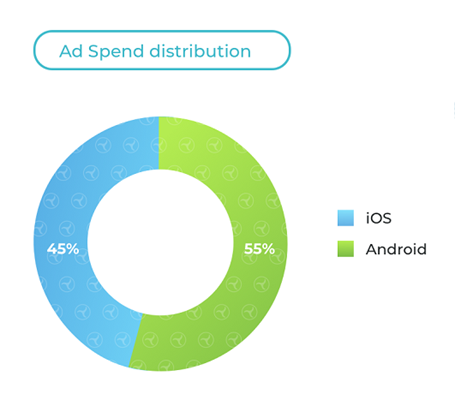 2. Mintegral showed excellent performance as a third-party advertising platform on both iOS & Android
The platforms shortlisted in the top 10 advertising spending channels on both operating systems are essentially the same as the last report, but there are some major changes to the rankings themselves.
Since IDFA can no longer serve as a compass for precise marketing on a large scale, the core strength of each ad network is now facing a tougher challenge after the launch of iOS 14.5.
On iOS, the rankings of many ad networks have dropped compared to before. Facebook, as a traditional top media channel, has been greatly impacted by the new privacy policies. In the latest report, Facebook didn't even make it into the top 5, as its ranking dropped from 4th to 8th place.
On the other hand, third-party advertising platforms are still performing well and we ranked top 3 on the charts. Mintegral has made significant progress since the last report and managed to continue to hold the 2nd place spot.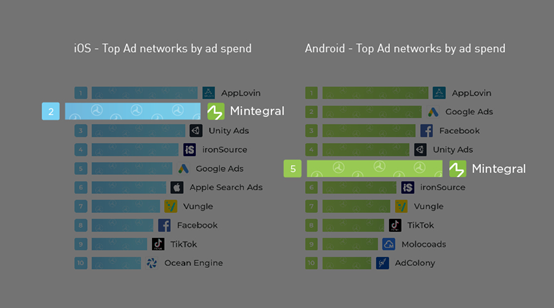 As for the Android chart, there are no major changes to the shortlisted platforms and their rankings, as Google and Facebook are still at the top of the list. TikTok, however, has become a new contender due to the new global trend of publishing short videos. Mintegral has gone up in the rankings compared to the previous edition and is now ranked 5th. Overall, Mintegral's advertising spending is at the forefront in hyper-casual games for both operating systems. Mintegral has strong customer acquisition capabilities and has become a partner of choice by many global advertisers.
What is helping Mintegral gain the trust of advertisers around the world is our strong customer acquisition capabilities in the post-IDFA era.
Mintegral's algorithm does not rely on IDFA to obtain long-term user profiles for modeling. Instead, our algorithm focuses on the prediction and modeling of users' instant interests based on contextual information. Dynamic creative optimization factors are also factored into the algorithm in order to continuously improve its efficiency and help advertisers reach high-quality users more efficiently.
Thus far, Mintegral has helped over 5,000 worldwide advertisers and more than 50,000 leading apps to acquire high-quality users at scale in global markets including Europe, America, and the APAC region. Our clients include Voodoo, Outfit7, SayGames, iDreamSky, CrazyLabs, Lion Studio, Zynga, and Alictu, among others. Mintegral's data management platform has an average of more than 2.2 billion daily active users and over 100 billion daily ad requests.
If you would like to work with the Mintegral team on user acquisition, monetization, or creative solutions, contact us today.