As the biggest and most lucrative mobile app market in the world, China inevitably attracts the interest of developers from around the globe.
China is set to remain the number one market for mobile games, with App Annie projecting 119.5 billion downloads and $62.4 billion dollars spent by 2022.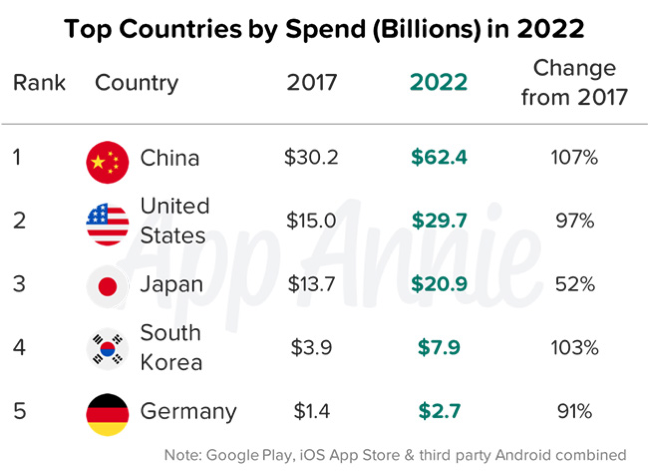 China leads the way in both total and projected spend. (Source:

AppAnnie

)
Recent research from iiMedia Research, highlighted that there are 464 million active users of third-party mobile app stores in China in 2018. This number is predicted to grow to 485 million by 2020.
But while there is a huge market for apps in China, the distribution is far more fragmented than that of in other markets. There are dozens of different Android app stores, and millions of users of third-party app stores every day. This can have a big impact on app-distribution – as you'll find out below.
Fragmentation of App Stores
Android users account for over 70% of the Chinese mobile market according to research. With no Google Play Store in China, Chinese android users needed to get their apps from somewhere.

Android has a very strong share of the Chinese market. (Source: StatCounter)
As a result of this need to fill a gap in the market, there are now more than 400 Android app stores in China. Smartphone suppliers such as Huawei, Xiaomi and Oppo along with network providers like China Telecom and China Unicom together hold over 80% of the Android market share.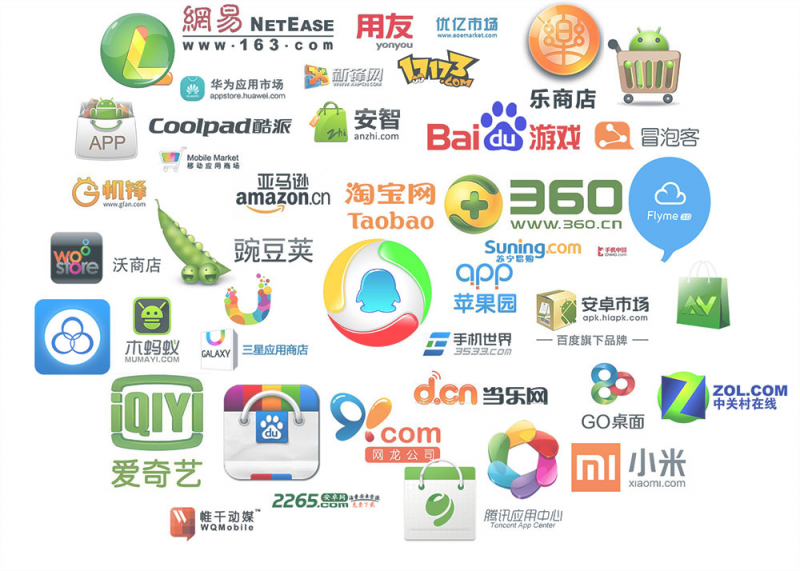 A selection of app stores available in China. (Source: Technode)
With so many app stores available, it poses developers a real headache when considering distribution and marketing strategy. Developers need to know the most efficient way to reach users of around 40-50 of the most popular app stores – as reaching every single app store is simply unrealistic.
Pre-installs vs third-party
So to make things a little bit easier, these app stores can actually be divided into two types.
One type is manufacturer-specific app stores, which are officially run by the mobile device manufacturer and comes pre-installed on the devices they produce. There is no monopoly on this android market like there is for Apple devices and the App Store.
The other type is third-party mobile app stores, which can be regarded as an app marketplace offering various types of apps. In this market, app stores offered by Tencent, Qihoo and Myapp are seen as market leaders. Almost 60% of Chinese mobile users use third-party app stores to download their apps. Users can have multiple third-party app stores on their phone.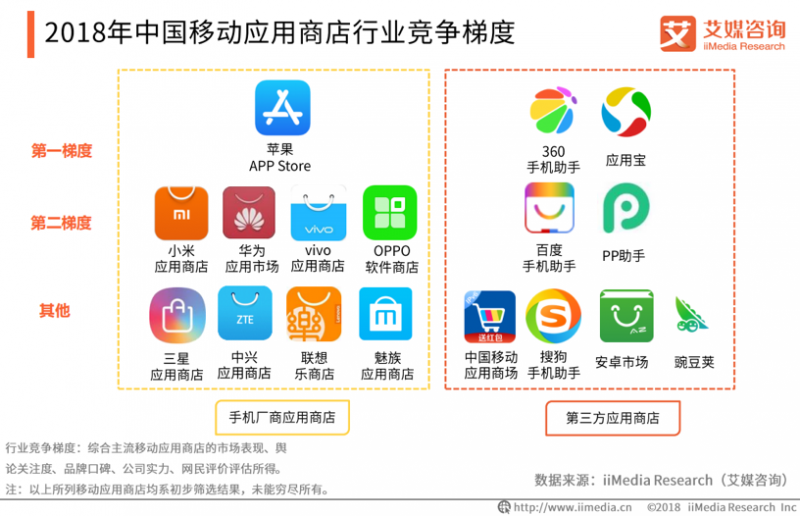 An overview of the most popular Pre-Install (L) and  Third-Party (R) app-stores. Note Xiaomi, Huawei, Vivo and Oppo are the most popular pre-installs outside of Apple. (Credit: iiMedia Research)
Different demographics for different stores
Looking at the different purchasing power of people that use certain pre-installed stores is a starting point. The willingness to spend money on apps may be different between users of different mobile brands. Xiaomi seems to focus on low-end users whilst Huawei seeks middle and high-end users.
If you are a developer who relies on in-app purchases, you may wish to spend more money on distribution in Huawei's app store compared to others, as the typical user of this store is more likely to spend on in-app transactions.
Think carefully about the target demographic of your app, and adjust prices accordingly. Creating an app for the Apple App Store may not be ideal if you are targeting students for example, who have less money to spend.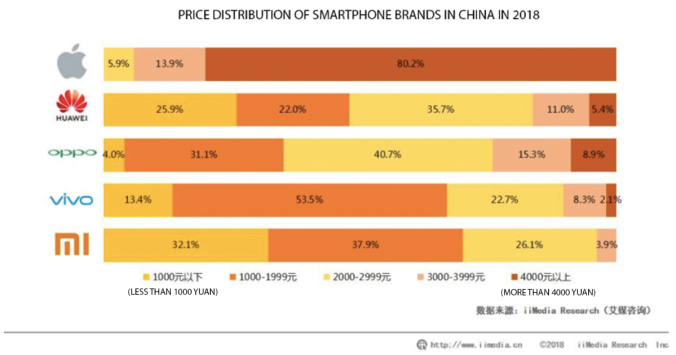 An overview of mobile brand prices in China. Note Xiaomi caters the most for low-end users, while Oppo and Apple the least. (Source: iiMedia Research)
It may also serve as an indication as to whether you wish to target a mixture of app-stores or focus entirely on just one type.
Partnering with a Chinese company will give you a better understanding of these statistics and what they mean for your app. This leads to saving a lot of time and effort on your part.
It also sets you up for the best chance at success, if you can cut through the noise and identify exactly your demographics – meaning that a certain number of app-stores can be identified as key targets to focus on.
Monetisation challenges
The rise of WeChat's mini-programs and the emergence of Quick Apps were a significant new challenge to traditional monetisation methods in 2018. WeChat offers over 1 million mini-programs and is seen by some as an App Store of its own.
Quick Apps are HTML-based apps that users can use instantly without the need to download them.
Both mini-programs and Quick Apps reduce the cost of using apps for users, takes up less storage on the device and are simply more convenient; which makes them a popular consumer option in the market. An added effect of this switch to HTML is that they also reduce development costs.
The challenge lies in how to monetise these games, as they have very few in-app purchases and this has led to more advertisements within apps as an alternative.
These advertisements could be in the form of notifications, a sign-up form within the app or interstitial adverts during the end of a gameplay level. Banner ads and video ads are further options available for developers looking to monetise their app.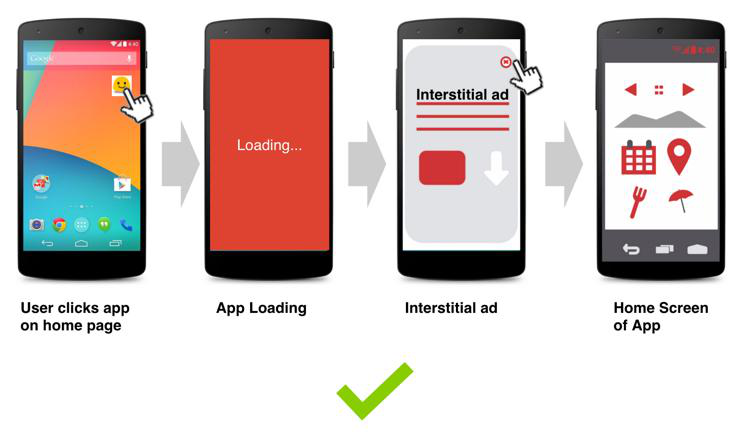 An explanation of interstitial advertising within an app (Source: App Samurai)
Especially in the light of the new rules introduced to regulate games and apps designed with aggressive in-app purchases, in-app advertising does offer a way to monetize apps that don't require the same level of integration into the core gameplay.
Even if your app is not designed to be an HTML app, in-app monetisation is still the best way for you. Due to the sheer amount of app-stores, many unofficial versions of paid apps pop up. Crucially, these are free.
Four tips for distributing your app in China
Here are some tips for those who want to get a foothold in the Chinese mobile app market, based on all the information above:
1. Partner with a local company
Developers have to take all aspects into consideration when launching apps in such a complex ecosystem.
This ranges from localisation to meeting increasingly stringent and ever-changing regulations.
Don't forget about localising the app. This isn't restricted to language changes. You may want to change the cosmetics of the game to fit in better with Chinese cultures – such as changing buildings from Western to Eastern and being aware of lesser-known cultural nuances such as the meanings of colours.
Non-Chinese app companies are required by law to have a Chinese entity, or partner with an authorised local partner in order to publish and distribute apps.
Therefore if you lack knowledge of the Chinese market, do some research before selecting your partner in China.
You need to make sure that your partner knows the latest regulations, has a good knowledge of multiple app markets and is aware of the audience you want to reach.
In a nutshell, your Chinese partner must have the correct licenses, as well as possess a deep understanding of the market, the market trends and the technologies being used.
2. Choose the best genre
The most popular genre of apps in the Chinese market is games. Utility apps are ranked second, ranging from messaging apps to map apps.
The mobile gaming market continues to grow and is far from saturated, making it an attractive market to step into.
If you are a games developer, think carefully about what type of game yours is. Not only must it be suitable for players and pass regulations, but in order to be successful, you may want to make it a mini-game or a hyper-casual game.
This means concentrating on making the game light and compact while ensuring it is fun to play frequently over numerous short sessions and gameplay bursts.
Doing all these will make your app fun, user-friendly and more financially viable too.
3. Make use of the new technologies
This is in a similar vein to the above. To meet the needs of as many users as possible, it may be best to develop two kinds of the app.
Making it in Quick App and mini-program form is a good idea to reach the devices of the largest possible audience.
Being HTML based, these apps are not restricted to either Apple or Android and can lower development costs significantly too.
4. Adapt monetisation methods
As stated earlier, Chinese users are moving away from paid-apps to free ones. Therefore in-app advertising has become a more profitable avenue for developers.
Advertising within the app means that advertisements come across as more natural, without disrupting the user's use of the app.
Additionally, many app-advertisements are interactive.
This can come in the form of branded content in the gameplay itself, or advertising another game by the same company with a short playable demo.
Keeping advertisements as non-intrusive as possible is key to not alienating your audience and therefore saying goodbye to making any money at all.
So, digest all of this information and use it wisely, and you will be an expert in the Chinese mobile apps market in no time at all.