Being an indie developer in China is a hard gig. While the domestic market is huge, it is difficult for smaller companies to break out when giants such as Tencent and Netease dominate proceedings.
However, indie developers who have a clear in house style, know their audience and have a structured approach to development can succeed anywhere in the world. And in China, Shanghai based developer Coconut Island has done exactly that.
The company, which was established in 2009, has gained a reputation for creating quirky games such as The Monster Chef, Haywire Hospital and Naughty Kitties and marketing them effectively. The result has been a number of store topping games, App Store features and millions of yuan in revenues.
So, what has Coconut Island done so differently to other independent developers in China? The answer is a mixture of knowing their audience, understanding why games are shared and knowing how to monetise over time – helping the company to survive where others have fallen.
China's indie challenge
Before we look into the particulars of Coconut Island's success, it's important to take note of the state of play of China's indie game market.
As with many markets in the West, it is hard for independent game studios to succeed in China. Even though China's domestic games market is the biggest in terms of revenue (over $14bn on mobile each year alone) and one of the biggest in terms of players (over 700m smartphone users), independent studios can struggle to cut through.
"The situation for domestic indie games isn't great in China" says Bao Weiwei from Coconut Island. "The biggest difference from foreign countries is that domestic indie games have no influence in China and they have to compromise with the local market to succeed."
This is hard to do for a number of reasons. The runaway success of games like Arena of Valor, Onymoji and PlayerUnknown's Battlegrounds has made life tough for indies. "If recently released games aren't topical and can't be easily promoted, it's difficult for them to gain enough momentum" said Weiwei in an interview with youxipitao.com.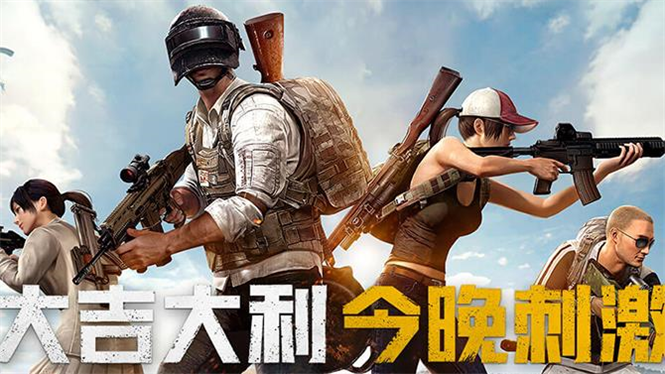 PUBG is a big hit on mobile and PC in China
These challenges have led to the emergence of a number of indie focused initiatives aimed at alleviating the situation. Tencent's Game Developer Support Plan, CMGE's "Fantastic Game Support Plan" and our 200 million yuan Developer Incentive Plan are aiming to bridge the gap in the medium term.
But in the short term, indies operating in China need to find their own way to succeed.
Coconut Island's approach
That's where Coconut Island come in. The company has a few key principles, each of which has helped it to succeed in the competitive Chinese market.
The first layer is ensuring that whatever the team works on is something that they think is interesting. Whether it's building on crazy ideas developed internally, constructing titles from game jam prototypes or even adapting to advice from the app stores, Coconut Island has been able to create a unique style of its own.
The Monster Chef's quirky art style in action
But while the aim is to create something entertaining, the team is ultimately aiming to create a game that is topical and viral enough to create waves. That's because the second element of Coconut Island's approach is its remarkably tough approach to keeping its costs under control.
The company operates on its own profit calculation formula, which takes the daily revenue per user, their retention rate and the game's 'k factor' and offsets it against the R&D costs. This means that the company is always looking to make games that both retain the existing player base and encourages them to share to remove the need for a heavy UA investment.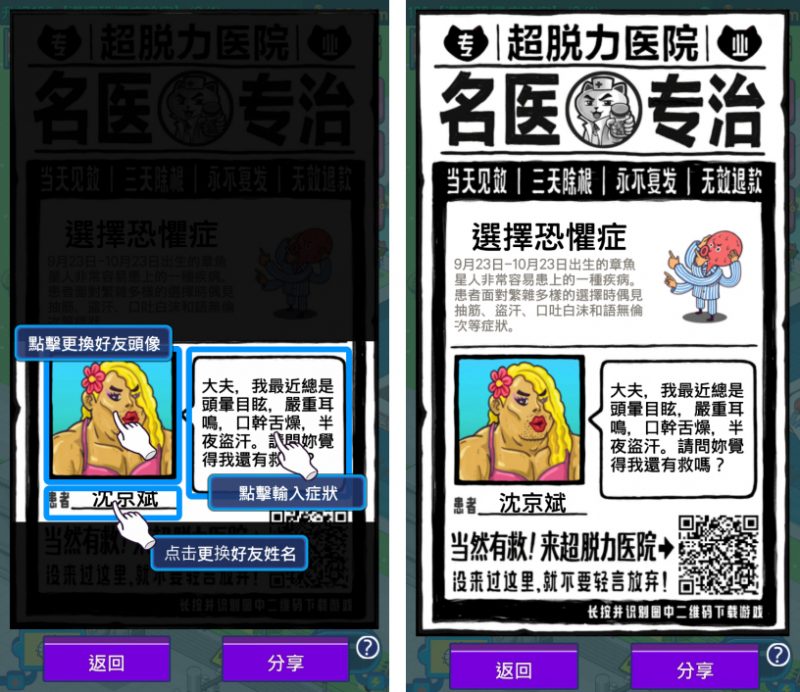 Haywire Hospital sports an interesting customisable in game sharing screen
Finally, the company has a specific focus on middle class users across China. By targeting users born in the 1980s and 1990s, who live in China's biggest cities and who boast both spending power and academic qualifications, Coconut Island has a clear idea of who it is appealing to.
Cracking China
As a result, Coconut Island has been able to intelligently and effectively grow its audience for three hit games in the past five years.
For example, Haywire Hospital's simple – and silly – choice driven game play proved effective amongst Chinese players. By forcing players to answer quick fire questions to treat a cavalcade of intriguing patients (including octopuses, naturally), Haywire Hospital was able to grab the attention of Apple – leading to a valuable feature.
Meanwhile, The Monster Chef was able to show its topicality when it launched earlier this year, The game, which forces players to run a 'gangster inn' where they make food out of captured monsters, was released on International Consumer Rights Day on March 15th.
And when players were asked whether "the gangster restaurant would be afraid of International Consumer Rights Day", they responded by making it the most downloaded simulation game on the App Store for two months.

Finally, Coconut Island's ability to consistently deliver installs and retain players has also meant it is able to continually monetize in multiple ways.
Specifically, the company has been able to maintain a healthy 40/60 split between generating in game revenues and monetizing through advertising.
In The Monster Chef, players are able to easily access a video ad in the top right corner of the main in game screen.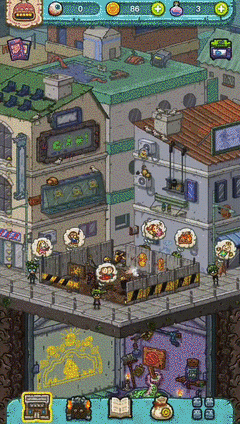 This makes it easy for them to access ads, each of which are cleanly displayed to prevent users from jumping out of the game.
As for Haywire Hospital, the regular use of rewarded video adverts in natural breaks in the game has increased the number of adverts being watched. This means that users both view more adverts and enjoy the game more.
The result is a clear benefit to Coconut Island's bottom line and an improved experience for players.
Summary
Coconut Island's success in the Chinese market shows that indie developers can succeed. In particular, developers must know what kind of games they like making, understand how to make them fit with their targeted audience and ensure they are shareable enough to generate an audience.
But succeeding in China is also about understanding how to balance the different needs of a divergent market. By offsetting in app spends with ad monetization, indie game developers with 'sticky' game concepts can generate decent returns – helping fund a studio and its development efforts for many years to come.