It's no secret that hyper-casual games have been in the spotlight for a while now and they've grown tremendously over the last couple of years. But what makes them so special and how did they gain so much popularity? Certain factors have contributed to their growth, so let's try to dig a little deeper and understand not just how they got so big, but also what the future holds for them.
A brief history of hyper-casual games
If you've not followed the mobile gaming industry closely, let's give you a brief history lesson. Hyper-casual games are basically bite-sized apps that users can download and play almost instantly: no level select, no loading screen, just tap and play. Using simple mechanics, these games started getting bigger in 2017 and soon became a genre of their own. Companies like Voodoo, Ketchapp, and Miniclip saw an opportunity and games like Paper.io, Jelly Jump, Stack, agar.io and more became huge hits, topping the free charts almost instantly. 
While the second half of 2017 was when they took off, 2018 was the year hyper-casual games took the App Store charts by storm and in 2019 we're seeing as many as 9 out of the top 10 games on the free charts coming from the hyper-casual area. According to Tenjin and based on data from the first half of 2019, we can expect the number of global hyper-casual MAUs to reach 860 million by the end of the year.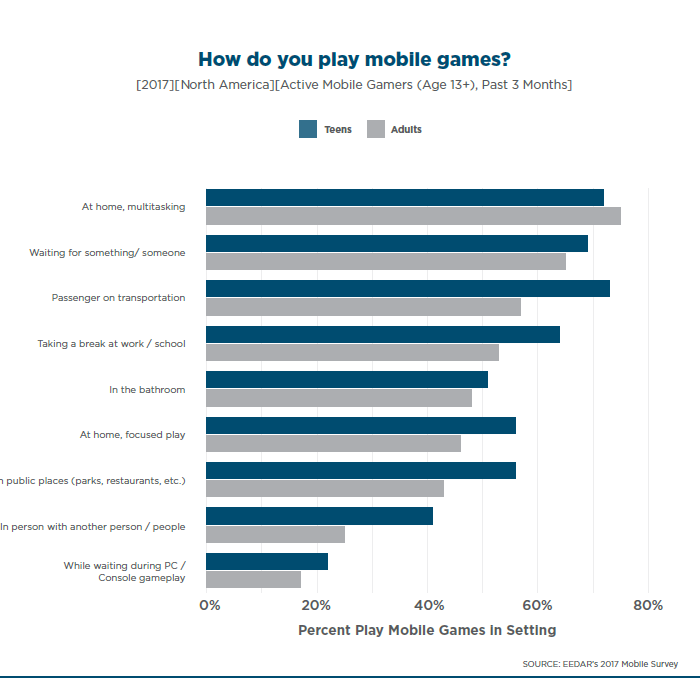 Mobile games are changing the definition of "gamer".
Source: VentureBeat
Strengths, weaknesses, risks, opportunities
It's easy to see why hyper-casual games are popular with both users and developers. From a user point of view, these games are light-weight, easy to understand, and can be played in short bursts or lengthy sessions. From a development standpoint, they're relatively easy to build, can be published quickly, are not difficult or expensive to maintain and offer developers room to move on to the next title without too much friction, thanks to their rapid development cycles.
But wait, there's more good news: the market is huge and it's still growing at a significant pace. According to VentureBeat and using data from ironSource the market is worth around $2-2.5 billion of yearly revenue. Data from Sensor Tower indicates that the number of downloads across all major hyper-casual publishers has gone up to over 65 million in May, a 50% year-on-year increase since mid-2018. In fact, June saw close to 80 million downloads, which shows the upward growth trend is not slowing down anytime soon.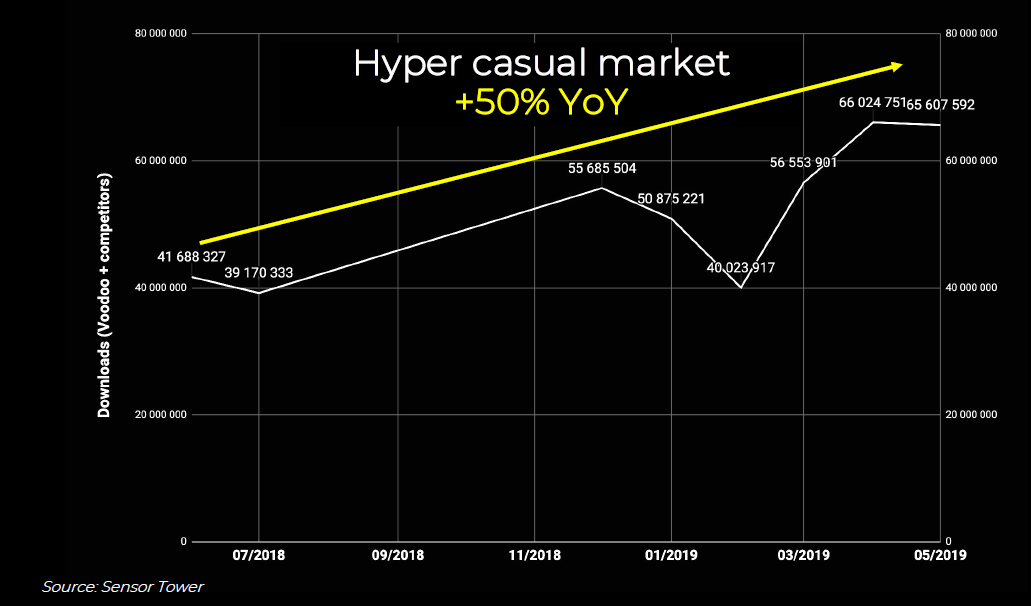 Source: Voodoo presentation @ Hyper-casual Games in East and West Seminar,
ChinaJoy 2019
So hyper-casual games are easy to build and easy to play, have a huge audience and they're very profitable. Then what are their weaknesses? One of the main problems that hyper-casual games are facing is a direct consequence of their popularity: homogeneity. More and more publishers are looking to enter this space, and because the market is so large, it's becoming increasingly difficult for hyper-casual titles to stand out. Similar gameplay ideas and execution makes it more difficult to acquire users, so developers need to find new or better ways to ensure their games get noticed.
In terms of monetization, some challenges hyper-casual games face are around LTV and CPI. According to Tenjin who spoke at our ChinaJoy seminar, hyper-casual LTV is 5 times lower than other genres. In terms of CPI, hyper-casuals tend to be lower than other game types but their mass adoption over the last year and a half has increased CPIs across most of the major markets across the world. The only exception to that is China, but we'll get to that in a bit.
China's growing appetite for hyper-casual games
There are plenty of opportunities left and the market is still showing very high levels of growth. One such notable example is China, home to the largest mobile population in the world. With most of the other markets seeing increased CPIs year-on-year, China is the only major market to see the opposite.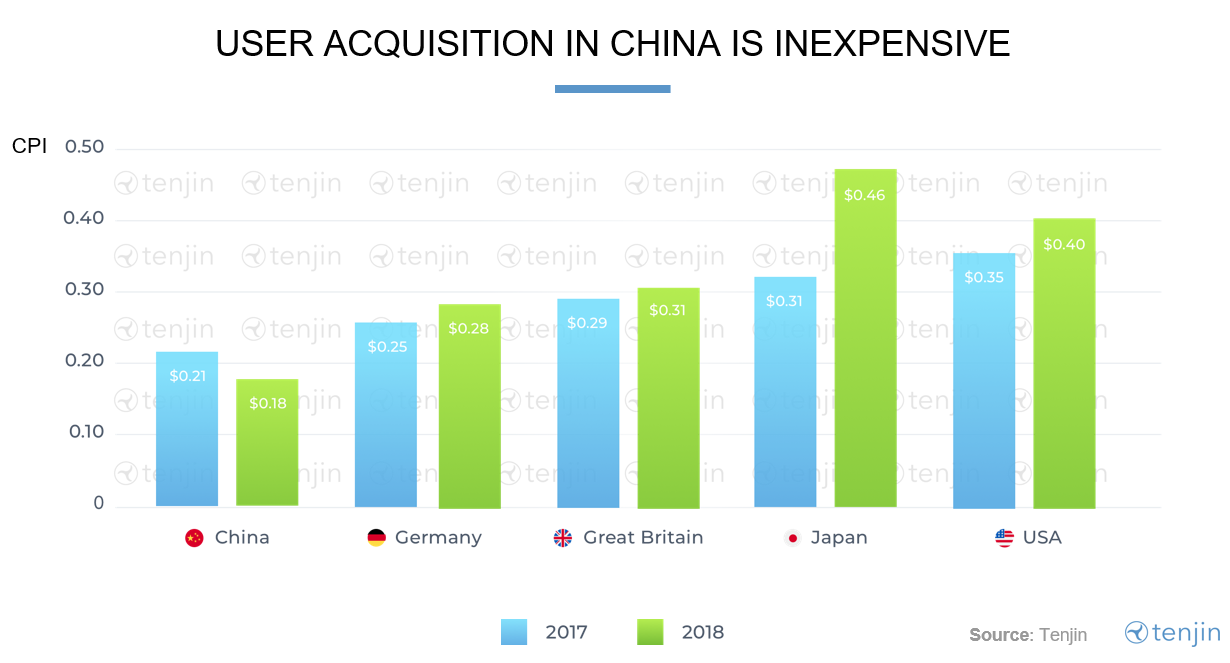 Hyper-casual developers should look East for growth and better ROI. 
Source: Tenjin @ Hyper-casual Games in East and West Seminar,
ChinaJoy 2019
Not only that but if we look at ad-based monetization, which is the main way hyper-casual games generate revenue, we see that the Chinese market is again outperforming Tier 1 markets in terms of eCPM. For a market that has a massive user base, lower CPI and strong eCPM, it's hard to deny that China is not an attractive destination for developers. According to Tenjin, it is expected that the Chinese hyper-casual market to become one of the top 3 countries for launching global titles in 2020.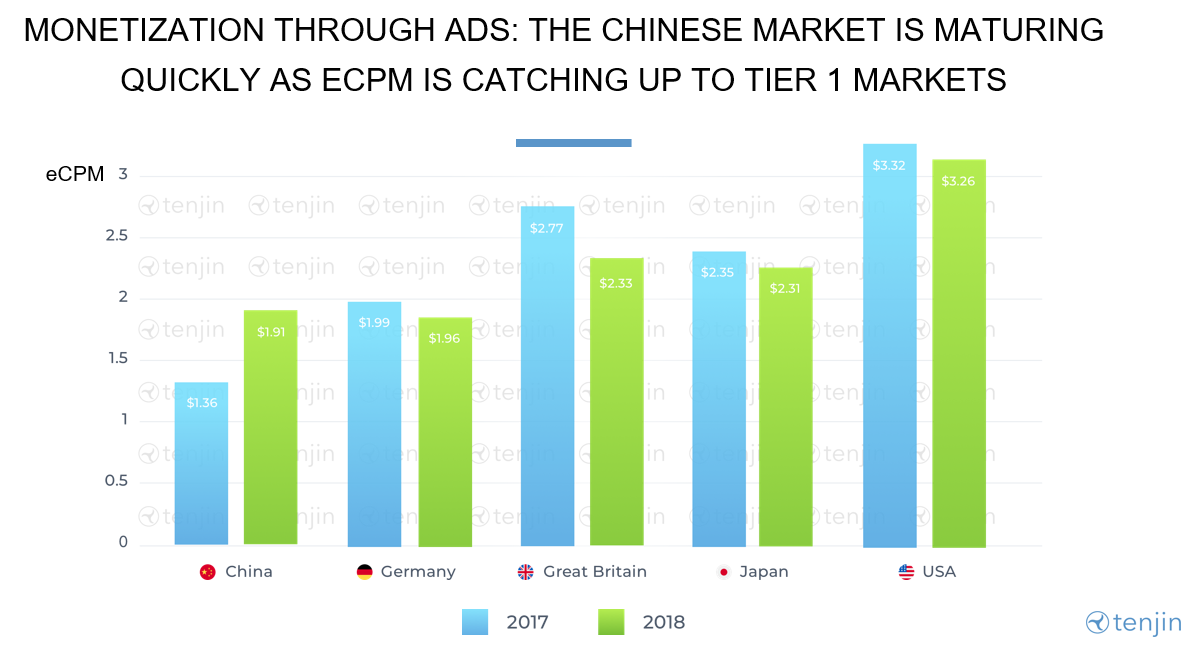 Source: Tenjin @ Hyper-casual Games in East and West Seminar,
ChinaJoy 2019
Win the race to relevance with better ad creatives
We mentioned above how one of the challenges that the hyper-casual market is facing is the homogeneity – a lot of games are starting to look similar to the point where it's hard for developers to make their product stand out. But if you combine this issue with the hyper-casual market's propensity for ad-based monetization, there's a way to hit two birds with one stone: get better ad creatives.
According to Stella Zhu, Creative Director at Mindworks, creative content is something that has to adapt constantly through continuous innovation and iteration, but human needs and desires are relatively stable. She highlighted 3 key strategic points to look at first:
Find your game's selling points: what are some core gameplay features you can highlight?
Know your target audience: the more you know about your potential players, the easier it will be to target them with the right creatives, both in terms of type and content
Keep consistency between ad creative and your game: the content of the ad creatives needs to match with the game itself, otherwise you risk creating a negative user experience and will suffer from poor conversion rates
We mentioned how human needs and desires tend to stay the same, regardless of how technology evolves – use this to your advantage. There are many psychological hooks that can make the difference between good and great ad creatives:
Opinion leader: are big names talking about your game or showing you how to play it?
Cognitive closure: make sure your ad creatives are clear and easy to follow
Earworm effect: do your ad creatives' visuals or audio tend to stick in your audience's mind after seeing/hearing them?
Herd effect & Identity recognition: are other people your target users know playing your game
Stella Zhu mentioned in her presentation at our ChinaJoy seminar how playable ads, in particular, tend to perform better as they offer a multitude of customizable elements. Experimenting with factors such as visuals, difficulty, length and even CTAs can yield significant ROI increases.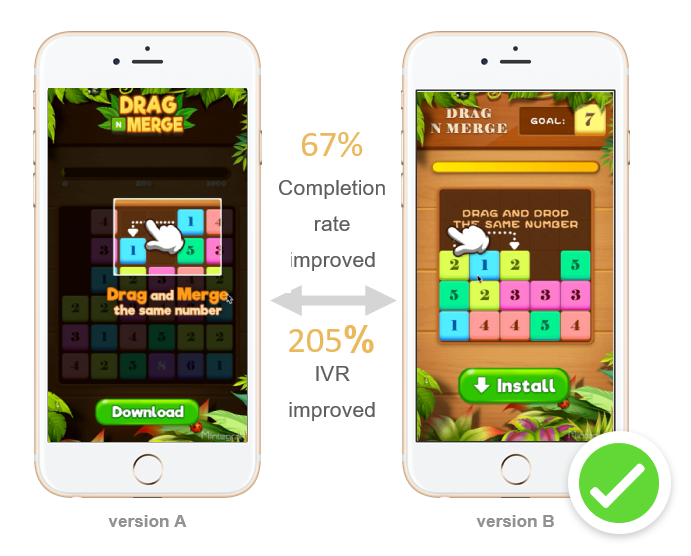 Better ad creatives lead to better ROI.
Source: Mindworks presentation @ Hyper-casual Games in East and West Seminar,
ChinaJoy 2019
What's next for hyper-casual games?
Looking at the first half of 2019, hyper-casual games benefitted from a 26% annual growth rate of global downloads, according to Mingjuan Wei, Director of Casual Games Division at Google, who was present at our ChinaJoy seminar earlier in August. That's especially impressive if we look at the same metric for casual games (4.8%) or simulation games (-8.8%).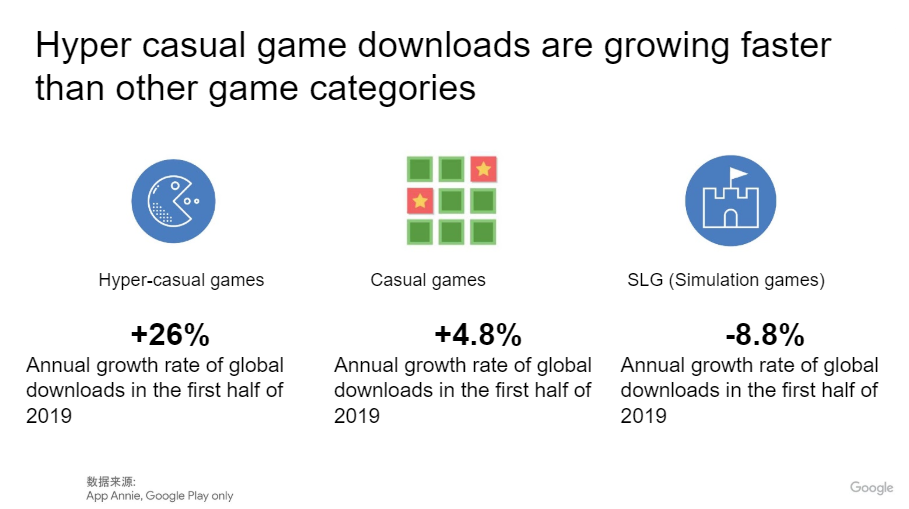 Source: Google @ Hyper-casual Games in East and West Seminar,
ChinaJoy 2019
Hyper-casual games have gained wide appeal over the last two years, which means they turned non-gamers into players, something other game types have had a more difficult time achieving. With such a huge market, the two most important questions now are 1)what does the future hold for hyper-casual games and 2)can they keep the momentum going?
It's safe to say the hyper-casual market will continue to grow in 2019 and 2020 but as the market matures, developers looking to enter this space and succeed will face more and bigger challenges than before. So what can developers do to make sure they win the hyper-casual arms race? According to Wei, there are 3 key points to take into consideration:
Learn from the classic gameplay: keep your games easy to understand and simple to play
Data-driven approach: use data to optimize ad buying and reduce CPI; also optimize your advertising and improve LTV
Reduce development costs: rapid iteration cycles can help you stay ahead of the competition
The future is looking good for hyper-casual games but it's not without challenges, so developers who pay attention and adapt to market changes will be the ones to succeed in the long run – a veritable case of "survival of the fittest".