Marshmello Music Dance
How Gamejam's Marshmello Music Dance Got a Boost in Downloads and Revenue with Mintegral
Gamejam is a small but ambitious mobile publisher from Vietnam. Since founding in 2019, they have become one of the best mobile publishers in the world, thanks to games like Get the Girl, Toilet Games 3D, Draw Story, and of course, Marshmello Music Dance. 
To date, Gamejam has published over 30 games, with more than 130 million downloads combined according to App Annie data. Not only that, but Gamejam was the fastest-growing hyper-casual game publisher in the world in Q3 2020 according to Apptopia.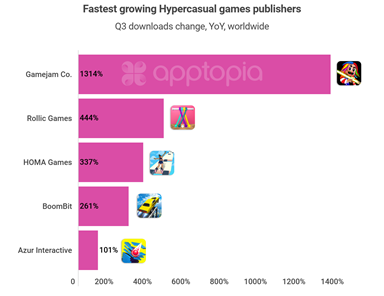 We started our partnership with the Gamejam team in July 2020 and we have worked with about 50 titles across iOS and Android, becoming one of their biggest ad platforms for user acquisition and monetization. We chose one of their big hits, Marshmello Music Dance, to show how we helped Gamejam take their growth to the next level.
What is Marshmello Music Dance?
One of Gamejam's hottest games, Marshmello Music Dance is a music simulation game where players must tap the tiles to match the rhythm of the song they're playing. The game features a wide range of songs and music genres, collectible characters, daily chests, player cards, and more.
Since launching in 2019, Marshmello Music Dance has been downloaded more than 10 million times across iOS and Android according to App Annie, making it one of the most popular music games in the world. In fact, the game reached the #1 spot on the Music Games charts in 13 countries and was ranked top 10 in almost 100 countries around the world.

Marshmello Music Dance on the App Store
Seeking a partner to help increase user base and income
Being one of the fastest-growing mobile publishers in the world meant that Gamejam needed to look for strong, effective platforms to help them grow and maintain their leading position – this is where we come in.
Our collaboration with Gamejam around Marshmello Music Dance revolved around two key objectives: acquire a large volume of high-quality users from around the world and generate stable revenue via ad monetization while maintaining a great user experience.
UA strategy: scaling up with traffic built for hyper-casual games
Thanks to our rich experience in the hyper-casual gaming category, we were able to provide premium in-app inventory built especially for hyper-casual games, ensuring Gamejam has access to the right hyper-casual users around the world, quickly and easily. The platform also supports a wide range of app categories, multiple targeting settings and different ad formats, which helped Gamejam test on different campaigns to find the best sources.
In addition to improving the campaign performance, our customer support team worked closely with Gamejam to get a clear understanding of their concerns, providing help and advice wherever needed. Our team suggested using a flexible bidding strategy to bid on a wide range of sub-channels, adjusting the bids based on each channel's performance to strike the right UA balance between scale and quality. We also started using interactive ads customized by our creative studio Mindworks to find more growth opportunities for Gamejam.

Gamejam started advertising on the Mintegral platform in July 2020
Monetization strategy: unleashing the power of in-app bidding
As a young and innovative team, Gamejam was more receptive to new technologies so they decided to use the in-app bidding solution as their monetization weapon for their games when they first partnered with Mintegral.
Compared to the waterfall model, in-app bidding delivers higher efficiency levels and lower operational costs , making it the perfect fit for a relatively small team like Gamejam and allowing them to focus on what matters most: publishing great games. Also, with in-app bidding technology, Gamejam was able to maximize ad revenue by opening their inventory to a wide range of advertisers to bid on simultaneously, getting the highest bids and better insights to understand the true value of their inventory.
In addition, by combining in-app bidding with our leading algorithms, we focused on improving the ad experience in order to boost user engagement and further increase ad revenue. We were able to use a variety of templates and creatives to deliver the right ads in real-time by analyzing users' behaviors. We found that filling the ad placements with interactive creatives like playable ads and interactive end-cards proved to perform better than other formats, both in terms of user experience and ad revenue.
Results
Within a short amount of time, our work with Gamejam on Marshmello Music Dance resulted in some great achievements:
For the  UA side, we helped Gamejam generate an average of 5,000 downloads per day in August and we increased IVR by 47% in the same period.
For the monetization side, we helped grow the game's revenue and were ranked as one of their top ad networks.
This is what Gamejam Co-Founder and CEO Christian Calderon had to say about working with us:
"Mintegral has been one of our fastest growing partners. I can see why Mintegral has competitors scared, their passion for performance and unrivaled dedication for improving their technology and creative formats have increasingly helped both our growth on the monetization and UA sides. We greatly value their dedication and passion for performance."
Marshmello Music Dance is just one of many games we've helped find success, both in terms of user acquisition and monetization. Our team of experts can help you with customized marketing strategies to ensure your game becomes a hit. If you'd like to learn more, contact the Mintegral team today!